Smartphones are portable but they can't have a big screen, while laptops have big screens but they are not always handy. And that's where a tablet comes to rescue and bridges the gap between a smartphone and a laptop. As it's both portable and has a big screen.
Moreover, the tablets work great as a secondary device where you can watch your content, play games, and do some productive work. However, if you never had a tablet before then you can start off with a budget device. Here we have prepared a list of the best 10-inch tablets that you can buy under the price bracket of $200.
We have selected all the tablets with a 10-inch screen size because we think it is the perfect size for a tablet, neither too small nor too large. Enough talking, let's jump to the list of the best affordable 10 inch tablets.
Best 10 Inch Tablets Under $200
1. Samsung Galaxy Tab A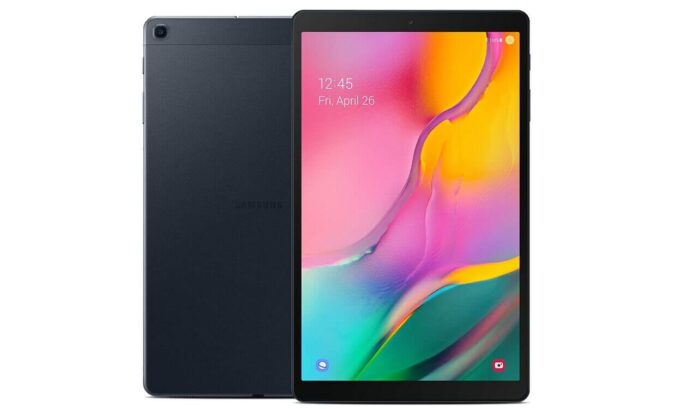 The Samsung Galaxy Tab A 10 Inch tablet borrows its legacy from the most selling smartphone series of the world which is the Samsung Galaxy series. This tablet comes with a stunning design. While at the front it has a full HD corner to corner display. On the rear, it boasts a premium metal design. Although it is made out of metal, the tablet is very lightweight and portable.
Apart from that, what makes this device a complete entertainment hub is a fact that it supports Dolby surround sound. With a big screen and good sound, watching videos on this tab gives you a next level experience. And to let you enjoy your content without a break, this device has a great battery life that can easily last up to 10 hours of continuous usage.
It also has a dual-camera setup of 8 megapixel at the rear and a 2-megapixel camera at the front, which captures decent quality photos and videos. Talking about the storage, it has a 2 GB Ram and 32 GB ROM which is expandable up to 512 GB via external SD card. So overall it is a great device to go for if your budget is strictly limited to $200.
Good build quality
Full HD display with minimum bezels
Good camera quality
Good battery backup
2. Simbans TangoTab 10 Inch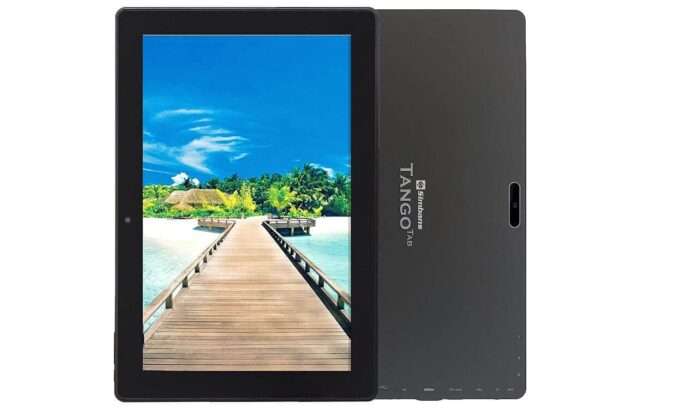 While Simbans tablets may not be as popular as the Samsung tablets but they do provide more features for the price. If you want a feature-rich tablet at even a lesser price than the Samsung galaxy tab A then the TangoTab 10 is the device for you. With 3 GB of RAM and 64 GB of internal storage, it makes sure that you never run out of storage and can run all the apps and games on it smoothly.
It runs on Android OS version 9 which makes it compatible with all the latest apps and games you can download from the play store. What makes this tablet value for the price is that it has a lot of connectivity options, which are hardly seen on most of the tabs and especially the budget ones, such as headphone port, HDMI port, USB type C ports, and more.
The best part is that even though it's so cheaply priced it still gives you a lot of freebies like a tablet case, screen protector( which is already applied to the screen), and a universal power adapter so that you can charge it anywhere on the go. Moreover, it comes with a one-year warranty which gives you peace of mind.
Has many connectivity options
Has good storage capacity which can be extended further
Comes with a carry case and Screen Guard
The screen is HD and not Full HD
3. Amazon Fire HD 10 Tablet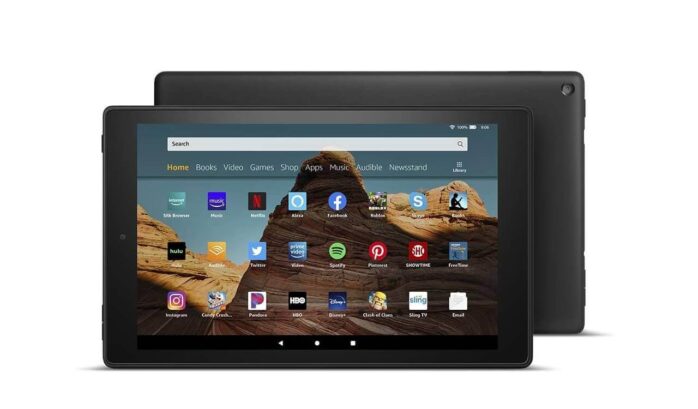 The Amazon Fire HD 10 tablet is different from the kindle tabs as you can use the Fire HD 10 as a full-fledged entertainment device. It comes with a 10.1 inch full HD display which is amazing to look at. Moreover, this device runs on the Fire OS and not Android, so if you were looking for a tablet under $200 other than Android then this one is for you.
The OS is supported by an octa-core processor and 2GB of RAM which handles all the apps pretty smoothly. However, the USP of this tablet is that it supports Alexa voice commands including the ON/OFF toggles. For clicking pictures and video calls, it supports dual cameras at front and rear both are 2-megapixel that can record videos in 720P resolution.
Also, it has a massive battery that can last up to 12 hours so you can binge-watch all your content without charging your device frequently. To quickly charge the battery it has a USB type c port. The type c cable and 9W adapter come in the box with the tablet.
Has a very good display
Supports Alexa
Allows fast charging
Good battery life
Camera quality could have been better
4. Lenovo Tab M10 Plus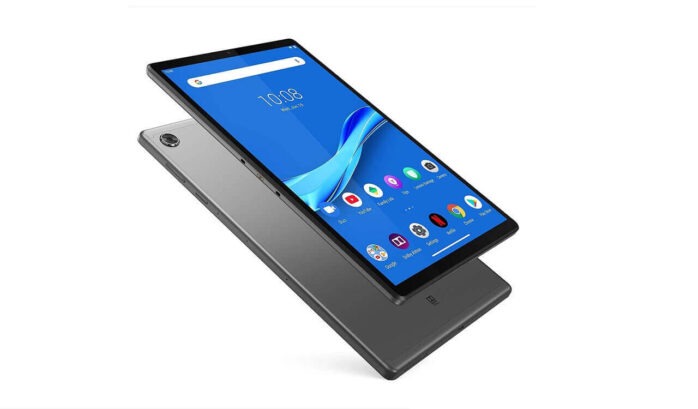 If you are a person for whom the look of the device matters as much as its features then this tablet is for you. Built with a metallic back and slim bezels this tablet from Lenovo from no angle looks cheap. Not just the looks, but the features on this device are also no less than any premium device. It boasts an octa-core processor which is clocked at 2.3 GHz frequency that allows you to do multitasking with ease.
Apart from that, it supports a 4GB RAM which is not common in budget tablets. Moreover, you get an extendable 64 GB internal storage so that you never have to struggle with storing your favorite ebooks, videos, and photos in it.
This tablet along with its 10.3 inches full HD display and Dolby Atmos speakers is a heaven for those who love to binge-watch their content on their tablets. Moreover, with its 8MP rear and 5 MP front camera, you can click some good shots. This tab runs on the Android 9 OS and is capable of running all the latest apps and games on it. So yes, you can definitely go with this tab if you want a good 10 inch tablet under $200.
Flaunts a premium design
Has an immersive full HD display
Offers good surround sound
Fast speed 
Does not come with a carry case
5. Dragon Touch Max 10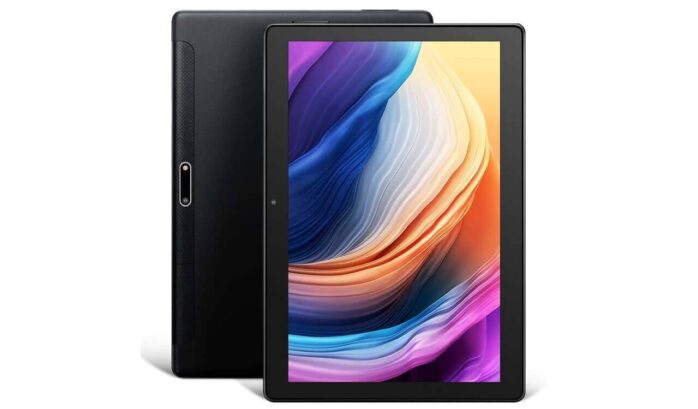 The Dragon Touch Max 10 supports a full HD G+G capacitive touch display which makes it very responsive and produces a great picture quality. Moreover, it has a 64-bit Octa-Core processor with 3GB RAM, which makes it a high-performance tablet and gives a lag-free experience while using apps, browsing the internet, etc. 
It runs on the Android 9 operating system and accesses Google Services such as Gmail, Youtube, Maps, and Play Store. You can also download more apps from the play store and install it in the internal storage of this device. It supports a 32 GB storage which can be further expandable up to 128 GB using a micro SD card.
Moreover, for enjoying multimedia it has a set of dual speakers that produce clear and loud sounds. Apart from that, you get a good battery backup on this device which lasts up to 10 hours on a complete charge.
Good screen quality 
Fast speed
Good battery backup
Can play Pubg on it
6. Fusion 5 Ultra-Slim Tablet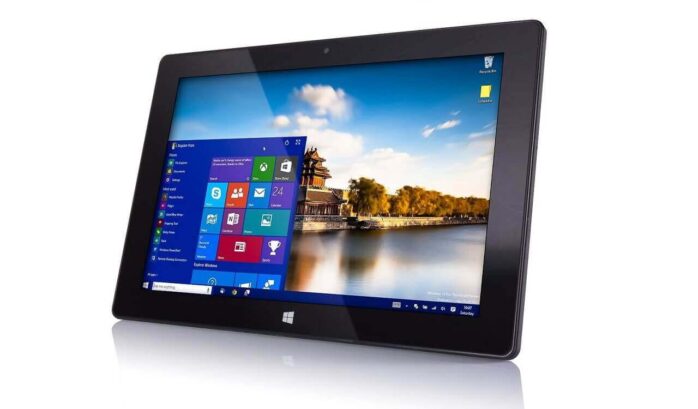 If you are a fan of the Windows operating system then this tablet is certainly meant for you. It runs on the latest Windows 10 OS and is supported by an Intel quad-core processor. This makes it a great tablet PC i.e you can use it as a tablet but with the help of a wireless keyboard and mouse, you can convert it into a PC as well.
Moreover, it supports 4GB of RAM which makes it capable of running heavy software and apps on it. Apart from that, it supports a lot of connectivity options such as a full-size USB 3.0 port, HDMI port, etc. For wireless connectivity, it has WiFi and Bluetooth 4.0 facility as well. 
Being a tablet it also has a dual-camera setup which offers a 5 MP camera at the rear and a 2 MP camera at the front. Both the cameras are of decent quality and can capture good pictures. The battery backup of this device is also very good and can last a full day on moderate usage.
Can also be used as a PC 
Has a wide range of connectivity options
Good battery backup
The screen doesn't look that good due to large bezels around it 
Best 10 Inch Tablet Under $200 For Kids
7. Fire HD 10 Kids Edition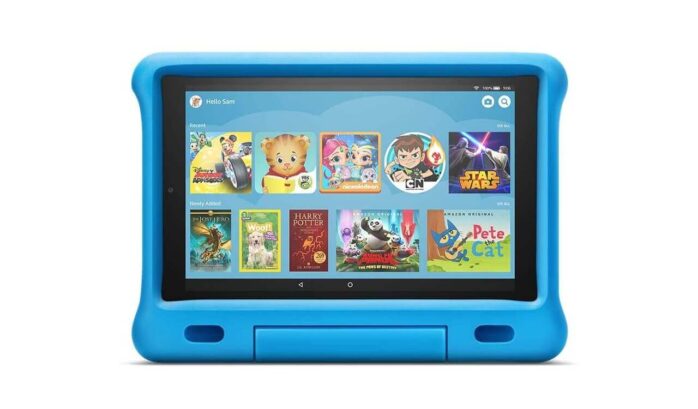 This tablet from Amazon is specially designed by keeping kids in mind. It supports a full HD 10.1-inch display along with an easy to use parental control so that you can limit screen time and set educational goals for your child. 
Moreover, it comes with a 1 year of Amazon FreeTime Unlimited which gives access to kids for educational content, kid-friendly videos, audibles, and over 20000 apps and games. The best part about this tab is that it comes with a kid-proof protective case with a built-in stand. The kid-proof case protects the tab from accidental damage. However, in a worst-case scenario, if the tablet breaks then you will get it replaced for free as it comes with a 2-year worry-free guarantee.
Moreover, it has 2 GB of RAM and 32 GB of internal storage(extendable up to 512 GB) which is more than enough for kids' daily use. Also, it has a good battery life that can easily last up to 12 hours on a full charge. So if you were looking for the best kids' tablet under $200 for a long time then this device ends your search here.
Come with 2-year accidental guarantee
Very durable because of kid-proof protective case
Has free access to Amazon FreeTime for 1 year
Allows fast charging
You may not find all the apps in the Amazon Appstore
Conclusion
So this brings us to the end of this list of best 10 inch tablets under 200 dollars. And for daily usage and as a secondary device these tabs work best. Moreover, the tabs were never meant for photography. So the cameras you get on these tabs will be decent enough to take some good photos and video calls.
However, you can expect good screen resolution for the best multimedia viewing experience and a good battery life that lasts long from these budget devices. That being said we hope you liked our list and will get your favorite budget tablet from it.