A good office chair can transform your work experience completely. It can make or break your office environment. Numerous studies have revealed that prolonged hours of sitting on the wrong kind of chair can have adverse effects on your body parts and posture. If you are someone who works for long hours sitting at a desk, a good office chair can really help you be more productive as well as keep you healthy.
There are a number of things that need to be kept in mind before you buy the perfect chair for yourself and we admit, it can get a little overwhelming for some of you. So, by the means of this article, we bring to you a list of the 7 best affordable office chairs along with their pros and cons available in markets that you can buy for yourself.
Best Affordable Office Chairs
1. BERLMAN Ergonomic Mid Back Mesh Office Chair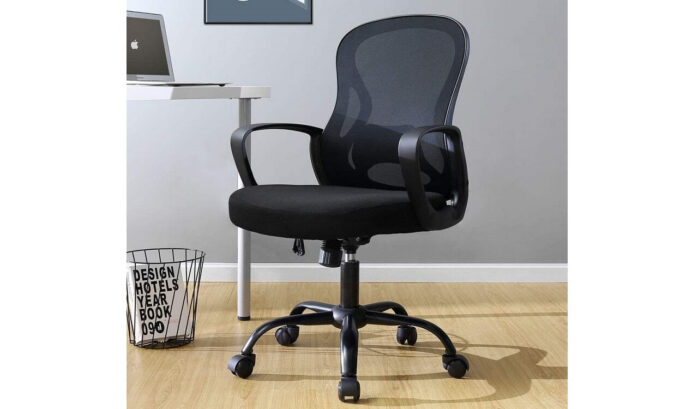 The BERLMAN office chair is the epitome of durability when it comes to desk chairs. Made out of high quality and premium frame, this chair is guaranteed to last and serve you for years. With a stable and sturdy foot base and wheels, this chair can easily support weight up to 250 lb.
This office chair comes with a nice, breathable mesh back that ensures air supply and does not let it get all hot and sweaty back there. Moreover, the chair also comes with lumbar support that is devoted to keep you comfortable and relaxed all day at work.
This ergonomically designed chair is equipped with a high-density sponge seat that offers firm and strong support to your body. Along with this, the chair also features adjustable height and back leaning so you can easily lounge on it when you feel like resting after hours of working.
 Easy to assemble and maintain
 Adjustable height and back leaning
 Mesh back for air passage
 Highly sturdy and stable
Not very comfortable for tall people
2. CLATINA Ergonomic Rolling Mesh Desk Chair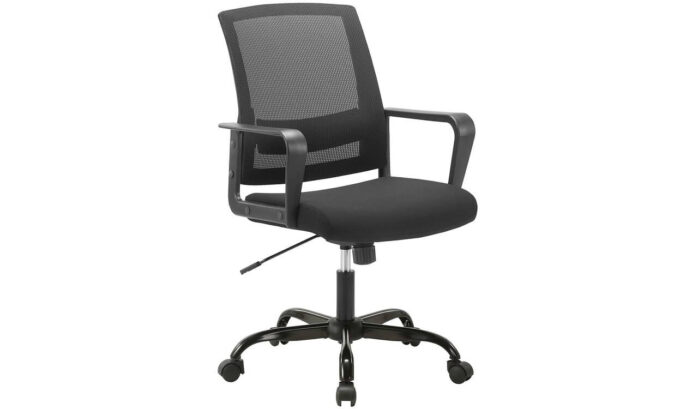 CLATINA desk chair comes in a modern and ergonomic design to provide you with maximum support and luxury while you work for hours at your workplace. This easy to install chair comes equipped with a high-density sponge cushion which provides the user with the ultimate support. Its high-quality frame can easily support weight of up to 275 lbs and is highly reliable, durable, and strong. The product is available in the color black and comes with a 5-year warranty.
The chair comes with all the necessary hardware as well as tools that you may require while assembling it. Installation takes merely 10 to 15 minutes after which you are good to go! Moreover, this chair is definitely more flexible and reliable than most office chairs out there and provides top quality lumbar support.
 Easy to assemble and install
 Modern and ergonomic body design
 Enhanced quality of frame
 Firmer seat for more support
Armrests are not adjustable
3. BERLMAN Ergonomic Affordable Office Chair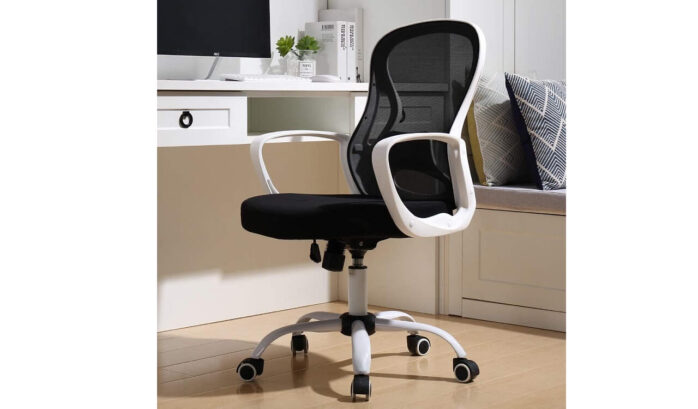 This BERLMAN office chairs comes in an ergonomic body design which can boast of ultimate strength and durability when it comes to desk chairs. This chair can last for a very long time and is very easy to install and maintain. These office chairs provide the user with stability and the much-needed support by the means of a highly stable foot base and wheels to facilitate mobility. This durable product can easily support a weight of up to 250 lb.
This affordable office chair comes equipped with a mesh back that ensures ventilation of air so that even after long periods of sitting, the chair's backrest does not get all sweaty, hot, uncomfortable, and moist. This chair is super easy to clean and comes with lumbar support. Adjustable height and a leaning backrest make the chair even more comfy.
 Easy to assemble and maintain
 Very durable
 Adjustable height and back leaning
 Value for money
 Mesh back for air passage
 Highly sturdy and stable
Bolt holes could be hard to line up while assembling
4. Furmax Office Desk Chair with Flip Arms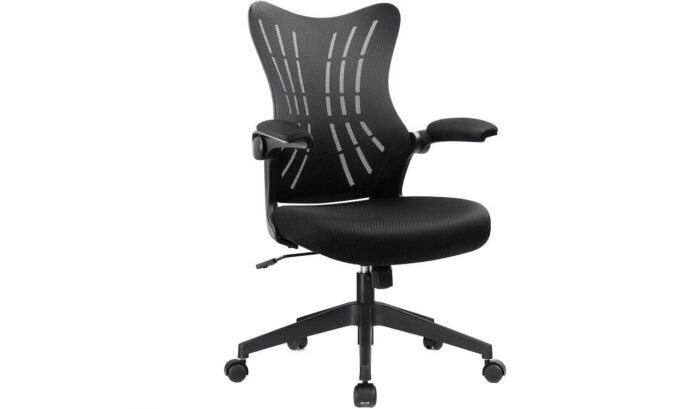 Furmax office chair comes in an ergonomic design with an air layer spinal structure back support that has been specially crafted to soothe your back and provide it with ultimate support. The product is available in the colors black, blue, white, and red.
This cool chair comes with a nice, breathable seat that has been designed out of high-quality, firm, and thick sponge which is encased in a breathable mesh so that the seat does not get hot and sweaty after prolonged use. This office chair comes with a BIFMA Certification for its High quality and durable base so much so that it can support up to 260 pounds, rotate 360 degrees and provide you with safety without leaving any scratches or marks on the floor. Along with all these features, the chair also has an adjustable height, armrest, and back support.
 Breathable seat
 Easy to assemble
 Highly adjustable for user's comfort
 Available in a range of colors
BIFMA certifed
Back support could have been a little better
5. Ergousit Office Chair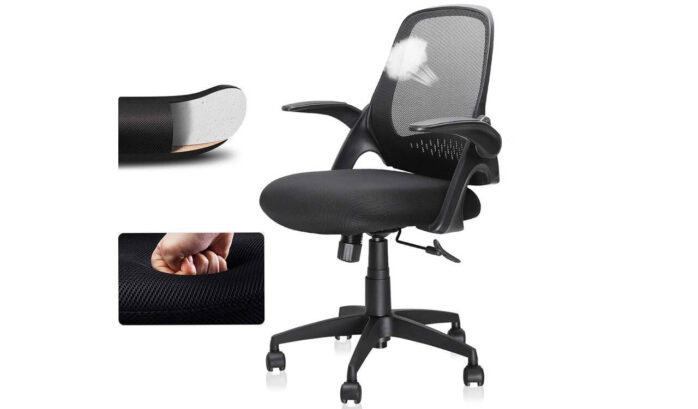 This office chair carefully inculcates a scientific ergonomic body design so that the user gets maximum comfort out of it all day long. This budget office chair comes with a thickened seat sponge with an improved cushion that gives you enough space to relax. The product is available in the color black, can support up to 300 pounds and comes with a warranty of 5 years.
The product is made out of high-quality material – a high density and extra breathable seat mesh, a resilient seat pad as well as an SGS (BIFMA X5.1-2017) certificated gas lift cylinder. These components together ensure that the chair is durable, comfortable, stable, and sturdy. It has a steady mesh back for cool air to pass by and great lumbar support with a curve to comfort and adjust to your back as you wish. The dimensions of the seat are 19.7 (W) x 19.3 (D) x 2.5 (H) inches which makes it very spacious.
 Spacious seat
Improved thickened seat sponge
 Flexible
 Back support with a curve
6. BERLMAN High Back Mesh Office Chair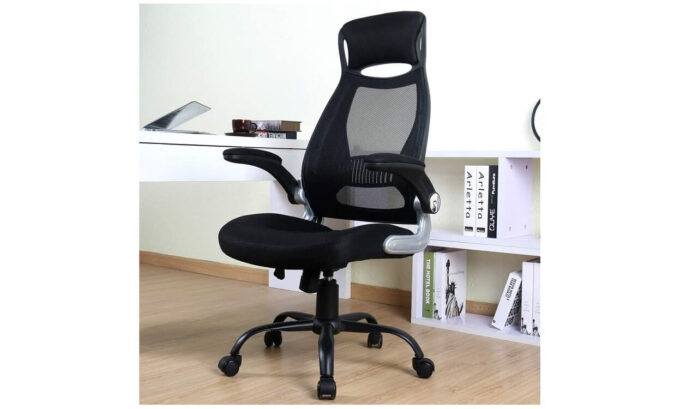 This BERLMAN office chair comes with built-in lumbar support as well as a headrest to help you relax and improve your overall sitting posture. Great for protecting your neck and waist, this chair comes with a strong and integrated frame which is built for reliability and durability.
With a breathable back mesh, you do not have to worry about the seat getting hot or sweaty. The chair also comes with fold-up arms so that it can be used in different spaces, adding to its versatility. Along with this, the chair also comes with a tilt lock mechanism and a tilt tension knob with pneumatic seat height adjustment to match your requirements.
 Tilt lock mechanism
Heavy-duty base
 Fold up arms for versatility
 Integrated and strong frame
Average seat padding
Armrest mesh is a little scratchy
7. Furmax Office Desk Leather Gaming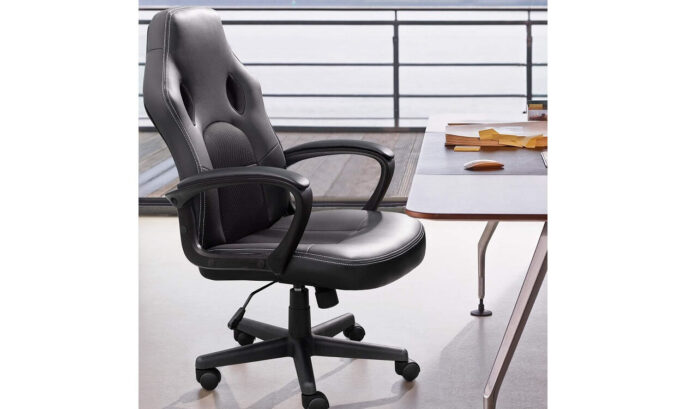 This Furmax office chair is a high back gaming chair that comes with a cozy leather and bucket seat along with padded armrests. The product's overall dimensions are 19.8 x 19.8 x 42 inches and it is available in the color black. The package includes the chair, installation hardware, installation tool, and installation manual.
This affordable office gaming chair comes with a load capacity of 280 lbs and uses the conventional tilt mechanism. With seat, backrest as well as height adjustability, this chair can turn your stressful work environments or competitive gaming atmospheres into a more relaxed, luxurious one.
With a 3-inch thick padded seat cushion, a 2-inch padded backrest, and an adjustable height from 15.2 inches to 18.3 inches, this office chair has been specially designed to provide you the maximum comfort in your workspace. Crafted in a way to provide you with maximum utility and comfort, this chair comes in an ergonomic design that enables the chair to rock back and forth and soothe your back.
 Seat, backrest and height adjustability
Thick seat and backrest padding
 Perfect for workspace or gaming centers
 Maximum utility
 Great body design
 Easy to assemble and glides smoothly
Have a Look: Top 10 Inexpensive Drawing Tablets
When it comes to buying the best affordable office chairs, you need to have a clear idea as to what sort of chair you want. You must be aware of the condition your body is in, what you want in your chair. For basics, one must always go for chairs with armrests, lumbar support, adjustable heights, and mesh backrests.
Resources: 
https://chairwiser.com/best-office-chairs-under-200/
https://www.gearpatrol.com/home/a10320/the-definitive-guide-to-choosing-an-office-chair/