More and more people are trying their hand at cooking delicacies at home instead of ordering in and to emerge fully successful in this endeavor to cook the perfect meal. One needs a kitchen appliance that not only makes cooking easy but also efficient and fun. The modern toaster oven is one such kitchen appliance that gives you the best cooking experience. With functions such as toasting, baking, broiling, dehydrating, defrosting and roasting, there is a lot you can cook for your families – from pizzas to nuggets. Here is the list of best cheap toaster ovens that one can buy online.
Best Cheap Toaster Ovens [Listed]
1. Hamilton Beach 6-Slice Countertop Toaster Oven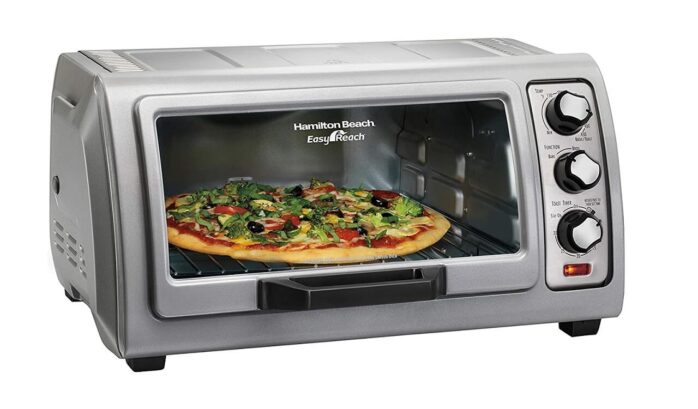 This easy to use toaster oven has a simple roll-top door that moves up and out of the way so that the user can have safe access to the food before after and even during cooking. The toaster's door placement has been strategically decided so that it avoids spills and drips, thus keeping it clean and safe.
This toaster oven comes in four slices and six slice variations, out of which, both allow the user to bake, broil and toast. Its 2-rack positions and an included bake pan make it easy to cook a variety of food items without much effort or risk.
The six slice variant can fit 12 inches of pizza and a 9 x 11 inches bake pan which makes the interior of this toaster oven super spacious and ideal for cooking snacks and dishes.
Additional features
Has a 30-minute timer with auto shut-off and optional stay-on settings
Comes with a removable crumb tray
Contoured knobs for easy maneuver
 Very easy to clean and maintain
 Easy access to food and countertop
 Compact design
 Safe-open top
 Can toast quickly
 Easy operation
 Limited timer (30 min only)
 Loud convection fan
2. BLACK+DECKER Countertop Convection Toaster Oven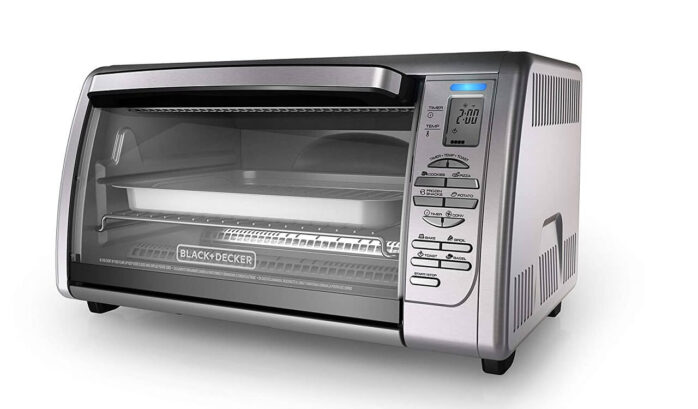 The BLACK+DECKER countertop convection toaster oven made out of stainless steel provides the user with cooking versatility at the touch of a button since it features a one-touch ability for a wide range of food items – from pizzas to bagels.
Its extra-deep curved interior fits up to 12 inches pizzas and so much more, giving you an elevated cooking experience while also not heating up the oven too much. Its eight different one-touch functions and dual-position rack make cooking easy, safe, and free of hassles.
Additional features
High and low oven rack positions provide the versatility to have great results on all foods.
Features convection baking where hot air circulates inside the oven for even baking.
 Small, light and portable design
 Superb heating with low exterior heating
Can cook foods with hot spots
3. Hamilton Beach Countertop Oven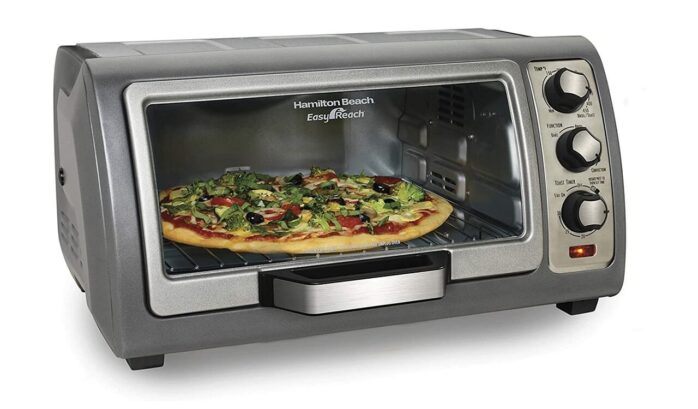 The Hamilton Beach Countertop toaster oven is another product that provides easy access to food with the roll-top door that moves up and out of the way for a safe, effortless, and hygienic cooking experience.
Rated 4.5 stars out of 5 on Amazon, this inexpensive toaster oven is a cook's best friend who is adept at baking, broiling, and toasting while also avoiding messy spills and drips.
Its 2-rack positions and the baking pan give it a highly spacious interior along with easy movement while baking. This smooth finish and advanced convection cooking make the preparation of side dishes as well as snacks a cakewalk!
Additional features
Convection bake, broil, and toast features for even cooking.
Contoured knobs that are easy to grip.
Front-access crumb tray.
 Easy to keep clean and maintain
 Highly spacious
 Convection cooking
4. Hamilton Beach Countertop Toaster Oven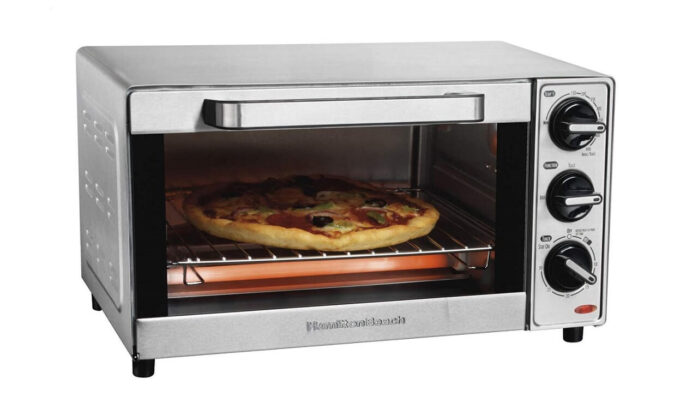 This toaster oven can fit four slices of toast slices (and a 9-inch pizza) and has a highly spacious interior while taking up very little space on a counter.
This stylish kitchen essential is perfect for someone who wishes to cook delicacies while also saving a lot of time. The toaster oven uses up to a whopping 75 percent lesser energy and is also around 28 percent faster than other toaster ovens in this range of price in the markets.
The adjustable temperature, a bake and broil pan and easy to use dials make this product very efficient performance-wise. Making snacks while being on a busy schedule becomes a whole lot easier with this Hamilton Beach Countertop toaster oven!
Additional features
It comes with a 30-minute timer with an automatic shut down feature.
Has toast, bake and broil settings.
The exterior is of stainless steel.
 Quick baking time
 Saves a lot of energy
 A limited timer of only 30 min
5. BLACK+DECKER 4-Slice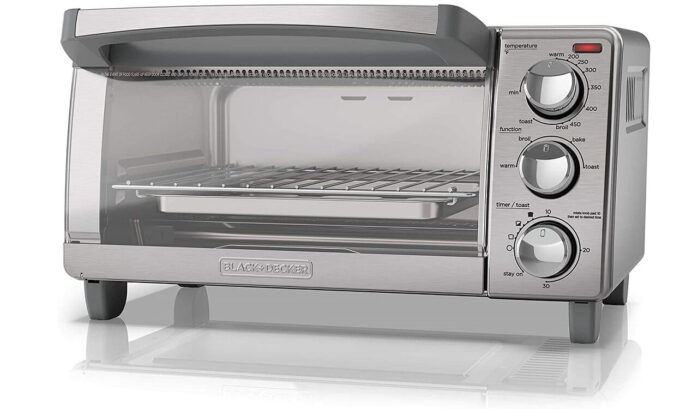 Rated 4.2 stars out of 5 on Amazon, this 4 slice toaster oven features natural convection technology as well as an EvenToast technology with an interior specially designed for hot air to circulate while cooking so that any food product is heated and cooked evenly.
This toaster oven comes with four easy cooking functions to choose from which can be used by the user. The functions, namely bake, broil, toast, and keep warm are simple to carry out and provide the best cooking experience.
The oven can fit a 9-inch pizza easily and a variety of other snacks. While being compact and stylish, this product also comes equipped with a rack and a baking pan for both, short and long duration cooking.
Additional features
Comes with a 30 min timer.
Has a wattage of 1150 Watts.
The toaster oven is made out of stainless steel.
Has an extra-wide viewing window.
 Does not heat up due to thick outer casing
 Has slick, smooth chrome knobs for easy management
 A limited timer of only 30 min
 The dials can be confusing due to close placement
6. Black+Decker TO1313SBD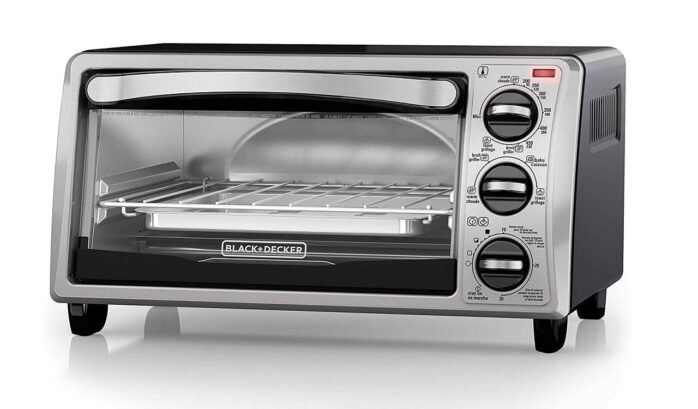 This affordable toaster oven from Black+Decker comes with the advanced EvenToast Technology in a design that can cook 4 slices of bread at a time. It can fit a 9-inch pizza and this toaster oven takes up minimum space on your kitchen counter as well.
The four cooking functions – bake, broil, toast and keep warm up to 450 degrees Fahrenheit – ensure that cooking does not give you any tension. It comes with a removable and easy to clean crumb tray. The product comes with easy controls and is suitable for people who are beginners in the baking world and want to cook up some delicacies.
The cleanup process is hassle-free as it comes with dishwasher-safe removable plates and features the Advanced George Tough non-stick coating that makes the product more durable than others in its price range.
Additional features
Includes a bake and broil rack.
Comes with EvenToast technology.
Has a 30 min timer and a stylish black-colored stainless steel body.
The dimensions are 4 x 11.3 x 9.4 inches.
 Great at toasting
 Saves energy
Low price
 Great-looking, made out of very high quality material
 Has a limited 30 minute timer
 Takes longer to bake
 Wall insulation is average
7. Betty Crocker BC-1664CB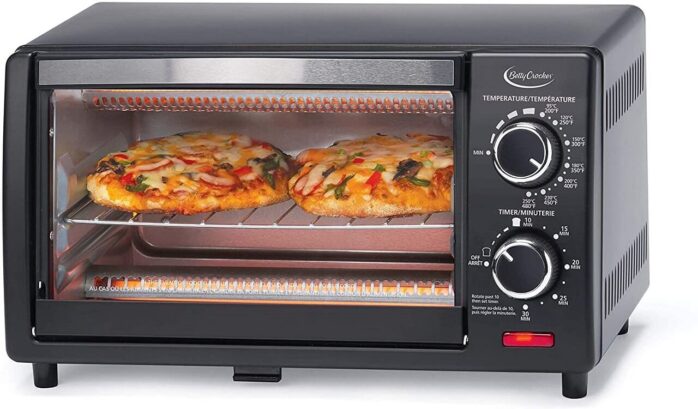 Rated 4.2 stars out of 5 on Amazon, this Betty Crocker toaster oven is a full-size baker and toaster which is also super handy. This countertop oven takes up very little space physically while providing a spacious interior that is simple to clean and takes almost no effort to maintain.
It can fit 4 slices of toast at once and comes with a bell signal and auto shut off feature so that your food is always precisely cooked to your taste. Its stylish black-colored cabinets made out of stainless steel make it a stylish and sturdy must-have kitchen appliance.
Additional features
Has a wattage of 1000 Watts.
Equipped with quartz heating elements.
Comes with a drop-down crumb tray.
Dimensions are 16 x 10.9 x 9.4 inches.
Includes a baking tray and rack.
A large and variable temperature range for precise cooking
 Cost-effective
 Easy to clean and maintain
Spot-on temperature-wise
 Limited timer of only 30 min
8. Hamilton Beach 6-Slice Countertop Toaster Oven (31411)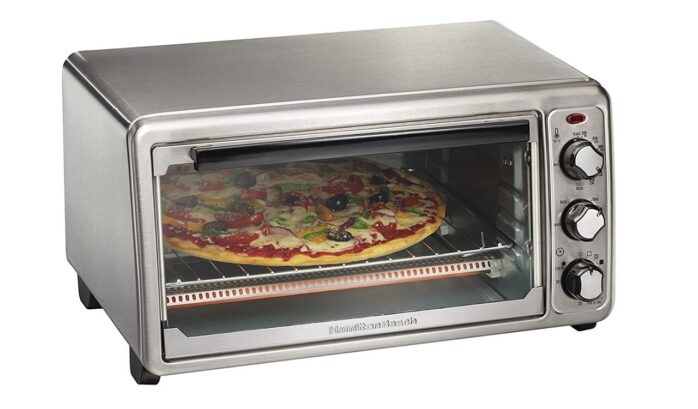 This Hamilton Beach toaster oven comes in an extra-wide 6-slice capacity that can easily fit a 12 inches pizza along with entire pans for efficient cooking.  This versatile product can bake, broil, toast, and keep your food warm and comes with an auto-shutoff feature.
Its three rack position and an ergonomic design give it its versatility in cooking. The toaster oven's elements are protected by perforated metal and it also comes with a Stay On feature that helps you get rid of the annoying ticking sound that ovens make while cooking for added convenience.
Additional Features
A stylish and stainless steel exterior.
Include a bake pan that slides underneath the rack when broiling.
Uses 64 percent less energy.
Comes with a slide-out crumb tray.
 Saves time and energy
 Easy to maintain and clean
 Heats up quickly and efficiently
 Cost-effective
 A limited 30 minute timer
The top of the toaster oven can get hot while cooking
Best 8-Slice Cheap Toaster Ovens (Wider)
9. BLACK+DECKER TO3250XSB 8-Slice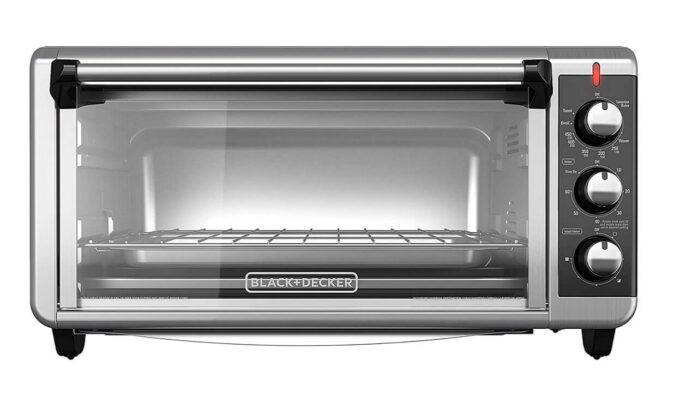 This Black+Decker toaster oven is a smart choice if you're looking for a convection toaster oven with a large capacity and ensured safety while cooking food items.
With dimensions of 14.5 x 22 x 11.5 inches, this spacious toaster oven has 3-rack positions for enhanced cooking flexibility. The temperature of the oven will always be lower than the set temperature due to its advanced heating elements. Along with that, the convection feature also shortens the heat time, thus saving a lot of cooking minutes and speeding up the making of your dishes.
It comes with a removable crumb tray and can fit most cooking pans in it with handles.
Additional features
Convection cooking for even heating.
Comes with state-of-the-art electronic controls with four settings for specific types of food.
A long 60 min timer for proper cooking.
Has a dedicated toast timer for accuracy.
 Simple, intuitive controls
 Highly spacious with an extra-wide interior
 Quick heating
Budget friendly
 Cost-effective
 Poor at broiling
 Comes with a short cord
10. Black+Decker TO3265XSSD Extra Wide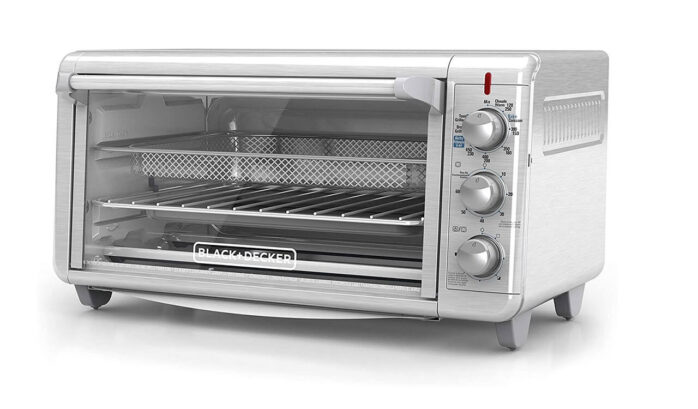 This Black+Decker toaster oven comes in an extra-wide spacious design that can fit up to 8 slices of toast and a 12-inch pizza. This roomy toaster oven can fit entire pans with their handles, making cooking a cakewalk.
The product comes with an advanced Air fry technology which gives the user the joy of consuming deep-fried food items without having to consume all the oil and fat that comes along with them. Having the extra-large capacity, this countertop toaster oven is suitable for a short time as well as long time cooking experiences.
This toaster oven comes with a total of five cooking functions to help you prepare your favorite delicacies without any hassles. It can bake, broil, keep food warm (or re-heat), air fry as well as toast allowing you to really enjoy what you cook by getting a variety of things done without much effort.
Additional features
Has a wattage of 1500 Watts.
The body of the toaster oven is made out of stainless steel.
Has a 60 min timer to ensure proper cooking of food.
Comes with an external crumb tray.
 Comes with advanced air fry technology
 Has a wider range of cooking functions, making it very versatile
Have A Look: Top 12 Coffee Pod Holders
So those were the inexpensive toaster ovens available in the market. We tried to cover the loves from different brands of different sizes and features. We hope that you liked the products. Before moving forward for the purchase, have a look at our buying guide for toaster ovens.
There is a general consensus amongst cooking enthusiasts that a toaster oven is better and more efficient than a conventional oven on multiple levels. It can help you cook more food items and has a score of settings to choose from, to provide the precise cooking conditions for a food item.
Toaster ovens are also smaller in size and easy to clean, store, and maintain in the kitchen, thus providing people with more options while consuming very little space. Foods in conventional ovens cook slower and unevenly which is the opposite of what happens in a toaster oven.
These small and efficient kitchen appliances are more versatile, consistent, and environment-friendly than most kitchen appliances and are a must-have if one enjoys cooking. It is a good one-time investment for a reduced electricity bill and a wide range of food products that can be made with the help of them in your own kitchen!
Toaster Oven vs Microwave Oven
A toaster oven has become an alternative for microwave oven in millions of households worldwide. People generally prefer a toaster oven over a microwave when they are running out of space on their kitchen countertop because a toaster oven is comparatively smaller in dimension and lightweight than the microwave.
However, a microwave oven is more capable of evenly cooking the meal in less time, when compared to a toaster oven. This is due to the fact that a microwave oven uses electromagnetic radiation which dries up the water molecule inside the food and reduces the meal prep time. Also, the microwave oven usage up to 20 % less energy than a toaster oven for cooking the meal.
But for preparing small meals a toaster oven uses less wattage than the microwave. Moreover, a toaster oven is your go-to appliance if you love crispy food because a microwave oven can't give you toasting and browning feature that a toaster oven boasts.
Working Of A Toaster Oven
A toaster oven has heating elements on the bottom and top side of it. The bottom heating elements come in use when you want to bake your food. Similarly, the heating elements at the top side of the oven are used when you choose to broil your meal. For toasting or browning your food, both the top and bottom heating elements radiate heat. This heat radiating from the heating elements cook the food placed inside the oven and makes it crispy.
A convection toaster oven, on the other hand, has a fan inside which distributes the radiating heat evenly in the oven and cooks the food more evenly. 
Factors To Consider Before Buying Best Cheap Toaster Oven
Size
The toaster oven comes in a variety of sizes and you can choose one depending upon available space on your kitchen's countertop. However, the smaller toaster ovens might not be able to cook all the dishes that a bigger oven could cook. 
Also, the quantity of food you can cook at one time is less in smaller ovens, if you have a large family then you may have to use the oven several times to cook your family meal. So choose the size of the oven keeping all the factors in mind and then make the decision.
Functions
A toaster oven boasts lots of functions that allow you to cook different cuisines in it. Functions like bake, toast, and broiling are most common in these ovens and you will easily find them in almost all toaster ovens.  Some toaster ovens have functions that are primely provided to cook a specific kind of cuisine like pizza, bagel, and cookies. Here are some function settings that you should look out for when buying a toaster oven for the best cooking experience.
1. Air-Fry: This feature allows you to bake and cook frozen food items using quick heat and a fan.
2. Dual Cooking: This function allows you to use two different temperatures within one cooking function for maximum flexibility.
3. Roast: The roast function is different from the bake function in a way that it requires a higher temperature for creating a brown color crust on the outside of the food that is being prepared in the oven.
4. Reheat: The rehat function is great in reheating the leftover food without drying it out. This function cooks the leftover food in medium-low temperature to retain the flavors in it.
5. Slow Cooking: An oven with slow cooking function allows you to cook your food slowly and bring out all the flavors in it. In this function, the oven cooks the food in low temperatures for a set period of time.
Additional Features
Apart from functions, there are some additional features that one must lookout in a toaster oven for better usability and cooking experience. For example, a convection oven has a fan inside it. Similarly there more features of a toaster oven which makes it a complete cooking appliance.
Lights
Having lights inside the oven is a great feature to have because with the light turned on you can see how your dish is coming out. Moreover, you won't have to open the door of the oven again and again to see your dish.
LCD Screen
An LCD screen on the oven shows you the selected function and temperature setting on it. Some high-end oven also shows you signals on the screen that your dish is ready or not. So having an oven with an LCD screen is more than just convenient.
Multiple Rack Positioning
The ability to change the rack position inside the oven allows you to take your food closer or far from the heating elements present at the top and bottom of the oven. It gives you more flexibility to cook food in your own way.
Auto Eject Rack
This is a good safety feature that must look out for in an oven. With this feature, the rack automatically moves towards you when you open the door of the oven, so that you can take out the tray without putting your hand inside the oven which may cause accidental burning hazard due to the warm interior of the oven.
Timer and Auto shut Off
A timer on the oven alerts you by a beeping sound that your food is ready and you can take it out of the oven. Some advanced ovens also have the auto shut off function with the timer which turns off the oven once the food is cooked.
Rotisserie
The ovens that have the rotisserie feature will come with a rotisserie spit that you can fit inside the oven. The spit starts rotating and allows you to cook the meal evenly from all the directions.
Racks and Additional Accessories
Accessories allow you to cook and try different meals in your toaster oven, you won't get all the accessories with the oven you buy. Some of the accessories you get with the oven other you have to buy separately. Here are some must-have accessories to have for using the oven to the fullest.
1. Racks: The metal racks you get with most of the ovens help you in broiling your meal perfectly without toasting or browning it.
2. Baking Pan: If you are a baking enthusiast then a baking pan is a must-have accessory for you. It allows you to bake as well as broil your meal.
3. Removal Crumb Tray: The crumb tray is the bottom-most part of the oven which gets a lot of strains and loses crumbs while cooking the meal in the oven. Having a removal crumb tray makes it easier for you to clean it by removing the tray out of the oven and then insert it back after washing it.
4. Pizza Stone: A pizza stone is a circular metal pan that helps you bake pizza to perfection.
Ease Of Cleaning
While buying a toaster oven apart from looking at its features and functions you should also check if the oven is easy to clean or not. Because if it's not easy to clean then you may have to spend a lot of time cleaning it manually each time you cook the food.
Look for an oven that comes with a removal crumb tray and also if the interior of the oven has a non-stick coating, then it makes the task of cleaning the toaster oven easier.
FAQs
Can you cook Meat In Toaster Oven?
Yes, you can easily cook meat in a toaster oven. The broil settings is the best option to choose when you are cooking the meat in the toaster oven.
Can you use aluminum foil in a Toaster Oven?
Using an aluminum foil in the toaster oven can prove hazardous as it can melt or catch fire if it comes in contact with the heating elements of the toaster.
Can you preheat a toaster oven?
Yes, toaster ovens can preheat and it depends on its size and heating ability that how much time it takes to preheat.
What are some benefits of using a toaster oven?
There are many benefits of a toaster oven such as
They are affordable

Are compact in size

Easy to use and maintain

Save cooking time as they heat up quickly
How often should the toaster ovens be replaced?
A well-maintained toaster oven can easily last up to 5 to 6 years, so you should at least wait for that much period of time before replacing your old oven with a new one.