If you are a coffee lover, you cannot deny the blessings that are coffee pods. Those capsule-sized wonders that make the perfect cup of coffee every time, are one of the best things about mornings. And no wonder we caffeine fans are always searching for the perfect coffee pod holders to store and retrieve our coffee pods. Before buying a coffee pod holder, you must consider a few facts like the dimension, the capacity, and the material of the coffee pod holders. So here we present to you the top 12 coffee pod holders of 2020. Take your pick!
We have categorized the list according to the types of coffee pod holders: Drawer holders, Display holders, Wall Mount, and Side Mount holders.
Drawer Cofee Pod Holders
1. DecoBros K-Cup Storage Drawer
Price: $19.97
View on Amazon
DecoBros has created quite the buzz for itself in the field of coffee pod holders with their affordable and durable products! This K-Cup storage drawer has the dimensions of 13.3″ x 3.3″ x 13.4″. It has a single drawer with six rows and six columns, so the maximum capacity of the drawer is 36 cups.
This black, metal mesh drawer is not only a chic upgrade to your coffee station but is also a great space saver! As the top is made of metal, you can place your Keurig machine right on top without a single worry. It doesn't even vibrate while the machine is on!
Despite it is one of the best coffee pod holders, it has a single con- the last 1″ of the drawer doesn't slide out very easily. But then again, this 1″ makes sure that the whole thing does not come out and fall at a rough pull!
Ratings: Most customers have found it very satisfactory, as indicated by the 4.8 ratings on Amazon.
Metal mesh drawer
Smooth slide in and out
Value for money
No vibration when using machine on top of it
Can place another drawer or machine on top of it
A little sliding out issue with last row
2. DecoBros Crystal Tempered Glass Drawer Pod Holder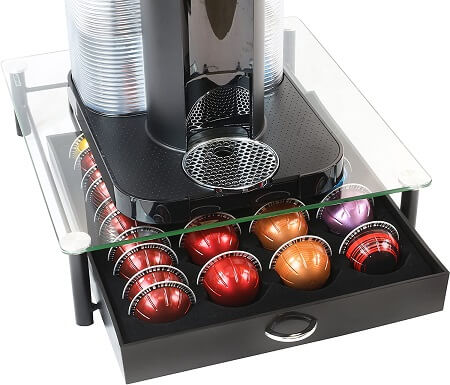 Price: $31.97
View on Amazon
This drawer pod holder from DecoBros is the best way for you to assure that your coffee pods are neatly arranged and ready for your cuppa! All you have to do is fix it right under the coffee machine.
This holder is best suited for Nespresso Vertuoline capsules – you can fit in 40 small capsules or 20 large ones. The product dimensions are 14.3" x 13.4" x 3.3". It has 10 rows and 4 columns and can be pulled out all the way, for you to easily take out a pod. It is made of plastic but is extremely sturdy, so you can stack a couple of pods one on top of the other in the holders. The tempered glass top not only protects the pods but also makes the drawer look good!
Ratings: And we're not the only ones going gaga over this! It has a 4.8 rating on Amazon, with the majority of people giving it 5 stars.
Beautiful Glass Top
Sturdy plastic material
Can place the machine on top of the drawer
Little inconvenient to pick capsules from the last row
3. Nifty 4-tier 72 K-Cup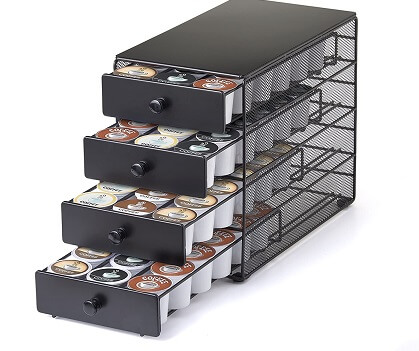 Price: $30.49
View on Amazon
If you are looking for a large capacity coffee pod holder to install in your coffee station, then look no further! The Nifty K-Cup coffee pod holder will check all your boxes! It is made of metal net and has product dimensions 12.8″ x 7″ x 9.8″. The four drawers are made of metal and each of them has three columns and six rows, so the total capacity of the drawer is 72 pods.
The drawers are sliding and you can utilize that to easily keep or take out your pods! As the top of the drawer is made of solid metal, you can use up that space to keep your coffee mugs as well.
The pros of the drawer are the fact that it is easy to use, a great space saver and has a smart look to it. The only downside is that the bottom-most drawer must be operated carefully so it does not get stuck.
Ratings: No wonder it has a 4.9/5 rating on Amazon!
Large Holding Capacity
Multiple Drawers
Good for a small office or home
Cannot put the coffee machine on top of it
4. Nifty Nespresso Store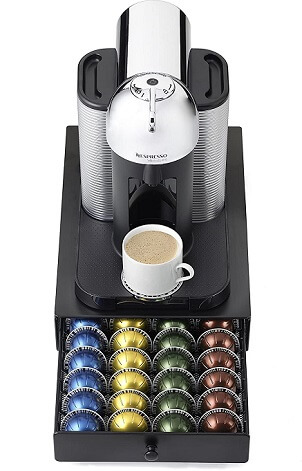 Price: $29.99
View on Amazon
This Nifty drawer holder for storing your Nespresso capsules is a god-send! It is a perfect fit for your cabinet with the dimensions of 16.2″ x 10.2″ x 3.5″. It has 10 rows of 4 columns each, so you can store 40 capsules.
The drawer has a sleek black look and though it is made of thin metal, the top is quite sturdy and durable. You can place your brewer on top without a shadow of a doubt!
The USP of this product, however, is the rolling and braking mechanism that has been used. You can roll it out of the cabinet for your morning shot of espresso and then roll it back. When not in use, the braking mechanism keeps it right where you fit it!
The pros of the product are that it has been designed to hold large and small size capsule and can be easily opened and closed with the smooth sliding mechanism.
Ratings: Since it has a stellar rating of 4.6 on Amazon, you can go ahead and buy it!
Space-saving design
Rolling and braking mechanism
Can put the coffee maker on top of it
A little inconvenient to use last row
5. Mind-Reader Anchor 36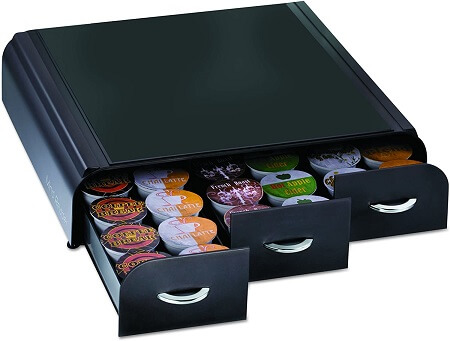 Price: $16.99
View on Amazon
If everybody in your house has their favorite coffee flavor and most mornings start with you frantically searching for your pod, then this is just what you need! It has three drawers placed side by side in a single rack. Each drawer has six rows and two columns, bringing the maximum capacity of the whole drawer to 36 K-cups.
The product dimensions are 13.5″ x 12.8″ x 3.1″ and it weighs in at a meager 2.25 pounds. The drawer is durable and if you place your brewer on top, your whole coffee station will only take up a tiny fraction of your countertop.
As the drawer slides out very easily, not only can you access all the pods at once, you can also clean out the stains with tissue at ease. Also, it doesn't jam at all!
Ratings: If you see the 4.7 Amazon rating, you will realize it has made the morning coffee routine quick and enjoyable for customers!
Available in multiple colors
Solid Plastic material
Multiple drawers for neatly organizing
Rubber grips for better holding on slippery surface
Not recommended to stack another drawer
Have A Look: Top 5 RGB LED Strips
Display Coffee Pod Holders
6. Nifty K-Cup Carousel
Price: $29.99
View on Amazon
This trendy K-Cup carousel by Nifty is the best-rated product in the whole list and there's no doubt why!
It is made of steel, is 13 inches in height and the lazy Susan base is 7 inches in diameter. The base rotates a full 360 degrees. So you need not stack all your espresso capsules in your drawer and then hunt for them. You can simply rotate the carousel and pick the flavor you feel like sipping on today!
It has 7 columns and each has 5 pod holders. The holder is fashionable and will give your coffee corner a quirky upgrade. It has been designed specially to save space and is the holders are a perfect fit for your K-Cups. However, keep in mind it is not compatible with Rivo or even Starbucks coffee pods.
Ratings: It has a whopping 4.9 rating on Amazon with many customers saying it is the best gift to give friends who are coffee lovers!
Trendy design
Rotates 360 degree
Doesn't take much space
The pods might fall out when you spin
7. Mind Reader RAC3PC-BLK Coffee Pod Holder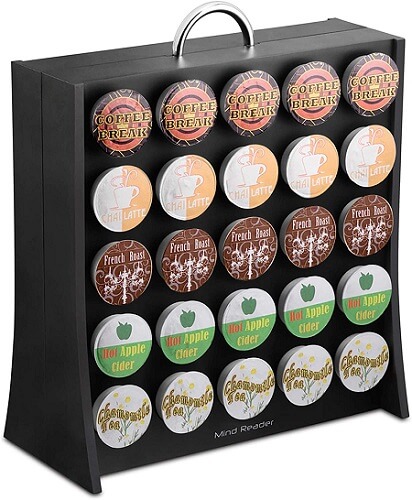 Price: $14.99
View on Amazon
We have found the best way to spruce up your coffee counter and it does not even take up much space! The Mind Reader K-cup Coffee Pod Portable Holder is a sleek black steel holder for K-Cups.
It has five rows and five columns on both sides and hence holds a maximum of 50 K-Cups. The size of the pockets is so well designed that they hold almost all brands of K-Cups available in the market.
The product dimensions are 5.2″ x 12.68″ x 14.48″ and it has a metal handle which makes it easy for you to carry.
However, the USP of the holder is in its self-locking system. With this mechanism, no matter how much you tilt it, none of the pods will fall! Rubber grippers are also fit at the bottom of the pockets so that the capsules sit tight and do not come out.
Ratings: It has a 4.4 rating on Amazon and customers feel it is an apt addition to the coffee station, either at home or at the office.
Great design
Good holding capacity
Self locking system
Short pods might fall out
8. Insight Nespresso
Price: Price not available
View on Amazon
If you like picking your coffee flavor depending on how you feel on a particular morning, then look no further! The Insight Nespresso Coffee Pod holder is a shiny black metal rack which will display all the flavors in your arsenal altogether- helping you decide whether you feel like hot chocolate or decaf!
The holder has 6 columns and 10 rows, thus holding a maximum of 60 capsules at once. The product dimensions are 12.5″ x 4.5″ x 17.3″ and the material is powder-coated metal.
The pros of the product are the sturdy design, quirky coffee mug carved out on top, and the satisfaction guarantee offered by Insight, which promises a full refund if you are not happy. The only con of the product is that it does not accommodate Nespresso Vertuoline capsules, but only original Nespresso capsules.
Ratings: If the 4.6 rating on Amazon says anything, it's that the customers are quite happy with the service and haven't needed a refund at all!
Huge capacity
Good build quality
Can organize the flavors according to the columns
9. Boston Warehouse 33458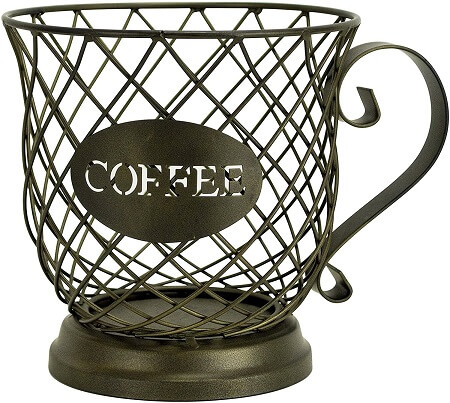 Price: $35.14
View on Amazon
If you have a good collection of different types of coffee capsules, be it K-Cups or Nespresso capsules, then there could not be a better-suited product for you. The Boston Warehouse Coffee Holder is a huge metal mesh mug of dimensions 7″ x 7″ x 9″. It holds a maximum of 20 K-Cups, but if you were to store Nespresso capsules, you could fit in many more!
The biggest pro of the mug is that it has a soft padded bottom so you need not be apprehensive of scratches on your counter. The only con might be the fact that you will have to scramble a little to look for a particular flavor.
Not only does this mug add a little kink to your kitchen counter, but it is very useful in other ways as well. For example, if you run out of coffee pods, you can utilize it as a basket to keep tea, sugar pouches, creamers, or even your mail!
Ratings: It has a 4.8 rating on Amazon.
Beautiful design
Multi-use, can put tea, sugar pouches or fruits
Have A Look: Top 7 Hair Dryers Under $50
WALL MOUNT HOLDERS
10. Mind Reader WMNT-BLK Mounty Coffee Pod Holder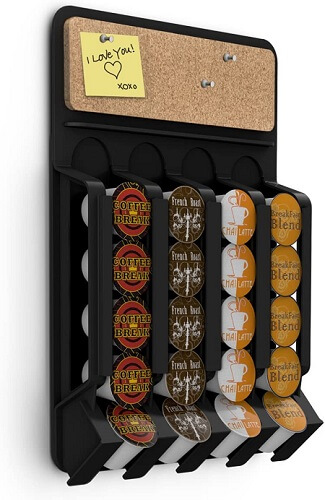 Price: $21.99
View on Amazon
Now we come to the ultimate space saver! This mountable coffee pod holder from Mind Reader will be the answer to your coffee woes if your kitchen countertop is small or you do not want to clutter your countertop with coffee pods.
It has 4 columns and 5 rows and can be mounted either on the wall or your refrigerator. Either way, it's very easy to fix up! It is, however, suitable only for K-Cups and can hold 20 at most.
The product dimensions are 2.72″ x 10.7″ x 15.75″. It has a small corkboard on top where you can pin your to-do lists or reminders for the day. The real USP of the product is the coffee dispensing mechanism-just grab your pod from below and the others just slide down!
Ratings: It has a rating of 3.8 on Amazon and can be put up anywhere you please- in your home or the office!
Space Saver
Can be mounted on fridge or wall
Additional, cork board at top
Mounting magnet quality is not good enough
11. Lungogo Coffee Pod Holder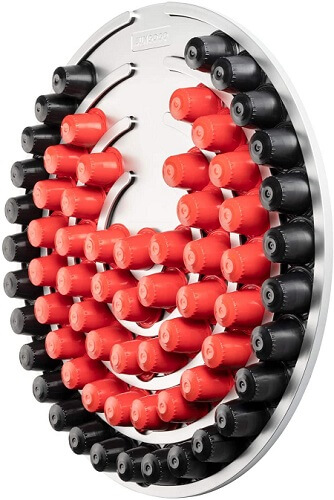 Price: $24.99
View on Amazon
Here's a wall mount that will spice up your kitchen interior and also save space for you! The Lungogo Coffee Pod Holder is a round plastic, lightweight holder which holds up to 65 coffee pods at a time.
The product dimensions are 17″ x 15.5″ x 1.2″ and it has 5 rows, with a diminishing number of capsule pockets in each row.
It can easily be fixed on the wall or the fridge and takes up minimal space. The dispensing mechanism is very good and the capsules are dispensed from either end of each row.
The pros of the product are that it is lightweight, space-saving holds a good number of pods, and is appropriate for both the kitchen and the office space. The downside is that it is compatible only with the original Nespresso capsule and not the Vertuoline ones or K-Cups.
Ratings: It has a 4.3 rating on Amazon, with customers praising the strength and resistance of the product, and its catchy design.
Large capacity
Easy to set up
Easy to clean material
Side Mount Holders
12. Sidekick Coffee Pod Dispenser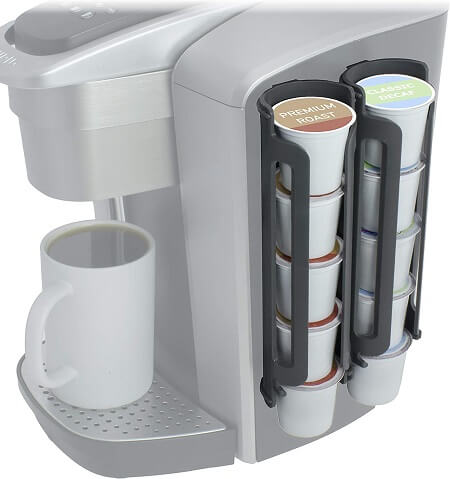 Price: Price not available
View on Amazon
This coffee pod holder is the ultimate hack to keep your coffee station compact and tidy! This dispenser is 9.8″ x 3.2″ x 2.4″ in dimensions and can be mounted to the side of your Keurig brewer.
There are two versions of this coffee dispenser- 2 pack and 3 pack. Each pack has a single plastic rack having a single column and 5 rows. So with the 2 pack, you will be able to hold 10 K-Cups and with the 3 pack, 15 pods.
The installation of the dispenser is a piece of cake. Just take the adhesive paper off the back and press it into the side of the machine.
And because of the size of the holders, you can simply buy two more 2 packs and fix them into the other side and back of the machine, so you can hold 30 pods at once!
Ratings: It has a 4.7 rating on Amazon and customers vouch for the design, quality, and ingenious space-saving idea.
Easy to install
Convenient to use
Space saver
Less holding capacity
Can hold K-cups only
Things To Know Before You Buy A Coffee Pod Holder
A pod holder is always on top of the bucket list of a coffee lover. However, buying a coffee pod holder may not be that simple as it may look, there are a lot of factors one needs to take into consideration before buying the perfect coffee pod holder. However, you can refer to this buying guide to make shopping easier for you.
Types Of Pod Holders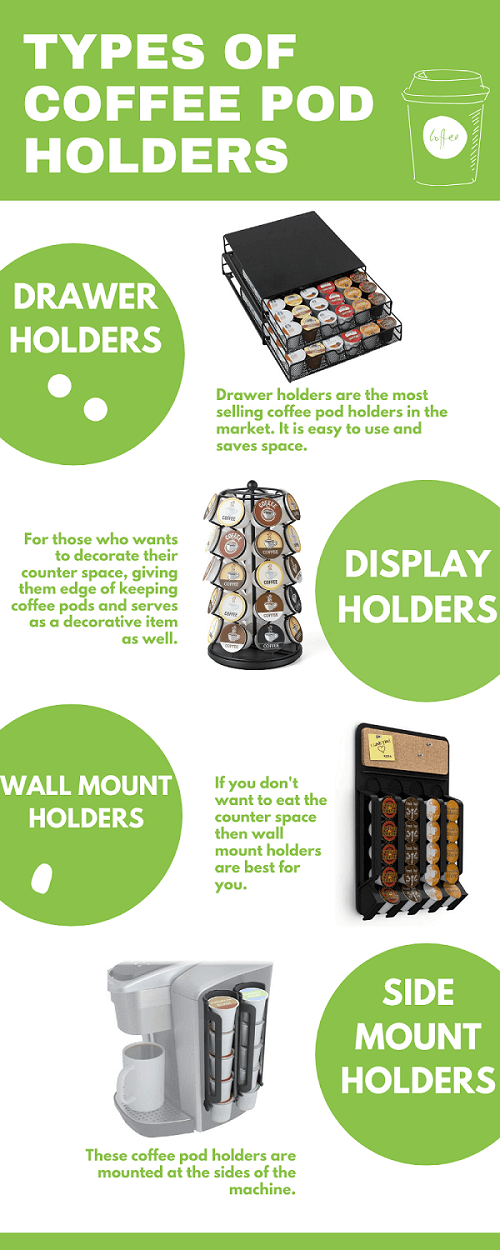 When searching for pod holders in the online or offline marketplace, you will come across different types of holders, but, the most popular types of pod holders are as follows
1. Drawer Storage
These types of coffee pod holders come with a drawer storage area to store your coffee pods and K Cups. These pod storage units are very sleek in design and take up very little space on your kitchen counter. The icing on the cake is, if you are running out of space, you can even put your espresso machine over these pod holders.
This way your espresso machine will be lifted off the counter by a few inches. Which is great for keeping the machine out of kid's reach and will also protect it from accidental liquid spills. The best thing about these storage units is that they are stackable i.e you can stack them one over the other if one drawer storage is not enough for you. 
2. Display Pod Holders
If you are someone who is proud of their Coffee drinking habits and want to show off your love for coffee, then these are the pod holders for you. Unlike the drawer storage pod holder, where the coffee pods are hidden in a drawer compartment, here you can proudly show off your collection of coffee pods to your friends and guests.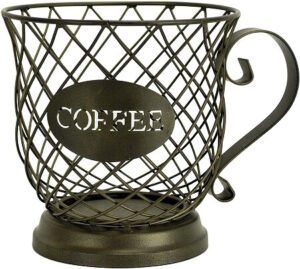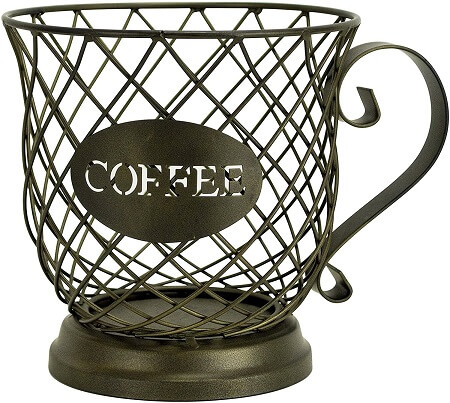 The display pod holders come in a variety of different shapes and sizes, apart from just holding your pods, they also add beauty to your kitchen. 
3. Wall Mount Pod Holders
As the name suggests these pod holders are mounted on the wall. If you have zero space left on the counter then these can help you to organize the pods.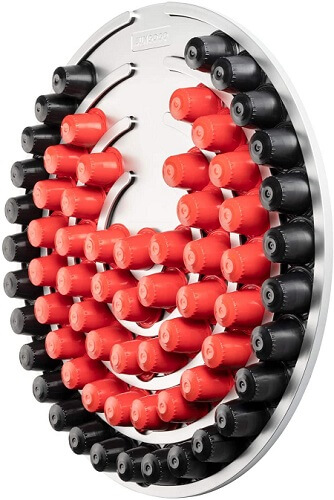 Make sure you mount these pods next to the espresso machine. So that it's convenient for you to use the pods whenever you want them.
4. Side Mounting Holder
These pod holders are the most convenient to use as they easily get mounted on the side of your espresso machine.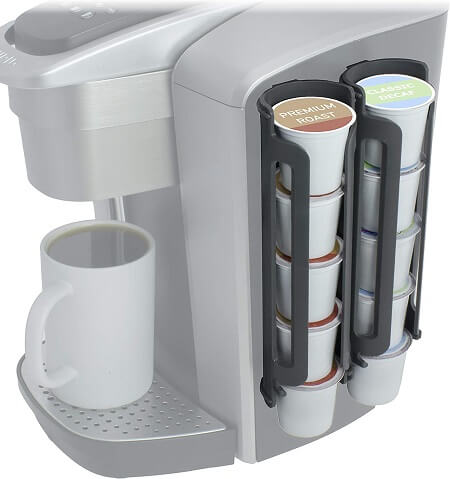 However, the only downside of these pod holders is that they do not have a large capacity i.e they can not hold more than a few coffee pods at once.
Pod Holder Material
The pod holders are made out of different types of materials, like Steel, Wood, Bamboo, Glass, Mesh Wire, etc. You can choose a pod holder made out of any of these materials, however, if you are going to put your coffee machine over it i.e on drawer pod holder, then make sure it is made out of material like stainless steel or solid plastic. 
On the other hand, mesh wire and wooden textures give pod holders a great look, thus, make them good material for display pod holders. Overall, depending on how you are going to use it, the material of the pod holder can vary. 
Pod Holder size
Keurig and Nespresso are the most popular coffee brewing systems in the world right now. You will probably have one of these espresso machines in your home, however, the pods used in these systems are not interchangeable i.e you can not use Nespresso capsules in a Keurig system, neither the Keurig pods AKA K Cups in a Nespresso system. 
Because the pod's size varies as per their manufacturers like a K cup (9-12 g coffee inside) is larger in size than the Nespresso pods(6 g coffee inside).
So depending on your coffee pod's size, the size of the pod holder can vary. If you have the Nespresso pods then go with a compact size pod holder, similarly, for K cups the size of the holder should be larger.
Note: Most of the pod holders are made particularly for one kind of pod i.e a Nespresso pod holder or a K cup pod holder. But there are also universal pod holders that can hold all kinds of pods.
Capacity
The capacity of a pod holder is also a deciding factor for whether you should buy it or not. If you are a hardcore coffee drinker and like to store a lot of coffee pods then you should get a pod holder with larger capacity i.e a pod holder that can store 40 or more pods at once.
However, if you are not a daily coffee person, then a pod holder with a smaller capacity would do the job for you. 
Color And Design
The pod holders come in a variety of colors and designs, especially if you are going with the display pod holders. You can choose the design of the holder that perfectly fits in your kitchen along with other appliances. 
You will also get a lot of color options in the pod holders, choose the color you think will suit best with your kitchen interior.
Price
The price of the pod holders starts around $15 and can reach up to $50 or more. However, the price variations are mainly due to the capacity, size, and material of the pod holder. However, during our research, we have found that even the cheapest of the pod holders have generated equally good reviews as any of the expensive pod holders. Thus, you need not spend much on pod holders as long as the cheap ones are relevant to you.
Types Of Coffee Pods
The coffee pods are single-serve coffee containers, which contain just the right amount of coffee to produce a perfect cup of joe, without any measurements. However, all the coffee pods are not the same, different coffee brewing systems use different types of coffee pods.
1. Soft Pods
The soft pods are coffee containers in which the grounded coffee is packed in a filter paper. These pods are lighter in weight and are mainly used in Senseo Coffee makers.
Apart from being lightweight, they are cheaper than other pods and are readily available in both online and offline marketplace.
2. ESE Pods
The ESE (Easy Serving Espresso) pods are also known as Hard pods. In terms of look, they are quite similar to the soft pods. But, unlike soft pods, these come in a hard paper filter casing.
The ESE pods are bigger in size and also contain more coffee per pod than a soft pod. Also, these coffee pods work only in a non-grinding espresso coffee machine. 
3. Coffee Capsules
The coffee capsules vary from the ESE pods and soft pods in the way they are packed. While the pods are packed in a filter paper, the coffee capsules, on the other hand, are packed in a plastic or aluminum package. K cups and Nespresso capsules are the best examples of them.
These capsules are more expensive than the pods but are also more hygienic and easier to use. Also, these capsules only work in their particular brewing systems (Espresso machines) and not others.
References: