Do you know that the world is just six years away from celebrating the completion of two centuries since the first-ever photograph was taken in the year 1826?
The art of photography has undergone radical changes in the span of nearly 200 years and so have the equipment and techniques used in photography. However, as they say, "somethings can never fall out of favor", instant cameras are still the first choice for many photography projects and endeavors.
If you are a photography enthusiast, you might be aware of the revived popularity of instant cameras. While some may term it as "blast from the past" or "old school charm", the reality is that instant cameras never drifted out of the picture! These cameras have a unique appeal due to various reasons, the most important of them being, getting a decent quality photograph within seconds of clicking a shot.
Though instant cameras are relatively cheaper than versatile DSLR cameras or high-end compact digital cameras, you should not buy one without conducting significant research. You must buy an instant camera built by a reputable company. Fujifilm holds a strong position in the industry of photographic equipment. Therefore, we have provided detailed information about Fujifilm Instax Cameras in this article.
The 7 Best Fujifilm Instax Cameras
Instax has become a well-known brand for instant cameras all over the world and the icing on the cake is the company that stands behind this brand. Known for its insatiable hunger for innovation, Fujifilm has earned the trust of the people over the years.
Holding a nice Fujifilm Instax Camera can make you the most attractive person at weddings, parties, corporate functions, and many other events. We have prepared a list of the 7 best Instax cameras made by Fujifilm after considering a variety of factors.
1. Fujifilm Instax Mini 90 Neo Classic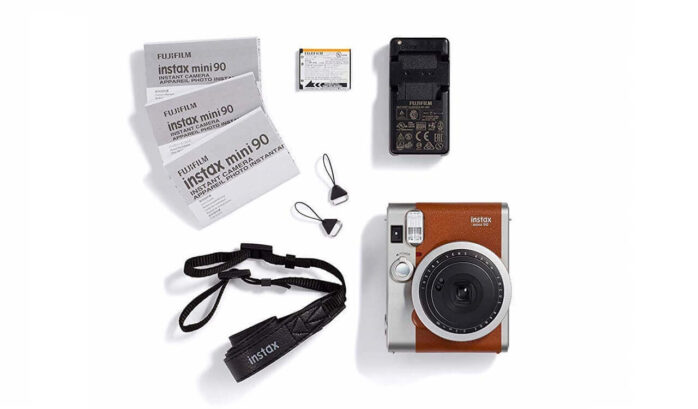 Built to exceed all the expectations of photography lovers, Fujifilm Instax Mini 90 Neo Classic is a real treat to possess and use. Having a wide array of features, beautiful design, and stylish look, this camera is suitable for varied personal and professional purposes.
As words "Neo-Classic" suggest, Fujifilm Instax Mini 90 Neo Classic instant camera revives the look and feel of classic instant cameras. With a high performance automatic electronic flash that adjusts the brightness as per the distance between the camera lens and the subject, you can optimize the exposure and capture the finest quality pictures.
Coming with a rechargeable battery, this camera has multiple shooting modes, such as macro, landscape, kids, party, bulb exposure, and double exposure. The bulb exposure mode allows you to click photographs that have night views and light streaks. By selecting the double exposure mode, you can take superimpose two different images in a single frame.
Features
 The lithium-ion battery NP-45A of this camera runs for 10 film packs
 The film takes around 90 seconds to develop after capturing a shot
 The size of the pictures taken with this camera is 62mm x 46mm
 The size of films to be loaded into this camera is 86mm x 54mm
You can switch modes and functions while looking at the subject through the viewfinder by rotating the mode dial. As the power switch and shutter button are located close to each other, you can switch on the camera and capture shots conveniently and quickly.
Comes with a tripod socket mount
Robust body and retro appearance
Great for exploring creativity
Films are not included with the camera
2. Instax Square SQ6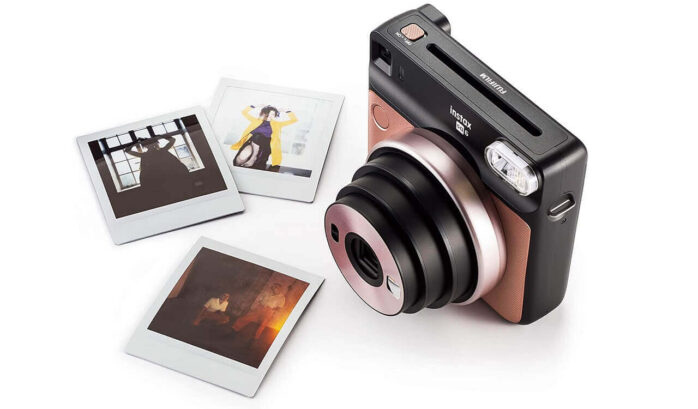 View on Amazon
Enabling you to take instant square photographs just like people of earlier generations used to, Fujifilm Instax Square SQ6 camera has won many hearts. Being the first Analog camera in the category of Instax square cameras, it certainly stands outs from other instant cameras.
The USP of Fujifilm Instax Square SQ6 camera is that it comes with 3 colored gels in green, orange, and purple colors. You can fit a colored gel over the top of the flash to give a unique look and feel to pictures. The electronically controlled self-timer option gives you a time of 10 seconds after pressing the shutter button to join your family and friends for becoming a part of photographs.
Clicking shots in low-light and dark surroundings have become easy with this camera due to its automatic exposure control function. You can even manually adjust the exposure for getting the desired light or dark tone in the photograph. With a small mirror located near the lens at the front of the camera, you can capture amazing pictures in selfie mode.
Features
The size of the square format file used with this camera is 3.4" x 2.8"
The size of the actual picture after removing the border is 2.4" x 2.4"
The camera has 2 CR2 batteries that last for 300 photographs
The camera has a tripod mount which is located at the bottom
Normal, macro, landscape, selfie, and double exposure are various modes available for clicking photographs by using the Fujifilm Instax Square SQ6 camera. The range of the flash lamp is quite effective.
LED light indicators for different functions
Nice build quality and comfortable to handle
The film size is suitable for all types of pictures
Flash Color Filters
CR2 batteries are not rechargeable
Square format films are expensive
3. Fujifilm Instax Mini 9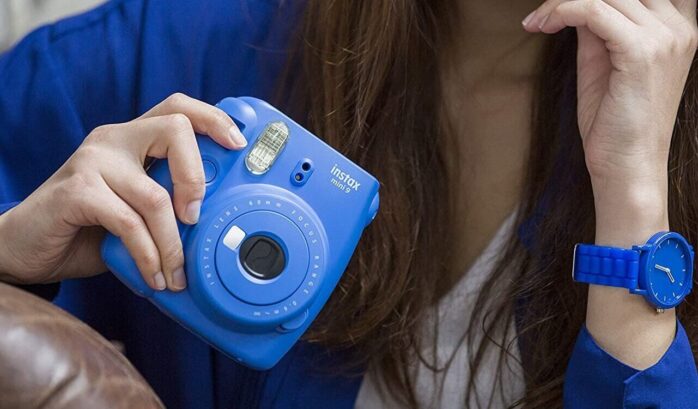 Fujifilm Instax Mini 9 is the perfect instant camera for photographers who want to capture first-class pictures swiftly and easily. If you have used Fujifilm Instax Mini 8 camera, then you would definitely love this camera as Fujifilm has taken Mini 8 up a notch for making Mini 9.
Equipped with some wonderful features, Fujifilm Instax Mini 9 instant camera can click both close-up and long shots. The camera decides the brightness level and suggests the appropriate aperture settings for taking a picture accordingly. Thus, you can adjust the dial to the position of the corresponding LED light that gets flashed by the camera.
Along with automatic exposure measurement, Fujifilm Instax Mini 9 camera also comes with a built-in selfie mirror and close-up lens attachment. With close-up lens attachment, you can click photographs within 35 cm to 50 cm range of the camera.
2 AA standard batteries are used in this camera. Both colored and black and white mini-films are available for loading into this camera.
Features
The high key mode allows you to take pictures with a soft tone
The size of pictures clicked with this camera is 2.44 x 1.81 inches
The shutter speed is 1 per 60 sec and recycles time is 0.2 to 6 sec
The picture gets fully developed in a time of 3 to 4 minutes
The whole process of capturing photographs with Fujifilm Instax Mini 9 is very simple due to the automatic brightness adjustment function. You just need to turn on the camera by pressing the power button located beside the lens, shift the brightness adjustment dial, and press the shutter.
Auto power off time of 5 minutes
Sleek design and 8 color options
Built-in selfie mirror and close-up lens
Mini films are quite costly
The camera has a plastic look
4. Fujifilm Instax Mini 11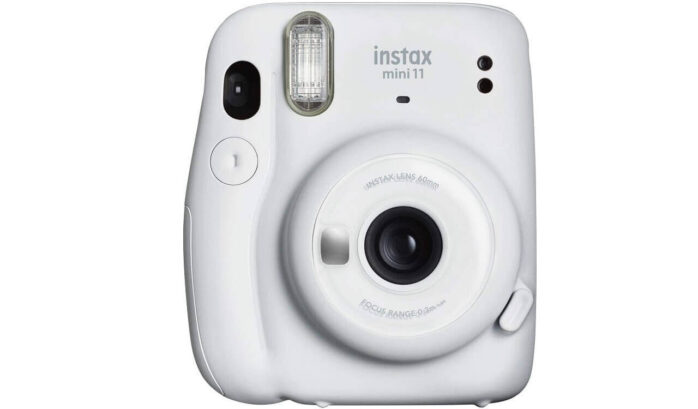 Considered as the successor or the upgraded version of the Instax Mini 9 manufactured by Fujifilm, Instax Mini 11 camera offers spectacular customization options. This camera clicks photographs and prints them on mini-films.
Fujifilm Instax Mini 11 has an automatic exposure function using which the camera determines the suitable shutter speed by considering the surrounding brightness. So, whether its day, night, indoor, or outdoor, you can get equally beautiful pictures. This mini instant camera is an ideal gift for children due to its attractive design and reasonable price.
Moreover, it comes with one glow and one jewel button that can be attached to the shutter button. As this camera has one-touch selfie mode, you don't need a separate close-up lens attachment. Pulling out the lens barrel until the "Selfie Mode" appears is enough to capture selfies. The built-in macro mode and selfie mirror allow you to shoot photographs within the range of 30 to 50 cm.
Features
A nice strap that comes with a camera can be tied around the wrist
The camera can capture both bright and dark subjects extremely well
With a slim body and transparent ring lens, the camera is very compact
The batteries used in this camera are 2 AA batteries. If you have used Fujifilm Instax Mini 9 camera, you don't need to learn anything extra for using this camera. If you get stuck at any stage, you can go through the booklet of instructions available with the camera.
Available in a variety of colors
Selfie mirror
Automatic exposure
One-touch selfie mode
Self-timer option is not available
Films don't come with the camera
5. Fujifilm Instax Mini 70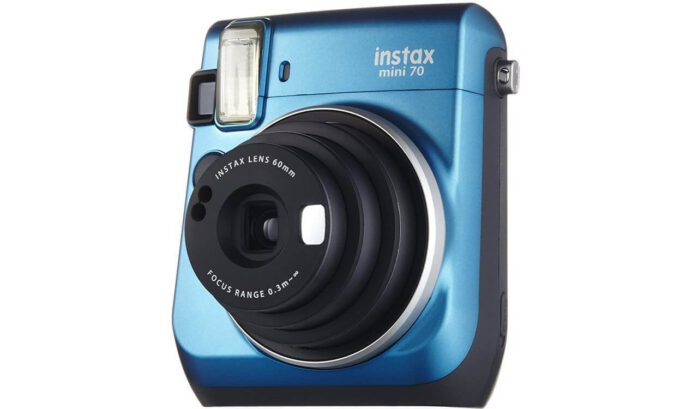 Fujifilm Instax Mini 70 is unarguably one of the premium and best Fujifilm Instax cameras. It offers the combination of features present in Instax Mini 8 and Instax Mini 9 cameras as well as some additional exciting features.
Both, the picture quality and the look of the camera are impressive. Fujifilm Instax Mini 70 instant camera can be used for shooting close and distant objects as it has macro and landscape modes. You can even click selfies by pressing the 'selfie' button. The selfie mirror allows you to view how the photos will turn out so that you can choose the best angle.
The hi-key mode in the camera can make the subject appear bright in your pictures. The self-timer function allows you to take multiple shots, thereby making your group photography experience even more enjoyable. The 'Fill-in Flash' feature enables you to capture photographs with a bright background without the risk of over-exposure.
Features
The camera comes with 2 CR2 batteries that last for 300 photographs
The plain backside in black color gives a sophisticated look to the camera
The camera can take spectacular portraits, scenery pictures, and night shots
With automatic exposure control feature, you can take beautiful and clear pictures. Both the subject and the background will look naturally bright. You can get the right lighting for your photographs irrespective of the place or time of the shooting.
Compact and stylish camera
Hi-key and self timer function
Fill-in Flash feature
Comes with a tripod socket
CR2 batteries are expensive
Need to learn the settings at beginning
6. Fujifilm Instax Mini LiPlay Hybrid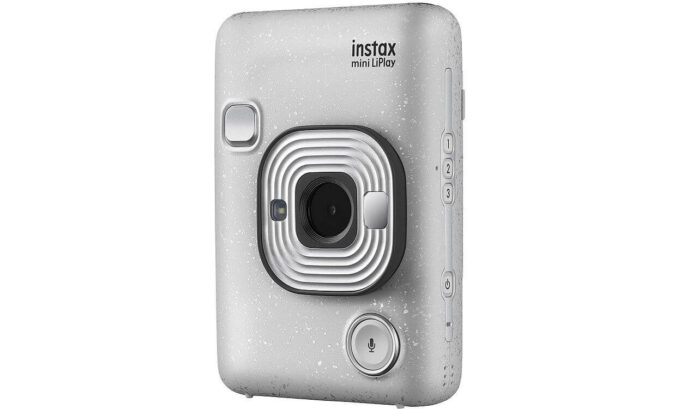 Offering the best of both worlds, i.e., camera and smartphone printer, Fujifilm Instax Mini LiPlay Hybrid is the newest addition in the category of instant cameras produced by Fujifilm. With this product, you can print photographs captured by not only this camera but also your mobile phone. You need to connect your phone with this camera with the help of Bluetooth.
You can use the official mobile application of Instax for printing images stored on your smartphone. Another great feature of this hybrid camera is remote image capturing. You can use your cell phone as a shutter button for clicking group photographs. Unlike other Instax Mini cameras, you don't need to print every picture that you shoot with this camera.
The LCD screen on the backside of the camera enables you to review all the pictures captured by you. So, you can select the images that you want to print. Moreover, you can beautify your pictures by using filters and frames. You get 6 and 30 options for filters and frames respectively. As this camera comes with a rechargeable lithium-ion battery, you can carry it with you while traveling.
Features
The camera supports SD card for storing pictures clicked by you
One photograph takes 12 seconds to get printed with this camera
With a single charging of the battery, you can print 100 photographs
A remarkable feature of Fujifilm Instax Mini LiPlay Hybrid is that you can attach a recorded sound to your pictures. You just need to scan the QR code for playing back recordings. You can mount the camera on a tripod as it has a tripod socket.
Available in 3 elegant colors
A high-quality print of pictures
Portable and easy to use
Rechargeable battery
Remote image capturing feature
Lens and buttons are quite tiny
7. Instax Square SQ10 Hybrid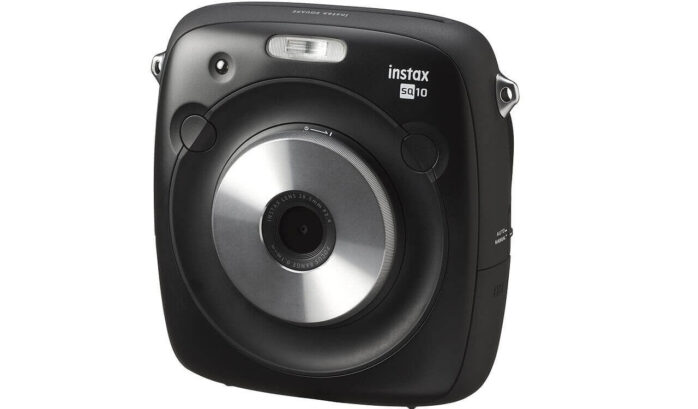 Fujifilm Instax Square SQ10 Hybrid is not just another hybrid camera as it's equipped with a unique set of features. This camera will make you nostalgic due to the square format of pictures. You can print instant photographs, images from your smartphone, and pictures clicked by other cameras.
As the last 50 photographs that you have printed are saved in the print history, you can reprint your favorite pictures. You can use the internal memory as well as the microSD card for saving your pictures. Transferring the pictures from a mobile phone to the camera is really simple. You just need to use the microSD card. Fujifilm Instax Square SQ10 Hybrid has an AE/AF lock feature.
The menu with various buttons for settings is in the form of command dial. This camera lets you apply a variety of Instagram-like filters, black and white effects, brightness adjustments, and vignettes before printing photographs. While editing, processing, and printing the pictures, you can view them on the large monitor for getting the perfect results.
Features
The camera has a 3x optical zoom and 2.4x digital zoom
The size and type of the monitor are 3 inches and TFT LCD
The lithium-ion battery used in the camera is rechargeable
The size of the printed picture without borders is 62 x 62mm
You can print only those photographs that you like rather than every photograph that you take. However, you can also keep the camera on 'auto' mode for printing every picture captured by you. The camera has 2 shutter buttons from which you can choose one to use. As the camera has a smart design, it's easy to operate, handle, control, and maintain at all times.
Double mode and bulb mode exposures
AE/AF lock feature
Date stamp, self-timer, and tripod mount
Auto printing mode
Absence of Bluetooth and USB port
Selfie mirror is not available
Factors To Consider Before Buying A Fujifilm Instax Camera
Battery
The first thing you should note about the instant camera you are about to buy is its battery i,e if it comes with a built-in rechargeable battery or it works on replaceable AA batteries. Fujifilm cameras mainly require external AA batteries that they provide in the box. However, when buying a camera with a built-in rechargeable battery do check its battery life so that you don't have to charge it frequently.
Shutter Speed
The shutter speed of a camera is how fast the shutter of the camera closes after clicking the picture. Ideally, it should be as low as possible to be able to click photos without blur. Overall, a good instant camera should have a shutter speed of around 1/60 seconds. 
Brightness Adjustment Dial
Most of the instant camera these days come with a brightness adjustment dial which allows you to click perfect photos in different ambient lighting conditions.
Basically these cameras have a light sensor that detects the amount of light in surrounding and recommends you to change the brightness settings of the camera by adjusting the circular dial.
Photo Size
A particular Instant camera does not support different photo sizes, one camera can click photos in a specific size. It all depends on the size of the instant film the camera supports. Basically there are three different film sizes that allow you to click photos in different sizes.
1. Wide Photos
If you want your camera to yield wider images then you must get a camera that supports wide size films like the Fujifilm Instax Wide 300. These films have a dimension of 66X99m.
2. Square Photos
For square photos, you will have to invest in a camera that supports square instant films like the Fujifilm Instax Square SQ6. Needless to say, these photos are the same from all sides. However, the film used in the polaroid camera SX-70, 600, and i-Type is also square in size but is a little bigger than the square photos taken by the Fujifilm cameras and also more expensive than them.
3. Mini Photos
These photos are smaller in size when compared to the square photos taken by the Fujifilm and polaroid camera and are of the size of a business card. These tend to be longer in size and less wide. They have a typical size of 66X46 mm.
You can take mini photos in a camera that supports mini instant films like the Fujifilm Instax Mini 11 camera.
User Friendliness
An instant camera unlike professional cameras is meant for clicking memories and not professional photographs. Thus, it needs to be user friendly so that everyone can capture their beautiful memories with the instant camera without knowing anything about the art of photography. 
Additional Features
Flash
Having a flash help you to click photos using the instant camera in places where there is not enough ambient lighting.
2. Self Timer
Most of the instant cameras come with a self-timer which allows you to click group photos with you being in the group. Some instant cameras also support multiple shots which clicks the second picture automatically after the first film comes out of the camera.
3. Film Counter
The film counter is a feature you will see on some cameras which tell you about the remaining number of films i.e how many more pics you can click before changing the film. It is a handy feature to have if you don't remember things that often.
4. Selfie Mirror
A small mirror is provided in most of the instant cameras which allow you to check your look before clicking the selfie.
Accessories
1. Carry Bag
A camera carry bag is an important accessory to have as it keeps the camera safe during the travel. Most of the instant cameras come with a carry bag, however, if you don't get one in the box then you can buy it separately.
2. AA batteries
Cameras that use AA batteries for their operations come with a set of AA batteries so that you don't have to buy them separately.
3. Lens Cleaner
A lens cleaner is a must to keep the dirt away from your camera and to ensure that it has a long life.
Conclusion
So those were some best Fujifilm Instax cameras and buying guide. Owning an instant camera is a matter of pride and joy as it enables you to remember the 'good old' days where digital cameras and mobile phones were not used extensively. The surprise element that accompanies an instant camera increases the happiness of capturing memorable moments. Both amateur and expert photographs can hone their skills and click stunning photographs.