Magnifying glasses are an important tool for many of us. Some of us prefer to read the tiny prints on books or other things with a magnifying glass. Some of us need magnifying glasses for intricate art or creative purposes, and some of us even need for examining jewelry, antiques or curio artifacts.
Nevertheless, a magnifying glass is an item that is almost a daily essential item for us. So, it's important that you buy the best one available in the market so that it serves the purpose in the best way, gives your eyes a comfortable view, and also lasts long so that you don't have to invest again and again.
We have written a detailed buying guide at the end of the article. But to give you a gist of the same, go through the below points before you buy a magnifying glass.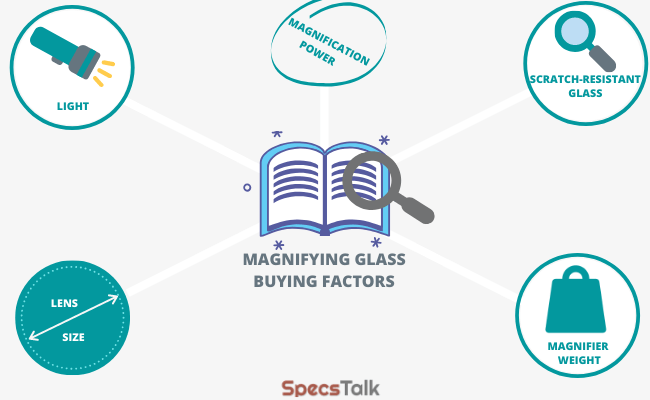 1. Check if it has light: Don't buy a magnifying glass without light. Glasses with lights are simply the best in terms of functionality because you don't have to search for external light sources before using the magnifying glass.
2. Magnifying Power: Depending on the magnifying power, there are different types of magnifying glasses available in the market- from 2x magnifier to 14x and more. So, depending on your particular needs, buy the one that works for you the best.
3. Glass Dimension: Like the magnifying power, the dimension of the magnifying glass also varies from one to another. Again, first, know what your ideal dimension will be, and then get your hands on one.
4. Ratings and Reviews: Ratings don't lie. No matter how much you like one product, do not ignore the opinions of the previous buyers. Check the ratings and reviews online and after being sure, make a purchase.
Here are our top 7 selection of some of the best magnifying glasses available in the market today. Take a look.
1. Carson DeskBrite200 LED Magnifier and Desk Lamp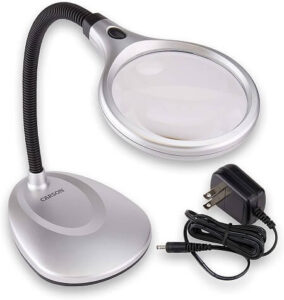 Price: $53.89
View on Amazon
Carson has a range of excellent reading lamps and magnifying glasses and is leading the way in selling state of the art technology in this field. The DeskBrite200 LED Magnifying glass is highly advanced and can be used for several jobs.
It has 2X magnifying power and a highly advanced PowerSpot lens. The package includes an AC/DC adapter. The product dimensions are 5.5 x 6.75 x 12.5 inches and the weight of the product is 1.2 pounds.
Pros:
The USP of this magnifying glass is the highly adjustable lens. The neck is extremely flexible and rotates 90 degrees freely. You can adjust it to focus on whichever area you want to see the best. Also, the base is heavy and sturdy and will not topple when you adjust the neck!
The lamp is best used as a low vision reading aid, very helpful in reading the paper, magazines and even menus in a restaurant.
It may also be used for professional purposes like the design of jewelry, sewing, embroidery, and soldering of metals.
This lamp magnifier is ideal for people who does not want to hold the magnifier on their hand.
The product is so trustworthy that Carson attaches a lifetime limited warranty for it! So if you ever have even the slightest inconvenience, Carson will take care of it in their service center.
Cons:
It runs best on 3 AA batteries; however, the package does not include any.
Ratings:
It has a commendable 4.5 out of 5 ratings on Amazon, with over 73% of 1966 customers have given it a perfect score!
2. MagniPros 3x Magnifying Glass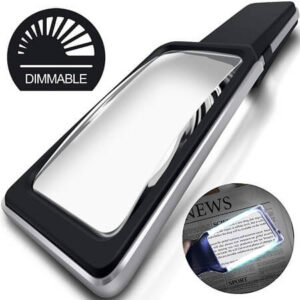 Price: $24.95
View on Amazon
This is the most sustainable option for a buyer. It gives excellent service and the product is guaranteed by the company to run for 20 years without burning out!
The magnifying glass has 10 dimmable and anti-glare LED lights which are designed specifically not to hurt the eye with harsh rays. It has a rectangular acrylic lens design that magnify images and text up to 3x or 300%. The LED light has a battery that will run for 100,000 hours and the whole thing is it is easy to hold because of the ergonomic handle.
Pros:
Scientifically proven to help aged people read well.
Dimmable LED light prevents too much strain on our eyes.
The rectangular lens has been created especially to imitate the view we get from our own eyes. This makes it easy for us to navigate from left to right while reading.
Acrylic lenses are scratch-proof and will not shatter.
The lens has been designed to allow us to cover a large viewing area without adjusting a bit.
No optical illusion takes place.
You can do all kinds of delicate work with this and it greatly helps in reading the fine prints.
The lightweight handle makes it easy to hold.
The LED is designed to work for 20 years without burning out.
Cons:
It may be a little heavier than other regular magnifying glasses.
Rating:
It has an impressive rating of 4.6 out of 5 in Amazon and has been rated by over 2700 customers.
3. YOCTOSUN Head Mount Magnifier
Price: $18.79
View on Amazon
The YOCTOSUN Head Mount Magnifier is a god-send! You get high power magnification and bright light for a reasonable rate. On top of that, it has a hands-free design and you can use both of your hands for the job you are working on. The battery will run for years and if it malfunctions, the warranty is always there to back you up. This is an investment you will not regret making.
The magnifier has 5 detachable lenses for magnification. These lenses respectively provide 1X, 1.5X, 2X, 2.5X and 3.5X magnification. It has a couple of specially designed LED lights, which, because of their high power, are also called jeweler's loupe light. The bracket and headband are adjustable and interchangeable. LED lights are powered by 3 AAA batteries which come along with the package.
Pros:
Because they are acrylic, the lenses are lightweight.
Lenses are shatterproof and scratch-resistant.
Since the headband is adjustable, it is easier to fit it well on your head and you need not bother about it falling off!
Optical quality is par excellence and has no distortion.
It can be used for a variety of different tasks requiring high power illumination and high levels of magnification like watch repair, jewelry design, and electrical circuit design.
Cons:
The battery cover is ill-fitting.
The headband may seem heavy to some.
Ratings:
It has an astounding 4.5 out of 5 ratings on Amazon and over 3000 customers feel this has been a huge assistance for them in their work!
4. iMagniphy Set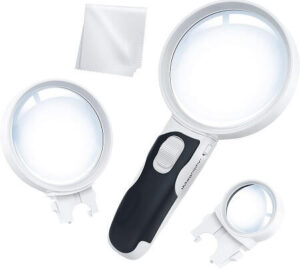 Price: $23.99
View on Amazon
This magnifying glass set from iMagniphy is a must-try! It is affordable, easy to use and maintain and has received the seal of approval from scores of people.
The set has 3 interchangeable lenses, each made of acrylic resin, so as to make them weigh less. For 2.5X, 5X and 16X magnification respectively, a 3.5-inch lens, a 3-inch lens, and a 1-inch lens is present. The magnifying glass has a plastic handle which is durable and has an LED light attached to it, to provide bright light and enhance the experience of working with this magnifying glass! It will work best if 3 AAA batteries are used.
Pros:
The lenses are interchangeable, so changing the magnification to desired power is a piece of cake!
This set has been created by keeping senior citizens in mind. So that they can read the papers and tiny prints with ease! So much so, that quite a few happy customers have said this is the best thing they've given their parents!
Another special use- lice inspection. With the LED light and the magnifying glass, the whole process becomes quicker!
A cleaning cloth for the protection and maintenance of the lenses comes free with the pack.
iMagniphy has excellent customer service and is known to be prompt with refunds and repair.
Cons:
No batteries are included in the package.
Ratings:
It has a 4.7/5 rating on Amazon with 4000 people vouching for it, so you can be sure it won't disappoint!
5. SeeZoom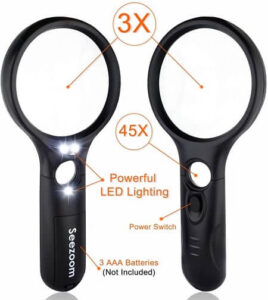 Price: $16.92
View on Amazon
This is your best option if you want a seamless reading experience in the dark. It has two levels of magnification and can be used for a wide range of activities.
The magnifying glass has two levels of magnification- 3X regular magnifier (the lens is 2.75 inches big) and 45X jeweler's magnification (0.7-inch lens). The glass has a premium optical lens and a coin magnifier built into it. The LED bulbs used are eco-friendly and energy-efficient.
Pros:
The magnifying glass has been designed specifically for those who have advanced issues with reading.
Perfect glass to use if you want a smooth reading experience in low light.
Lightweight and hence reduces the strain on the reader's forearm. This makes it easy for kids and older people to use.
Lens is scratchproof and will not shatter, so it is safe for small children to use.
This magnifying glass has been designed using advanced LED technology and as a result, it is 30% brighter than its regular LED predecessors. This makes the light last twice as long!
SeeZoom offers a lifetime warranty for the product so rest assured, in the off chance of a malfunction, they will get it fixed in a jiffy!
Cons:
You have to be very careful with the light- it is very bright and may harm your eyes if it falls directly on them.
Ratings:
The Amazon rating is a near-perfect 4.8 out of 5! If you then go on to read the reviews, you'll realize this is something you need in your house!
ALSO READ: Top 7 Indoor Motion Sensor Lights
6. Brightech LightView Pro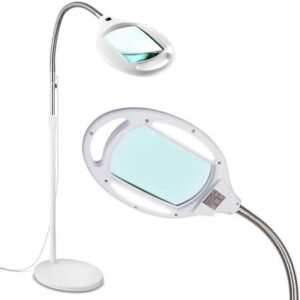 Price: $94.99
View on Amazon
This magnifying floor lamp with an adjustable neck is easy to use, has a high power of magnification and a bright light to help in darker conditions. Pair this with the 100,000 hour lifetime of the bulb and you know this is something you need!
The floor lamp has a full spectrum magnifier. The magnifying glass is made of a 6.5" x 4" dioptre glass, which fares far better in all respects than resin or plastic lens. A LED light sits on top of a 24" gooseneck stand which is highly flexible. It is a 9W, 540 lumens LED bulb and has a 20 year lifetime. The magnifying glass has a 3-year warranty from the company.
Pros:
Flexible gooseneck stand allows you to direct the light wherever you want to.
Rectangular lens gives you an expansive field of view.
It is hands-free and hence easier to work with.
The base is sturdy and so the light stand will not topple over.
Lens is scratch-resistant.
It can be used by aged people. It will help them and not strain their eye any further.
Vouched for by professionals like skincare workers and jewelers, so know it has to be good!
Cons:
The lamp might be heavy for older people to move around. It is very easy to use if stationary but senior citizens would not be able to move it around by themselves.
Ratings:
The Amazon rating is a reassuring 4.6 out of 5 and most customers are quite satisfied with the exquisite service it provides!
7. MagniPros 3x Page Magnifier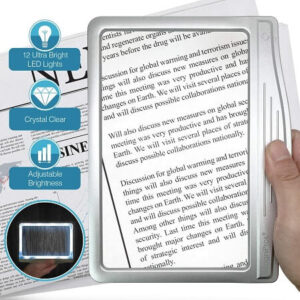 Price: $19.95
View on Amazon
MagniPros has always been revolutionary in the field of low-vision aid, but they have outdone themselves with this page magnifier!
The page magnifier has a 4.5" x 7" lens of high optical quality, which magnifies material to 300%. Along with it, there are 12 SMD LED lights which have anti-glare reflectors and are dimmable.
The magnifier has an ergonomic grip for longer holding and viewing time and a maximum brightness level of 720 lumens. A cleaning cloth for the lens is included in the package. It should ideally be used with 3 AAA batteries, which are not included in the package.
Pros:
This is the number 1 bestseller in this field and has several features to help relieve strain on your eyes in dimly lit conditions.
Ideal for senior citizens who usually find reading small print quite strenuous.
Anti-glare technology evenly distributes the light so that the eye is not harmed.
Because of the advanced technology used for building the lens, you can view a large area without moving the magnifier at all!
Ergonomic grip makes sure you can read for a long time and your forearm won't have to pay the price!
It can also be used as a flashlight in need.
LED light has a lifetime of over 100,000 hours.
Cons:
There is a small chance that the light may flicker after prolonged usage at a time, but once you report it, it will be instantly fixed by MagniPro, which has very prompt service.
Ratings:
It has a rating of 4.3/5 on Amazon, with over 2000 ratings!
So, which one are you going to buy? Let us know in the comments.
ALSO READ: 5 Best LED Strips For Indoor And Outdoor
Know Before You Buy A Magnifier
A magnifying glass is a convex lens usually mounted on a frame with a handle, that is used for creating an enlarged virtual image of an object. But, there are a lot of more aspects like lens power, field of view, working distance, etc that you need to consider before buying a magnifying glass. Here's a buying guide that you can refer for purchasing the perfect magnifying glass for yourself.
Types Of Magnifiers With Light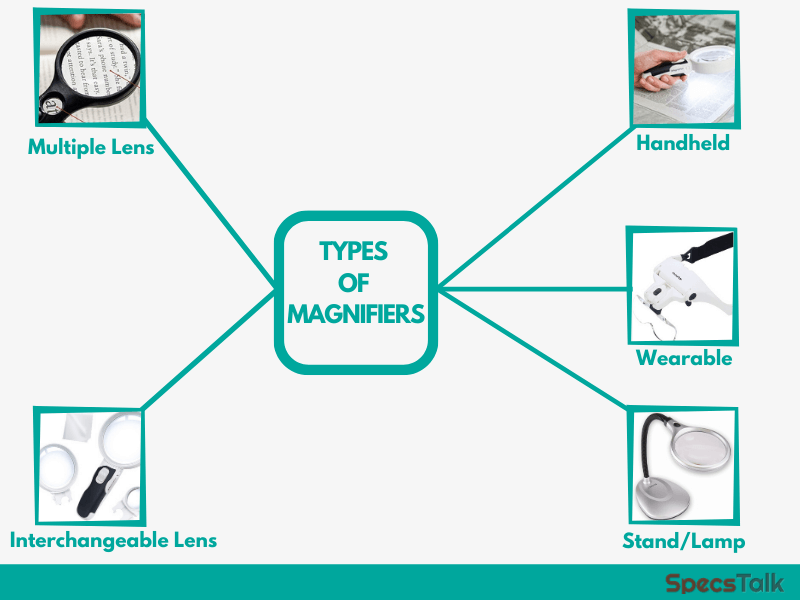 Handheld Magnifier
 As the name suggests, these magnifying glasses come with handles and are used for purposes like reading books, newspapers, blueprints and maps. You need to hold the magnifier with your hand in order to read or view the object.
Wearable Magnifier
Wearable glasses are the ones that you can wear on your eyes just like goggles. These glasses are used for detailed works like in IC (Integrated circuits) and watch repair, jewelry making, creating miniatures, etc.
Magnifier with Stand
The magnifying glasses that come with a stand are generally bigger in size than other magnifying lenses. The benefits of these lenses are that they are handsfree i.e you don't need to hold the lens with your hand and thus you can use both of your hands for productive work. These lenses are good for Sewing & Needle Crafts, Paintings, etc.
4. Multiple & Interchangeable Lens
Some handheld magnifiers come with multiple lenses. Each lens has different magnification power for different purposes. Even some handheld, wearable, and lamp magnifiers gives you the flexibility to change lens according to your needs.
Things To Consider Before Buying A Magnifying Glass
1. Lens Power
The power of a lens is measured in diopters. It is the measure of how large a magnifying glass can make an object look when looked through the lens. The magnifying power of a lens is denoted by X.
You need to choose a lens according to your field of work like if you are a miniature artist then you will probably need a higher power lens. Similarly, if you want a lens for reading then a very high power lens can reduce the field of view which can hinder your reading experience. Generally, 3X power lenses are great for average usage, but you can choose your lens according to your area of application.
2. Working Distance
The working distance is basically the distance between the object and the lens. If you want a longer working distance for safety purposes, then go for lower power lenses as high power lenses work best in close proximity to the object.
3. Field Of View (FOV)
The field of view is the visible area through the lenses. If you want to scan a larger area through your magnifying glass then you can go for one with low power and vice versa. So basically the power of a lens is inversely proportional to the field of view of that lens.
4. Lens Coating
Since we are talking of magnifying glasses with light, make sure the glass you buy has an anti-reflective coating on it. An anti-reflective coating prevents reflections and allows more light to pass through the lens which enhances your vision. It will be even better if the lens also has a scratch-resistant coating so that the glass has a longer life.
5. Lights
When buying a magnifying glass with lights make sure the lights are bright enough to work in the dark. Also, the lights should be LED so that it consumes less power and saves electricity. Apart from that, the magnifier should have an ON/OFF button to turn off the lights when not needed.
6. Weight Of The Lens
The weight plays an important role in choosing a magnifier, especially if it is a handheld glass. You should choose a magnifying glass that is lightweight so that you can hold it comfortably for long hours.
7. Dimension of Glass
If you want magnifying glass mainly for reading purposes, then you can go with the full page reading lenses that come in the size of a tablet. These lenses provide a larger viewing area than the normal circular lens and will allow you to read a book more comfortably. Such glasses are also great for elderly people for reading small prints in a newspaper, book or magazine.
FAQs
1. How Does Magnifying Glass work?
A magnifying glass is made out of a convex lens, which is also called a converging lens. When the magnifying glass is kept in front of an object, the parallel rays of light reflected from the object converge and form the enlarged virtual image of that object.
2. What Is The Use Of Lights In Magnifying Glass?
Having a magnifying glass with lights is great for those who want to use the glass in the dark. For instance, you can turn ON the lights on your magnifier and read a book without disturbing anyone else in the room. Also, in low light conditions, it helps in reading the object without putting strain on the eyes.
3. What Is The Focal Length Of A Lens And How Does It Matter?
The focal length of a lens is measured in meters and it is the distance between the center of the lens and its focal point. The focal point is the point where all the light rays converge.
4. What Is 1 Diopter?
A Diopter is the unit of the power of a lens. The general formula for finding the power(Diopter) of a lens is D=1/f. Where D is the diopter and f is the focal length of the lens.
So, 1 diopter means, D=1/1(f) =1. Hence, a lens with a focal length of 1 meter will have a power of 1 diopter. 
That's All! If you have any query regarding the magnifying glass, then do let us know in the comments.