If you are an off-roader, you would understand the necessity of having rock lights attached to your vehicle. As you drive over unlit uneven terrains far away from well-defined trails or roads, headlights or fog lights won't serve your purpose for obvious reasons – these lights are constructed to illuminate the way in a straight line and hence cannot help you see the rocks, mud, gravel and other aspects of the ground, surrounding your vehicle.
But rock lights are built with the purpose of highlighting rocks and debris that can cause harm to your car or your jeep, thus accentuating your off-roading experience. It come in different shapes, sizes, and price ranges and you can be at a loss to know which rock lights you should buy for your vehicle. To spare you of any worries, we have handpicked ten best rock lights that you can choose from.
Best Rocks Lights
1. MICTUNING 2nd-Gen RGB LED Rock Lights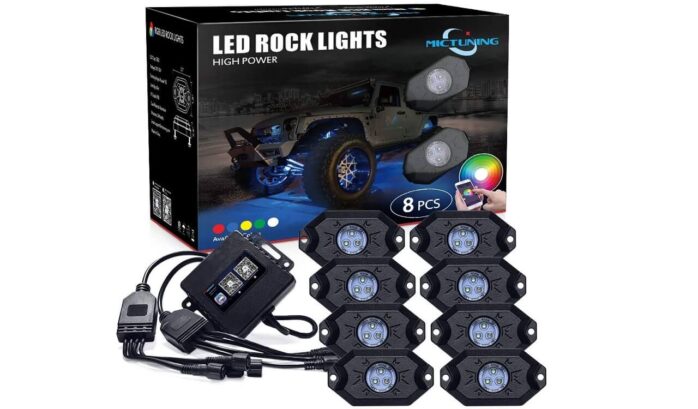 View on Amazon
Mictuning's second-generation rock lights come in a set of eight. Being Bluetooth controlled and having a Music mode, these lights can turn off-roading into an even more enjoyable experience.
Features
These rock lights have two kinds of mounting pads that enable you to assemble and connect the wires to the lamps easily.
Once these rock lights are fixed on the undercarriage of your truck, you can control it using your phone via Bluetooth.
The process of installing the "M-Light" and the "RGB Remote" app is easy and can be done by scanning the QR code on the user manual or the control box. The lights can be operated according to your choice through the app.
The flash frequency of these rock lights can be adjusted to be in tandem with the music you play and this is facilitated by the music mode.
Each light pod has premium RGB LEDs which are the source of clear and high-intensity lighting.
The light pods are waterproof and resistant to impacts.
Heavy duty and super-bright
Controlled by mobile phone app
Easy Installation
Waterproof
Music mode is enabled
The pod leads are of equal lengths so you might need extensions to connect the rear end lights
2. SUNPIE LED Rock Light Kit (Red)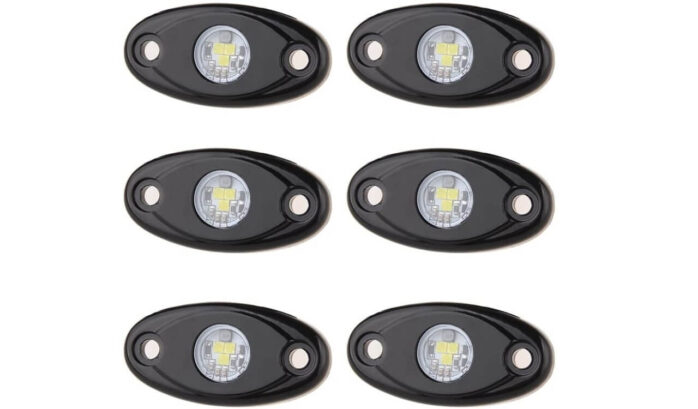 View on Amazon
These rock lights come in a set of six light pods and emit an alluring red light perfect for off-roading as well as for flaunting your vehicle.
Features
This rock light kit has light pods fitted with strong Cree LED chips and has a lifespan of 50,000 hours. It can be operated using the brand's app on your phone.
The LEDs have thick PC lenses that are resistant to wear and tear in case of a collision with gravel and debris. They are also durable and the lenses are immune to yellowing.
The light emitted by these has softer tones to prevent glare.
It has a die-cast aluminum shell that is sturdy, waterproof, and also shockproof. Owing to its anti-corrosive nature, it can be used in harsher conditions and during rain.
In addition to being used on cars for off-roading, these lights can be used in agricultural machinery, as construction lights, forklift lights, headlight excavators, etc.
You can operate them on a large voltage range measuring from 9 volts to 30 volts.
Huge lifespan of 50,000 hours of illumination
Durable, anti-yellowing PC lenses
App-controlled via Bluetooth
Die-cast aluminum housing resistant to wear and tear
Waterproof, shockproof and anti-corrosive
The rubber mounting grommets are contoured for round tubing and not suitable for flat surfaces
The Bluetooth range is short
3. Xprite White Truck Pickup Bed Light Kit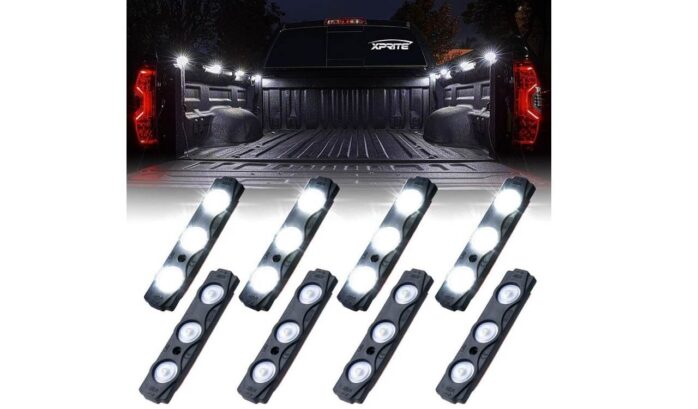 View on Amazon
This rock light kit comes with eight efficient light pods, each having three bright SMD LEDs, illuminating your vehicle with dazzling bright lights.
Features
These rock lights are easy to install under your truck and are very bright with overall power of 12 W.
They are weatherproof and resistant to damage by water, snow and other harsh conditions.
These lights have a unique design meant to reduce the size of the rectangular pod to make it inconspicuous during the day while escalating the brightness of the lights at the same time.
These lights come with the paraphernalia required for their installation like adhesives and screws to keep the lights in place and also includes a toggle switch that enables you to control the LEDs in the blink of an eye.
The length of each wire strand is 21 feet.
The utility of these lights is not restricted to a single purpose – they can be used indoors and outdoors as decorative lights, footwell lights, garden lights etcetera in addition to being used as rock lights.
Unique design
24 super-bright SMD LEDs with overall power of 12 W
Small size combined with high efficiency
Durable
Waterproof, weatherproof and fares well in harsh conditions
The switch is not waterproof
Comes without an instruction booklet
4. LEDMIRCY LED Rock Lights 10PCS White Kit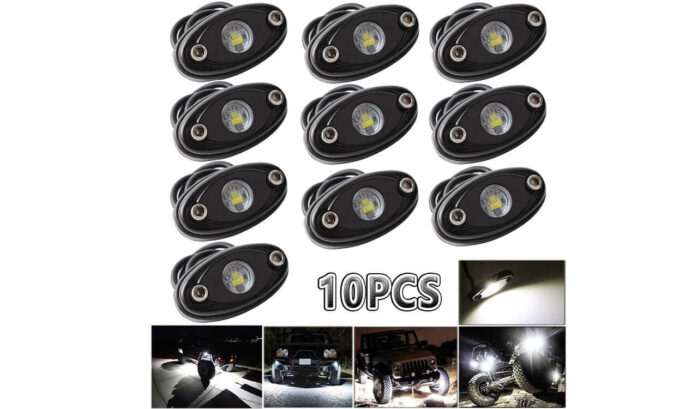 View on Amazon
These highly efficient bright white rock lights exhibit reliability, high quality and excellence, making them suitable for extended hours of off-roading.
Features
There are ten powerful light pods in this kit.
These rock lights have a long lifespan of 50,000 hours.
The light pods are made of die-cast aluminum shells that are sturdy and have longevity. They contain PC lens reinforced with CREE LED chips and toughened glass which is resistant to yellowing over time.
These lights are immune to almost all environmental factors – they are anti-corrosive, dustproof, waterproof, quakeproof and shockproof, and are also impact-resistant.
They can be controlled efficiently by the car switch.
Die-cast aluminum shell that adds to the kit's longevity
Long life-span of 50,000 hours
PC lenses with anti-yellowing nature
High-quality CREE LED lights
Waterproof, anti-rust, shockproof, dustproof and quakeproof
Can be controlled by a toggle switch
Installing these lights could be a tedious process
Not Bluetooth compatible
5. Ampper Waterproof LED Neon Underglow Light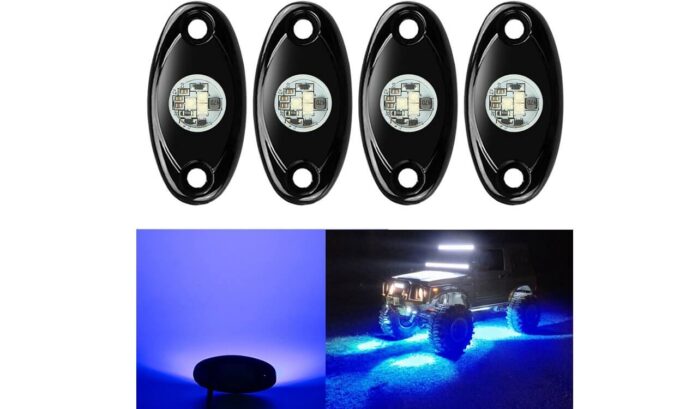 View on Amazon
These rock lights cast an attractive neon illumination that comes in different shades including blue, green, red and yellow. They accentuate your off-roading experience and have a wide range of applications.
Features
This kit has four light pods which in turn harbour three CREE chips of 3W each.
These lights have reinforced PC lenses and last over 50,000 hours.
They operate on a wide range of voltage measuring from 12 volts to 24 volts with a power of 9W.
In addition to exhibiting efficiency in terms of the quality of illumination, these rock lights are also compatible with different kind of strains – they are anti-corrosive, waterproof, and can withstand harsh environmental conditions.
These lights can be used for a lot of purposes – as rock lights, snow lights, in forklifts, as construction lights, headlight excavators, etc.
This kit does not include a wiring harness and can be installed only by using professional help.
50,000 hours of illumination
4 light pods with CREE LED chips
Wide range of operating voltage
Multipurpose
Anti-yellowing PC lenses
Durable
Anti-rust, Waterproof
No wiring harness
Professional installation is essential
6. Amak 4 Pods LED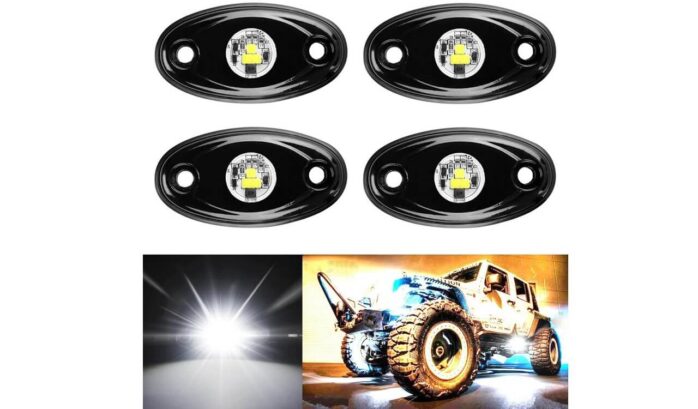 View on Amazon
These rock lights have a great light output making it perfect for regular off-roaders.
Features
Consisting of four pods of lights with three white CREE LED lights each, Amak's rock lights define efficient illumination like no other.
The housing is completely constructed out of metal and rests on a plastic base, prolonging the life-span of the kit by being sturdy enough to outlive wear and tear from off-roading.
The die-cast Aluminum case and the toughened glass with good heat dissipation make the lights resistant to heavy impacts.
The durability of these lights is added by their waterproof, shockproof, dustproof, and rustproof nature.
These lights can be operated over a wide voltage range of 9-32V, making it compatible with different kinds of vehicles that offer the said voltage range.
This kit comes in different colours – red, white, blue, green, amber.
It can work under water and is wrapped in a protective polymer to do away with any disintegration from dirt, water or heat exposure.
Easy installation
Sturdy die-cast Aluminum Housing
Good heat dissipation
Waterproof, shockproof, dustproof, rustproof
Can be used in a wide voltage range
Resistant to heavy impact
Durable
Additional purchase of wires required to install the lights
7. OPP ULITE RGB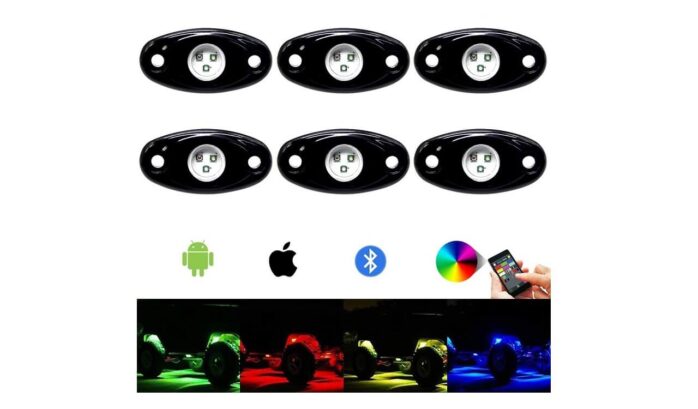 View on Amazon
This rock light kit is of premium quality and can be operated using a smartphone app.
Features
These rock lights consist of six pods of LED lights which can shine in different colors according to your choice.
This kit is controlled by an app that can be downloaded on your mobile phone. The app lets you change the color of these lights and also assists in other operating features of the lights.
Made of aluminum shells, these lights have stronger heat dissipation, higher intensity of brightness, and a life span of 50,000 hours.
They have heavy resistance to shocks and impacts and are dustproof, waterproof and rustproof. Hence, they can withstand the harsh environments experienced during off-roading.
This kit is easy to install and consists of a user manual that assists you in the process of installation and maintenance of these lights.
These rock lights work over a good range of voltage from 12-36 volts.
The brightness of the lights can be controlled by your phone by connecting to the Bluetooth controller. It also allows you to change the light intensity according to the music played in your vehicle.
Can be used for both interior as well as exterior purposes.
Multi-coloured and eye-catching
Bluetooth controlled
Life-span of 50,000 hours
Weatherproof and shockproof
Voltage range of 12-36V
Easy installation facilitated by an instruction manual
The connecting wires are not long enough, necessitating the additional purchase of extension wires
8. OPT7 LED Rock Lights 4pc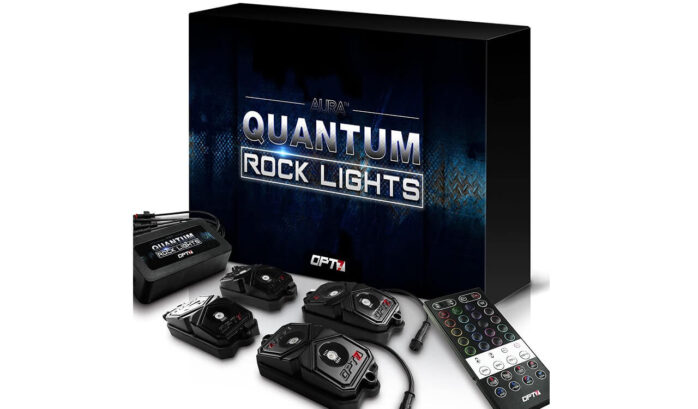 View on Amazon
These rock lights sleek and are in vogue in terms of their design as well as performance.
Features
These lights come in pods of four and are fashionable with their elegant design.
They are constructed to withstand heavy impacts that off-roading may ensue and can survive exposure to any terrain.
This rock light kit is waterproof and goes unharmed when in contact with mud, snow or rivers.
The exterior of this kit is embellished by a metallic finish that adds to the beauty of these lights even during the daytime.
LEDs in each pod are contained in a sturdy aluminum alloy housing to which shockproof rubber pads can be added optionally.
The kit includes 10 feet extension cords that are six in number.
These lights can be controlled using a handy remote which also lets you change the color of these rock lights according to your will.
This kit can be easily installed and comes with the paraphernalia needed for installation including three fuse pads and a mounting pack of screws and zip ties.
Stylish with elegant design
Metallic finish
Waterproof and shockproof
Easy installation
Remote controlled lights
Compatible to any terrain
Operation range of remote is very less
Not conducive to Bluetooth
9. LncBoc T10 LED Bulbs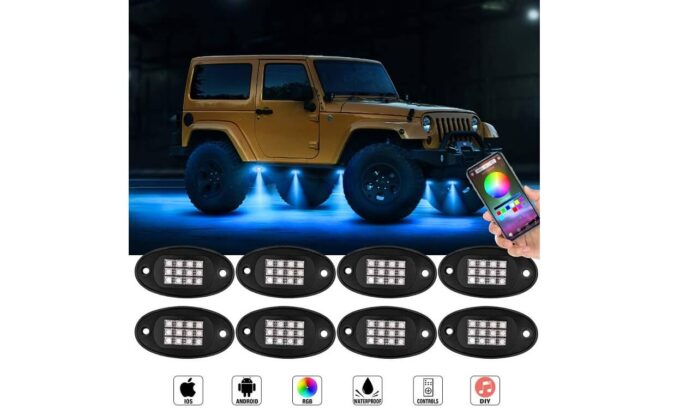 View on Amazon
These LED lights can be used as multipurpose lights and have a light emission angle of 360 degrees which increases visibility.
Features
These LED bulbs are perfect to be attached to different locations on your vehicle and easily fit into your existing socket.
Each unit has a T10 socket and can be easily installed by inserting it.
The pods are built of aluminum alloy casings which enhance heat dissipation and ensures the longevity of the light bulbs.
They have a life-span of 30,000 hours.
Each pod of light has five LED chips radially arranged to ensure maximum output with 360-degree illumination.
The operation voltage required for these LED bulbs is 12V.
The installation is free of the usage of tools and requires no wiring.
LncBoc T10 LED Bulbs can be used as both interior and exterior lamps – they can act as side-marker lights, license plate lights, boot lights, number plate lights, etc.
It can also be used as makeshift rock lights provided you have installed additional T10 lamp sockets on the undercarriage of your jeep.
10 pods with radially fitted LEDs
360 degrees illumination
Low power consumption
Multipurpose
Lifespan of 30,000 hours
Sturdy aluminum alloy casing with increased heat dissipation
Very affordable
The presence of a compatible socket is mandatory
10. Xprite RGB LED Rock Lights with Bluetooth Controller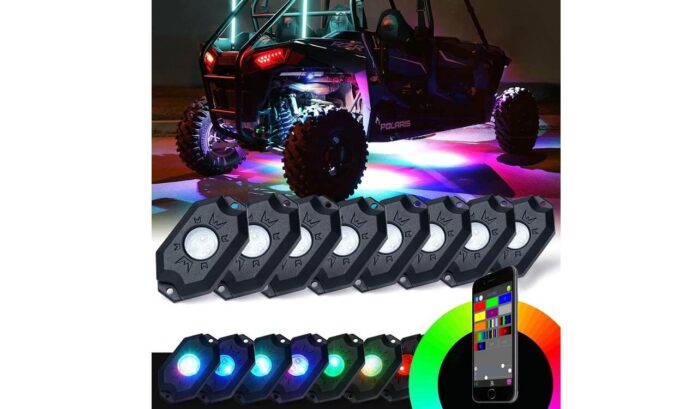 View on Amazon
This Bluetooth controlled rock light kit adds hype to the sport of off-roading because of its ultra-cool choice of colors as well as it unique design.
Features
These rock lights with 8 pods are enhanced with countless choices of color variations and other functions like blinking, flashing, and adjusting the brightness of the lights.
Built of sturdy polycarbonate lens, these lights have an increased heat dissipation rate which renders them durable.
In addition to the toughened glass, these lights have solid aluminum casings which make them resistant to heavy impacts that may be encountered during the off-road game.
These lights can be controlled by Bluetooth and are enriched by additional features like the music mode that allows you to vary the intensity of the lights according to the beat of the music.
They have a long lifespan of 50,000 hours.
This rock light kit can be easily installed and comes with two mounting pads. The installation of the app in your phone can be facilitated by scanning the QR code on the kit and you are good to go.
The lights are also waterproof, dustproof, rustproof and shockproof.
Bluetooth controlled
50,000 hours of illumination
Multi-coloured
Waterproof, dustproof, anti-corrosive and resistant to high impacts
Music mode enabled
Additional functions like blinking, flashing and altering the intensity
Easy installation
Strong polycarbonate lens with maximum heat dissipation
Sturdy aluminum housing
Wire length may be insufficient for installation
Have A Look: Top 7 Indoor Motion Sensor Lights
Now that you know more about the integral features of the ten best rock lights that you can find in the market, all you have to do is make a decision. With the perfect set of rock lights for your truck, Jeep, or any other vehicle, you can experience a totally different, escalated level of fun during off-roading!
Rock Lights Buying Guide
Rock lights are a must if you are among the adrenaline junkies who like to do off-roading a lot and especially in the dark. The regular headlights and fog lights on a vehicle are meant for highways but are not enough when cruising through unpaved trails.
Investing in good rock light will ensure that you'll be able to see every rock and potholes in the path which you couldn't see otherwise. Here's a quick guide that will enlighten you with things you should consider before buying one for yourself.
What Are Rock Lights?
Rock lights are automobile accessories specially designed for off-roading vehicles.These are small pods made out of the metal casing which consists of LEDs or a bulb inside for lighting purposes. The number of LEDs per pod can vary from 1 to 8.
These light pods come in different shapes and sizes but all are mounted under the front and rear wheel fenders for the best results. However, you can mount them wherever you feel like, some rocks lights are versatile and can be used as interior lights as well.
Benefits
1. Safety
The primary reason why rock lights were invented in the first place was to provide safety to the rider and their vehicles in the dark. Generally, the headlights are not bright enough to make every rock in the path visible. Driving on unpaved paths in the dark with insufficient lights can increase the risk of vehicle damage due to rock and stones in the path.
However, with rock lights, one can easily see all the rocks, stones, and potholes in the path and can dodge them easily. It makes your vehicle visible in the dark to the other riders and prevents a collision.
2. Decoration
These lights can also help you decorate your vehicles. Yes, if you are looking for LED lights to decorate your car or bike then rock lights can help you in that, especially the RGB rock lights.
These lights make your vehicle look colorful and cool, the best thing is that you can change the color pattern and flashing patterns on these lights. Also, some of the RGB lights have the feature which allows them to follow the music beats played in your car which will turn your car into a party hub.
Things To Consider Before Buying Rock Lights
1. Brightness Of Light
When you buy a rock light for your ATVs, jeep, trucks, or SUVs for off-roading purposes then brighter the lights the better it is. Because a brighter light will make it easier for you to see the rocks and other obstacles in the path even in the complete dark atmosphere.
However, if you are looking for rock lights just to decorate your vehicle then it is fine to go with lights with low brightness. Lower brightness lights will also consume less battery than the brightest rock light.
2. Light Colors
Rock lights come in a single or multiple color options like white light and RGB lights. However, for off-roading single color is considered the best because it is brighter and makes the path easier to see. You can get single color lights of different colors like white, red, blue, etc however, the white color is considered the best for off-road vehicles.
On the other hand, RGB lights are good if you want to make your vehicle decorative. Also, the RGB lights come with lots of features like beat movement, adjustable light, etc. Which enhances the look of your vehicle altogether.
3. Light Control
Once you have installed the lights, the next big question would be how to control them. Well, for single color lights you can simply turn the lights ON and OFF using the switch hardwired with them. However, you can also hardwire the lights with a Bluetooth switch and control the lights with Bluetooth remote control.
Unlike Single color lights, multiple color lights such as RGB lights boast a lot of features like flashing patterns, timings, lightning patterns which can be controlled by a wireless remote control or using a phone app.
4. Durability
Since you are buying lights for extreme sports like off-roading it's important that the lights should be durable. The road lights mostly come in an aluminum housing pod, which is considered a durable and lightweight material. So make sure you buy a rock light that comes in an aluminum housing.
Also, since you are going to take your vehicle out in the dirt, make sure the lights are dustproof, shockproof, and water-resistant. However, if you are planning to install the lights on your boat then make sure they have an IP67 or IP68 rated lens to protect the lights inside water.
5. Compatibility
While most of the rock lights you see in the market are universal i.e they can be installed on any kind of vehicle, but some are not. The thing with larger lights is that they need more space for installation, for example, rock lights made for high ground clearance vehicles like trucks and SUVs can not fit on a low clearance vehicle such as motorcycles or an ATV.
So before buying rock lights make sure they are compatible with your vehicle or else you may end up wasting money on the wrong product.
6. Installation
Installing rock lights is a tricky part since it needs drilling and wiring which most people are not comfortable with. But, you need not hire a professional since you get an easy to understand guide with the lights that teaches you to easily fit the lights in place.
Also, if you are not cool with drilling you can opt for ones that come with magnetic mounts. These lights get easily installed without even drilling holes. Some people even stick the lights to their vehicle using strong adhesive tapes like Gorilla or Duct tapes, while it works for some but that's the last thing you should do to install the lights. Drill mounting is the best option to install the lights overall because it keeps the lights firmly attached to the vehicle.
How To Install?
Once you get new rock lights, you can follow these steps to install them on your vehicle.
1. Find The Right Place For Installation
Before drilling holes it is a smart decision to mark the places where you would like to mount the lights. It is highly recommended that you should mount the lights just above the wheels on the mudguard or fender for the best visibility in the dark. However, if you are using the lights for decoration then you can mount them wherever you want.
2. Drill The Holes
Now once you have marked the places where you want to install the lights, it's time to drill the holes. After that, you need to screw the light pods to their places using a screwdriver. Do check the lights if they are perfectly fitted to their place or not. If you have magnet mounted rock lights then just stick the lights to the vehicle, no need to drill holes in this case. 
3. Do The Wiring
Now some people will find this part a bit tricky but it's as simple as tying knots. You generally get wires within the package so you don't have to buy them separately.
Once you have drilled the holes and fixed the light pods in place you need to first connect all the lights with the rock light controller. A controller is a device that controls the light pattern, timing, etc on your command given by the Bluetooth remote or app. Now you need to connect the red wire from the controller to the positive terminal of the battery and the black wire with the negative terminal for a reliable connection.
Also, don't forget to connect the switch in between the connection to turn the lights on and off. Here's a complete video tutorial and a PDF guide on how to install rock lights step by step
PDF Guide: https://lib.extremeterrain.com/guides/J102431-cust.pdf
Best Rock Light Brands
Some of the top brands are:
1. MICTUNING
2. LAMPHUS
3. SUNPIE
4. LEDMIRCY
5. OPP ULITE
6. Xprite
Make sure you buy rock lights from these brands or other best brands you find online. The lights from good brands have better build quality and also last longer than cheaply build rock lights. Also, you will most likely get a warranty on rock lights if you buy them from a reputed brand.
FAQs
1. How many rock lights do I need?
One light over each wheel is enough to brighten the path for you.
2. Do I need a relay?
You can do well without a relay because the rock lights do not consume much power. But if you want then you can add a relay to your circuit to limit the power usage.
3. On what voltage do rock lights operate?
The rock lights operate mostly on a 12v DC supply.
4. How long do rock lights last?
It depends on the quality of the light and how you use it, but good rock lights can last up to 50000 hours, isn't that impressive?
5. How long does it take to install?
Depending on your level of expertise it can take somewhere between 90 minutes to 120 minutes to install the lights