Whether you want to listen to a good audiobook while traveling or make conversations with your close ones, the Bluetooth Earbuds is an essential gadget that keeps you entertained and connected anytime anywhere during your daily busy schedule. It's fairly common to own a Bluetooth earbud in today's world due to its multipurpose nature and a variety of them are available in the market these days. Therefore today we're bringing you our pick of the top 10 Small Bluetooth Earbuds which you can purchase right now to learn, connect and enjoy at the go!
Best Small Bluetooth Earbuds
1. Soundpeats Wireless Earbuds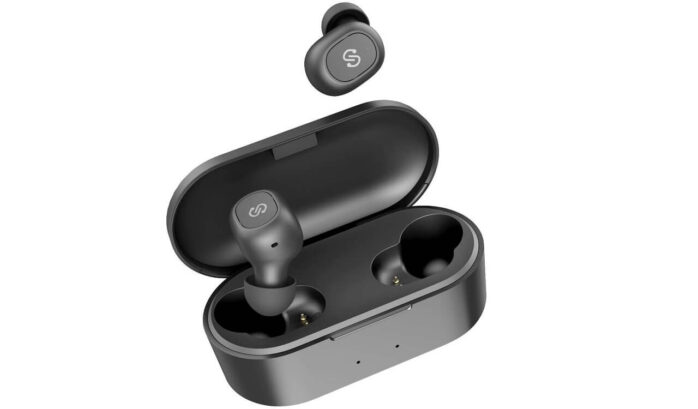 Coming up first we have the finest high tech addition to our list, the Soundpeats Wireless earbuds, having a professional 5.0 Bluetooth chipset with instant pairing and a cable-free in-ear canal design with distinguished tips for providing the absolute perfect fit.
The earbuds have built-in microphones equipped with voice assistance for a marvelous hands-free experience along with a high-resolution decoder and advanced audio coding for sharp and extraordinary sound quality.
You can also play, pause, switch soundtracks, and handle calls with ease using the ear button placed on each earbud for maximum convenience. The Soundpeats earbuds can work up to 3.5 – 4 hours in a single charge.
It enters pairing mode automatically upon removing from the case and also has an auto power on feature allowing you to get back on your schedule quick with no hassle and delay!
Specifications:
Weight: 3.98 ounces
Dimensions: 0.98 x 0.86 x 0.64 inches
Pairing: Bluetooth 5.0, Android, iOS, Windows
Battery: Lithium Polymer ( 3.5 – 4 hours of battery life per charge. Charging case holds 9 – 10 full charge)
High-Quality sound and microphone
 Comfortable fit
 Lightweight
 Quick and easy pairing
 Noise cancellation works great
 Quick recharge with long battery life
 Not Waterproof
 No volume control on earphone
2. Earfun Wireless Earbuds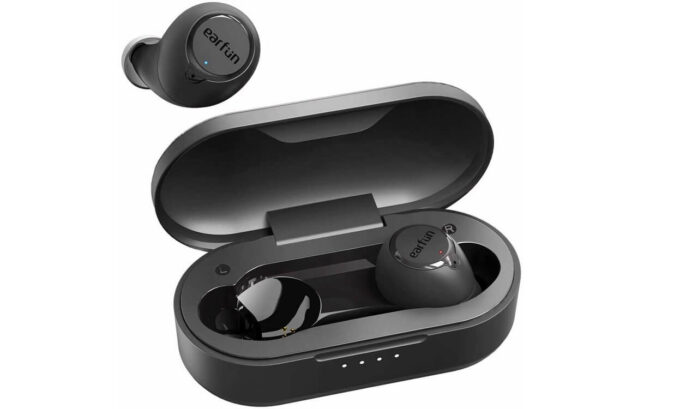 Another fantastic addition to our list we have the Earfun Wireless earbuds which is highly praised by the CES for it's accelerating innovation in the design and implementation of cutting edge technology in their products.
The Earfun has a lightweight all-black body ergonomically designed to match the contours of your ear giving you an impeccably snug fit which will stay firm even during high-intensity physical activities like exercising. With its high-quality 6-millimeter graphene speakers combined with a built-in microphone and noise cancellation along with a voice assistant AI provides the user not only with an incredible crystal clear audio quality but also an extremely convenient hands-free experience.
The Earbuds are equipped with ultra-stable 5.0 Bluetooth which enhances the connectivity and allows the user to utilize the Earbuds from a distance of up to 49 feet with ease. The Earbuds have a 6 hour working time and can be easily charged wirelessly or with a USB Type C cable.
Specifications:
Weight: 2.12 ounces
Dimensions: 3.15 x 1.38 x 1.18 inches
Pairing: Bluetooth 5.0, Android
Battery: Lithium Polymer (6 hour working time per charge. Extra 24 hours on compact charging case)
 High sound quality for music
 Great battery life
 Waterproof
 Large Bluetooth connectivity range
 Easy pairing
Multiple earplug sizes for optimal fit
Volume loudness is not as high as other earbuds
3. Tozo T6 Wireless Earbuds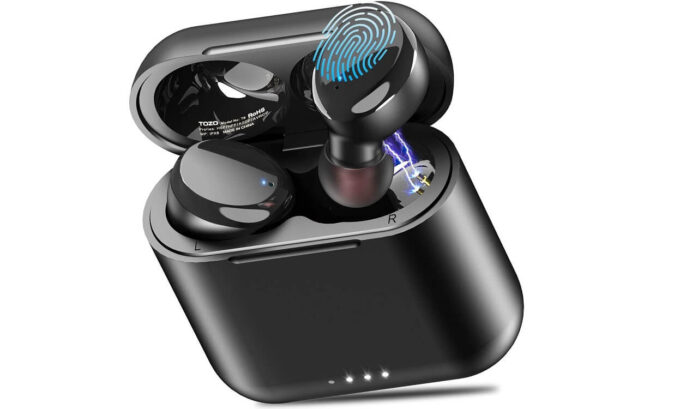 Being super lightweight with an ergonomically designed all-black body and gel flexible silicon ear caps for the optimal fit, the Tozo wireless earbuds is a must-have in your wish list!
The earbuds possess advanced Bluetooth 5.0 for stable and high-speed transmission. It has a Hi-Fi stereo sound system with superior bass and authentic audio feel for astounding sound quality.
Moreover, it has an inner nano-coating making it completely waterproof and a touch interface allowing the user to change tracks, adjust volume, and accept calls by simply giving the earbud a light touch.
The Tozo T6 has a 6 hour working time with a single charge and supports wireless charging for maximum convenience and no hassle!
Specifications:
Weight: 0.071 ounces
Dimensions: 0.59 x 0.79 x 0.59 inches
Pairing: Bluetooth 5.0, iOS, Android
Battery: Lithium-Ion (6 hours working per charge & extra 24 hours with compact charging case)
 High sound and microphone quality
 Quick and easy connection
 Waterproof
 LED display for depicting battery level
Quick recharge and long-lasting battery life
 Noise cancellation works great
 High touch sensitivity resulting in frequent accidental touches
4. Beben Wireless Earbuds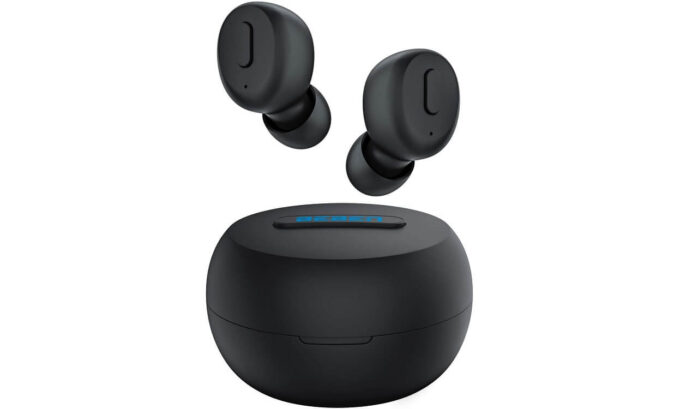 The Beben Wireless Earbuds are super lightweight and have ear caps of multiple sizes for providing you with the optimal fit and comfort. Possessing Bluetooth 5.0 with automatic one-step connectivity and a stable high-speed transmission along with being compatible with Laptop, iOS, Android, and Siri, the Beben wireless earbuds are completely versatile with immense utility.
Both the earbuds and the charging case are waterproof and have a button control feature to change tracks, adjust volume, accept calls, etc. Having a 3D and Binaural stereo effect, the earbuds are sure to give users with an authentic audio experience of the best quality.
Beben Wireless Earbuds have a 6 hour working time from a single charge. And combined with case charging, it provides a total of 30 hours of working time for immersive music and learning experience.
Specifications:
Weight: 2.57 ounces
Dimensions: 2.36 x 2.36 x 1.38 inches
Pairing: Bluetooth 5.0, Laptop, iPhone, iPad, Android
Batteries: Lithium Polymer (6-hour working life per charge. Total of 30 hours including charging case)
 Great sound quality
 Great noise cancellation facility
 Waterproof
 Lightweight and Comfortable fit
Long-lasting battery life
 LED display inside case indicating battery level
5. Mpow M30 Wireless Earbuds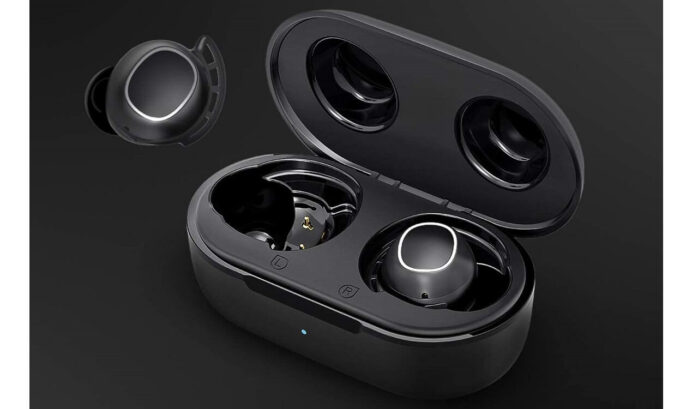 The Mpow M30 has an all-black lightweight body with a unique ergonomic ear fun design that disperses pressure ensuring the user an optimal fit along with an advanced Polyurethane driver to avoid the buds having a bulky size.
The Earbuds are equipped with a microphone, an advanced Bluetooth 5.0 chipset, and even allows the user to utilize one earbud at a time by activating Mono mode. This way you can attend calls or listen to music individually as well with each bud thereby providing the perfect earbud freedom experience.
The Mpow M30 provides an immersive sound with good bass and also possesses a nano-coating making it waterproof by fending off sweat, water splashes, and light rains.
The Earbuds have a 5 hour working time per charge and even has an LED display to depict the remaining battery life.
Mpow M30's unique policy states that in case the user loses one earbud, they can purchase the exact bud separately instead of purchasing the whole pair which truly maximizes user convenience and satisfaction.
Specifications:
Weight: 2.6 ounces
Dimensions: 3.94 x 4.33 x 1.46 inches
Pairing: Bluetooth 5.0, Android, IOS, Windows
Battery: 5 hour of working time. Compact charging case provides 4 full charges
 Waterproof
 LED display indicating battery level
 Quick Bluetooth connection
 Mono mode allows individual usage of earbuds
 Great battery life
 Lightweight
Earbud can be purchased individually in case one is lost
 No wireless charging
 High touch sensitivity leads to frequent accidental touches
6. Tozo T10 Wireless Earbuds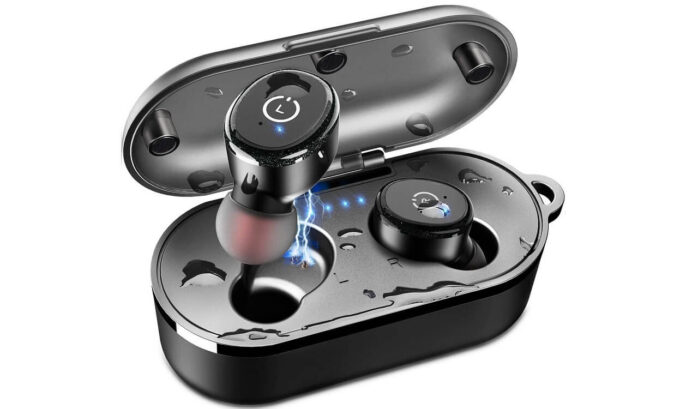 Tozo T10 has a wireless lightweight ergonomically designed all-black body with gel flexible silicone noise reduction ear caps for a firm and comfortable fit along with an 8-millimeter large size Bluetooth speaker driver providing an authentic sound with deep bass for the best audio experience.
The Tozo T10 is also equipped with advance Bluetooth 5.0 with automatic connectivity and easy pairing for fast transmission. The earbuds and charging case has an inner nano-coating thereby making it waterproof and convenient to use at the gym or whilst performing other activities.
It also has a convenient battery life of 4 hours per charge and supports wireless charging for maximum user convenience.
Specifications:
Weight: 0.07 ounces
Dimensions: 1.04 x 0.99 x 0.66 inches
Pairing: Bluetooth 5.0, iOS, Android, Windows, Tablets
Battery: Lithium-Ion (4 hour working time per charge. Extra 14 hours in compact charging case)
 High quality sound
 Waterproof and durable
 Easy pairing
 Comfortable fit with good noise cancellation
Quick charge and long-lasting battery life
 LED display inside case indicating battery life
7. Enacfire Future Plus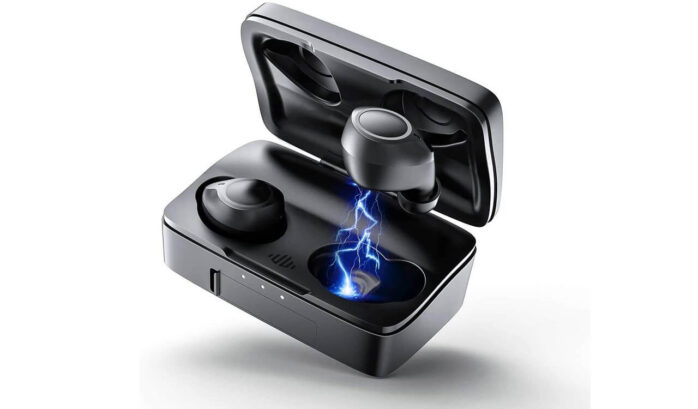 Enacfire Future plus has truly amalgamated their innovation in technology into their earbuds. With a lightweight, slim, and ergonomically shaped design, the Future Plus earbuds are flexible, comfortable, and ensure an optimal fit for every user.
It has on-ear touch control to change tracks and accept calls along with a finely tuned premium music quality enabling you to hear every note and tune to the highest accuracy. With advanced Bluetooth 5.0 and automatic connectivity, the earbuds allow easy pairing and swift transmission.
The IPX8 technology has been utilized for these earbuds making them waterproof thereby enabling users to freely wear them at the gym or during other activities. The Ultra High battery capacity enables users to immerse in their music world for 3 hours daily and along with it comes a portable charging case that can hold an immense amount of battery. Alternatively, the case can also be used as a power bank to charge other devices. Truly a multifunction gadget indeed!
Specifications:
Weight: 3.53 ounces
Dimensions : 1.2 x 0.9 x 0.6 inches
Pairing: Bluetooth
Battery: Lithium-ion (104 hours of play time with charging case)
 Lightweight earbuds
 Incredible sound quality
Good battery life
 Great customer service
 Quick and easy connectivity
 Noise cancellation works well
 Charging case acts as a portable charger for other devices
Best Small Bluetooth Earbuds With Long Battery Life
8. Enacfire E18 Plus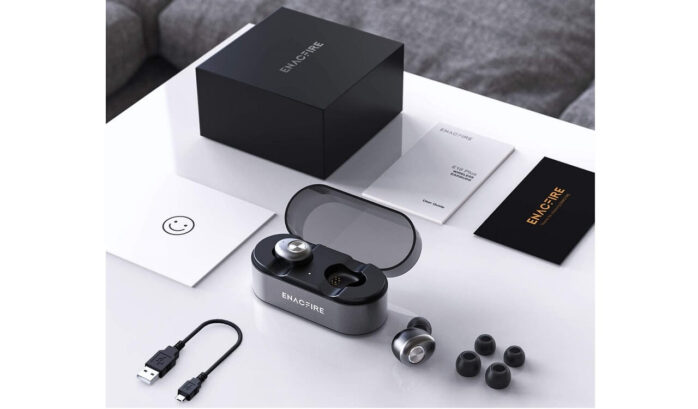 These all-black ultra-lightweight earbuds are equipped with advanced Bluetooth 5.0 and industry-leading QCC 3020 for jaw-dropping fast transmissions and enhanced connectivity.
The Apt -x audio technology transmits extraordinary audio quality over Bluetooth thereby giving users the purest, most authentic, and satisfying sound quality. Equipped with cVc 8.0 technology, the earbuds have enhanced audio levels and one of the finest audio suppressions for crystal clear voice calling clarity.
The Enacfire E18 has an 8-hour battery life and even supports wireless charging for convenient user experience along with a rough and tough body with increased durability and waterproof ability.
Specifications:
Weight: 0.159 ounces
Dimensions: 2.93 x 1.28 x 1.27 inches
Pairing: USB, Bluetooth, iOS, Android
Batteries: Lithium-Ion (8-hour battery life for IOS.5 hour for Android)
 Great sound quality and noise cancellation
 Quick and easy connectivity
 Waterproof
Good battery life
 Slight noticeable latency
Manual charging cable is short
9. Samsung Galaxy Buds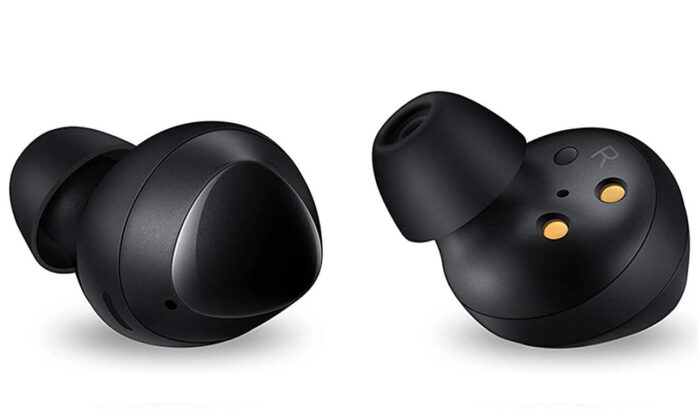 One of the most well known and popular electronics brands in the world, Samsung, has come up with the Galaxy buds with a premium sound quality tuned by AKG and also facilitates easy pairing of android, iOS devices through Bluetooth and automatic syncing.
Equipped with an adaptive dual-mic which mixes audio from the inner and outer microphone provides the users with high clarity voice calls and prevents any unnecessary noises in the background from disrupting you. The Samsung Galaxy buds also possess an Ambient Aware mode that allows users to control the amount of noise they want to hear from the background thereby enabling you to be aware of your surroundings in case people want to call out to you.
The splash resistant technology makes the earbuds withstand splashes and accidental spills. Samsung has yet again proven itself to be every customer's optimal choice!
Specifications:
Weight: 4.8 ounces
Dimensions:1.6 x 3.7 x 3.4 inches
Pairing: Bluetooth, Android 5.0 or above, iOS
Battery: Lithium Polymer (6-hour battery life per charge)
 Good quality sound
 Can use earbuds individually
 Ambient mode helps adjust volume according to surroundings
 Highly comfortable
 Great battery life
 Includes finding lost earbud feature
 Small and compact size
 Not completely waterproof
10. FocusPower F10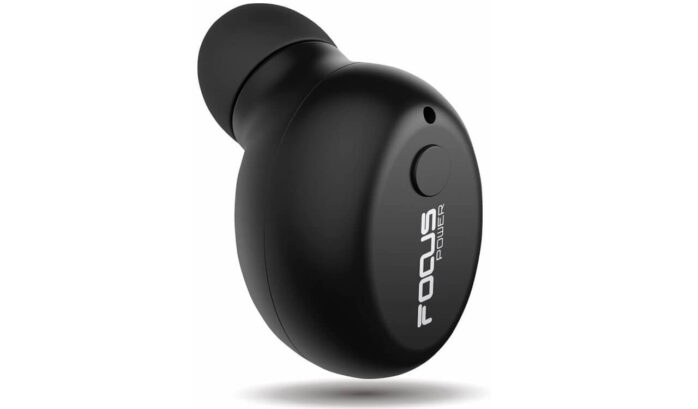 Finally, we have the small but powerful Focuspower F10 having an ultra mini size body ergonomically designed in conformity to the contours of your ear in order to provide the most perfect and comfortable fit.
Equipped with a fantastic Bluetooth connectivity allowing you to connect with 2 phones at the same time from 33 feet away.
The gadget has a high battery capacity which can last for a maximum of 7 hours and even has a magnetic inductive charging feature so you can charge with convenience.
Specifications:
Weight: 0.2 ounces
Dimensions: 0.9 x 0.6 x 0.5 inches
Pairing: Bluetooth
Battery: Lithium metal
 Great sound quality
 Comfortable fit
Long-lasting battery life and quick recharging
 Good customer service
 Can pair with 2 phones simultaneously and easily
 Has inductive magnet charging making it easy to charge
The Earbuds are the new rage in the headphone industry, they are small, powerful, and wireless all at the same time. These small audio devices were first made popular by Apple with their product "Airpods" launched in 2016.
Taking inspiration from the success of the Airpods many big brands are now making their own versions of it and they call it Earbuds. However, not all Earbuds are built equally, while some Earbuds are very practical for everyday use, some are still worthless. Thus, before investing your money, make sure you do good research about the earbuds so that you don't end up wasting your hard-earned money on the product that won't work for you.
So before picking up any Bluetooth Earbuds, we recommend you to go through the below guide. 
Small Bluetooth Earbuds Buying Guide
Technical Specs
The primary reason why people buy earbuds is to listen to music. So it's important that you check all the technical specs of it to ensure that it is the right product for your music listening needs. There are tons of technical specs an earbud can boast, but the key specs to look out for are:-
1. Impedance
In simple terms, impedance can be understood as the resistance that is applied by an electrical circuit that opposes the current flow in it. The higher the impedance of a device the lower will be the current flow in it. The impedance of earbuds ranges from 8 to 600 ohms, while 32 ohms is the standard impedance in most earbuds.
If you want an earbud for lower audio amplification devices like phones, portable music players, etc than a lower impedance earbud (less than 25 ohms) is the right choice. Similarly, for higher amplification audio devices you need an earbud with impedance more than 25 ohms is the right choice.
2. Drivers
The drivers are responsible for turning electrical signals into sound waves within the earbuds. Thus, if you want your earbud to produce a good quality sound then it is important that the earbuds have a stronger driver.
3. Sensitivity 
The sensitivity of an earbud measures how loud it can go in different volume settings, and is generally measured in Sound Pressure Level (SPL). While buying an earbud, make sure you buy one with a mid-level sensitivity so that you can enjoy a safe music listening experience.
4. Frequency Response
The audible frequency range in humans is between 20 to 20000Hz, and it is also the standard frequency range for most earbuds and headphones. The frequency spectrum from 20 to 20000 Hz represents the bass, mid and treble, where the start of the spectrum represents the bass and the last end of the spectrum represents the treble.
So if you want a high bass earbud then go with the earbuds whose frequency range falls in the lower end of the audible frequency spectrum. Similarly, for a high treble earbud choose one that has a frequency range in the upper end of the spectrum.
Earbuds Controls
Most earbuds need to be controlled by the source device, like if you have connected to the phone then your phone needs to be in your possession to be able to increase or decrease the volume, change the track or pause the music playback.
But there are also some smart earbuds that can be controlled without using the source device. Some of these earbuds have dedicated buttons, while some can change tracks and control volume by just a touch. So you can buy earbuds based on its control settings for your convenience. We recommend going with buds that come with smart control settings like touch control and voice command.
Noise Cancellation
Noise cancellation is a boon for music lovers and audiophiles. This technology allows you to enjoy your music to the fullest by canceling the background noise or reducing it to the minimum.
This is a must feature to have if you live in a noise-polluted area or you generally travel in public transport listening to music. Some of the earbuds also give you the ability to reduce or increase the amount of noise cancellation you want on them. So overall you should get a wireless earbud that must have the noise cancellation feature.
Sweat And Waterproof 
Most of the earbuds these days come with sweat and waterproof ratings and that's what makes them so popular among athletes and fitness freaks. Because now they can use these earbuds to listen to their favorite tracks while exercising. If you want earbuds for exercising purpose then make sure it is sweat and water-resistant.
Mic
Not all earbuds come with a microphone, if you want to answer calls using your earbuds then it must have a mic in it. Also, having a mic allows you to give voice commands to Siri and other voice assistants of the smart device your earbuds are connected to. However, the quality of the microphone is not the same on each earbud, and it depends on the cost and quality of the earbud itself.
Charging Case 
The case that you get with earbuds not just helps you in storing the buds, but is also used to charge them when they are out of juice. You just need to put the bud in the case and plug the case to the power outlet using the USB cable and the buds shall start charging right away. However, some cases also support wireless charging i.e you can put the case over any wireless charging pad to initiate the charging process.
When buying wireless earbuds either from the online or offline store make sure the case it comes with is sturdy and durable. Do check if the hinges are working fine because it's the first thing that goes bad in a charging case. 
Battery Life
The battery life is an important factor to look out for when buying anything wireless because a wireless device is totally dependent on its battery for their operations. Similarly, an earbud with a good battery life will last longer and you won't have to charge it regularly. 
You can check the advertised battery life of the earbud on its box itself. However, the actual battery life is always lesser than as quoted by the manufacturer. For the right information about battery life, you can read customer reviews on online platforms.
Ear Tip Size
When it comes to the size of the ear-tip "one size does not fit all". And therefore you will see most of the earbuds these days come with a set of extra ear-tips of all sizes from small, medium to large so that you can change the ear tip according to ear size.
Ear Tip Material 
The ear tips are generally made out of three materials Rubber, Silicon, and Foam. Out of which the rubber ear tip is the least comfortable and therefore used in the cheap earbuds. The silicone ear tips, on the other hand, is the most common material used in the mid-range earbuds. The silicon material is more comfortable than the rubber and thus does not cause pain or irritation in-ear when used for a long time. 
Last but not the least, the foam ear tips are most comfortable out of all other materials and they adjust in the ear perfectly creating a seal so that noise from the outside does not reach your ear and you can enjoy the music as it meant to be. However, the foam earbuds are expensive when compared to the silicon and rubber earbuds. 
FAQs
How to charge the earbuds on the go?
The charging case has a battery of its own, so you can fully charge the case before going out. On one full charge, the case can fully charge the earbuds 3 to 5 times.
Are earbuds compatible with all music devices?
The wireless earbuds work on Bluetooth technology and they work fine with every music device that has built-in Bluetooth.
Can we use wireless earbuds on Non-Bluetooth devices?
Yes, you can use wireless earbuds on Non-Bluetooth devices but for that, you will have to get a third-party Bluetooth transmitter that will transmit the audio signals from that device and earbuds will work as a receiver in this case.
How long does it take to charge the earbuds?
Depending upon the battery capacity of the earbuds the average time it takes to charge them fully is between 30 minutes to 1 hour.