Photography without a tripod is like a bed without a mattress, completely useless. All the jaw-dropping photos that you see on the internet today are only possible because of the photographer's skills and the tripod they carry along with them. The tripods provide stability to the camera and assist the photographers to capture the moments that we even miss with our eyes.
But just having a handsome and expensive tripod by your side doesn't make you a good photographer. There are many things that one needs to bring into consideration before making a final choice on a tripod. Like the type of head it has, the tripod has flexibility or not, its weight and most importantly, the purpose of purchase. After you have that clarity in mind, you automatically buy the best tripod for yourself. So we here at Specstalk will help you understand the different types of tripods prevailing in the market. And we'll help you decide, which one is gonna be best for you.
Different Types Of Tripods
1. Selfie Stick Tripod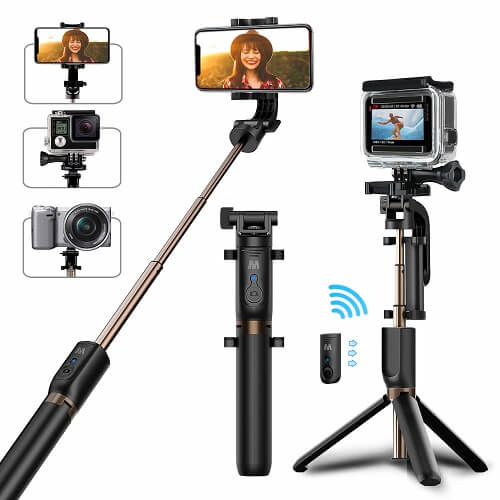 By just writing the word SELFIE, I must have got all the attention from the selfie lovers by now. Selfie is not about clicking just two or three photos, it's an addiction. So let's start our article with the Selfie Stick Tripod. These tripods are best if you have a phone with a high-quality camera. With this simple yet useful gadget, you can perform the task of both the tripod as well as the selfie stick.
The Selfie Stick Tripod is an ideal choice for you if you are into vlogging, adventure sport, Facebook live or anything that requires your personal interaction with the people. Most of these tripods come with Bluetooth connectivity and a remote to control the tripod from a distance. Being able to convert itself to a selfie stick, these tripods are usually light in weight.
2. Tripod For Travellers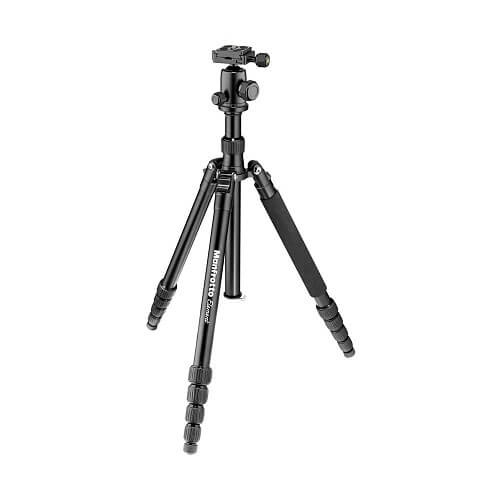 Just like a shoe without lace, travelling without a tripod doesn't make any sense for photographers. And if you don't want your wife or girlfriend to get mad at you just because you didn't take good pictures of her, don't forget to keep travellers tripod with you. These tripods are solely made for travelling purposes, so they are designed in a way that they don't cause you any kind of pain while travelling. Most of the travelling tripods come with 360-degree head rotation to capture all the special moments without disturbing the angle of the tripod.
Being a tripod for a traveller, it has to be carried every here and there. So they usually have a light bodyweight and foldable legs to be space-friendly. Other than that, a mount holder for both mobile as well as a DSLR has to be there. It has to be, no matter what. Don't buy the tripod if it doesn't have one.
3. Studio Tripod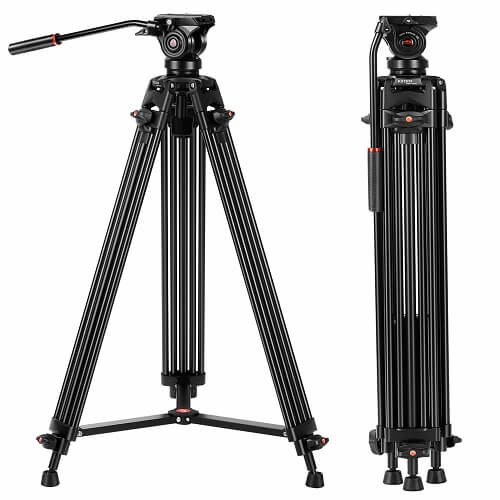 Joker once said that "If you're good at something, never do it for free. So here comes something for the professionals. People who are gifted with good photography skills and want to convert their hobby into their profession, buying a Studio Tripod stand is where you have to start from. Not exaggerating, but a good Studio Tripod is capable of enhancing your photography skills by many times.
Being a tripod for professional photography, Studio Tripods are quite heavy in weight. And they have to be heavy, in order to easily bear the weight of the gigantic lensed DSLR's. If the tripod is highly professional, it might also have an inbuilt bubble level checker. Along with that, an adjustable handle for the angle adjustment.
4. Suction Cup Tripods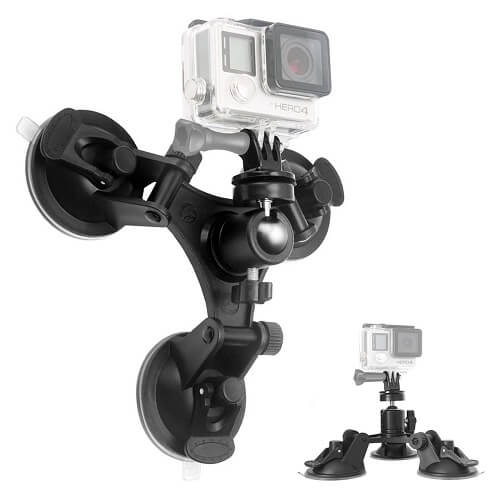 When you look at the suction cup tripod, you get to know how much the human brain has evolved. The design and functionality of these tripods are completely different. If you want to take a shot from above, stick the tripod on the ceiling, wanna try sideways? Go for your walls. You don't even need to pack it every time you finish filming. Let them hang on the wall like a giant spider. That actually looks cool.
Suction Cup Tripods know that they are gonna be tortured ones brought. So they are usually designed in a rough and tough way and have a high weight lifting capacity. Though the Suction Cup Tripods are teenie tiny in size, they can certainly perform the tasks that most tripods cannot do.
5. Flexible Leg Tripods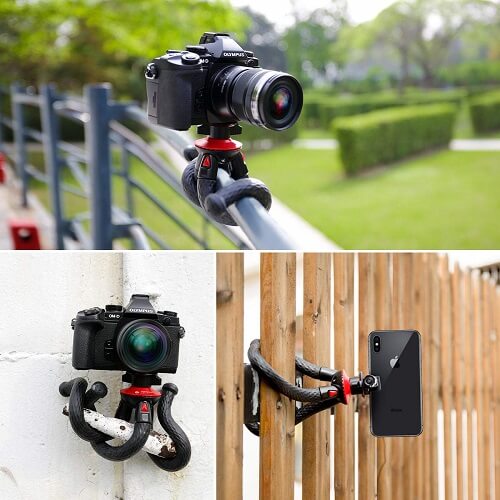 Call them Flexible Leg Tripod or the snakes for holding the camera, because it's one and the same thing. It's no joke. You can actually search them with the name "Snake Tripod" on amazon. Having extremely flexible legs, these tripods can easily be placed at the bumpy surface without compromising with the quality of the video or photo. Is your concern is related to its durability? You will be happy to know that the legs are made of crack-free rubber which is also waterproof.
Most of the Flexible Leg Tripods come with a ball head which gives you a 360-degree rotation without even moving the tripod. Moreover, they are made compatible with both iOS and Android devices along with the DSLR's. What else do you expect from a tripod?
6. Pocket Tripod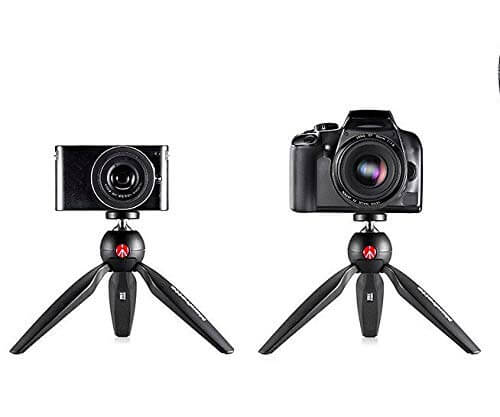 Yes, it's written pocket, now don't look at the heading for the third time. This amazing tripod is going to make you feel like Doraemon, after all, you're fitting a tripod in your pocket. Being a device that you need to carry in your pocket, they are made quite small and super light in weight. Other than taking the photos and shooting the videos from the low angle, there is something amazing that you can do using this tripod. You can keep the tripod on the table beside your bed and watch videos or do video calls without giving any pain to your hands.
As these tripods are designed to be kept in the pocket, their legs can easily be folded or can get detached from the head. While purchasing a pocket tripod, don't forget to go through the products from Manfrotto.
7. Shoulder Rig  Tripod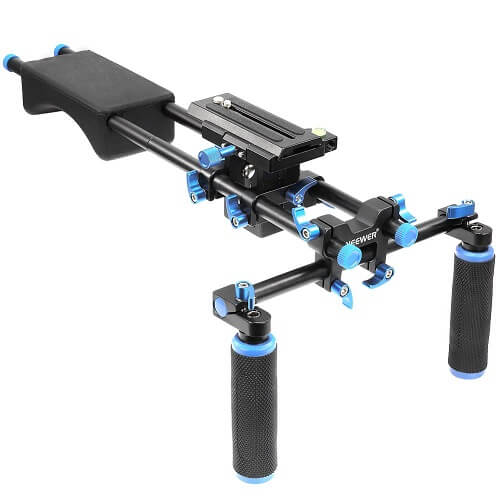 If you're into a profession that involves running or taking shots from different angles while your camera on your shoulders, Shoulder Rig Tripod is your way to go. These professions might include YouTube prank videos or shooting athletes while they're playing. So these tripods are quite light in weight. These tripods are designed in such a way that you won't feel uncomfortable while keeping them on your shoulders for hours. The soft shoulder pads and the handgrips will support you in taking the best shots.
Another good thing about Shoulder Rig Tripods is that they are made shockproof and are known for maintaining the camera stability. The rail rods in the tripod allows you to adjust the camera zooming without even touching the lens.
Wrapping Up
Tripod is one of the most essential parts of photography. If you're a photographer but don't own a tripod it means that you still lack professionalism. Till now if your reason for not buying a tripod was that you don't know which one suits your profession the most, then it's understood. But from these different types of tripods, now you must have certainly got an idea that which one you should go for.