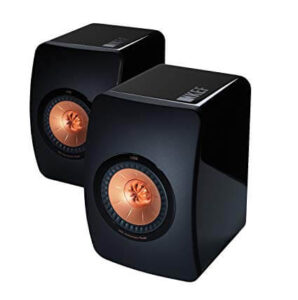 KES LS50
KES LS50 comes in a pair, beautifully designed which takes less space in your room. They look small but they deliver amazing sound quality. If talk about the LS50 specs, the frequency response is 79Hz to 28kHz with a crossover frequency of 2.2kHz. The total harmonic distortion is <0.4% in LS50 speakers. On top of the speaker, you will find the volume controls, power and Bluetooth touch controls. No doubt its very expensive but instead of putting a lot of equipment to make a good system, KES is giving you a compact and perfect system.
Specifications
GENERAL
---
Brand: KES
Model: LS50
BODY
---
Color: Black | White | Red | Gray
Dimension: 302 x 200 x 278 mm
Weight: 15.8 lbs
AUDIO
---
Frequency Response: 79Hz-28kHz
Sensitivity: 85 dB
Impedance: 8 Ohms
Crossover Frequency: 2.2kHz
Total Harmonic Distortion: <0.4%
POWER
---
Amplifier Requirements: 25 – 100 W
PRICE
---
Price In India: ~ Rs. 1,90,000
Price (USD): ~ $2,199
Note: The information listed on this page may not be 100% correct.