Smart gadget and additional accessories for smartphones are becoming popular these days. They not only look great but also helps us in many ways. One of those gadgets is a smart fitness band. There are various manufacturers who are making fitness band for users that allows tracking your health and bodies vital conditions. Lenovo, a Chinese multinational tech company has also started making fitness bands. And one of the best fitness bands from Lenovo is Spectra HX03F.
We have a hands-on experience with Lenovo Spectra HX03F and after using and testing it for a long time, we are going to provide you a detailed review of it. Though the company is pretty good at providing the great tech product to the users, but in the segment of smart fitness bands, they are still said to be a newcomer. However, that doesn't mean they are behind in these segments.
This fitness band has some great features which we personally liked very much, and some places where Lenovo can improve a little bit that you will get to know for yourself at the end of the review. So without any further delay, let's get started.
Lenovo Spectra HX03F Review: The Waterproof Fitness Band
IN THE BOX
Before starting to review the product let's dig into the box and see what all they have provided:
Smart Band
User Manual
Warranty Card
DESIGN & DISPLAY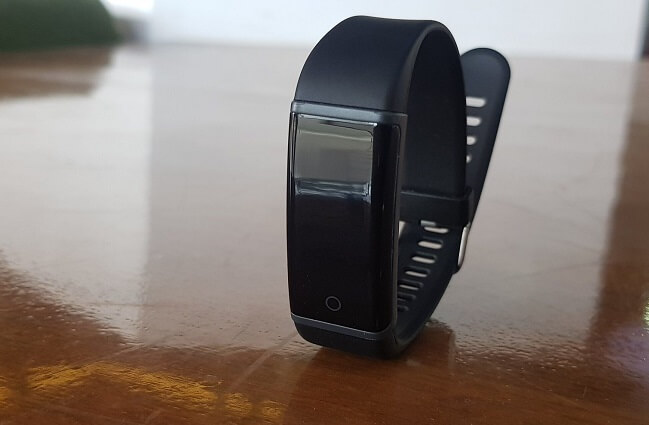 Lenovo HX03F looks pretty good with simple rectangular design and premium built of the straps. The straps are skin friendly and comfortable so you won't be feeling any itchiness or irritation by wearing it in a long run. It is almost similar to the earlier version of Lenovo HX03 but here the strap got a buckle giving it a little more regular watch style.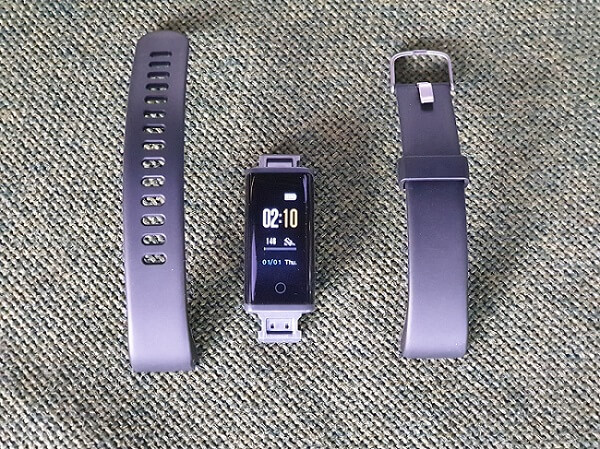 There is only one silicon strap that comes pre-attached with the band. They are detachable so you can use any other if you wish to, but you will have to buy it separately. It has a 0.96″ TFT colour display which is fine and no physical buttons or any kind of ports are there. This is where the band amazed me, to charge it you will need to remove one of the straps which will reveal an attached USB that can be connected to any USB port.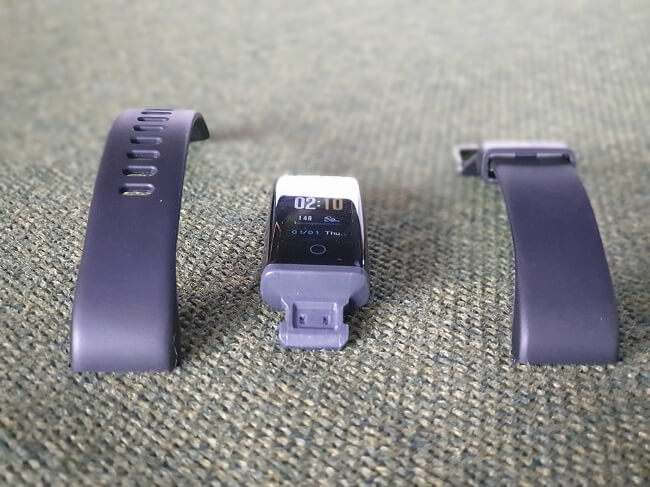 And no, the strap does not detach or get off itself anytime as it has a great hold. The band and its features are controlled using the captive touch at the bottom on display which works as it should without any hitch. At the back of the band, you will see the heart rate sensor that will keep a check on your pulse.
USAGE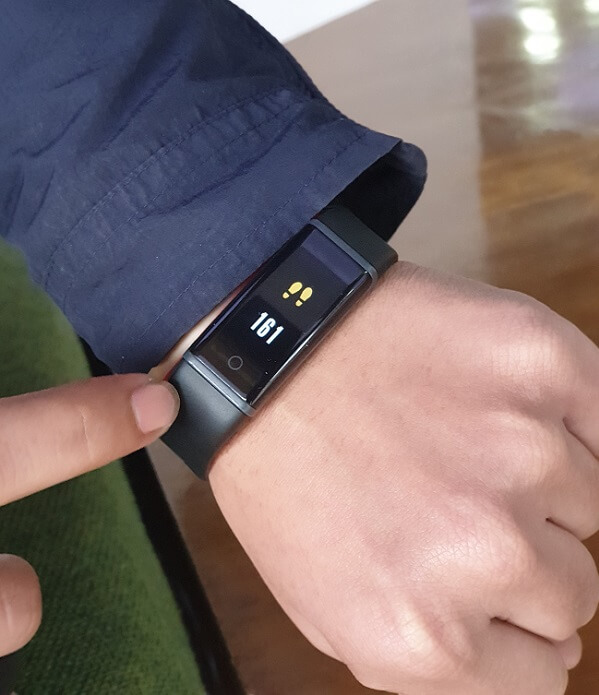 There are various features (cards) on the band which you can see by touching the captive button once at a time. To use or open any given option you will need to tap and hold the captive touch for 3 seconds and same to get out of that particular menu. You need to get used to this to operate the band more efficiently, but initially, it can be annoying to some of the users.
There are 6 cards that are initially available like the watch, sports, steps calculator, heart monitor, alarm and info. In info card, you can see the details of the band and the option to switch the power off.
Apart from this, there will be an additional card to find my phone. It will show once you enable it using the mobile application. To change the Spectra HX03F phase, you simply have to touch the captive button for 3 seconds each time to get a new one.
BUILT-IN FEATURES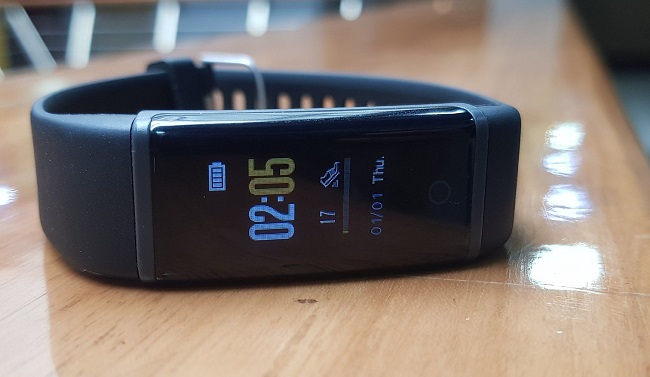 Now we are going to discuss each feature separately so that you can understand them easily. These are stand-alone features of the smart band that can be used without connecting it with the device or application.
Time And Date
The main feature of the Spectra HX03F is that it will show you time, date and all the value of tracking right on the main card of the band. The time and date only change automatically once it is synced with a smartphone.
Activity Tracking
Lenovo has provided all the necessary tracking features that should be there in a fitness band. It has a heart rate monitor, sleep monitor, and steps calculator. It also has a sports mode which you can use to track the activity when you are doing the workout. All these are recorded by the band automatically and the recorded data can be can be seen on the application.
Mobile Application
This is where the Lenovo turns the table, the application of Lenovo HX03F is really great, easy to use, and user-friendly. You can use it with both the Android and iOS devices. It uses Bluetooth 4.2 to connect the device with the application or smartphone using the Lenovo Life app. Once it connects, the app will sync all the data with the smart band and show it to you.
In the homepage of the app, you can see the total steps that you have walked. You can set the target or plans that you wish to reach and check its progress. Apart from this, it will also show the heart rate status, which can be monitored from the app or just from the band. It will show it in a graph and also provide the meter which will show how much heart rate is considered as less, light, medium and heavy.
And at last, the sleep monitoring data. It will show the time you were asleep and also provide the data separately for when you were in light sleep or deep sleep which is really good.
ADDITIONAL FEATURES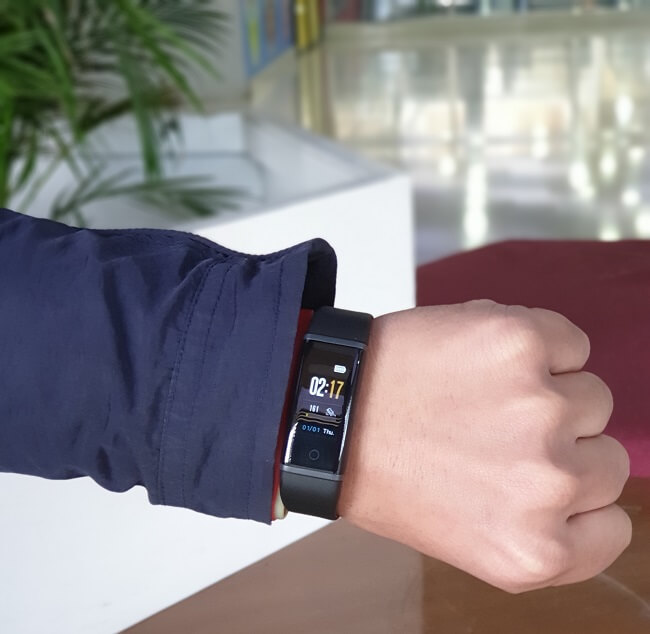 Now using the application, you can also add or enable the below listed additional features in the HX03F band:
Goal Reminder – Enabling this the band will remind you whenever you are about to reach the set targets in various modes.
Alarm – Though it has the alarm card, it can only be set using the application.
Find My Phone – By enabling this option, the band can also be used to find the device in case you misplace it. For this, to work, the band and the device should be connected then only it will show the card to find my phone. By using this, Lenovo Spectra HX03F will make your device beep so that you can find it easily.
Writs up Display – This option will wake the bands display automatically whenever you raise your wrist.
Smart reminder – If you wish to get a notification for calls, SMS, Facebook, Whatsapp, Wechat, Twitter, Skype, and a few other social media then it can also be enabled using the app.
Sedentary reminder – By enabling this feature the band will remind in case there is no activity from a long time. You can customize the time in which the band should consider the period of inactivity.
Vibration intensity – All the notifications are provided by the smart band with a vibration. Though the low vibration is enough, you can still increase it if you wish to.
Apart from all of this, you can also use the application to update the firmware of the smart band and factory reset it. It even allows the data of this app to be synced with Google Fit application. To be honest we liked the application very much as it has so many options and makes the band more useful.
BATTERY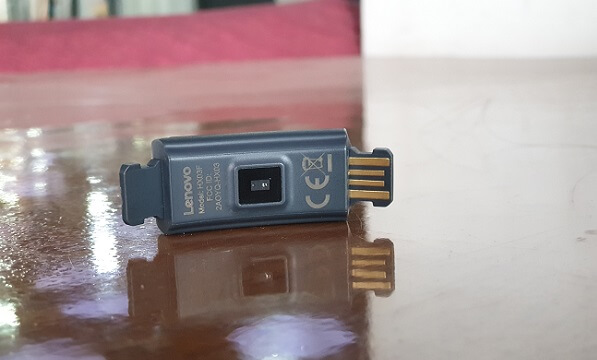 It has a 100 mAH battery that can be fully charged within 20-30 minutes. Thought it is said to last for around 7-8 days, but in our usage, it lasted for around 4-5 days. In this period the band was mostly connected with the smartphone and notification and other features were also enabled. So, we would say that it is decent for it to last 4-5 days. But keep in mind the battery usage will also depend on how and what all features you are using.
OUR FEEDBACK
We've been using this band from the past 1 week. And according to our day to day usage, we can certainly say this that if you are looking for a simple fitness band then Lenovo Spectra HX03F is a great option. The heart rate monitoring is great with a few +/-  in both auto and sports mode. Only a few things where the company could have improved is the battery life, which is not bad but less as compared to other competitor's.
Another thing is the steps calculator. It is not accurate as it records the movements even while sitting. And the last is the connectivity. Sometimes the band and the application seems to disconnect automatically even when they are in the range.
PRICE
Lenovo Spectra HX03F is available to buy from Amazon at the price of INR ₹ 2640.
THE GOOD
Activity Tracker
Attached USB charging
Premium built
Waterproof- IP68
Notifications
Mobile Application
THE BAD
Battery life
Connectivity issue
Inaccurate steps calculator
FINAL VERDICT
Lenovo Spectra HX03F fitness band is a great option in this price segment with a minimalistic design and a great variety of features to offer. If you are looking heart rate tracker, sleep monitor, and the application features, then you can go for this fitness band. But for more battery life and other features, you can look for other bands having a little more price.
Lenovo Spectra HX03F Review: Is It Worth Buying?