Wireless tech is becoming popular among various kinds of tech genre. Whether its wireless charging or Bluetooth earphones. Users are attracted toward them as they work without any connectivity of wires. No struggle to plug the wires or worry about them getting tangled. Samsung was one of the first manufacturers to introduce the wireless tech in both smartphones and other gadgets.
And to be honest it was really something new and different. Though being first has its own pros and cons, but still, Samsung manages to provide the best. Today here we have with us a true and completely wireless earphone from none other than Samsung itself, the Gear IconX. If you ask us, this gadget has some pretty awesome features, but with these awesome features, it also packs some flaws.
If you are planning on buying a complete wireless earphone and are considering the Gear IconX then, you should go through this article. So without any further delay let's start with Samsung Gear IconX review and impressions.
Gear IconX Review: Are They Good?
INBOX ITEMS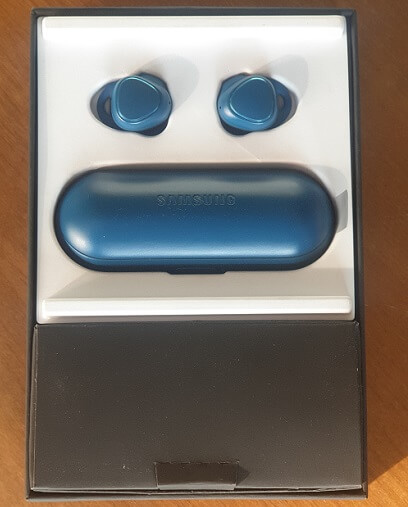 Before starting to pinpoint its features let's dig in to see what all it has in the box for the users:
Earbuds
Carrying and charging case
USB cable( Micro USB for 2017 version/USB type-C for the 2018 version)
USB OTG connector
2 additional pairs of Ear and Wingtips
Instruction manual
Usage guide
Warranty card
FEATURES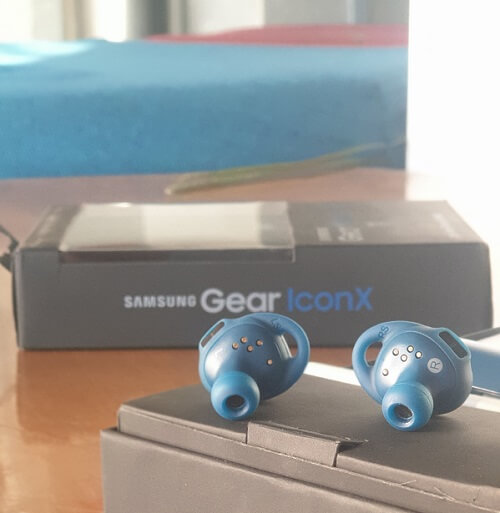 Samsung Gear IconX is filled with various features which most of you will certainly like. So to make you understand them more clearly we will talk about them in a little detail.
1. Internal Storage – The first reason to go for these wireless earbuds is the 4GB internal storage for storing mp3 directly into the earbuds. With this feature, you can use them as standalone earbuds without having to carry or connect it with the smartphones.
2. Fitness And Heart Rate Tracking – It has inbuilt heart rate sensors, steps and calories counter. This makes them a perfect pair for fitness freaks. And the best thing, they also work without the smartphone. But to have the details and save the progress you will need to connect it with the Samsung Health app.
3. Ambient Sound Mode – This is the feature that we personally like in these earbuds. Using the ambient mode allows you to hear the surroundings while continuing to listen to music. It is a good option as it covers most of the noise and surrounding sounds. Helpful while on the road or talking to someone and still listening to your favourite tracks.
4. Touch Control – The Gear IconX does not have a single physical button on any of the earbuds. That's because they are controlled using the touch panel available on both of them. It is better than the physical buttons but can take a little time to get used to it.
5. Waterproofing –  As these earphones are more suitable for fitness freaks, people who workout, because it is  splash resistance. So you can break a sweat wearing it without worrying.
BUILT AND DESIGN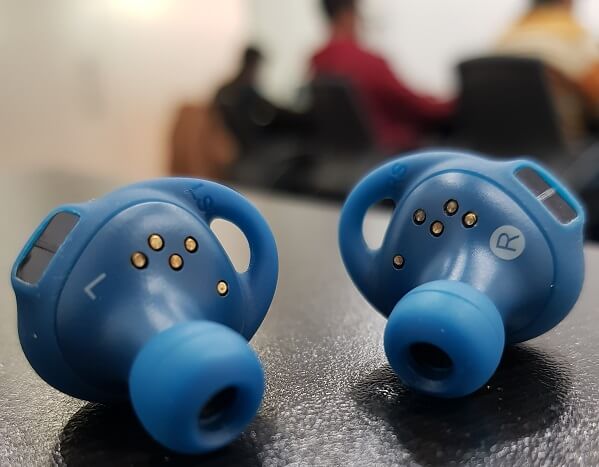 Well talking about the design, you yourself can see how they look, we would say, perfect. Both, the case and earbuds have premium build and a nice finish that you can feel while holding them. The case is in an oval or more like pill shape, that is easy to hold but will definitely feel the bulginess in your pocket, though good for carrying in bags. They both have Gold colour dots with the help of which the earbuds are charged once inserted in the case.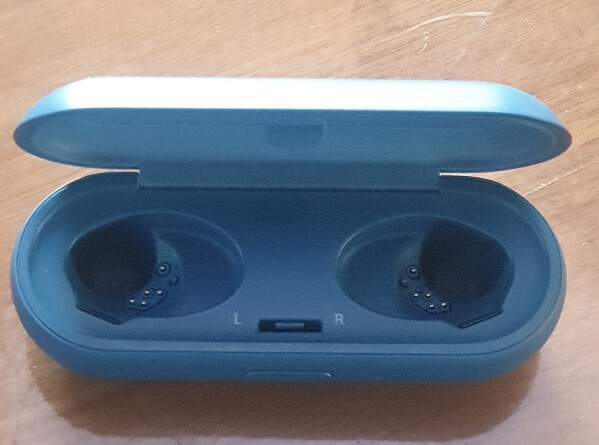 Both the earbuds have a mic for calls and heart rate sensor for tracking your Heart Rate. In the front of the case are two LED lights and one in the back with a micro USB for showing charging status. The front one will show the charging for the earbuds while the back is for the case. They will be red while charging and once they are fully charged the LED will turn to green. And you can charge the case and the earbuds at the same time as well.
BATTERY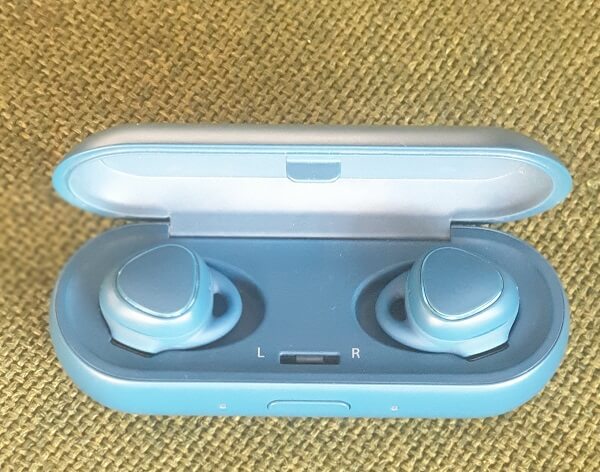 Coming to the most important part, i.e. the battery and its backup. The earbuds have 47mAh battery in each of them while the case packs 315mAh. The case takes normally about 0.5-1 hr to charge fully and once they are completely charged they can charge the earbuds fully twice.
On the other hand, the earbuds take 20-30 minutes and will last about 3-4 hrs on solo mode. But when connected with a smartphone it will last for about a maximum of 2 hrs which is very disappointing.
CONNECTIVITY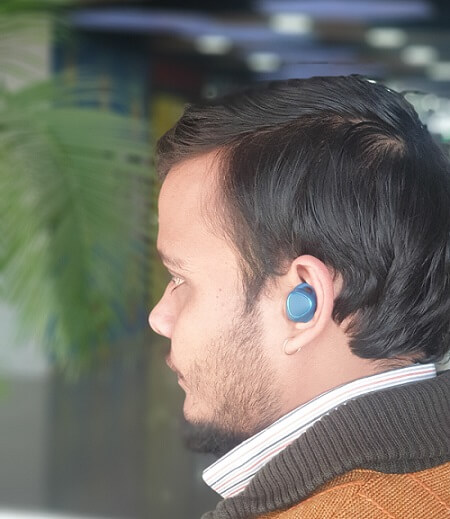 IconX earbuds uses Bluetooth to be connected with the devices. Now the usage of this product is not that complicated but as mentioned earlier you will have to get used to its touch control and the pattern. The earbuds have an auto turn on/off feature where it senses as you put it on the ear and it turns on automatically and turns off as soon as you take them out.
COMPATIBILITY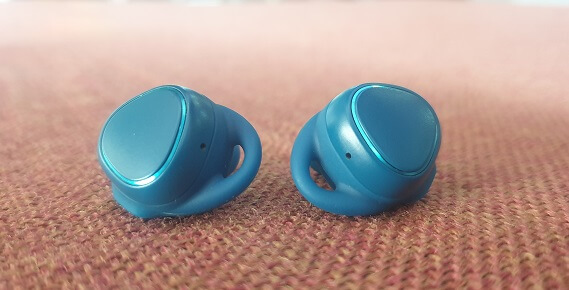 IconX is compatible with most of the Android and even the iOS devices. But as they are from Samsung, the Samsung device user will surely get an edge. Features like heart rate sensor, activity tracking will also be available on other Android device but not as good or complete as on Samsung via the Samsung Health app. While the iPhone users can only use them for listening to music and receiving calls like any other Bluetooth earphones.
You can even connect them with Windows and macOS PC but will need an additional desktop software for the Gear IconX that is available on both the platforms. With this, you can manage and even transfer songs into them.
USAGE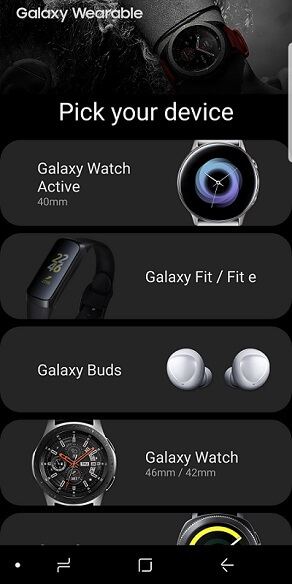 Once you are connected with the Samsung Galaxy Wearable application, you can manage tracks, volume, workout tracking, the menu for the IconX and even apply other settings like Ambient sound etc directly from the app. Though these features can be also activated using touch control given on the earbuds. From the app, you can also select which earbud you will like to keep as main(L or R) which is convenient for people who have a different dominant side.
To learn the touch control they have provided a separate manual which you can refer to. But for your information, tap once to play/pause the music, double tap to pick or end the call and change to next track, triple tap to go to previous track. And to change the volume simply swipe up or down accordingly. The best thing is that you can do all of these from any of the earbuds.
If you wish to get other menu option like sports mode or ambient mode directly from the earbuds, just tap on them and hold for a short time and when you hear the desired menu release the finger to activate or select them. And in addition to that, with the help of the given OTG, you can connect the Gear IconX directly to your Android smartphone to transfer music into it.
SOUND
Gear IconX sound quality is really good and is pretty clear and decent while playing music or having a conversation over calls. But the thing where it lacks with respect to sound is Bass which is very low.
OUR FEEDBACK
Well, we've been using them from a long time and honestly speaking if you are a great music fan and enjoy some good beats then these aren't for you. These are more suitable for people who are looking for good fitness buds as they have a great standalone feature which I like the most. Just grab them and go for a run or to the gym without carrying the phone.
At the end of the day, the decision remains yours. We will say they are not bad with all those features packed in them but can be limited to selective people who love having these kinds of gadgets apart from the bass concern.
One more thing we would like to add is that while using it we found that the buds that you make as the main take a little more time to charge than the other. And same while usage, the battery of one earbud drains faster than the other. Maybe it's because of the usage or the options that are on the main buds. But it certainly can bug some of the users.
THE GOOD
4GB onboard storage
Stand-alone ability
HR sensor and activity tracking
Auto on/off feature
Compatibility with Windows and macOS
THE BAD
Of course, battery life especially with smartphone connectivity.
The bass is not good.
PRICE
You can buy the 2018 version from Amazon at the price of $232. Both the versions (2017 & 2018) are almost identical in features and usage with just some minor changes like the USB Type C and a more oval and compact case.
WRAPPING UP
So this was our review for the truly wireless and cord-free fitness earbuds from Samsung, the Gear IconX. What do you think about them? Drop your thoughts on the comments below. And if you are thinking if there is any good alternative to the Gear IconX then do share with us.
Samsung Gear IconX Review: The Cord-Free Fitness Earbuds