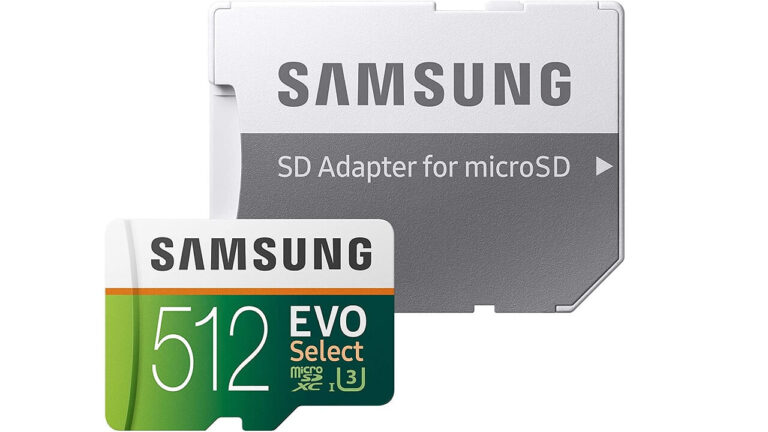 SD Card (Secure Digital Card) is more a necessity than just an accessory these days for digital devices. Now even the smartphone cameras are shooting in 4K the internal storage of digital devices is not sufficient enough to store all the UHD content in it. Thus, the need for SD cards is now more than ever.
However, buying an SD card from a non trusted source is strictly not recommended. Because fake SD cards can't be trusted for storing your valuable data and content. Thus, you need to buy the SD card only from trusted manufacturers like Samsung.
We have prepared a list of the best SD card from Samsung which is among the top most trusted SD card manufacturers in the world.
List Of Best Samsung MicroSD Cards
This list contains the best MicroSD cards in different storage options from 32 GB to 512 GB so that you can buy the best storage solution for your device based on your storage needs. So, let's get rolling!
32 GB MicroSD Cards
1.

Samsung Micro SDHC Card
If you are looking to upgrade the memory of your smart devices like smartphones, tablets, etc then this Evo Select card is a good and affordable option for you.
Although it is a microSD card, you can also use it in devices that support only the SD card using the MicroSD to SD card adapter that comes with it in the box.
Features
Read speed of 80MB/s makes it load heavy files effortlessly in no time.
Write speed of 20MB/s allows it to capture fast photo bursts without missing a single frame.
Backward compatible and works well in devices that support class 10 cards.
It is a UHS I speed class card which is suitable to record videos in Full HD(1080p).
Highly compatible as it can easily work on any device that supports the latest SD standards.
Your data is secure as this card is built to last as it is waterproof, magnet proof, X-ray proof, and temperature resistant.
2.

Samsung PRO Endurance MicroSDXC Card
Looking for a budget microSD card for your surveillance and video monitoring devices like surveillance & security cams, body cams, dash cams, etc? If yes, then look no further as this Pro Endurance microSD is specifically designed for such devices.
Also, you get it for under $10 which is what makes this card so popular in the budget segment.
Features
Read and write speed of 100MB/s and 30MB/s respectively. The fast read/write speed makes it capable of handling large video files seamlessly and quickly.
Endurance Pro is the new SD card standard that supports continuous recording for up to 25 times longer than normal speed class SD cards.
Safeguard your data with 4-proof (water, magnet, X-ray, and temperature) protection. And that's what makes this card provide sustainable performance even in extreme conditions.
Can record videos in Full HD (1080p) and works fairly well with 4K videos as well.
64GB Samsung MicroSD Cards
3.

Samsung 64GB MicroSDXC Card
If 32GB isn't enough storage for you then you can get this 64GB EVO Plus MicroSDXC memory card from Samsung. It is a MicroSD card but since it comes with a full-size SD card adapter you can use it on all sorts of digital devices be it camera, phone, PC, game consoles, etc.
Features
U3 speed classification ensures that it's faster than the speed class 10 and U1 class cards. It has a minimum write speed of 60 MB/s and a read speed of 100 MB/s.
The U3 class is equivalent to V30 (video class) which can record 4K videos with ease.
It can work in extreme conditions since it is water, magnet, heat, and X-Ray proof. So your important data is always safe and secure in it.
4. Samsung MicroSDXC 64GB Card
If 64 GB of storage is enough for you but you want to get a card with ultra-fast read/write speed then the Evo Select MicroSD card is a better option than the previously discussed Evo plus card.
Features
Ultra-fast read and write speed of 100MB/s and 90MB/s respectively. You can record and play UHD 4K Videos on it seamlessly.
Shockproof design and 4-proof(water, X-ray, magnet, and temperature) protection make it last longer than other SD cards.
With the full-size SD card adapter, its compatibility is extended and it can be used on a wide range of digital devices like smartphones, cameras, PC, gaming consoles, etc.
90 MB/s of speed allows you to transfer 3GB of content in just 38 seconds.
5.

Samsung 64GB MicroSDXC Memory Card
The endurance SD card as we have discussed in the previous section is used for always ON video monitoring devices, such as the surveillance and CCTV cameras for continuous recording purposes.
Features
The read/write speed of 100MB/s and 30MB/s respectively makes handling larger video files a cakewalk for it.
Supports continuous recording so that you don't miss the critical seconds of an accident or emergency situation.
Its shockproof nature makes it perform incredibly well in extreme conditions like underwater, extreme temperature conditions, and under the influence of the magnet and Xrays.
128GB MicroSD Cards
6. Samsung Class 10 Micro SD Card
Those who have been in search of high capacity and high-speed SD cards can consider this SD card. It is classified as speed class 10 and U1 class compatible and also boasts a large storage capacity of 128GB.
Features
Classified into speed class 10 and U1 class which ensures that it has a minimum speed of 10MB/s. However, it can give the maximum data transfer speed of up to 80MB/s.
Ideal card for recording and playing full HD videos efficiently on smartphones, action cams, and tablet PCs.
The card is built to last long and safeguard your data even in harsh conditions.
7.

Samsung 128GB MicroSDXC Card
The endurance cards are the new edition to SD cards as they are specially designed for devices that are used for continuous video recordings such as CCTV cams, dashcams, and other surveillance cameras.
We have already discussed the 32 GB and 64 GB variants of the card in the previous sections, however, if you want a higher capacity endurance card then you go with this one.
Features
Easily handles large video files effectively, thanks to its high data read/write speed of 100MB/s and 30 MB/s respectively.
Comparatively records video for a longer time up to 25 times when compared to non-endurance SD cards.
Its 4-proof design makes it ideal to work perfectly well in unfavorable conditions like underwater, extreme temperature conditions, etc. Thus, ensuring the safety of your precious data in unwanted conditions.
8.

Samsung 128GB MicroSDXC Card
The Evo Select cards from Samsung are faster than its other SD cards like the EVO Plus and Pro Endurance. So if you want a card with higher data transmission speeds then the EVO select SD card is for you.
Features
The U3 speed classification ensures that it must have a minimum speed of 30MB/s and a maximum speed of up to 90MB/s.
It can record and play videos in 4K resolution. All thanks to its high storage and fast data transmission speeds.
The card is highly durable and shockproof and rated as IP54.
The full-size SD card adapter you get with it extends its compatibility and thus it can be used in laptops, DSLRs, and gaming consoles.
256GB Samsung MicroSD Cards
9. Samsung 256GB EVO Plus
While 128 GB of storage is enough for some smartphones and other small electronic devices but when it comes to a professional device like DSLR then a minimum of 256 GB of external storage is a must.
Also due to its high capacity, the card should also be fast enough to process a huge amount of data in less time and this Evo Plus SD card is the one that you can go with.
Features
Supports the UHS 1 bus interface which provides it a fast speed, up to read speed of 100 MB/s and writes speed of 90 MB/s.
Massive storage of 128 GB which can store and record 12 hours of 4k videos and 33 hours of full HD videos.
Highly compatible with different digital devices using the MicroSD to SD card adapter.
The shockproof design and 4-proof protection safeguards the data and prevents the card from getting damaged
10.

Samsung 256GB MicroSDXC Card
It is the second 256GB microSD card on this list that you can buy for professional usage. It is a U3 classified card so it's quite obvious that it is very fast.
Features
It provides fast data transfer speeds so that you don't have to wait for data to load.
The shockproof design keeps the card in good condition even if the external conditions are not favorable and thus keeps your data secured.
Get extended capability on this MicroSD card with the help of the full-size SD card adapter and use it on different devices.
512GB MicroSD Cards
11. Samsung 512GB MicroSDXC Card
While there are cards that come with 1 TB or more storage options but the 512 GB cards are most used when it comes to professional usage. This EVO Select MicroSD card from Samsung is among the best 512GB cards you can buy online.
Features
The card support enhanced detail with HDR that shows you 4K in great depth of detail and more shades of colors.
It can be work on different devices that support 512GB cards, be it an SD or MicroSD reader. All thanks to its full-size adapter that comes with it.
The shockproof design saves it from getting damaged under harsh conditions and protects your data from getting corrupt.
It is ideal for shooting 4K videos and high definition photos in burst mode.
12.

Samsung 512 GB Micro SD Card
This SD card offers you a large storage capacity of 512 GB with class 10 and U3 compatibility. This means that it is both fast and has a high storage capacity which is a perfect combination for professional usage.
Features
Fast read speed of 100MB/s and write speed of 90MB/s. Which lets you record and play large video files easily.
Ideal for recording 4K videos.
4-proof protection safeguards your data even in extreme conditions.
Highly compatible with all types of digital devices that support SDXC standards.
ALSO READ: Top 128GB Flash Drives
Conclusion
MicroSD cards are a must these days as your device can't handle the large media and software files on its own. Thus, you need to have the best SD card to use your digital device to its fullest. In our list we have tried to show you the best Samsung MicroSD cards in different storage options, so you don't have to settle for less or more storage than you required.
Also, an important tip to remember when buying an SD card from online and offline stores is to check properly whether you are buying the real SD card or the fake one. As the SD cards are easiest to replicate so you can easily get scammed. Read the reviews and check everything properly, if you feel something fishy, no need to buy that product. With this, we conclude our article and hope you liked the products we shared.