Having flash drives in today's day and age is a necessity considering their use for mobilizing required data and content for users to view on the go. However, when you own multiple drives, it could pose itself to be an ordeal to carry all of them together as they're often disorganized and constantly at risk of being misplaced due to its size. That's where you need the flash drive case in order to eliminate this issue!
The flash drive storage cases let users to effectively carry a variety of USB flash drives, cables, hard drives, and other necessary equipment with optimal convenience. They keep your gadgets perfectly organized within the case offering protection along with safety and substantially decreases the risk of misplacing them. Today we're bringing you the list of 10 best USB flash drive cases you can purchase right away to help you keep your electronics safe, secure, and organized!
Best USB Flash Drive Cases Listed
1. Butterfox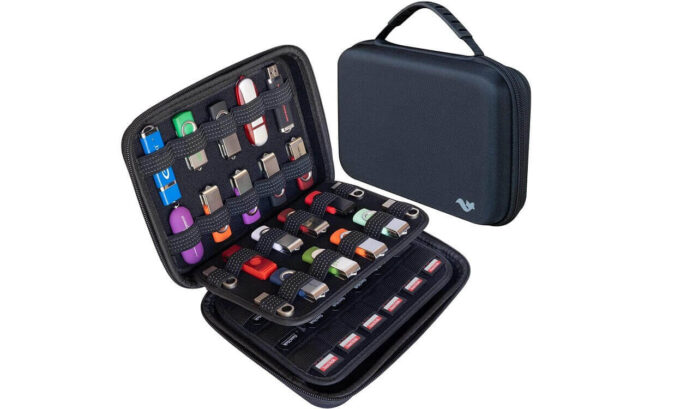 Coming up first we have a highly versatile hardbound storage case manufactured by Butterfox with a huge storage capacity designed exclusively to accommodate multiple memory cards, flash drives, SD cards, cables, hard drives, and much more!
The storage case consists of 18 SD card slots, 4 small and 8 standard USB flash drive slots with elastic straps to keep them secure in place along with a large mesh pocket where you can safely keep items such as hard drives and cables. The Butterfox storage case is bound to keep your belongings well organized and safe for your optimal convenience!
Specifications:
Color: Black
Weight: 12 ounces
Dimensions: 8.4 x 6.3 x 2 inches
 Large and versatile storage capacity for items
 Compact and portable
 Sturdy and durable
 Keeps your items well organized
Flash drive slots are extremely tight and require effort to remove the drive
2. Guanhe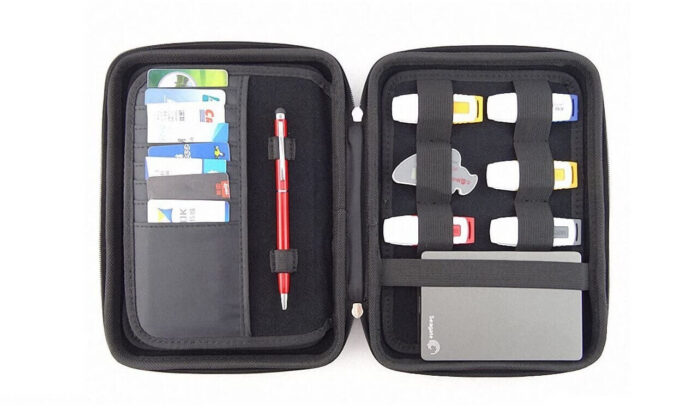 The Guanhe flash drive storage case has a carbon fiber print design on its exterior body and offers plenty of space consisting of 16 mesh pocket slots to store flash drives of various sizes, a hard drive slot with an elastic strap, multiple card holder slots and a large mesh compartment to further store numerous small items like short cables.
The storage bag not only ensures your items remain fully organized but is also made up of a durable and heavy-duty material that is completely waterproof and shockproof to provide full safety of the contents within the storage bag.
Specifications:
Color: Black
Weight: 8.8 ounces
Dimensions: 8.7 x 1.81 x 6.3 inches
 Great storage capacity
 High durability
 Waterproof and shock-resistant
 Compact and easily portable
 Mesh pocket elasticity is extremely tight and requires effort to insert drives
3. Kingflash USB FLash Drive Case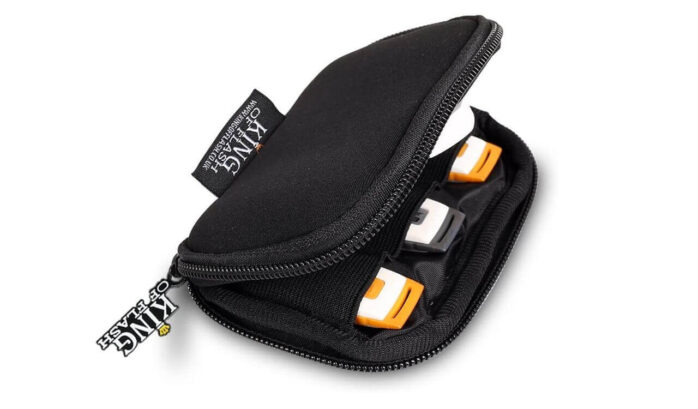 Kingflash's flash drive storage case is perfectly crafted with robust high-quality materials having an extremely compact, lightweight, and travel-friendly body which is also capable of withstanding impacts when dropped, resistant to sunlight, and completely shock resistant.
Its compact body provides storage room for up to 6 flash drives, each slot equipped with elastic sleeves in order to keep your flash drives secure in place preventing it from slipping or moving around vigorously. Keep all your essential gadgets such as cable chargers and memory cards organized and secure with you at all times with the Kingflash storage case!
Specifications:
Color: Black
Weight: 1.704 ounces
Dimensions: 4.96 x 4.25 x 0.63 inches
 Highly compact, easy to carry and travel friendly
 Durable with good quality materials
 Shock and sunlight resistant
4. Damero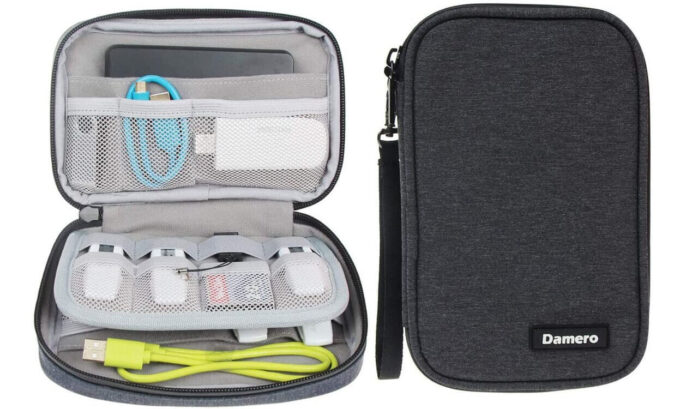 Made from a sturdy and durable material, the Damero storage case manages to pack a high storage capacity despite having an extremely compact size that is portable enough to carry in your backpack or suitcase while traveling.
The storage case consists of 10 mesh pockets that can store flash drives and USB of various sizes, 2 transparent pockets suitable for SD cards, charging chords, earphones along with 2 interior pockets that can accommodate mobile phones and hard drives.
The case also comes with a detachable hand strap allowing you to hang it or carry it around with ease. It is completely waterproof and also possesses interior padded cushioning for protecting your gadgets from accidental bumps, drop impacts, and scratches.
Specifications:
Color: Black
Weight: 5.3 ounces
Dimensions: 7.2 x 4.5 x 1.4 inches
 Great storage capacity
 Highly compact and travel friendly
 High durability
 Waterproof
5. Case Logic JDS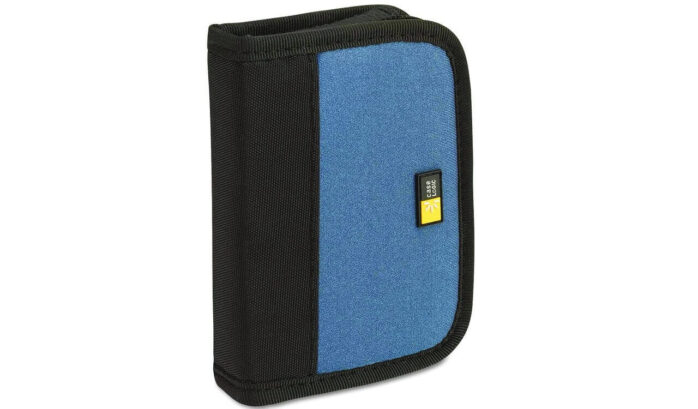 This highly durable and compact storage case by Case Logic is crafted from a high-quality Neoprene combined with interior padding which ensures fantastic protection to your USB flash drives.
Speaking of which, the storage case has the capacity to organize a maximum of 6 USB flash drives each allotted with a Nylon based mesh pocket which securely holds the drive in place thereby preventing it from sliding unnecessarily.
Enjoy safely and conveniently carrying your drives with you wherever you go with the Case Logic storage case!
Specifications:
Color: Black/ Blue
Weight: 1.6 ounces
Dimensions: 7.2 x 4 x 1.2 inches
Material: Neoprene
 Portable and lightweight
 Rough, sturdy and durable build
6. Case Logic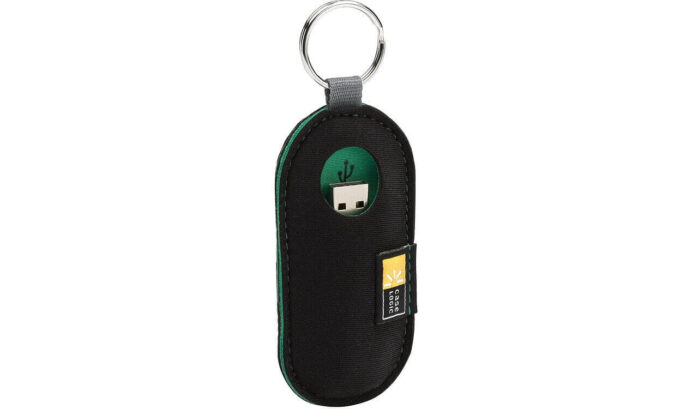 This ultra-compact 2 USB storage case from Case Logic is bound to provide users with optimal portability and maximum convenience to carry!
The case is simple, lightweight, and diminutive in size having one pocket each in the front and back for storage combined with a durable body crafted from high-quality neoprene material that contains inner cushioning which ensures protection and safety of your flash drives against accidental bumps and scratches.
The case also comes with a ring on top allowing users to attach the case on backpacks, laptop bags, and much more, thereby enhancing the ease of carrying.
Specifications:
Color: Black
Weight: 0.176 ounces
Dimensions: 2.52 x 0.39 x 6.1 inches
Material: Neoprene
 Ultra-lightweight
 Compact and travel friendly
 Good quality build and material
 High durability
7. Picture Keeper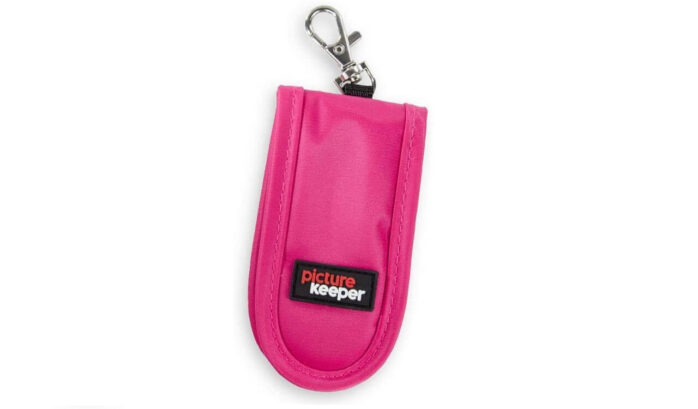 The Picture Keeper storage case has a simplistic yet extremely efficient design. It is essentially a Velcro flip pocket with 2 USB flash drive storing section which can be manually flipped open to access the drives and close whilst carrying around.
The body of the case is crafted from a highly durable Nylon material that possesses Anti-shock and waterproof abilities to help provide effective protection to your flash drives keeping them safe and organized in place.
The case also consists of a metal push clip installed on top enabling users to attach the case to keys, purse, backpacks, lanyards, and multiple other equipments of choice. Witness portability and protection like no other with Picture Keeper!
Specifications:
Color: Pink
Weight: 0.704 ounces
Dimensions: 4.09 x 2.76 x 0.31 inches
Material: Nylon
 Great quality build
Waterproof and shock resistant
Extremely portable and ultra-lightweight
 High durability
8. Wolven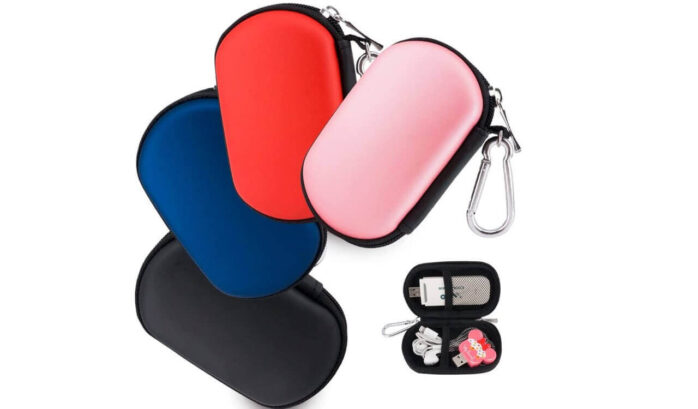 Available in a variety of colors, the Wolven USB storage case exudes an appealing look that is made using a durable and heavy-duty material which is waterproof and shock-resistant thereby ensuring the protection of the contents within the case.
Speaking of which, there exists only two easily accessible mesh pockets within the case providing storage for 2 – 3 items including flash drives of different sizes, earphones, and mini charging cables. Carry around your electronic accessories with ease and style using the Wolven storage case!
Specifications:
Color: Red
Weight: 1.58 ounces
Dimensions: 4.2 x 3 x 1.5 inches
Stylish design
 Lightweight, compact and easy to carry
Waterproof and shock-resistant
 High-quality material
 Good option for gifting
 Low storage
 Has a slightly unpleasant rubber smell
9. Jelly Comb USB Flash Drive Storage Case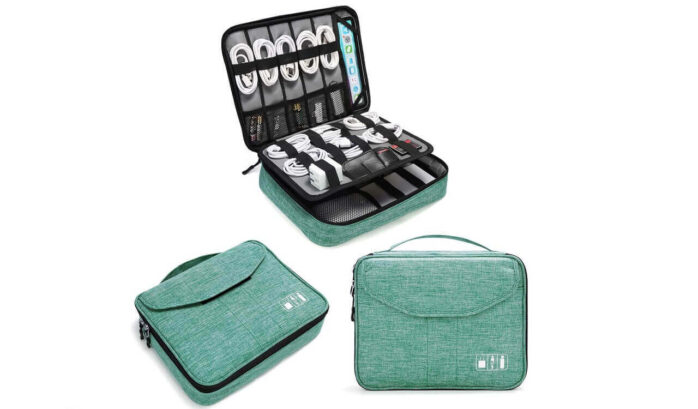 Available in a variety of colors and one of the finest on our list we have the Jelly Comb storage case crafted from a durable Nylon material possessing waterproof and shock-resistant abilities which enable the case to withstand bumps, drops accidental water spills or rains.
The case has an exceptional storage capacity with a double-layered structure which includes 16 elastic strap loops to store mini cables and pens, 5 mini mesh pockets along with 4 standard mesh pockets, 1 large pocket to store an iPad or 11 inch tablet and finally 4 standard elastic loops for power banks, chargers, and other accessories.
The case also includes a hand band on top allowing you to carry it with ease and convenience. The Jelly Comb storage case is one you don't want to miss!
Specifications:
Color: Leaf Green
Weight: 11.2 ounces
Dimensions: 14.7 x 9.3x 1.7 inches
Material: Nylon
Large storage capacity
 High durability
 Waterproof and shock-resistant
 Keeps accessories well organized
10. ZXUY USB Flash Drive Case Organizer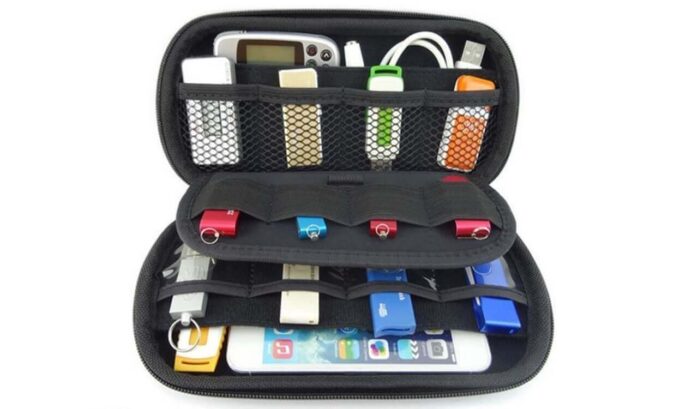 Last product in the list, ZXUY storage case, made from a highly durable and heavy-duty PU leather which provides water-resistance to the case along with a well-padded semi-flexible cover safeguarding and cushioning your accessories inside.
The case consists of 12 mesh slots for you to store USBs, SD cards or mini cables along with 6 slots for credit cards and one standard pocket to securely store your phone inside. A highly compact and reliable case from ZXUY which would undoubtedly enhance your storage convenience!
Specifications:
Color: Black
Weight: 2.08 ounces
Dimensions: 8x 5.1 x 2.2 inches
Material: PU leather
 Sturdy and durable build
 Good storage
 Highly compact and easy to carry
 Good quality
 Waterproof
 Case emits an unpleasant chemical odour
You May Like: Best Flash Drives From SanDisk
Wrapping Up
So that was our list of best USB flash drive cases available online! The cases prove to be of exceeding utility in order to achieve a well-organized accessory set up avoiding any risk of damage or misplacement.
Whether you are a student or an employee, the case plays a vital role for your belongings during daily usage. We are glad to come up with this list which includes a variety of great cases enabling you to choose the perfect one conforming to all your requirements! So what are you waiting for? Grab your flash drive storage case now!