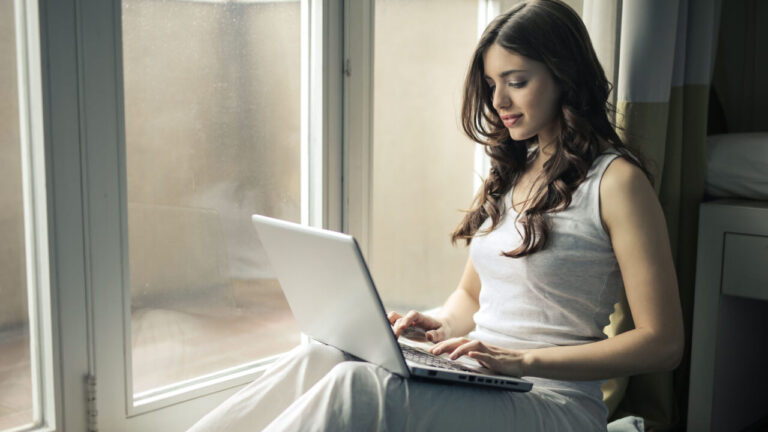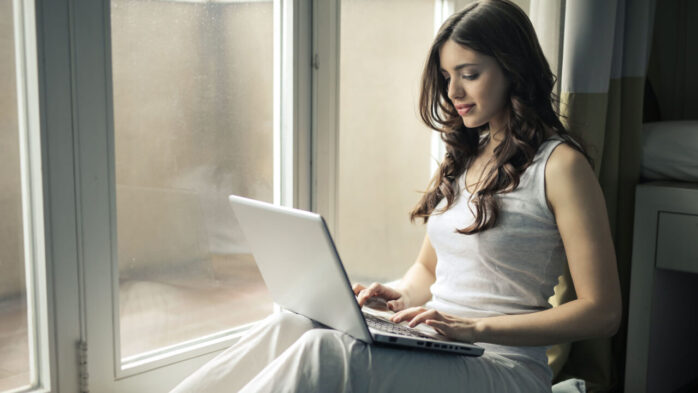 SSDs or Solid-State Drives are truly a game-changer in technology. They are giving heavy competition to conventional hard drives by becoming a more popular choice in the market, and rightfully so. SSDs have so many advantages over HDDs (Hard Disk Drives). Like SSDs are at least 3 times faster than mechanical hard drives when talking about booting, and running programs. Also, while being more durable and strong, they also have much cooler functioning.
Because of all the above reasons, every brand is stepping up in the game by including SSDs in their laptops. However, an SSD does make a laptop's price go higher, which makes it hard for most people to go for laptops with Solid-State Drives. Still, that doesn't mean you can't find an affordable SSD laptop that is right for you.
After doing lots of research and then trimming down a number of SSD Laptops, we are here with our final list of best SSD laptops under $500.
And don't worry if you're unsure about what to look for in a SSD laptop before buying one because we've also included a buying guide for you in the end.
Top 7 SSD Laptops
Best SSD Laptops Under 500 Dollars
1. Acer Aspire 5 Slim Laptop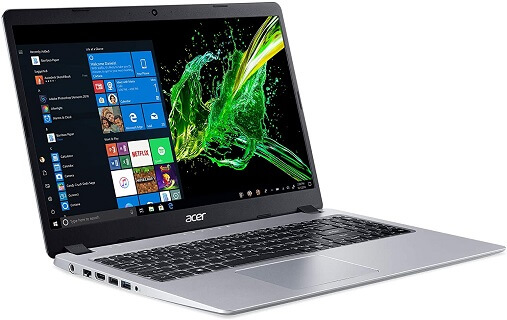 6 inches FHD IPS Screen
4GB/8GB DDR4 RAM
128GB/256GB/512GB SSD
Acer Aspire 5 is a laptop with easy portability and promising performance. The laptop comes with 3 different processor types i.e. AMD Ryzen 3 3200U, AMD Ryzen 5 3500U, and AMD Ryzen 7 3700U processor which is capable of almost all the tasks that students and artists have to accomplish. For the heavy graphical tasks, it houses Radeon Vega 3 graphics processing unit.
The 15.6" Full HD IPS display presents sharp visuals with stunning colors. The bezels on the sides are narrow so the visuals look even better. The laptop also features a backlit keyboard to work or play games in dark environments.
Acer Aspire 5 is Alexa enabled to allow you to set to-do lists, alarms, and other tasks without having to put in any extra effort. The build of the laptop is also decent with an aluminum top cover and lightweight meant to carry easily to your workplace.
If you have a habit of listening to music while working, you will not require extra speakers as this laptop provides good sound with deeper bass. For external connections, there is an HDMI port with HDCP support and USB 3.1 and USB 2.0 ports.
2. ASUS F512JA-AS34 VivoBook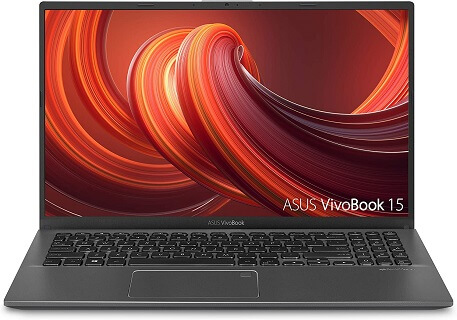 6 inches FHD Display
4 GB/ 8GB DDR4 RAM
128 GB SSD
ASUS VivoBook laptop is another sleek designed laptop that offers a good great picture in its nanoEdge Bezel display. The 15.6 inches Full HD screen display has an 88% screen-to-body ratio which is impressive at this price range. This is great for students as it is perfectly compatible with Google Classroom on Microsoft's latest browsers. The backlit keyboard allows you to study or work in low lit areas easily.
The Ergo lift design of the laptop makes typing more optimized. For ensuring good performance, you get the Intel Core i3-1005g1 CPU 10th gen processor. The SSD is 128GB but in RAM you have 2 options i.e. 4GB and 8GB DDR4. There are 3 different types of USB connection ports and an HDMI port as well.
3. ASUS VivoBook F510QA-DS99
256 GB SSD
Full HD
5-6 Hours Battery Life
This laptop with a 15.6″ LED backlight screen is 15 x 10.2 x 0.8 inches in dimension and weighs only 3.7 pounds. It gives you a full HD picture quality at a resolution of 1920x1080p, which is pretty amazing for a laptop that costs under $500 and that too with an SSD.
It comes with Windows 10 in S mode and is equipped with an AMD Quad-Core A12-9720P processor with a clocking speed of 2.7GHz. Moreover, a Solid-State-Drive having a storage of 256GB with an 8GB DDR4 RAM makes it function surprisingly smooth. But it does take some time to start up, which is questionable given that it comes with an SSD. The AMD Radeon R7 integrated graphics card is not enough to play the latest games. However, it does let you play some older games and is still better than Integrated Intel UHD Graphics 610.
While having 802.11AC WiFi and Bluetooth for wireless connectivity, it is designed with 2 USB 2.0, 2 USB 3.0, 1 Type C (Gen 1), 1 Headphone-out & Audio-in Combo Jack, and finally 1 HDMI port.
As for power, it comes with a 42Wh 3-cell lithium-ion battery which, to be honest, could have been better. As it is not enough to make the power last for long and you might have to plug in the charger after every 5-6 hours.
4. Lenovo Flex 14″ 2-in-1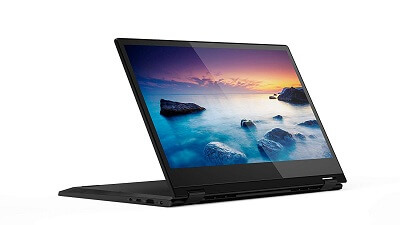 128 GB SSD
Touchscreen
HD Picture Quality
This beautiful and sleek-looking laptop is 12.9 x 9 x 0.7 inches and weighs only 4.8 pounds. Its 2-in-1 design with a 14″ IPS touchscreen and a 360-degree hinge enables you to flip the laptop like a tablet or use it in a tent mode to watch a movie. With a resolution of 1366 x 768P, it gives you an HD picture quality, which could have been even better with 1080P. But in this price range, we aren't complaining about a resolution that is still better than 720P.
Now let's talk about performance. So the laptop is equipped with Intel Pentium gold 5405U processor and uses Windows 10 as its platform. It has a processing speed of 2.3GHz, which is pretty great given in the low price range. And as we are talking about speed, it has a 128GB Solid-State Drive with 4 GB DDR4 RAM. The combination of these two is a major factor to make the functioning of this laptop fast and smooth. But still, if you're not satisfied with the 4GB RAM, then you'll be pleased to know that the RAM can be extended up to 16GB. As for graphics, it comes with Integrated Intel UHD Graphics 610, which is suitable to play games in low settings.
As of connectivity, the laptop has WLAN, WiFi, and Bluetooth to connect your devices to the laptop. Moreover, it is designed with 2 USB ports, 1 USB-C port, HDMI port, audio jack, and a card reader.
The 4 Cell Li-Ion 45Wh battery in the laptop takes about 1-1.5 hours to completely charge and lasts for about 7-8 hours with a complete charging.
5. Dell Inspiron 15.6″ Touch-Screen Laptop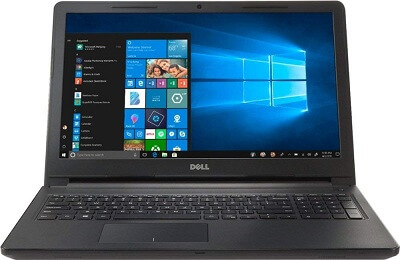 256 GB SSD
HD Picture Quality
5 Hours Battery Life
This laptop comes with a 15.6 inches LED-LCD touchscreen with a dimension of 19.4 x 13.2 x 2.8 inches. It provides you clear picture quality at an HD resolution of 1366 x 768p.
The laptop uses Windows 10 as the platform with the Intel 7th Generation Core i5 processor underneath having a clocking speed of 2.5 GHz. Combine the i5 processor with a 256GB SSD and 8GB RAM, and you get an optimal performance SSD laptop at an affordable price. It comes with an Integrated Intel HD Graphics 620, which is good enough to play if not all, at least some high graphics games. Also, the RAM on this laptop can be extended up to a maximum memory of 16GB.
The WiFi and Bluetooth along with 1 USB 2.0 Type-A, 2 USB 3.0 Type A, 1 HDMI, and 1 headphone jack make sure you don't have any connectivity problems.
And at last, the laptop is equipped with a 4-cell lithium-ion battery, which should make the power last for about 7-8 hours, but sadly it doesn't. The power in the battery lasts for about 5 hours when fully charged.
6. Lenovo Chromebook C330 2-in-1 Convertible Laptop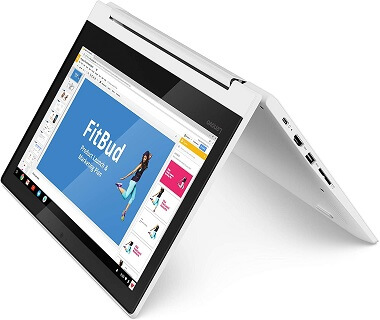 6 inches HD IPS display
4GB LPDDR3 RAM
64 GB eMMC Hard Disk
If you are looking for a budget laptop that can do small tasks but with great speed, Lenovo Chromebook can be a good option to consider. This is a 2 in 1 laptop with 360⁰ convertibility that can also be used as a tab with its 11.6 inches touch screen. Lenovo Chromebook C330 comes with Chrome OS which is quick and easy to use.
You just need a Google account to start without requiring any setup. You can switch it on within seconds and start your tasks like graphical designing, sketching, reading, etc.
The Laptop's design is sleek and stylish. Its weight i.e. only 2.64lbs and the less than 1-inch thickness is amazing for portability. You get a long battery life and in-built virus protection as well. There is USB C type, USB SD, USB 3.0, an HDMI port for external connectivity. Also, you can connect up to 2 Bluetooth devices with Bluetooth 4.1.
7. Lenovo IdeaPad 3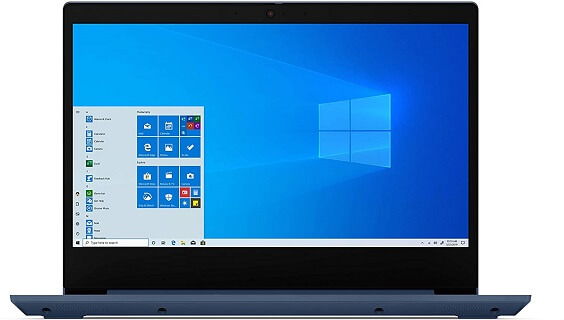 14 inches laptop
8 GB DDR4 RAM
256 GB SSD
This is another amazing Lenovo laptop powered by AMD Ryzen 5 3500U series mobile processor. Along with the Radeon Graphics, this provides much better performance than the Lenovo Chromebook we discussed. The 8 GB RAM of the laptop allows you to work on different apps simultaneously without compromising the speed.
The side bezels on the laptop are pretty narrow. Its 14 inches full HD display offers clear, crisp pictures. It features Bluetooth 4.1 for connecting up to 2 devices at the same time. For other connectivity, you get 3 USB ports and an HDMI Port. To ensure privacy, this laptop's webcam is equipped with a physical shutter.
Conclusion
Finding a budget SSD laptop with the latest hardware and software is really hard, especially when technology is changing so quickly. What's the latest today might become outdated after a couple of years. And that is why it is normal for people to look for a budget laptop with the latest technology. So that they could get the most out of their money.
And by providing this list, we tried our best to help you get the best SSD laptop under 500 dollars.
If you are still confused among the listed SSD laptops, then you can go through the buying guide.
Buying Guide For SSD Laptops Under $500
It's pretty common to get confused while looking for a laptop among so many options out in the market. There are various factors that should be considered before buying a laptop. Because only by looking at all those factors, you can make sure that you are buying the right laptop for yourself.
1. Resolution
Resolution is one of the most important factors to consider when looking for a laptop. Most premium laptops have a resolution of 1920 x 1080p, which means a full HD quality picture. And in the case of cheaper laptops, it comes down to 1366 x 768p, which is only HD. An HD resolution does provide good quality, but no matter how good it is, it'll surely not give you an experience like FHD. And some High-end laptops even provide you with a 4K resolution, but this resolution doesn't fall in an affordable laptop category.
2. Touchscreen
A touchscreen in a laptop might feel like a luxury to some people, but it can be really convenient in some cases. The touchscreen is mostly available in premium laptops that can be folded into a tablet. But with increasing demand, a lot of companies are introducing the touchscreen within a low price range.
3. 2-in-1
Basically, the 2-in-1 laptops are the ones that can be reshaped from traditional mode to Tent mode or Tablet mode. This switch happens either through 360-degree hinges or by detaching the screen from the keyboard. The 360-degree hinges simply enable the screen of the laptop to be rotated as per your convenience. However, in detachable ones, you can separate the screen from the keyboard to use it as a tablet. The 2-in-1 laptops can be an unnecessary feature, especially for people who want a laptop that is affordable and has the best specification.
4. RAM
RAM is yet another important factor you should think about before buying a laptop. Almost all the latest laptops are coming with at least 4GB of DDR4 RAM, which can be further extended as per your need.
5. Graphics
Like RAM, Graphics card memory also depends on the purpose for which you're buying the laptop. There are basically 2 types of Graphics units. The first one is Integrated, which is in-built in your system and uses the shared memory. And the second is the Dedicated graphics unit. A dedicated graphics unit of AMD or NVIDIA is essential if you want to play heavy games, or edit high-resolution videos. But if you don't use your laptops for these kinds of stuff, then you are okay to go with the Integrated graphics card.
6. Processor
Processor choice gets really tricky as there are so many choices available. In the case of Intel, you should go for at least i3, which will be sufficient for normal office work. And you can go higher with i5, i7, and i9 if you want to do video editing or intense gaming on your laptop.
As for AMD, the AMD Ryzen Mobile processor is somewhat similar to i5 and i7. And AMD A, FX or E series is mostly available in inexpensive laptops, which is sufficient for normal web browsing, and watching videos.
7. Storage (SSD/HDD)
A few years back, there were only mechanical hard drives or HDDs as the storage options. But with the introduction of SSDs, everything is changed. Normal HDDs provides you high storage capacity at a cheaper price. But they make your system heavy with other problems like slow processing and heating. On the other hand, SSDs are expensive and may cost even more when you want a high storage capacity like 1TB. But SSDs keep your system lightweight with other benefits like fast and cool functioning.
8. Connectivity
Most laptops come with WiFi and Bluetooth connectivity no matter if they are cheap or expensive. But other than that, the important things to consider are the ports. USB 3.0 ports (Type A), HDMI port, and headphone jack are pretty common in every laptop. However, a USB Type C is the new thing. Type C USB is the smaller version of Type A USB and with only one cable, you can connect an external hard drive as well as charge your phone through a Type C USB.
9. Battery Life
Battery life is something which is really hard to figure out unless you've actually used the laptop. Manufacturers will say that the fully charged battery on their laptop will last for about 8 hours, but for most of the times, that may not be the case. Battery life also depends on the stuff that is being done on the laptop. Most laptops will last for an average of 5 hours if you're using it in higher settings for playing games or making 3-D videos. But some premium laptops may even last for as long as 7-8 hours with a similar kind of use.
So this was a short buying guide to help you understand what to look for in a laptop. If you want to read a more detailed buying guide to understand more about the factors, you can read the laptop buying guide by LaptopMag.