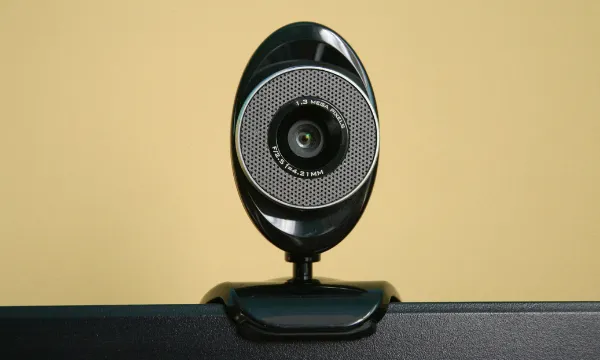 As the TVs are getting smarter with each upgrade, you can get done a lot through them. Controlling your smart home, playing high-quality games, using various apps for streaming, etc are some functions that revolutionized the utility of a smart TV. One of the latest functions we can enjoy today is video calling and live streaming.
Recently, a lot of us had to shift our workstations to our homes. There is a lot we have to do with our PC and if video conferencing and online meetings can be delegated to the TV, things can get a little organized.
With the webcams, adding a video recording or video transmitting feature to the TV is useful for gamers, online tutors, and artists as well. Here we have the top products for you to choose the best webcam for smart TV. They all are ideal for video calling, but if you have specific tasks in mind, we have explained their other important features.
Our Recommended Top 10 Best Webcam For Smart TV
1. NexiGo N660P Webcam with Software Control
1080p with 60fps
Noise canceling microphone
360° rotation
USB cord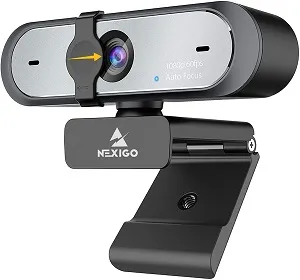 For using webcams for official purposes or work, it should have a good quality camera that facilities a smoother real-time talking experience. This NexiGo N660P webcam for smart TV gives a full HD 1080p picture quality with a frame rate of 60fps.
The automatic white balance and the exposure control are also available in the camera for different backlit setups in your room. Even in cases of low light, the camera automatically adjusts its settings and your friends or audience will receive a clear image.
There are built-in dual stereo noise-canceling microphones on the webcam that catch the nearest voice and filter out the background noise. Teachers, bloggers, gamers, streamers, etc can use this camera to connect better without disturbance.
The microphone is omnidirectional, so you need not worry even when you have more people sitting beside you, or you go out of the frame, it can still record the voice. The camera comes with 360° adjustable rotation. So, if you want the webcam to capture the person talking from out of the frame, you can simply rotate it without unmounting.
You get 3 color options to choose from for the body from black, white, and pink. The pink one costs slightly higher than the other two. A privacy cover is attached to the cam which can be removed when you are using the webcam. To connect this piece to your TV, you get a 6.5ft USB cable.
2. DEPSTECH HD Streaming Budget Webcam
1080p with 30fps
Noise reduction microphone
360° rotation
USB cord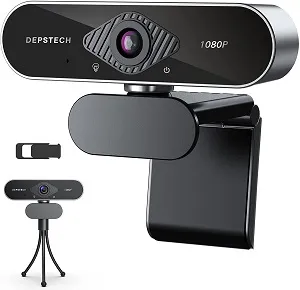 If you are searching for a budget solution for your video calling needs, here is a webcam by DEPSTECH with all the minimum features you would expect in a webcam. This cam is equipped with an HD glass lens of 6 layers that releases 1080p images. The images have all the sharpness and clarity because of the 1/2.9 inches CMOS image sensor.
The frame rate here is 30fps which isn't very suitable for producing videos that have some action, but pretty decent when it comes to recording lessons or video-calling your friends. The BLUEART technology on the webcam optimizes images quality and gives out true color in the images.
The lens of the camera is wide enough to capture people sitting on a round table but the sound won't be much audible from far. On one-to-one video calls or other video recordings, the sound will be clear because of the stereo microphone and its automatic noise reduction.
This webcam is also suitable for seamless video streaming with automatic low-light correction. It works perfectly with video calling apps like Zoom and other social networks like Skype and YouTube. It is also compatible with smart TVs but not play stations.
3. NexiGo N930AF Autofocus Webcam For Smart TV
1080p with 30fps
Noise canceling microphone
360° rotation
USB cord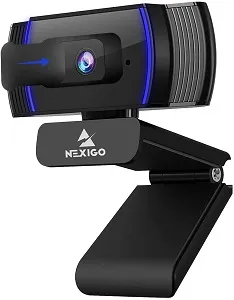 NexiGo is popular for making different types of electronic solutions like webcams, PS controllers, projectors, earbuds, etc. Here is a professional-grade webcam that comes with autofocus and a privacy cover. It is also probably one of the most purchased webcams on Amazon and we know why.
It has a 2 megapixel CMOS camera that provides picture quality of 1080p resolution. If you are looking for a webcam to conduct lectures on Zoom or Meet, or even to attend online meetings, the camera will produce the best image. It comes with a frame rate of 30fps that is suitable for such interactions.
The autofocus here is really useful if you are someone who has to do demonstrations in the zoom calls. The starting point of the autofocus is 7 centimeters and has got a wide range. You can also turn off the autofocus and set a suitable focal length yourself.
The privacy cover of the camera protects you from hackers and the lens of the camera from dust. NexiGo has given a noise cancellation feature on the built-in microphone that makes it suitable for people who have got a lot of noise in their background. The webcam connects to your TV using USB 2.0.
4. Soft Foot HD Streaming Webcam for TV
1080p with 30fps
Noise-canceling microphone
LED lights
360° rotation and 180° tilt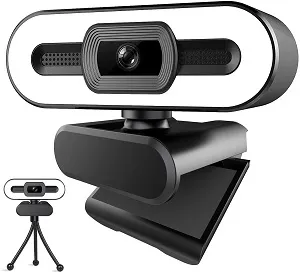 Soft Foot has probably the most reliable webcam for your TV at a reasonable price. The resolution given by this TV camera is one of the best in its range. This 1080P high-definition camera offers a maximum resolution of 2560*1440 pixels that gives your audience a clear video.
For brightness, it has 12 small built-in LED lights with 3 levels of control that allow you to stream or record even at night. To get the brightness suitable for your environment, the webcam uses automatic light correction technology.
It comes with a fixed focal length lens so, it is ideal for capturing a group of people at a video conference or ceremony at home. A group of 5-10 people can fit in the frame with the help of 72 degrees ultra-wide angle.
The 360° pan rotation and the 180° tilt capability of this webcam allow you to mount it at any side of your TV screen and still get a suitable recording angle. You can even place it on flat surfaces like on your work or study desk.
Soft Foot has provided a unidirectional microphone in this smart TV webcam. It means that it can record the voice from only the front direction. To stop disturbances in the recording, the microphone has noise cancellation technology.
The audio and video are transmitted to your friends at a fast speed because of the compression done by the webcam. This compression does no harm to the quality of the sound or picture.
5. Unzano Streaming Web Camera with Wide Angle Recording
1080p with 30fps
100° wide angle lens
Noise reduction microphone
USB cable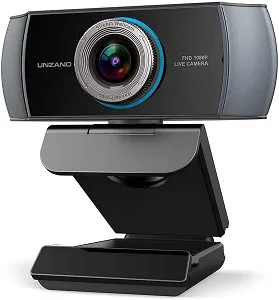 If you are looking for a camera to record or stream your videos at wide angles, you would like to consider this Unzano Full HD webcam that comes with a lot of customization options. Compatible with almost all popular operating systems, this 2 MP CMOS webcam offers a clear picture of 1080 resolution at 30fps.
The facial enhancement tech is useful in improving the brightness in your frame and making the video more lively. Your audience will receive a sharp and smooth professional-grade video and they have done good things for the sound as well.
The built-in dual microphone of this webcam records and transmits the audio at a superior quality. The noise reduction works automatically to suppress the voices from your background. If you have a room with other people streaming, their voices won't affect your recording.
Unzao has provided a manual focus lens here so that you can customize the focus according to your distance from the camera. It can focus on subjects that are 9-10 meters far. This is especially helpful here because the 100° wide-angle lens is capable of capturing a bigger area.
You can trust this webcam for almost everything your need a webcam for. From live streaming on YouTube, Twitch, Facebook to video calls and webinars, it handles your images in bright sunlight to dim-lit settings. The cam will be connected to your TV through a USB cable and you can place it on your TV using the adjustable mounting clip.
6. NexiGo N660 Business Webcam
1080p with 30fps
110° wide-angle lens
Noise canceling microphone
USB cord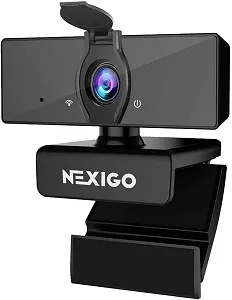 Here is another highly rated web camera for your TV from NexiGo. It is a high-definition camera that gives the maximum resolution of 1920 x 1080 with a 2 megapixels CMOS lens. With the 3.6mm glass lens and a frame rate of 30fps, very clear images are transmitted to your audience.
The lens has got fixed focal length and it can easily capture objects in the range between 19.6 inches to 13 feet. Online business meetings and presentations with groups can be conducted on the zoom with this webcam. The wide-angle lens of 110° makes it easier to capture everyone present in the room.
You can attend online classes and also teach effectively using this TV webcam. For explainer videos too, the wide-angle lens helps because it gives ample space to the presenter as well as their apparatus like the whiteboard or blackboard.
The microphone has a noise cancellation feature to stop any audio interruptions. As it's a stereo microphone, your voice is enhanced and transmitted very clearly on any platform you are learning or streaming. It is easy to set up fast and you won't need any additional software or driver to use it except a USB slot.
This webcam can be operated very efficiently through the NexiGo webcam software. The software allows you to customize different settings on the camera like contrast, white balance, saturation, brightness, sharpness, etc.
7. Logitech C920 USB HD Pro Webcam
1080p with 30fps
H.264 video compression technology
Dual stereo microphone
USB cord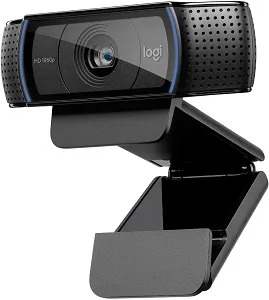 This is one of the best smart TV webcams you will find online. It is suitable for professionals and gamers who can't compromise with the video quality output from their webcam.
Logitech has equipped the cam with 1080p HD resolution that produces videos at 30fps. This seems too low for an expensive webcam but the image quality you get at even the 30fps is better than most webcams you come across. The HD glass lens gives out polished videos that look stunning even when you are streaming live.
It has a five-element glass lens that comes with auto-focus capabilities and has got 78° field of view. The autofocus and the semi-wide angle make the Logitech webcam ideal for not only offices but also for art educators. Eg. to teach guitar online, this might be the best webcam available.
You can stream from this smart TV webcam even at low-light settings. It can fine-tune the brightness and comes with the light correction to transmit well-contrasted videos. To get better background light, you can detach the camera from the clamp and mount it at a suitable spot on your tripod.
With 2 microphones on the cam (one on each side), your voice will reach your audience in the intended, natural quality. It also filters the background noises to further enhance the quality of your video.
8. NexiGo N60 Wide Angle Webcam For Smart TV
1080p with 30fps
H.264 video compression technology
110° wide-angle lens
USB cord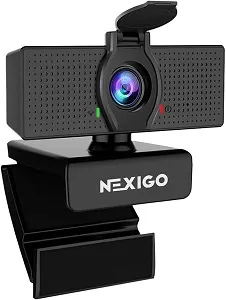 The N60 webcam by NexiGo is another considerable gadget for your video calling and recording setup. It offers a wide range of compatibility as is equipped with a good quality image-producing camera. You get 1080 full HD pictures that can be transmitted smoothly from your TV to your friends.
The 3.6mm glass lens records videos at 30fps. It has a got a fixed focus that is optimized to work in the range from 20 inches to 13 feet. The 110° wide angle of the lens perfectly captures your content, especially in the 16:9 aspect ratio.
The 1080p quality and the wide-angle surely process high-quality content but its transmission is efficient with the H.264 video compression technology. It releases the video faster by compressing it without compromising the picture quality.
This webcam has got a very compact design. You can unmount it from your TV and carry it around to use on your PC or laptop easily with a quick setup.
Like most NexiGo webcams, this one too comes with a privacy protection cover to block the lens when it is not being used. It also keeps it clean from dirt and dust.
The compatibility of this webcam is too wide as it can function properly on smart TVs and all popular OS like Windows, Android, Linux, Ubuntu, etc on laptops and desktops.
9. NexiGo N950P Zoomable Pro Webcam
4K Resolution with 30fps
8.5 MP camera
Remote control
USB-A and USB-C cords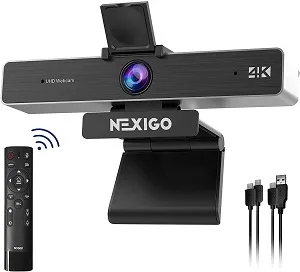 To step up your streaming game, to produce high-quality content in front of a live audience, or to arrange important meetings, NexiGo has this powerful webcam for you. It is priced at much higher than the webcams we have discussed above but the premium features you get make up for the price.
With an 8.5 megapixel camera equipped with a Sony sensor, this webcam provides high-definition pictures at 4K resolution. Your videos are recorded at 30fps which is a compromise at such a price. Even some webcams by NexiGo offer a 60fps frame rate in a budget lower than this. But it is still very useful if you are buying the webcam for office purposes.
There is 5X digital zoom in the camera that can be controlled with a remote. This remote control will be helpful for people who give presentations, standing far from their work desk. Using the remote, you can zoom in/out, flip the image on the screen, adjust the volume and brightness, and even switch off the webcam.
The adjustable viewing angle of the camera gives you further options to get in the best frame for your class or meeting. The webcam is compatible with smart TVs with all popular operating systems.
You can connect it to the TV using the 2 types of USB ports – USB-A and USB-C. NexiGo has given the cables for both. To place the camera firmly on any surface or the side of your TV, the webcam is attached to an adjustable clip and a threaded base. You can mount it on a tripod too.
10. NexiGo N680 Business Streaming USB Web Camera
1080p with 30fps
Noise canceling microphone
360° rotation
USB cord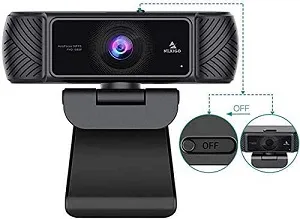 If you are looking for a webcam for medium usage, NexiGo N680 would be a fitting deal for you. This webcam has got a good combination of performance, style, and value at an affordable price.
The camera quality they offer is the same as in most NexiGo webcams i.e 1080p HD resolution videos at 30fps. However, the automatic features are noticeable here. It is equipped with built-in tools that adjust the color and brightness in the picture according to the surrounding automatically. You can stream or video call in dull-light settings easily.
The advanced autofocus identifies the primary things fast and the 80° field of view of the lens can capture more elements in the frame. The FOV and the adjustability make the webcam ideal for telecomputing and multi-person video calls.
With its multi-functional base, you can mount it at the top edges of your TV or place it at any flat table or shelf nearby. For providing the best viewing angle to your audience, the camera can be rotated 360° and tilted at up to 80°. It's easy to install and connect with the USB port. Here too, NexiGo has provided a cover for the lens when it is not in use.
For transmitting accurate voice with the video, the webcam has dual stereo microphones. It records your natural voice and rejects the ambient and distracting background sounds with its noise-canceling technology.
Conclusion
So, you can pick the best webcam for smart TV to teach, perform, video call, conduct online meetings, etc. The Logitech C920 webcam will be a decent choice in the mid-range webcams with sufficient features. If you want a better picture quality and can afford to spend more, the NexiGo N950P's features are promising. For low-budget usage, you can consider the DEPSTECH HD streaming webcam with 1080p camera resolution and auto-light correction.