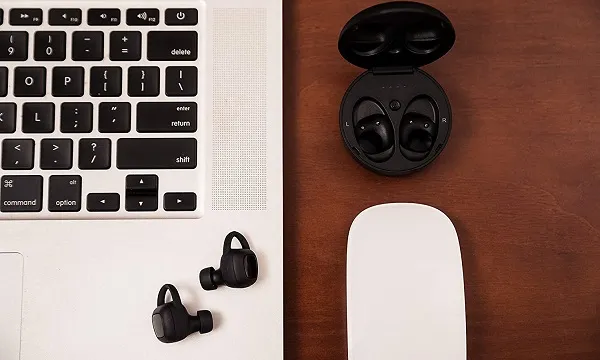 Since wireless earphones came into existence, battery power has been a big issue. It increased the number of gadgets we had to charge, and those earphones have a small battery that can roughly get you through the day.
The inception of the earbuds helped a little. They offer better portability and faster charge but a frequent user still has to unplug them and charge twice a day or at least once every day. That's frustrating for people who have heavy usage and like someone with a calling job or a person who likes to stay connected to music during most parts of the day.
The xFyro Aria True wireless earbuds are here to extend your plug-in time along with many more appealing features. We also caught the hype of these earbuds lately and we're really curious to know if they deserve all this attention. If you are planning to get one, here is a detailed xFryro Aria earbuds review.
xFyro Aria Review In Detail
Features And Specifications: What Are You Getting In The Package?
The xFyro Aria earbuds boast of being truly wireless earbuds because of the tapping controls, latest Bluetooth, and long battery life. They come with Bluetooth 5.0 technology for fast connectivity and long-range.
You get them in a magnetic carrying case that is also meant for charging the buds. It's a premium-looking case with a sleek design and you hardly see such portability in medium price range earbuds.
Here are some important points you should know about xFyro Aria to know where they stand against your alternate options.
Built-Design and Convenience
The carrying case is small and very portable but the earbuds have bulkier body in an almost square shape. They look okay while plugged into your ears and fit perfectly with the in-ear designed buds.
You need to find a suitable earbud tip size from large, medium and small in the package. It will allow you to use the earbuds comfortably for hours.
The material of the earbuds is a mixture of rubber and plastic and that makes them light. You can use them while running and other sports activites. Also, they are dustproof.
The indicator light is at the bottom of the earbuds along with a microphone.
Each bud has a big button which blends well with the buds and is used for different tap and press controls.
The built-design has noise isolation and waterproofing qualities that we will discuss seperately.
To summarise, the charging case is one of the best out their but the earbuds have average looks with decent comfortability.
Sound
The crisp sound offered by xFyro Aria is best in class.
The bass is pretty detailed and deep and the mid and highs are above average so you can fully enjoy music and pop songs.
The treble isn't how you expect it to be but the high pitched sounds do not sound harsh or breaking. If you are very keen listener and can't miss even a single detail, you will not like listening to acoustic songs with this.
So, the overall quality of the sound is good but can't compete with the best of wired earphones.
Battery Life
The battery of xFyro Aria is its most prominent features and their marketing strategy is also sort of focused around it.
The charging case has 850 mAh battery capacity that can be fully charged in 2-3 hours.
With the case fully charged, the earbuds can be charged 3-4 times.
1 charge of the earbuds allow around 6-7 hours of playtime but it also depends on the volume.
Only charging the buds for 15 minutes can give you around 3 hours of play time.
If you use them for calling, the battery life will be around 5-6 hours after full charge.
The warning sign of "low battery" comes too soon, so, it gets irrittating at the end of the battery life.
In our opinion, the battery life is good but not similar what they have promised.
Connectivity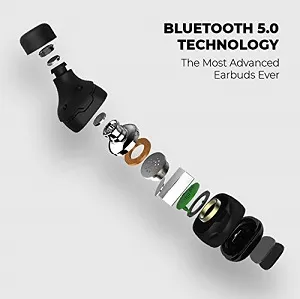 It comes with Bluetooth 5.0 technology that connects faster and facilitates better sound quality.
The Bluetooth 5.0 technology also allows the earphones to connect to multiple devices and offers a longer connection range i.e. up to 30 feet.
To pair the xFyro earbuds with your devices, simply take them out of the case and look for xFyro Aria-R in your device.
The blue light signals that connection has been established and once the right earbid connects, the left one pairs with the right automatically.
xFyro Aria earbuds remember your devices the next time they are out of the carrying case.
Control Features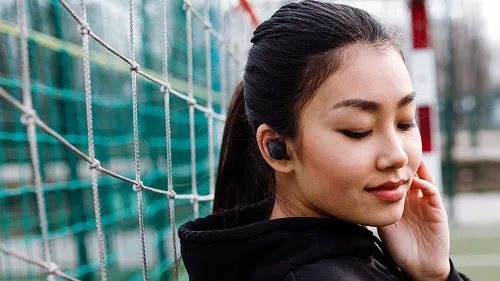 There is a button on each bud that gives you music and call controls. Different taping and pressing patterns on the button make these wireless earbuds very exceptional in terms of convenience.
You can also use the voice commands of Siri or Google assistant on the Aria earbuds for different control options.
To activate the voice commands, just tap once on the left earbud.
One tap on the right one will play or pause the audio for you.
Tapping once on L or R is also for calling. When your device rings, tap on any side to receive the call and the same for ending the call.
For increasing the volume level, one needs to double tap on the right bud and for lowering it, double tap on the left one.
More patterns are there for playing previous/next track, rejecting a call, and also, two calls handling that requires you to press a button.
Overall, controlling features are awesome and you can be really independent from your phone or other devices if your want at times.
Additionally, you don't have to press the buttons much and the taps are enough. So, there won't be any uneasiness like in a lot of other earbuds with buttons.
Noise Isolation
The noise isolation feature of these earbuds is kind of passive.
The silicone eartips do noise suppression and are very helpful for listening to calls. But, you still have disturbance in case a lot going on in the background.
Anyway, it is not safe to have total noise cancellation in busy backgrounds for safety reasons. And to enjoy the music privately or for call, you probably wouldn't ask for more from these buds.
Waterproof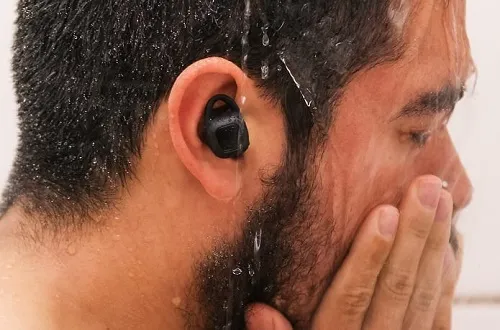 xFyro Aria earbuds come with an IP67 waterproofing certification that means they are completely waterproof wireless earbuds.
You can use them while it's raining, showering, or even while swimming. People get too excited when they hear that an earpiece can be used while swimming. But you should know that Bluetooth doesn't really work well in the water.
Well, having waterproof earbuds feels like good security against accidental splashes or dips.
Box contents
Apart from a good carrying/charging case and 2 xFyro Aria earbuds, you get a USB to micro-USB cable for charging the case.
To fit the buds perfectly in your ear, there are 3 pairs of silicone earbud tips and 2 pairs of wing tips.
The detailed manual in the package is for solving all your queries with FAQs and also different tap and press functions of the button.
Pros of buying xFyro Aria Earbud
Bluetooth 5.0 supports good quality sound and offers longer connectivity range.
Decent audio quality with good bass.
Quick charging with long battery life.
Good fit for ears if you get the eartip size right.
The case has attractive looks and a compact body. It'll be very convenient to carry the earbuds around in your pocket.
The waterproofing and water-resistance is the best among its competitors. It is completely safe from splashes and drizzle.
Comes with so many control options.
Cons You Should Know Before Buying
The built-design of the earbuds is little bulkier than what we usually find with good quality earphones.
The sound quality for calling is not that promising. The noise isolation somewhat makes up for it though.
If you are someone with a special interest in detailed sound, you would want a better sound engineering.
It is also not for someone looking for complete noise cancellation.
Pricing of xFyro Aria Earbuds
The earphones are priced at $125(at the time of reviewing the product) currently on the xFyro's website. This price is a little cheaper than their rivals, which is also one of the reasons for Aria earbuds' initial popularity. So, yeah these are reasonable budget earbuds right now but the talk of the town is that they can increase the price.
Final Thoughts on xFyro Aria Review
Now you know that the xFyro Aria earphones have a lot of exceptional qualities and the combination of features is difficult to find in other mid-range earbuds. However, there are a lot of low points that a serious audiophile or a person concerned about the looks of the buds, would not want to ignore.
If you are looking for an earbud that has a charging case with good battery life, you'd like these. In case of urgent meetings or calling sessions, the fast charge of the buds is also very convenient. The waterproof design, Bluetooth 5.0, and the one-year warranty, too are good reasons to try the earphones once.