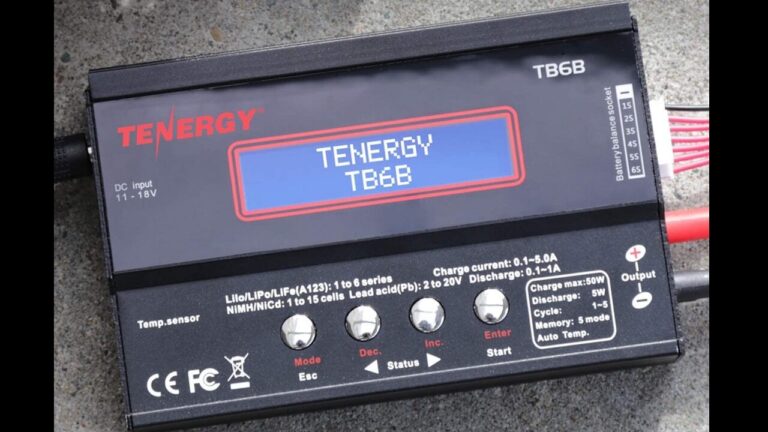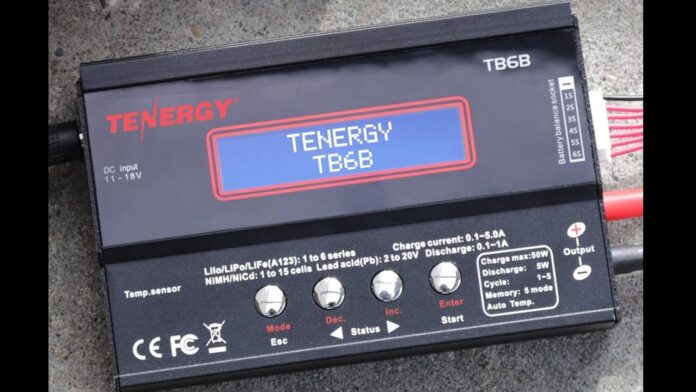 There are very few toys that provide as much thrill and adventure as remote-controlled cars. Gamers from all age groups enjoy the cars racing because of the adrenaline rush it provides. We have already covered various types of amazing RC cars and the top brands that manufacture RC cars. The problem gamers face the most with these cars is that they run out of battery very soon.
For uninterrupted fun on the race track, you need some extra batteries. Good RC cars have powerful motors that consume battery power very quickly. To charge those extra batteries, here are the best RC car battery charger essential for all RC gamers. We have made the analysis easy for you so that you don't get stuck in any technical terms only known to the professionals.
These battery chargers for RC cars come in a lot of varieties. Some are for heavy users while some can be used by beginners. We have mentioned all the essentials points that will help you find the most suitable for you.
Best RC Car Battery Charger Reviews
1. Tenergy TB6-B Balance RC Car Charger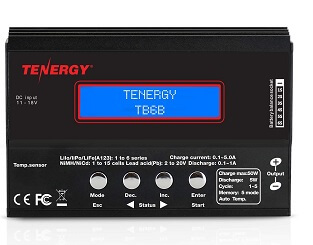 Tenergy makes many innovative electronic products. And here is one of them, Tenergy RC car battery charger, that is capable of charging many battery types like LiFePO4, SLA, NiMH batteries, NiCd batteries, LiPO, and Li-ion battery packs. For charging each type of these batteries, they also provide an octopus cord that has 8 types of leads connector attached to it.
Your battery packs with the lead connector can charge batteries of Tamiya, mini Tamiya, JST, HiTec, EC3, Deans, XT60. There is also a bare lead that can be used for charging the batteries that do not have specific connectors. This bare lead can be used for adding more connectors as well. It has the feature of fast charging and all the charging statuses are visible on its LCD screen.
Tenergy balance charger can accommodate battery packs with diverse voltage capacities. Nickel metal hydride and nickel-cadmium battery packs with 6-12 voltage range and Lithium-ion battery packs with voltages ranging from 3.7 volts to 22.2 volts are compatible with this charger. Not only is this device used for charging batteries but you can use it for profile storage, cyclic charging, discharging, etc.
2. Spektrum S2100 Smart RC Car Battery Charger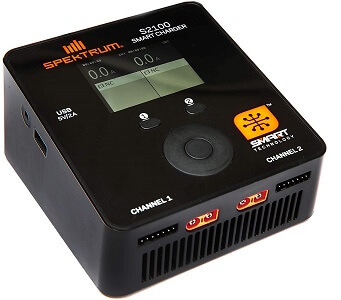 Not just for RC car battery charging, your battery charging requirements for a lot of hobbies will be fulfilled with this powerful smart charger. Though you can only charge Li-Po batteries with this charger which can charge 2 batteries at once. Lithium Polymer batteries are used in a wide range of gadgets like drones, RC cars, RC choppers, and other gaming consoles.
If you don't mind spending a little more on a powerful and durable product, this just might be the best for you. Surprisingly it also features a USB port through which you can charge your phones and other essential gears with USB charging points. It gives an output of around 2Amps which is pretty decent for normal charging.
If you use Spektrum Li-Po batteries with this charger, the Smart Technology of the charger determines the charging requirements of the particular battery and charges it accordingly. So, you do not have to set the charger every time for charging a new battery. While charging other types of batteries you can customize the charge rate of batteries and it is capable of remembering those details so that can be used automatically while charging next time.
For strong power connection and heat resistance, the charger features IC3 and IC5 connectors with sprung bullets. They have claimed that even old connectors i.e. EC3 and EC5 are also compatible with this charger but using Spektrum batteries is advisable for the best benefits of the smart technology. The 2.4-inch colored LED display allows the real-time monitoring of important information like charging status, battery capacity, voltage, etc. Not only the good specification but the smart features make it the best RC car battery charger.
3. Keenstone LiPo Battery Charger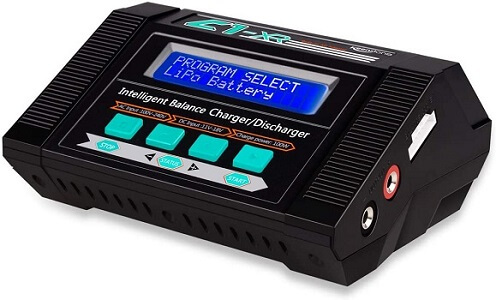 Here you have another best RC car battery charger, Lithium Polymer battery charger, relatively cheaper than the last one which a beast in terms of capacity. But here you get more variety of connectors compatible with a wide range of battery types. Keenstone battery charger's cord has a mini Tamiya connector, standard Tamiya, Alligator clips, Deans, XT60, and a bare wire for additional purposes.
Though the name suggests that it goes with Li-Po batteries only but you can charge, LiFe, LiHv, NiMH, NiCd batteries. This battery charge allows you to charge batteries at the rate of 0.1 Amp to 10.0 Amp which is pretty decent for chargers in this budget. Not just the charge, but the discharge too is speedy i.e. with the rate of 0.1 Amp to 5.0 Amp.
10 data points of the batteries including the battery types and their capacity can be stored in this smart charger. It allows you to set the charge and discharge time along with the value of automatic stop voltage. The package contains all the necessary tools for RC car for creating a perfect charging system. You get 1 100W Keenstone balance charger, 1 balance socket, 1 Li-Po voltage checker, 6 types of connectors attached to a cord, and the user manual.
4. Tenergy RC Battery Charger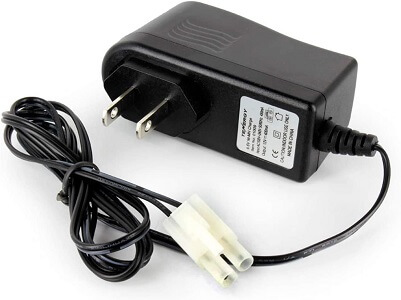 This is a very pocket-friendly yet best RC car battery charger capable of charging 9.6 V NiMH and NiCd battery packs. If your battery requirements are limited, you might not find a better deal than this. But you are strictly advised not to charge your Li-Po batteries with this charger. It has a standard Tamiya connector that will safely charge remote-controlled cars.
For charging your device, you just have to connect with the connector and while charging, the indicator light turns red. Once your battery is fully charged it shows the green light. This 12V 400mA charger also has in-built protection against over-charging, heating, and short-circuits.
5. SKYRC B6 AC V2 50W Battery Charger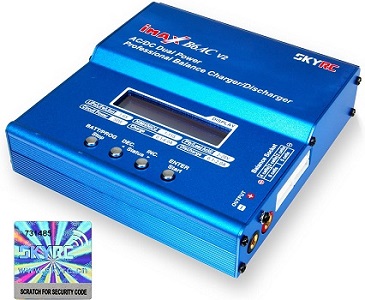 Well, RC car battery charging can't get more reliable and pocket-friendly at the same time as this. SKYRC B6 AC is the enhanced version of the old iMAX battery with added features. It provides a stable charging system and accurate charging rates depending on the different batteries that can be charged with this charger. You can charge or discharge Lithium-Polymer, Lithium-iron, and Lithium-ion, etc battery types with this charger.
For charging different types of batteries, you get the relevant connectors with different cords. The charger releases a charge current of a maximum 6A. The gamers can manually decide the terminal voltage for each battery and this can be connected to your computer for firmware upgrades as well. This device can also be used as a battery meter to determine battery internal resistance.
6. Tenergy Universal RC Battery Charger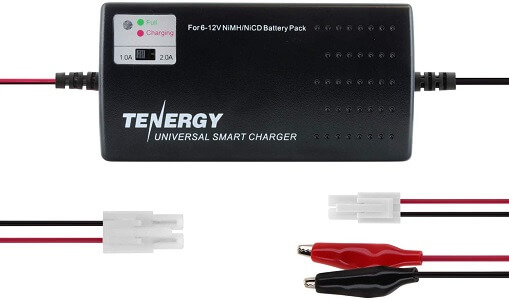 This is another good RC car battery charger by Tenergy for moderate users who don't want to spend unnecessarily on heavy-duty chargers. This charger is meant to charge your different types of NiCd/NiMH batteries at a fast speed. You have options to charge at 1Amp or 2Amp. The 1Amp option is for best results with 1000-1800mAh batteries and 2Amp for batteries over 2000mAh batteries.
This is a smart RC car battery charger which means this too can detect voltages required for your batteries. Batteries with 6V, 7.2V, 8.4V, 9.6V, 10.8V, and 12V will be charged depending on their charging requirements. It does not have a LED or LCD screen to show charging details but the LED indicators are there to show the charging status. The adaptors and connectors you get with most of the RC battery chargers are available with this as well.
Final Thoughts On Best RC Car Battery Charger
A good reliable RC car battery charger is all you need to win games. These battery chargers will keep your children busy and will allow them to have maximum fun in the outings. You should always determine the battery type your car use before buying these chargers. But yes, a lot of these chargers can charge a wide range of batteries so you don't need a new charger every time you change your RC car. We hope you make a perfect choice out of these to pick the best RC car battery charger.