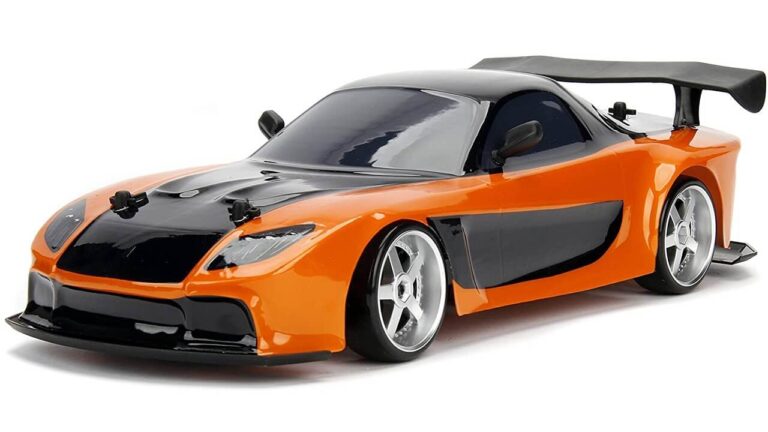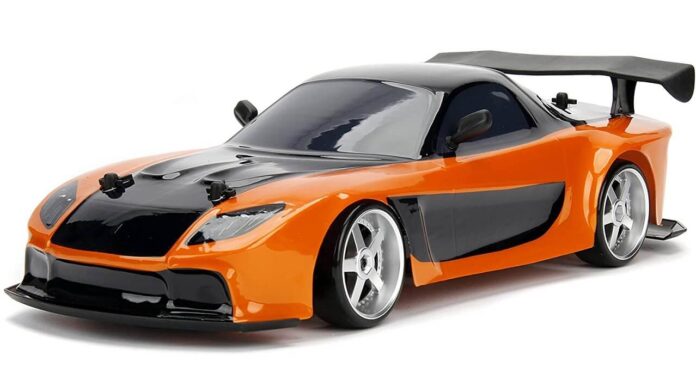 For a long time, RC car racing has been a favorite pastime among RC car enthusiasts. With so many game connoisseurs around the world, different vehicles and different types of racing have become popular. One such most played version of these races is drift RC car racing
In this article, we have reviewed the best drift RC cars available in 2023. We hope you find the perfect deal after going through these cars.
Also, we have put the buying guide for best drift RC car at the end for your convenience.
Best Drift RC Cars
1. Desuccus Robotic RC Drift Car
If you are looking for a drift RC car to gift your kids, Desuccus RC robot car is a good option, to begin with. This 1/18 scale toy car features a very cool design. It is a 2 in 1 toy car that can become a robot.
You just have to press one button on the controller for deforming the car and turning it into a robot automatically.
The car wheels design and built are ideal for drifting actions. You can rotate the car 360 degrees with the turning buttons on the RC controller. This controller offers 2.4 GHz of frequency.
Kids can have indoor and outdoor fun and control the car from within 45 meters of range. There are dedicated buttons on the RC controller for forward/backward and turn left/right.
This car is made up of nontoxic abs plastic material which is safe for kids to use. As it can be turned into a robot, chances are that kids will try actions with it. So, the scratch-resistant body will prevent wear and tear from such actions.
2. SGILE Remote Control Toy Car For Tough Terrains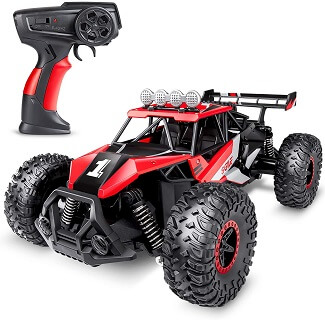 This is a 1/16 scale drift RC car with RC crawler truck features. SGILE speedy drift car is a fabulous four-wheel drive meant to race on smooth as well as Rocky terrains. This is one of the best cars to provide your kid a thrilling racing experience.
Equipped with a powerful motor, the car can go up to the speed of 12mph. There is 2.4 gigahertz of bandwidth for controlling the car from up to 40 meters range.
When kids play in groups, it develops their social interactions and teamwork skills. They can play with more than one car at a time as there won't be any cross signal interference. You just need to pair the cars one by one.
The quality TPR rubber tires of the car are suitable for sharp turns and stable drifting. In the package, you get two 600 mAh rechargeable batteries with 20 to 30 minutes of playtime. The car's body is tough and it can accommodate small bumps in different terrains.
3. Jada Toys Fast & Furious Han's Mazda RX-7 Drift RC Car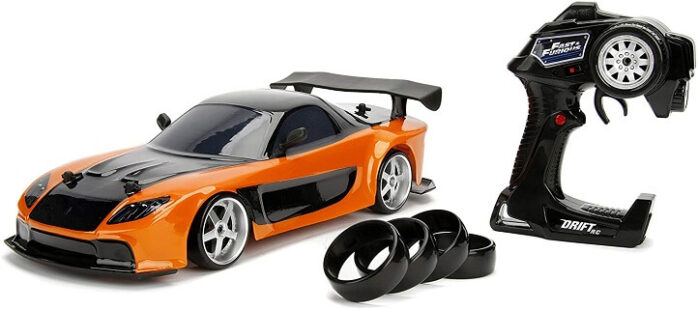 This is one of the best radio-controlled drift cars available for children on Amazon. Jada Toys has produced this high-performance drifting car meant for children and beginners. One can also perform amazing drifting actions with it.
The design of the car resembles a drifting car's design in the movie Fast and Furious: Tokyo Drift. It is a heavy car so it provides stable actions and can survive mild bumps and crashes.
This car looks attractive and would be a good gift for a child who has turned into an RC car enthusiast recently. 
This car is controlled with a pistol-grip controller that has a Turbo button for speeding up the car. You get an extra set of tires in case the first set is used up.
The car is equipped with USB charging Technology that allows you to charge with any USB adaptor you have. 
4. Liberty Imports Sports Racing RC Drift Car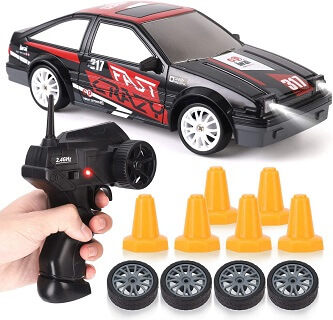 Liberty imports have a pocket-friendly drift RC car for your kids. This car is in sedan style, available in 4 different colors. It is controlled with a 2.4 gigahertz radio-controller and can go up to the speed of 10mph.
The car's responsiveness is impressive even at a fast speed which can be controlled via the turbo button.
The reinforced body frame of the car is collision-resistant so that you can use the maximum speed without worrying about any damage.
The anti-skid car's tires are designed to offer impressive drifting actions like figure 8 drift and u-shaped drift. You get 4 extra tires in the package as well.  
Apart from that, you get is a rechargeable battery, a USB charging cable, and 6 traffic cones for practicing or setting up a track for competing indoors. This 500 mAh RC car battery can be charged fully within 2 hours and offers play-time of 20 to 30 minutes.
Mind you, this is comparatively a smaller car in this list having the scale ratio of 1:24.
5. EACHINE EC05 RC Drift Sports Racing Car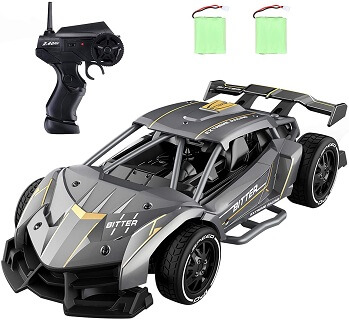 EACHINE is specialized in making RC cars, quadcopters, and FPV equipment. Here is their RC drift car with a very attractive sports car design meant for kids' racing.
The body of the car is made up of alloy, which means it is stronger than most plastic RC cars out there. It can bear bumps and falls which usually happen when children play with such toys. 
The 2.4 gigahertz pistol controller is used to drive this car. There is no interference on its frequency and the response of the car is quick with the forward/backward, left/right actions of the controller.
You can control the car from within the range of 50 yards and can achieve speed up to 134 miles per hour. 
The package also includes 1 screwdriver, 1 USB charger cable, and 2 600mAh batteries that can last up to 20 minutes.
This car is available in 2 colors, red and grey. They provide a 30-day return warranty option in case you don't find worth it.
6. Hello Kitty Nissan Skyline GT-R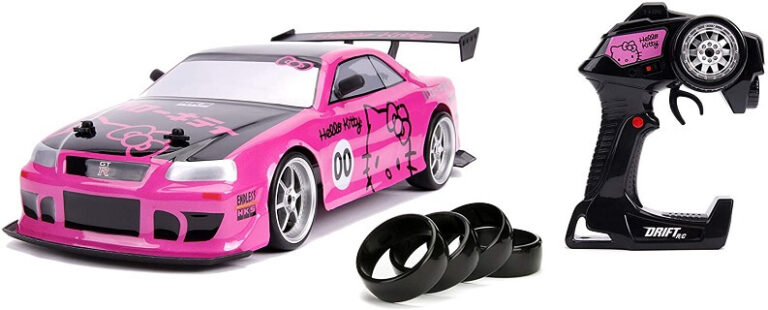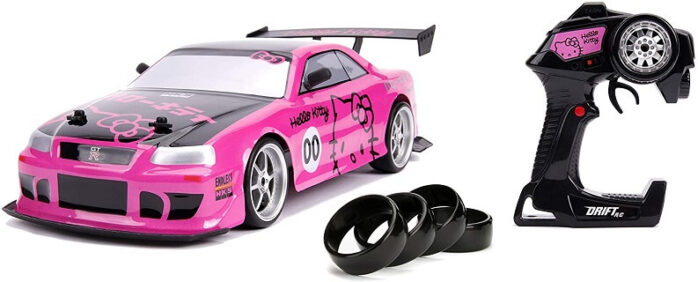 This car is a Mini version of the popular sports car Nissan Skyline GTR DNR 34. It is hard to find durable remote-controlled cars for kids. If you too faced this problem, your search ends here.
Though this RC car is expensive in comparison to other drift RC cars, it offers amazing drifting actions with its pistol grip controller.  
It is a cute-looking medium-sized 1/10 scale car. Users have liked its performance as it has got a 4.6 stars rating on Amazon. The mount design at the back of the car gives it a cool look and ideal for races.
The body and tires of this car are meant for quality drifting and racing performance. There are an extra set of tires in case your kid turns out to be a heavy driver.
The car comes with in-built batteries so you can use it straight out of the box. You can charge it using an RC car battery charger or any USB adaptor. 
7. Liberty Imports Super Fast Drift King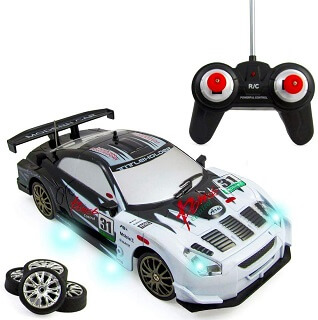 This is one of the cheapest RC drift cars available on Amazon but Liberty imports have put all the essentials that you find in an RC toy car. Most cars in this price range come with pistol grip controllers that don't amuse the kids much.
But this car comes with a fine remote control that has the function to go forward-backward and turn left-right. It has a quick response time with the car and you can drift beautifully on a smooth surface. 
The front wheel alignment of the car can be adjusted if you want to perform advanced drifting. There are four spare tires in the package that can be easily interchanged.
For the car, you will require 4 AAA batteries, and for the controller, 2 AA batteries which are not included in the package.
There are fully functional headlights and backlights and blue-colored under-glow for playing with it in the dark.
The design of the car is pretty cool and will be a great gift to your loved ones. The ABS plastic body makes it safe to be used by children. 
Buying Guide For Best Drift RC Car
Not all RC cars can perform drift and racing actions at the same time. RC drift car tires and body is engineered for fast speed and swift move at turns. Before buying a suitable car to introduce your kids to drifting, here are things you should consider.
Durability – Durability is an important factor to consider when buying any product for children. You should get collision-resistant drift cars that can handle the rash driving of your child.
Color – Dull colors won't work with kids. All they need is their toy to look attractive. You should choose the drift RC cars color here keeping in mind the choice of your kid which are mostly dark colors.
Size Scale – The scale of an RC car refers to its size in ratio with the real car of that model. The common size of these RC cars starts from cars as big as 1/8th scale and can get as small as 1/24th scale. Mostly, the smaller the kids are, the bigger car they are going to like.
Batteries – RC drift cars go through heavy usage as they are used for racing and drifting. You should check that the playing time is ideal enough to engage your kids for a long time. Most of the RC cars come with two batteries so that your fun is uninterrupted.
Tires – As the tires of RC drift cars face a lot of rears so they must come with thick tires. At the same time, the grip should be suitable for drifting on most surfaces. It's good that most of the RC drift cars offer extra tires in their package.
Conclusion
RC car racing has lately evolved a lot. As new technologies are surfacing every day, companies are coming up with better and better variants of these cars. If you are a beginner or an expert in RC car racing, you are going to love the drifting capacity of these cars.
These were the best drift cars available on Amazon. Most of them are toy cars, but if you have recently discovered your interest in RC gaming, these cars can be a great starting point. If you don't find which one to go for, this small comprehensive guide below might come in handy for you.