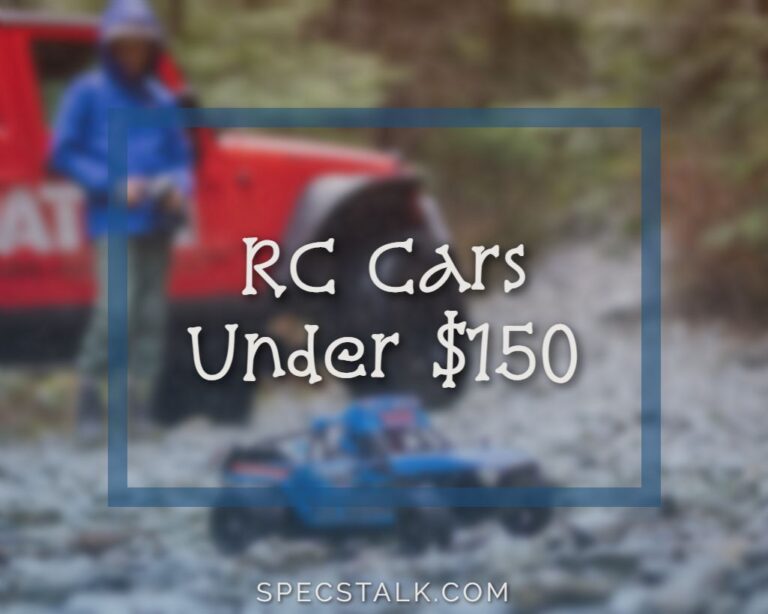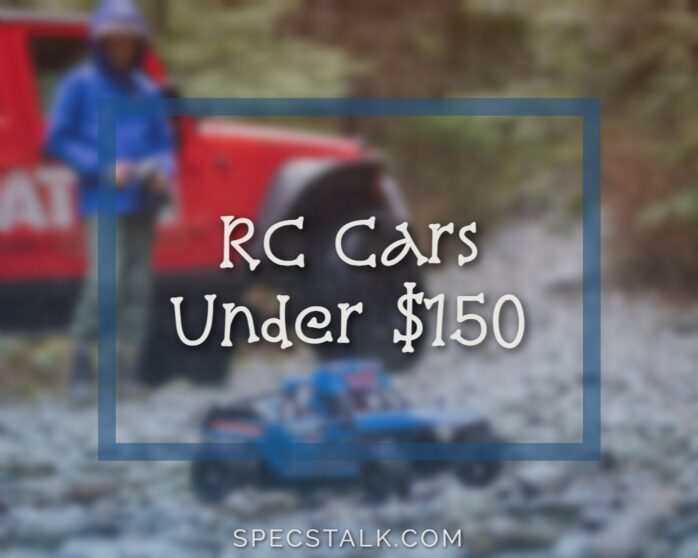 Budget RC cars are the ideal starting point to become an RC hobbyist. They are also a good way to measure how much you like RC racing before actually getting into it.
If you are planning to gift it to your child, you might discover their new interest. You can find a range of RC cars online but selecting the best one can be a hectic endeavor.
Best Choice
Second Best
Don't Miss
Also Check
BEZGAR HM101 Hobby Grade 1:10 Scale Remote Control Truck with 550 Motor, 4WD Top Speed 42 Km/h All...
Holyton 1:10 Large High Speed Remote Control Car with LED Shell Lights, 48+ KM/H, 4WD Offroad...
Soyee RC Cars 1:10 Scale RTR 46km/h High Speed Remote Control Car All Terrain Hobby Grade 4WD...
DEERC Brushless RC Cars 300E 60KM/H High Speed Remote Control Car 4WD 1:18 Scale Monster Truck for...
Best Choice
BEZGAR HM101 Hobby Grade 1:10 Scale Remote Control Truck with 550 Motor, 4WD Top Speed 42 Km/h All...
Second Best
Holyton 1:10 Large High Speed Remote Control Car with LED Shell Lights, 48+ KM/H, 4WD Offroad...
Don't Miss
Soyee RC Cars 1:10 Scale RTR 46km/h High Speed Remote Control Car All Terrain Hobby Grade 4WD...
Also Check
DEERC Brushless RC Cars 300E 60KM/H High Speed Remote Control Car 4WD 1:18 Scale Monster Truck for...
Different RC cars are meant for different surfaces and can be entertaining to specific ages groups.
Here, we have listed the best RC cars under $150 which show a promising play.
Comparison Table:
These cars have distinct features that we have captured and presented to you.
Top Picks Of Best RC Cars Under $150
1. BEZGAR BZR 1 Hobby Grade RC Car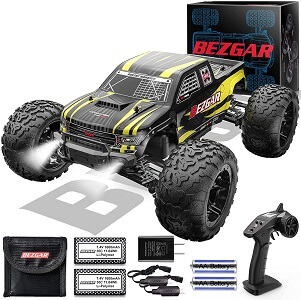 BEZGAR is known for making outstanding hobby and toy-grade RC cars at pocket-friendly prices.
This RC truck/car is one of their best product meant to be driven on all types of tracks, be it concrete, rocky, or even wet and muddy.
The reinforced body frame of this car makes it abrasive resistant and ensures its long-term durability. The chassis is made up of Nylon (synthetic thermoplastic linear polyamide) that shows impressive strength.
At the front of the car, you see 2 LED headlights that turn on automatically when you switch on the RC car. These headlights are helpful in determining the directtions when you want to have a drive at dawn or dusk, in insufficient light.
The car has a hobbyist-grade brushed motor capable of performance of 21000 RPM. This high revolution is helpful in providing amazing acceleration to the car and it can touch up to the speed of 42 km per hour.
The speed, however, may vary according to the terrains on which you drive.
As we said the wet terrains are no threat to the car because of its IPX5 level waterproof standard.
It can handle water splashes but you need to make sure it is not submerged in the water. The good thing is that the power of the RC car automatically shuts off when there is any submersion. You just need to take it out and dry the parts.
BEZGAR BZR 1 hobby grade RC car has been received well by the buyers which is evident by its 4.5 stars average rating on Amazon.
2. Holyton 9205E Remote Control Car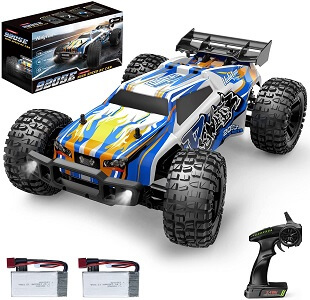 Holyton has this fast RC car that can be used by RC beginners or even regular hobbyists. This car features a powerful motor that can go up to the speed of 48 km per hour.
It offers a high-frequency acceleration and 10-speed ratio which makes it an ideal car for racing with real-world driving experience.
There are 4WD metal oil shock absorbers in the car that increase its durability. Not many RC car companies offer this in a budget RC car.
You can ride this car on tough surfaces where the shock absorbers make sure that the car doesn't get damaged because of minor bumps.
With a 2.4 GHz anti-interference control system it is possible to operate this RC car from up to a range of hundred meters and you won't feel any disturbance from other RC drivers' signals.
The shell of the car is pretty tough and is accompanied by a reinforced body frame. The collision resistance of the PVC shell makes it a durable vehicle.
Another reason for this car to be one of the best RC cars is the batteries in the package. You get 2 powerful batteries of 1700 mAh each, that allow the runtime of up to 40 minutes.
The pistol grip remote control of the car can detect low voltage in the battery.
3. Bwine C11 RC Car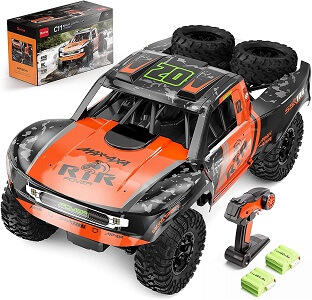 Here is a good RC car you can purchase for under $150. This Bwine C11 is an amphibious remote control car that you can ride on different types of surfaces including the water.
Yes, you heard it right. This car can be driven in a swimming pool or a lake. It features a double-layered waterproof design and the car is made in a way that makes it easy to clean without the water getting clogged inside.
Firstly, the battery is covered with a rubber that prevents the water from spoiling the battery. And secondly, the circuit board is sealed with another waterproof rubber.
The car is capable of handling submersion of up to 23 cm deep. However, remember that it is relatively slower in the water and exhausts the battery too soon. For off-roading, this car is brilliant.
It has got durable anti-skid tires that are made up of thermoplastic rubber. These tires can handle high landings pretty smoothly.
The independent shock absorbers attached to each wheel provide full protection from crashes. These shock absorbers make the car stand up to 110 pounds of pressure.
This car is powered through a dual brushed motor that ensures a fast starting speed. The streamlined design, attractive orange shell, and the big 1/10 scale make this car very appealing, especially to children.
It can be a good gift for them and they can play with it indoors or outdoors.
For controlling the car, you get a pistol grip remote control which a 2.4 GHz frequency. The car responds to it very quickly and responsively and the range of control is up to 200 feet.
The transmitter's ability to detest interference is quite impressive and you do not see any signal penetration. You might get a little disappointed with the 2 batteries as they are Ni-MH batteries of 900 mAH each.
They take around 5 to 6 hours to fully charge and exhaust in almost 20 minutes. You can charge these batteries with a USB charger.
4. DEERC 9206E Remote Control Car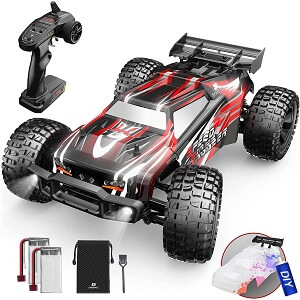 DEERC is known for making good budget RC cars for beginners in RC car racing, especially the off-road ones.
This is a fast RC crawler car of a 1:10 size scale. They have made it with good quality and long-lasting components.
The shell of the car looks attractive like racing car designs. You also get a transparent shell in the package that you can paint according to your choice.
The car offers a proportional throttle and steering control through a pistol grip remote control. It has steering (rim/trim?) to adjust the directions.
This DEERC car works on 2.4 GHz frequency and offers an awesome control range of 100 meters. Another good thing here is the high-performance batteries.
You get 2 lithium polymer batteries of 1700 mAh each that offer a run time of more than 20 minutes. As the car also has LED headlights, driving this car in a dark environment is very much possible.
Off-roading with this car is smooth because of the metallic oil-filled shock absorbers that prevent damage to the car parts on bumpy rides.
You can have fun with the car at the beach, on rocky surfaces, or on concrete roads. This is one of the best RC cars that you can gift to anyone interested in the RC hobby.
5. Soyee S920 RC Car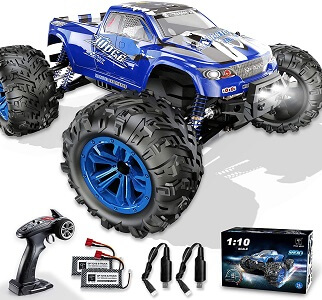 If you have already followed RC car manufacturers, you must have heard about Soyee. They mostly make RC cars for beginner RC enthusiasts.
This is a big-sized RC car by them that is powered by dual motors which are collocated with a high-torque servo. It helps the car to achieve a speed of 45kmph and features only two-speed modes.
The heavy-duty tires with the independent suspension system give the vehicle amazing shockproof ability.
You can drive it on tough terrains without fearing damages. The 60A splash-resistant ESC on the car allows you to even have an RC experience even on wet terrains.
This ESC can also make the car movement in reverse mode.
This 4X4 drive runs on a 2.4GHz frequency which does not allow interference from other signals.
You get two 1600 mAh li-ion batteries in the package that can give you the total driving time of 30 minutes.
6. Hosim RC Monster Car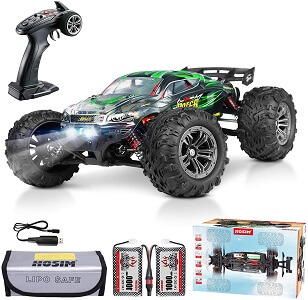 Hosim has carved out a significant presence in the world of radio-controlled cars very quickly. They make awesome toy-grade as well as hobby-grade RC cars and trucks.
This is a fascinating RC monster truck that is equipped with a powerful brushless motor. It can make the truck go up to the speed of 52kmph.
This RC truck has a 1:16 size scale and comprises a tough body meant to smoothly handle collisions and impacts. The steel chassis is shockproof and strong enough to carry the vehicle on uneven terrains easily.
You can drive this truck on a little uphill road as it comes with an updated auxiliary wheel at the back.
The flexibility here is ensured with the independent suspension spring installed on the wheels.
The transmission system of this truck works on a 2.4 GHz frequency. Its control range is around 80 meters and the steering and throttle are very responsive.
But this RC vehicle too offers only two different speed modes. In the package, you get high-capacity lithium polymer batteries of 1000 mAh each. If charged full, one battery can last up to half an hour.
7. DEERC 300E Brushless High Speed RC Car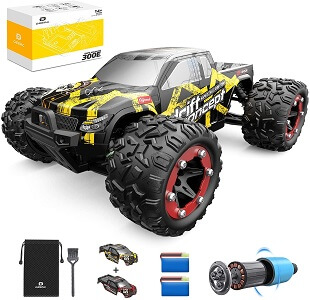 Here is another DEERC RC car meant for high-speed racing on different types of terrains. It houses a powerful brushless motor that can take the car up to a fast speed of 60 kmph.
The car also features an 18A brushless ESC that offers 8 accelerations and 8 timing options. The motor and ESC are waterproof so that you can run this car on even wet terrains.
This is an all-terrain off-road RC car that has an all-metal sealed ball bearing and metal shocks that are oil-filled.
There are anti-vibration shock absorbers and rubber tires that are anti-skid. The strong nylon chassis and the independent suspensions on 4 wheels, make it a perfect off-road vehicle.
For control, it has the pistol grip transmitter equipped with digital controls. It works on 2.4 GHz frequency and there will be no interference while racing up to 12 vehicles at the same time.
You can control your car from up to 100 meters. Another good thing about getting this car is that you get two high-capacity 1200 mAh rechargeable batteries of 7.4V.
These batteries can provide a run time of up to 40 minutes.
Conclusion
These were the best RC cars available under $150. All of these cars are made up of durable material and are perfect for racing on all types of terrains. We hope you enjoy your outdoor RC rides.
We have provided some answers to the queries most users want to know before making a purchase of radio-controlled cars.
FAQS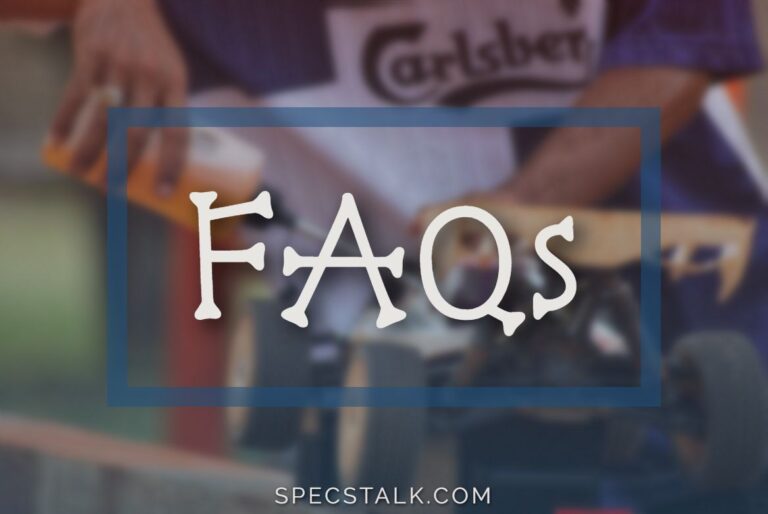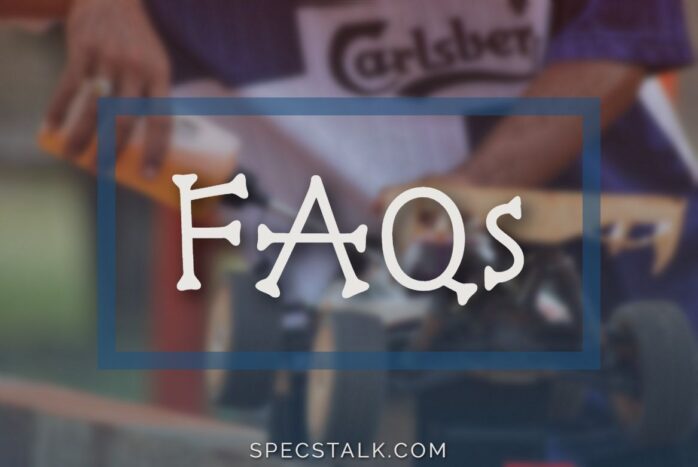 1. What type of RC cars you can get for under $150?
$150 is a decent amount to be spent on an RC car if you are a beginner or even an intermediate RC car racer.
You can buy different types of RC cars on this budget. We have already introduced you to amazing RC Trucks, monster trucks, and crawler cars that are meant for riding and racing on all types of terrains like sand, concrete, rocks, grass, mud, etc.
There are different companies that provide RC touring and race cars on a budget much below $150.
Those cars are meant for racing on relatively smoother surfaces or for children to just have a fun ride.
On Amazon, you'll also find RC buggy cars under $150 which are meant for high-speed racing on tough terrains.
2. Which RC car is best for beginners?
There are so many good RC cars out there that you can pick to learn and develop your RC hobby. Out of all of them, DEERC 9206E Remote Control Car is one of the best RC cars for beginners.
It offers 10 different speed modes with the ability to go up to 48kmph. This rock crawler car can climb up to 45° of the uphill slope. There is a brushed electric motor, oil-filled shocks, and high toughness tires on the car.
3. What is a decent speed for an RC car?
The ideal speed of an RC car can vary from players' level of expertise and also their budget.
Generally, the toy-grade RC car's speed starts at 10-12 mph. Then you have the hobby-grade RC cars which provide different speeds for different types.
An RC truck car provides a speed of around 30mph and RC race cars can go up to 50mph and above.
No products found.