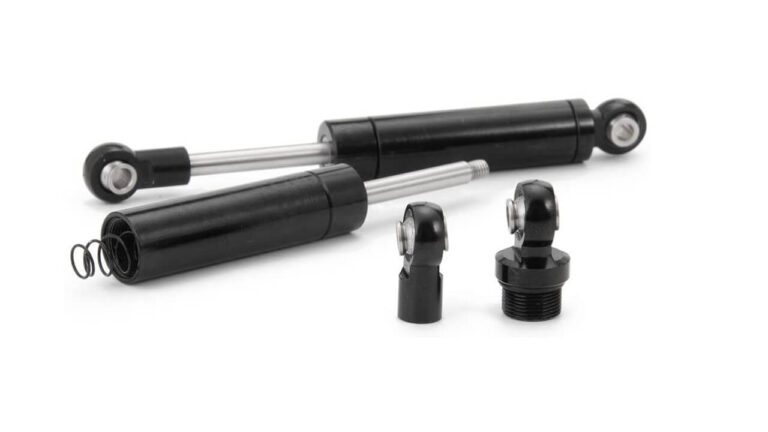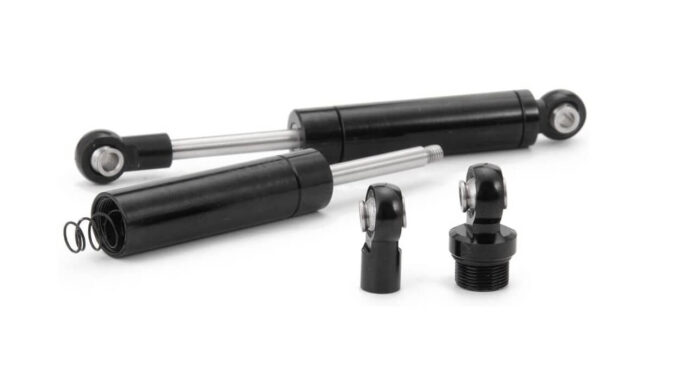 Uneven terrains and race tracks demand a lot of customization in your RC cars. If you are looking for adding some good aftermarket shock absorbers to your car or crawler, we are here to help.
The shock absorbers are a very important element in your RC car. It is just not enough for a shock absorber to have a good suspension and spring, it should also provide stability to the vehicle in rough terrains.
So all the parts of the shock absorbers need to work in perfect sync to help your car to be stable.
The RC car shocks should also be durable as you wouldn't want to change them after every ride on a tough surface. Here, we have made a list of the best RC car shocks that will help your car in a smooth ride.
Best RC Car Shocks
1. RCLions RC Shock Absorber and Damper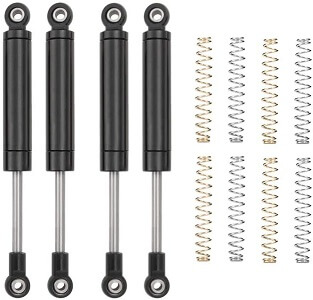 RCLions is known for its small accessories related to radio-controlled vehicles. They make different types of wheel rims, steering knuckles, front bumpers, shock absorbers, etc.
This shock absorber comes in 5 variants from 80 mm to 120mm for RC cars of almost all scale sizes. From Traxxas to HPI and HSP, they are best for your RC crawlers and absorb bumps successfully on uneven terrains.
The built material of this shock absorber, specifically the shaft is aluminum alloy. It ensures durability and constant protection of your RC vehicle. The suspension you get is very smooth with a well-balanced damping effect.
Installation of this RC shock absorber in your crawler will be very easy as it is already assembled and you just have to fix some screws.
2. Hobbypark Aluminum Shock Absorber
Here is the good budget shock absorber by Hobbypark. We have previously reviewed RC car stands by them and we were impressed.
These RC car shocks are worth a try given their utility and price. They come in a cool-looking color and are fully assembled.
This Hobbypark shock absorber is for very tiny vehicles of scale 1/18. It is compatible with different models of WLtoys RC cars like A959 A969 A979 K929 A959-B A969-B A979-B.
It can be installed on other brands' cars too if they are of 1/18 scale. But we recommend you make sure if your RC car will support them before purchasing.
The overall length of the shock is around 62mm and the length from hole center to hole center is 54mm. The diameter of the hollow ball hole is 2.5mm and they fit perfectly and ensure a smooth connection with the suspension arms.
There are CNC machined pistons attached to the suspensions for the accurate functioning of the shock.
3. HobbyPark Aluminum Shock Absorber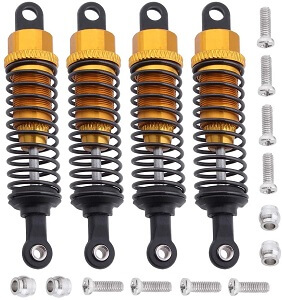 Our next shock absorber is also by Hobbypark at the same price. This too is for vehicles of 1/18 scale and compatible with RC cars like Redcat Volcano 18 V2, Himoto E18 E18XBL E18 E18MTL, LaTrax Teton / Prerunner/ SST, Dromida BX MT SC DB4.18, etc.
If the color and price match your search, you should check the measurements for compatibility with your RC car.
The total length of the shock absorber is 70 mm and the hollow ball hole's diameter is 2.5mm. They are made up of good quality Aluminum alloy and some parts out of plastic.
They come all assembled and you need not have special knowledge about shocks and suspensions to install them.
One thing you need to consider before buying these types of shock absorbers is that they do not come pre-oiled. You need to get them oiled before installing them in your car.
4. Innovateking 2pcs Aluminum Front Shock Absorber Springs Damper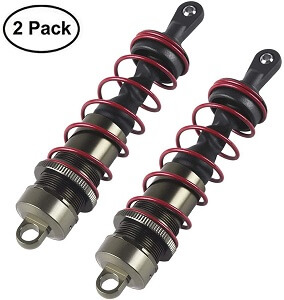 If you are looking front shock replacement for your RC truck, buggy, or Truggy, this is one of the best options you have. Big RC vehicles of 1/8 scale are the most compatible with them.
They are a little higher on the budget spectrum and you will get only 2 shock absorbers in a package but still worth it.
Innovateking shock absorbers are made up of high-grade aluminum alloy that makes them durable and withstand bumps. The length from hole center to hole center here is 110 mm with a 3mm diameter hole at each end.
Their built design also stands apart from most shocks and suspensions you will find in the market.
These are light and designed explicitly for the good performance of your vehicle on road by reducing the shake and enhancing stability. The stability remains intact even if you are riding at a high speed and face uneven surfaces.
5. ARRAROWN Front & Rear Pre-Oiled Shock Absorber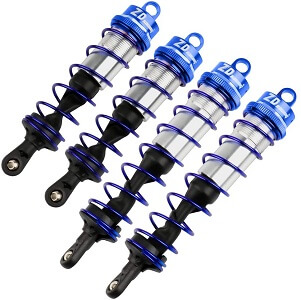 ARRAROWN shock absorbers also house the same new design you saw in the Innovateking RC shocks above.
But it is interesting to note that these come in better quality despite being available on a lower budget. They are made up of amazing quality alloy material with excellent protection.
These rear and front shock absorber damper springs are to be used with the same 1/8 scale cars. Their compatibility is best with the models of JLB, HSP, EM Racing, DHK, HPI Redcat, LRP, Hobao, ZD Racing, Hongnor DF RC car, truck, buggy, and Truggy.
The total length of the 2 front shock absorbers is 120mm and the rear ones are 143mm long. Hole center to hole center length is 110mm and 132mm respectively.
The best thing about these RC car shocks is that they come pre-oiled. You need to keep the screws under the spring tightened, so that the oil leakage does not occur.
ARRAROWN has used superb quality parts in making these absorbers including the springs and they provide an amazing damping effect.
They are going to pass the test of durability as well. You can buy these shock absorbers in the pack of 2 also.
6. Hobbypark 1/10 Scale RC Shocks Oil-Filled Assembled Springs damper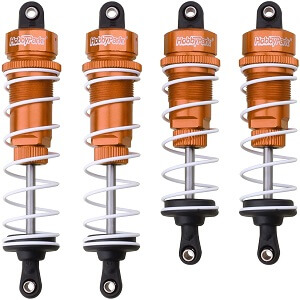 It seems that Hobbypark has a budget solution for most of your RC problems. These are their oil-filled shock absorber for RC cars of 1/10 scale.
Trucks and buggies models of Redcat, HSP, WLtoys, ZD Racing, HPI, etc can use these assembled spring dampers for protecting their vehicles even in case of extreme bumps.
The package contains 4 pieces of shock absorbers which have a hole-to-hole length of 85mm and 95mm. The hallow ball hole diameter is 3mm. The bottom that holds the hallow ball hole is made up of plastic and the rest body is Aluminum.
The CNC machined precision used in making these dampers allows you to ride your vehicle with confidence, without fearing jumps and bumps.
7. Hosim RC Car Front Shield Shock
Hosim makes toy-grade, professional-grade RC cars, and their accessories. These are the good front shock absorbers by them, compatible with Hosim RC cars and S911, S912 models of GPTOYS RC cars.
Most of the bodies (except the springs) are made up of plastic but still durable enough. If you are looking for a cheap replacement for your kid's RC cars, these shock shields won't disappoint you.
FAQs
How do RC shocks work?
RC shock absorbers generally called RC shocks are for dampening the oscillations caused after your vehicle jump on uneven tracks or bump into a concrete surface.
They work with a combination of different small parts like shock shafts, cylinders, springs, pistons, camber links, etc.
When your car jumps after riding over a bump, the shock shaft slowly gets inside the cylinder of the RC shock. It then immediately comes back to its position to do the same if the next bump occurs.
The piston attached at the upper end of the shaft is lubed to reduce the friction between the shaft and the shock cylinder. This slow movement of the shaft or the shock absorber as a whole minimizes the impact on the RC car which could damage it.
What is the difference between a shock absorber and a suspension spring?
The shock absorber and the suspension rings are different things but work together to save your RC vehicle from the oscillations and their impact.
As we discussed above, the shock absorber with help of the shaft, cylinder, and piston, reduces the force caused on the vehicle after a jump or a sudden bump while racing.
The suspension spring on the other hand which is attached to the shock absorber maintains the stability of the vehicle and stops it from getting leaning over after a bump.
The shock absorber minimizes the effect of recoiling of the suspension spring and in its absence, the vehicle would observe a lot of unnecessary bounces.
The springs have different levels of stiffness depending on the nature of the vehicle and ride. They are usually color-coded.
What kind of oil do you use for RC shocks?
RC shock oils are for reducing the friction in a shock absorber between the piston and the shock cylinder. They are made up of formulated silicone compounds and manufactured by RC car companies especially to be used in RC shock absorbers.
This oil comes in a wide range of thickness levels. The more the thickness or weight of the oil, the higher resistance the oil shows against the friction.
Conclusion
If you are a heavy user of professional RC cars, the shock absorbers are bound to get damaged often. Faulty shocks and suspensions will only put your cars at risk and put a burden on your pocket frequently.
These were the best RC car shocks absorber available on Amazon currently. Before buying a set, you should always know if you are looking for the ones pre-oiled or without oil.