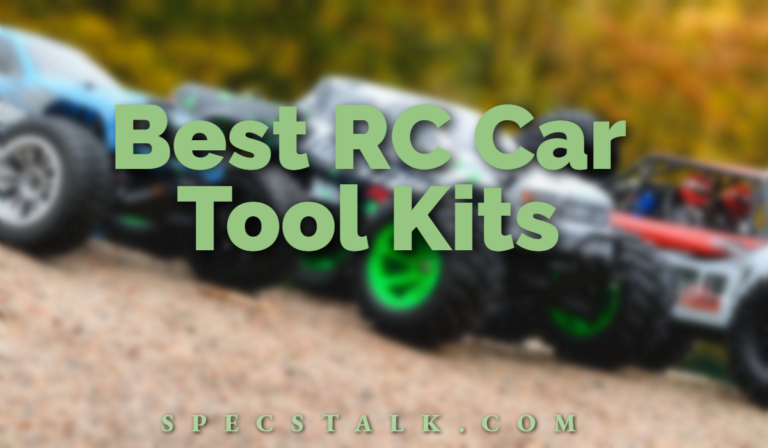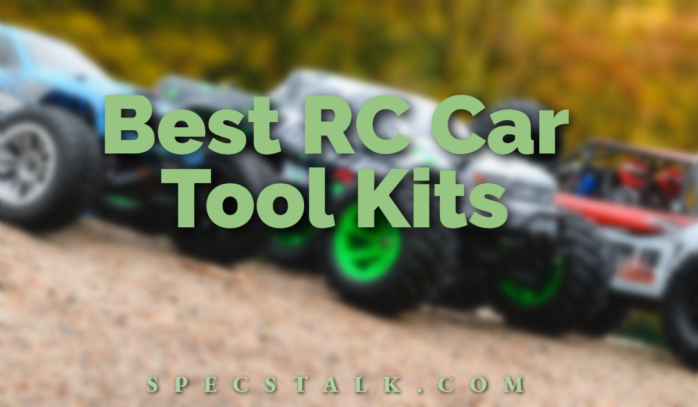 One can play with an RC car continuously for hours without getting bored, and that's the charm of these awesome toys.
But since they are machines they also need to be taken good care of or else they will have a short lifespan.
However, you need not be a grease monkey in order to maintain your RC cars and trucks.
If you have the right RC tool Set at your home, you can easily service your RC car or truck on your own.
Not just service, with these tool kits, you can assemble all the parts of an RC car to build it from scratch as well.
We have prepared a list of the best RC Car tool kits that you can buy online. So you can have a look at it and save yourself some time.
Our Recommended Top RC Car Tool Kit Reviews
1. Tamiya America Toolkit – Top-rated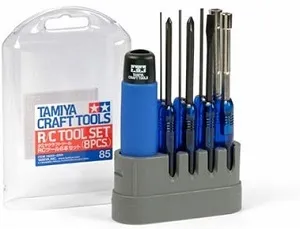 This RC toolset from Tamiya is the one that every RC enthusiast should have. It is one of the top-rated RC tool kits. From maintaining an RC car to building it, this toolkit can help you in all sorts of tasks.
Not just the cars, you can build and service any RC toy with it like RC boats and trucks.
This toolkit has 8 piece toolset that includes No1. and No.2 Phillip head screwdrivers and 1.5, 2, 2.5 Hex wrenches.
Both the screwdrivers and wrenches are made up of Nickel chrome-molybdenum steel which makes them sturdy.
Moreover, you get a minus 5 size screwdriver along with two box drivers of size 5.5 and 7 respectively.
You also get a stand with this kit that will help you keep all the tools together. However, the only downside is that you don't get the bits in this RC car toolbox and you'll have to buy them separately.
2. Readytosky RC Car Tool Box – High-quality Metal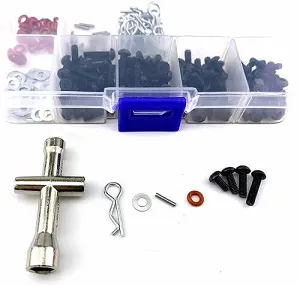 The second toolkit on our list is from the company called Readytosky. They basically make tools for RC quadcopters and drones but this tool is specially designed for RC cars and trucks.
It is a complete 270pcs DIY RC toolbox that will help you build and repair your RC models.
This toolset has a variety of screws and other tools that meets all your needs. To be specific, you get various sizes of flat and round head screws along with N3 and N4 washers, O-circles, etc. A hex wrench is also provided in the kit.
The tools are made up of high-quality metal and hence this kit has a good lifespan.
Moreover, you get a plastic container that helps you keep all the screws and tools organized. You can go with this tool kit as it provides a lot of value for its price.
3. Traxxas Tool Kit – Box Wrenches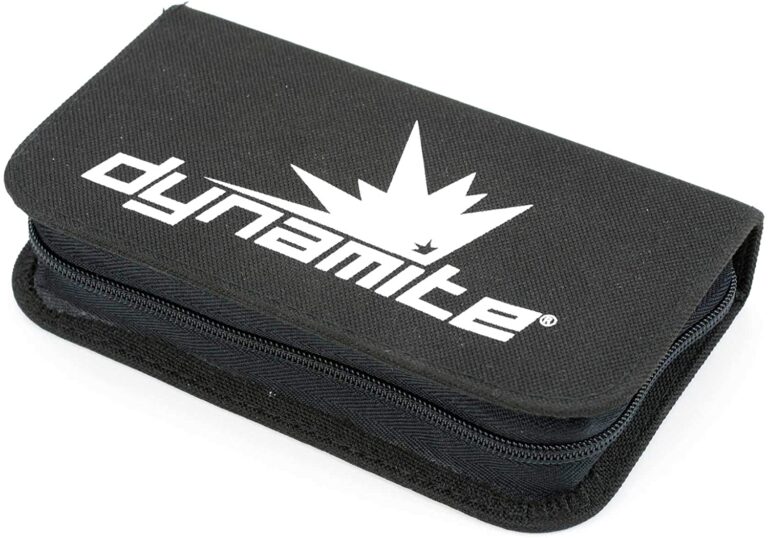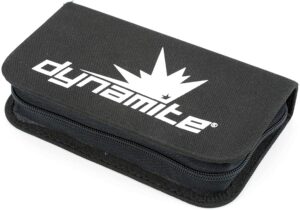 This tool kit from Dynamite is specifically designed for Traxxas vehicle owners. Traxxas is the most renowned RC car brand.
Keeping that in mind this kit is engineered for every Traxxas model ever.
This Traxxas RC car tool kit has all the tools that you will ever require to tear down and rebuild any Traxxas car or truck.
The tools included in this kit are various nut and hex drivers along with three Phillips and flatheads. You also get two box wrenches and one ratcheting handle.
Also, you get a stylish and durable carry pouch so that you can easily carry the tools along with you.
This pouch also helps you to keep all the RC tools safe in one place. So, if you have a Traxxas RC car or truck then this toolset is a must-have kit for you.
4. Hobbypark 21in1 RC Tool Kit – High-quality Metal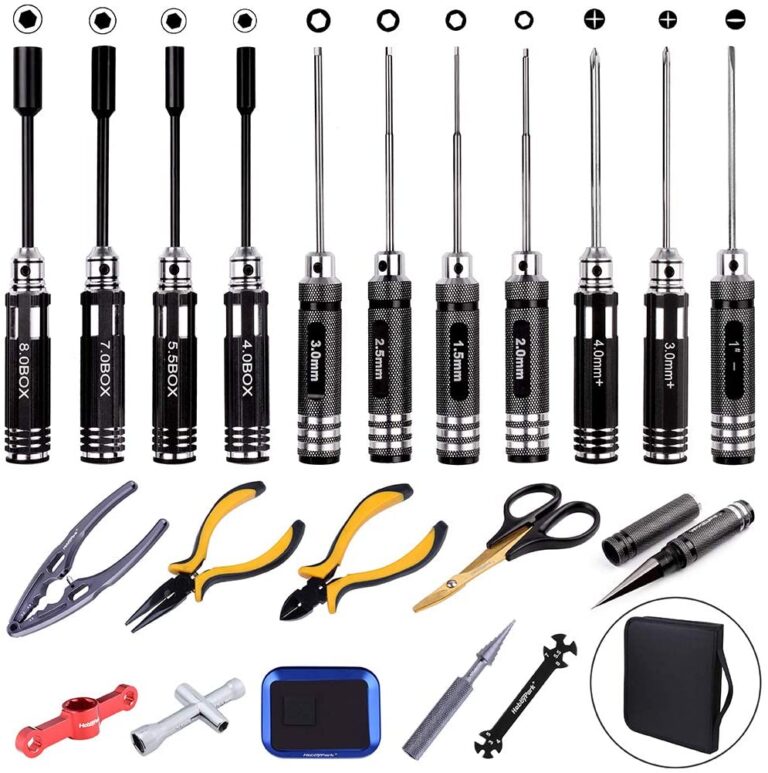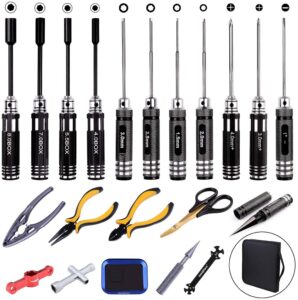 The final kit on our list is the Hobbypark 21in1 RC toolset. It is a complete RC tool kit that has 21pcs in total.
It is a good RC hex driver set for all RC models be it cars, trucks, crawlers, boats, planes, etc. What makes this toolset different from others is that it has almost all the tools one may require while building and servicing their RC models.
From screwdrivers to hex wrenches, pliers, and cutters you get every important tool in this kit. It is quite easy for beginners to use this toolset.
Most importantly you get the ball bearing removal tool that is missing in all the toolsets mentioned earlier.
Also, the RC tools are made of high-quality metal and have a long lifespan. Moreover, you get a bag to keep all the tools together.
So if you are an RC enthusiast then you should definitely add this RC hobby toolkit to your arsenal.
5. LEGENDARY RC Tool Kit – For RC Cars, Drones, Helicopters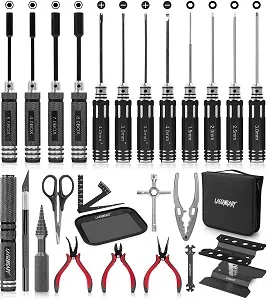 This hex screwdriver set from Legendary has all the accessories to fix RC cars, drones, RC helicopters, and other RC vehicles.
This tool set comes with a car stand, pliers, body reamer, wrench, scissors, and other repair tools. The stand that comes with this kit is for 1/8 scale cars and using it you can easily fix the parts of your RC vehicle.
No doubt that this is a little more expensive than any other tool kit on the list but it offers a lot more tools than any of them. So, if you can invest a little more in the toolset, this is going to be a worthy deal for you.
What To Consider To Choose Best RC Car Tool Kit?
No matter what toolmakers you choose, you should examine them on the below-listed parameters to get the best RC car tool kit.
1. Usage and tools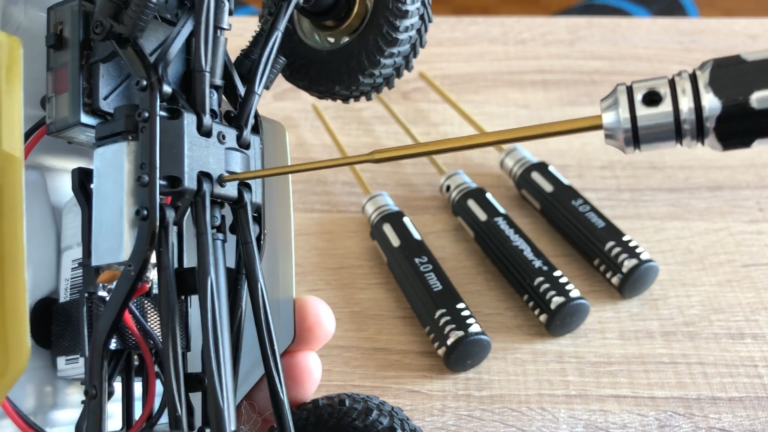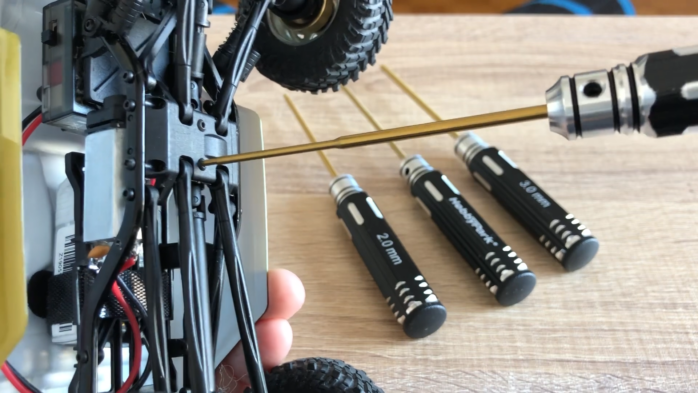 Choosing a toolkit to fix an RC vehicle largely depends on the range of RC cars you have. If you have just 1-2 RC cars and you are looking for a toolkit, it better be a small one with limited components. You should know what all tools will be required in fixing those cars.
If you are going to use the toolkit for a lot of cars, you will require some diversification of tools in your kit.
Here are a few major tools that are useful for RC car enthusiasts for fixing or customizing.
Phillips Screwdrivers – Almost all middle-range RC cars have Phillips screws. Just 2 sizes i.e number 1 and 2 should be enough to be included in the RC car toolkit.
Hex Drivers – If your cars have Hex screws, you might have received the L-shaped wrenches with them. Fixing the screws with Hex drivers is much more convenient. They are available in a lot of sizes. If you have high-end RC cars and you get into customization a lot, you would need most of the Hex drivers' sizes.
Power Driver – A power driver is not an important tool if you are okay with using Phillips screwdrivers and Hex drivers. But people who handle a lot of cars and want to make it quick might consider it.
Flush Cutters – You will need flush cutters to remove unwanted plastic parts from your RC car.
Needle Nose Pliers – For congested spaces in RC cars, you will require needle nose pliers. They are also used for holding small wires while fixing.
Shock Pliers – Regular pliers have steel jaws and those might damage the shock shaft while assembling shocks. This tool is only necessary for skilled RC hobbyists who mostly drive customized cars.
Body Reamers – These are some of the most important tools for customization. Body reamers let you make body post holes very smoothly. But you should know that the one you are buying should work on the material of your car.
Hobby Knife and Body Scissors – You might need one of them or both of them for trimming bodies and cutting round corners for wheels.
Apart from the above important tools, you might consider getting a soldering iron kit for your RC car toolset. Also, it is good to have some spare screws.
2. Compatibility
One might have hobbies other than RC cars and there are so many household works that require a toolkit. So, some RC hobbyists decide the tool kit set based on their usability for other tasks.
It is certainly cost-effective to choose a kit that has diverse usage. But remember that RC components are very small and in order to get a universal kit, you might end up buying one that is useless for your car.
3. Build Material and Quality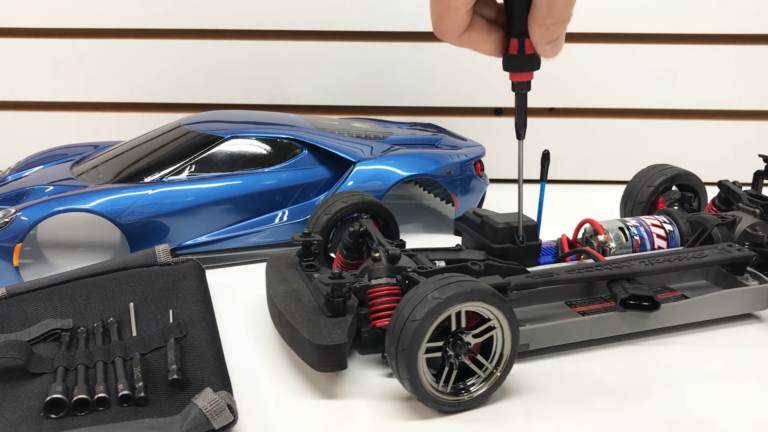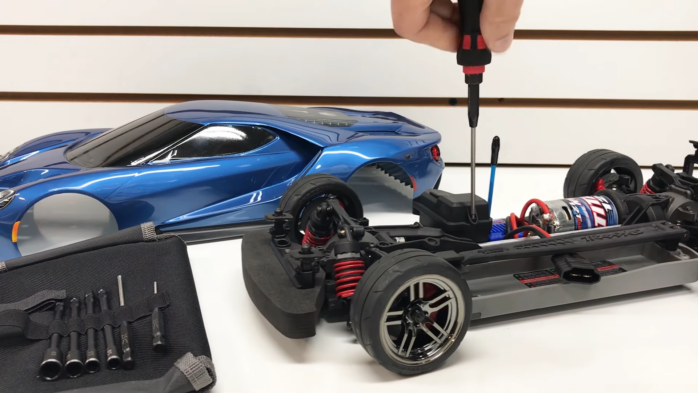 Choosing the right build material is necessary to ensure the durability and efficiency of your RC tools.
Stainless steel is the best when it comes to good-quality tools. They also offer anti-rusting and anti-corrosion.
We always advise looking for the reviews of users before getting a tool kit so that you are sure about the quality promised.
4. Toolkit Case
The toolkit case or the toolkit box also plays a major role in the organizing and efficiency of your tools.
Your toolbox faces a lot of impacts here and there so it needs to be made of strong material. But to carry it everywhere easily, it has to be lightweight.
There should be ample space for all necessary tools and they all should be accessible quickly.
5. Warranty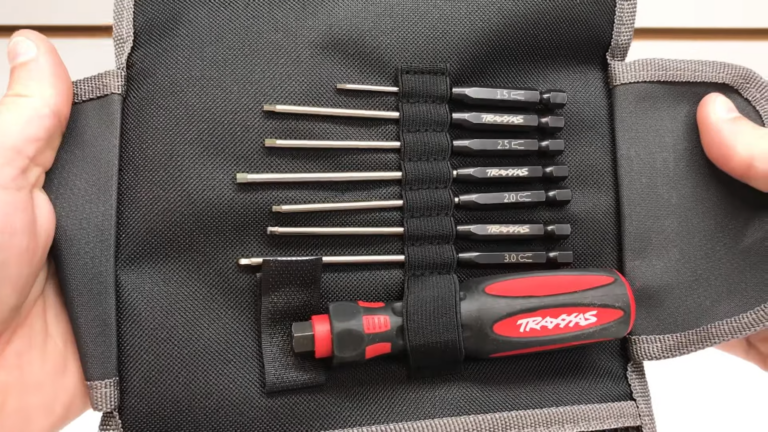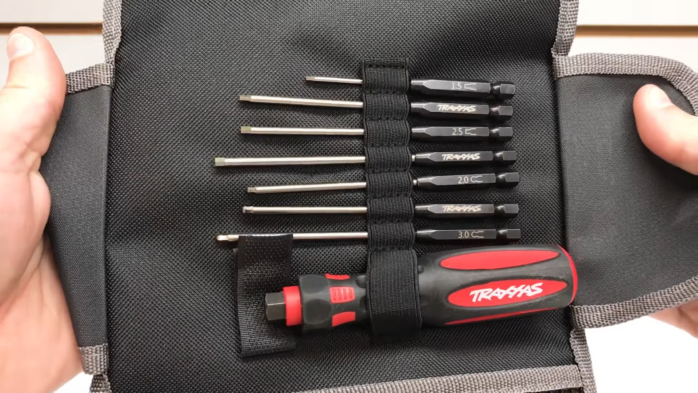 As RC cars and their tools are small, no matter the material, they will eventually face some wear and tear.
To be on the safer side financially, it is important to have a warranty for your tool kit.
FAQs
1. What is a good RC tool kit?
The best RC car tool kit can vary according to your usage and interests. For low usage, the Tamiya America toolkit on Amazon will be great for fixing your RC cars.
If you are too much into customization and own a lot of RC cars, then go for the Hobbypark 21in1 tool kit. You can read reviews about some good RC car toolkits here.
2. Can you build your own RC car?
Yes, it is possible to build an RC car at home and many people do make toy RC cars at home. But when it comes to making a professional RC car for racing, you will need a lot of tools, parts, and obviously skills.
Things like car body, tires, glow plugs, motors, engines, nitro fuel, etc are available in the market.
3. What tools do you need to build an RC car?
Apart from the body, motor/engine, and other body parts, you'll need tools like pliers, screwdrivers, body scissors, soldering machine, body reamer, etc to build an RC car.
You will have to rely on a good RC toolkit for it. Also, buying a good transmitter and a receiver is also important in making your own RC car.
Final Thoughts
So this was the list of the best RC car tool kits that are needed to repair and build an RC vehicle. You can also invest in a good RC car stand that will help you in maintaining your car better.
Also, most of the tools mentioned above are compatible with other RC car brands as well, so you don't have to invest in other RC crawler tool kits for different RC models.