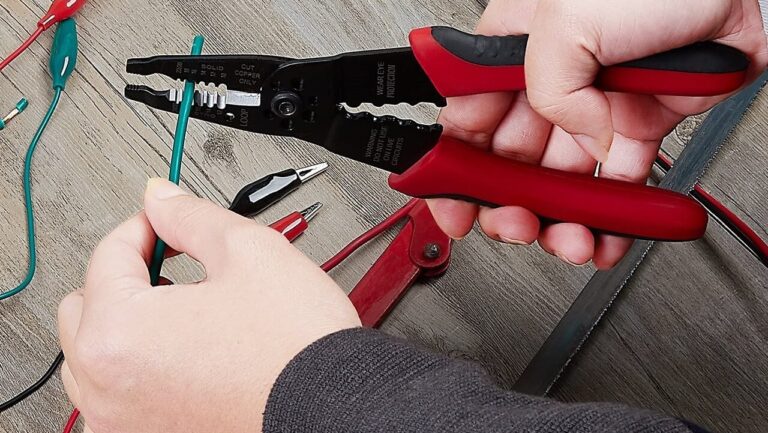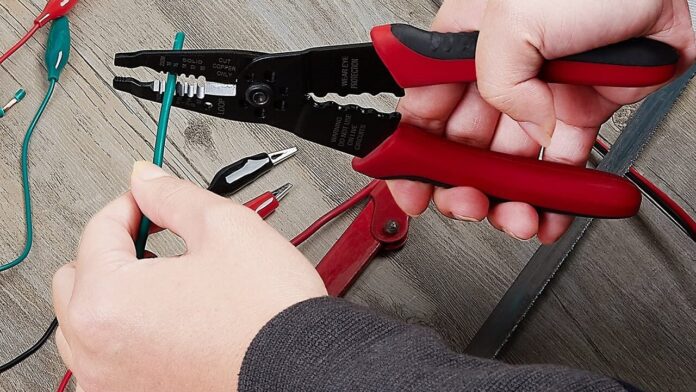 If you are an electrician or a cable operator, you need to connect a lot of wires and metals daily. A tool that is very much required for establishing such connections is a cable crimper. With the help of cable crimpers, you can join the end of a cable with a connector.
Though the functions we have mentioned above can also be performed with the help of pliers or simple wire cutters but there are many risks involved with them. These tools never work with precision and most of the time they damage the wire and the connector.
For hooking up wires and other electric components safely, here are the 7 best cable crimpers with specifications.
Quick Look
The Best Cable Crimpers
1. Klein Tools 3005CR Crimping Tool


If you have searched for or used premium quality handheld tools before, you must be aware of Klein Tools already. Professionals of different expertise trust tools made by this company. This is a simple yet one of the best cable crimpers you will get for crimping non-insulated 10 to 22 AWG terminals and connectors.
It is made up of forged steel and is powerful enough to crimp all types of wire terminals. The specially hardened nose of this tool also works efficiently as a wire cutter. This nose is tapered so that you can work within narrow spaces.
The handles of this crimper are plastic dipped and offer good comfort while working. Because of its strong body and unmatched durability, it has got 4.8 stars rating on Amazon.
2. Wirefy Ratcheting Crimping Tool Set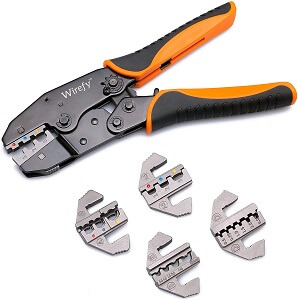 If you are not concerned about the high budget, this set of wire crimping tools has to be considered once. The 4 interchangeable dies you get with this crimper work with a vast range of connectors. These dies can be attached to the crimper within seconds and fit in perfectly because of the magnetic locking mechanism.
You can use this versatile tool for crimping heat shrink connectors, nylon insulated connectors, non-insulated wire connectors, and a ferrule terminal. If your work involves only one type of connector then you can consider other variants on this product. You can purchase the tool which comes with a single crimping die.
Wirefy cable crimper works with utmost precision and features a ratcheting mechanism. This mechanism is helpful for uniform and very strong crimps. Because of the professional-grade crimping system this tool works very effortlessly without causing hand-fatigue.
To ensure that you use a less amount of force on your cables this crimper comes with an adjustable crimping height. It's a highly rated tool and also, you get a lifetime warranty by Wirefy.
3. Titan 11477 Ratcheting Best Wire Crimper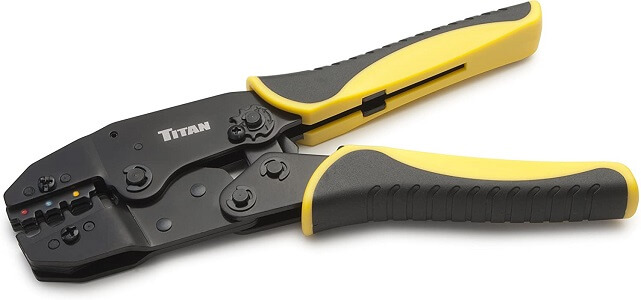 This Ratcheting wire terminal crimper by Titan is like the cheaper version of the Wirefy crimper we discussed above. Here also you can choose from different variants depending on your requirements.
The ratcheting system in this tool helps crimp with precision. You can easily crimp three different types of connectors and wires ranging from 10 AWG to 22 AWG. There are color-coded markings on the jaw for different wire sizes.
Just like the last tool, this cable crimper features the adjustable clamping force mechanism for applying only the required amount of force. Just remove the screw and adjust the compression wheel above the handle. There is also a quick-release lever in case the tool gets stuck or jammed.
It has double crimping die so that crimp on the connector is extra secure and there is no risk of the wires getting pulled out. The handles of this tool come with an ergonomic design for providing you a comfortable grip.
4. Qibaok Crimping Tool Set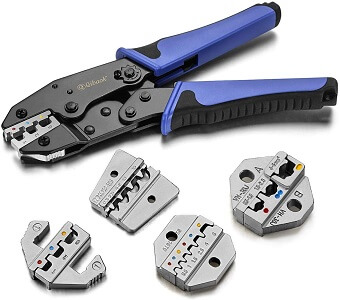 Here is another very affordable option for a complete set of wire crimping tools. It comes with 4 interchangeable ratcheting crimping dies for heat shrink connectors, insulated nylon connectors, non-insulated terminals, and ferrule terminals. All these dies except one have the crimping range from 10 AWG to 20 AWG. The non-insulated terminal die can be used with wires ranging from 8 AWG to 16 AWG.
You can change these dies easily with the help of a screwdriver. Below the jaw, there is a star wheel for adjusting the crimping height. From here you can set the right amount of force required for crimping the wire to connector. It also has a quick release Lever for opening the crimper's jaws if stuck.
The handle of this Qibaok cable crimper is well cushioned and non-slippery for ensuring comfortable handling and safety.
5. IWISS Best Heavy Duty Crimper Tool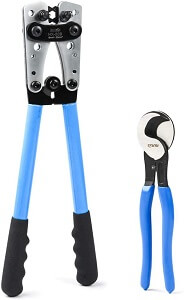 If you are looking for a heavy-duty wire crimper along with a good cable cutter this one is for you. The cable crimper is meant to be used with very strong cable lugs and connectors. It comes with rotating crimp dies for 8, 6, 4, 1, and 1/0 AWG. For using the suitable die you have to press the screw and rotate the die wheel.
This tool provides very easy operation with a reliable ratcheting mechanism that produces strong crimps on the cable lugs. As it is made up of high-quality SCM-40 hardened steel, it is meant for providing a lifelong service.
Both the tools in the package are pretty heavy. The cable crimper weighs around 2.86 lbs and the wire cutter weighs 1.1 lbs. The durability and efficiency of the tool have earned it whooping 4.7 stars average ratings from professionals on Amazon.
6. WGGE WG-015 Professional Crimping Tool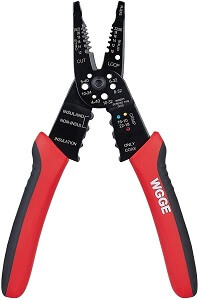 WGGE has one of the most affordable yet reliable wire crimpers for you. This is a multi-functional tool work as a cutter, stripper to loop solid aluminum and copper cables and connectors of 10-22 AWG. You can crimp insulated and non-insulated terminals with it.
WGGE wire crimper feature threaded screw shears of 6 different sizes. It has got a strong gripping serrated nose for shaping and pulling wires easily.
The build material of this tool is carbon alloy steel. This high-quality steel not only ensures durability but is also meant for accurate wire stripping actions. The smooth usage is father guaranteed by the amazing grip of the ergonomically curved handle.
7. Klein Tools VDV226-110 Wire Crimper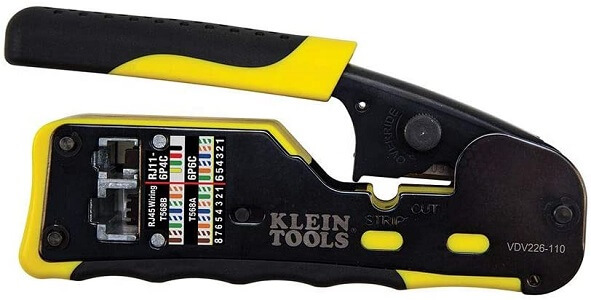 If your work involves fixing different CAT cables, RJ45 pass-thru connectors, and wires, then this is one of the best cable crimper tools you will find. This is a modular cable crimper for installing connectors used in voice and data applications.
This tool features a full cycle ratchet mechanism for strongly crimping the terminals. Solid or stranded telephone and data cables of 28-22 AWG can be easily crimped with this tool that features a full cycle ratchet mechanism. This Klein Tools crimper is also used for trimming and cutting those data cables with good precision.
It allows you to eliminate the extra face of the connector by trimming it so that the unintended contact between 2 connectors can be avoided. Its utility has made it one of the highest-rated cable crimpers on Amazon with 4.8 average ratings.
Conclusion
So, these were the best cable crimpers you will find on Amazon. Klein Tools always set the standards when it comes to handheld tools. But if you find them expensive, the other brand's cable crimpers featured here are capable of forming strong bonds between your wires or connectors.
An electrical technician's job gets risky at times. For ensuring maximum safety, the most you can do is check all the parameters that make a tool safe and convenient. Most of the tools discussed above are meant for standard performance but if you are still unsure about the final decision, the cable crimper buying guide below might help you.
How to choose the best cable crimper
Though a wire or cable crimper is not a very complex tool, they are available in very different budgets and types. Here are few things you can consider before buying a cable crimper. To gain the maximum utility out of it you should choose the one most suited for your job.
Cable crimper type: Most of these tools have plier-like builds. But if you have something more specific than crimping household and data cable of small or extra-large sizes, there are mini cable crimpers as well as heavy crimpers available. The IWISS cable crimper in this list is meant for big connectors and cable lugs.
Other features: If you have to carry your tools for fixing equipment at different places, it won't be a wise thing to buy different tools for related tasks. You should look for a crimper that also allows you to strip, cut, and loop cables.
Build Material and safety: Make sure that the tool you buy is made up of hardened metal like steel. The titanium built of cable crimpers is also very durable. To ensure safety you should choose the tools well insulated with PVC or other plastic coatings.
Grip: Apart from safety, the grip should also guarantee comfort while working. You should always prefer a well-cushioned grip to avoid hand-fatigue while working for long hours.
Warranty: Most renowned companies offer a lifetime warranty with their tool. But you should always check the warranty period for ensuring your financial security. Some cable crimpers also come with the option to return or replace in case you are not impressed by the product.
FAQs
What is the best cable crimping tool?
From pliers like tools, modular crimpers to hydraulic crimpers, the best one depends on the type of cable or connectors you work on. In our opinion, Wirefy handheld ratcheting cable crimper set is the best tool for establishing a strong bond between the wire and connector. It is very easy to use and convenient to carry.
How to crimp wires, cables, or connectors?
Firstly, make sure that the wire you are operating on is cut-off from a power source. Remove the insulation of the wire cautiously keeping the necessary length of the naked wire in mind. Insert that stripped end of the wire inside the connector. Now compress this connector with your cable crimper and deform it. Your wire has been crimped and ready for connection.
Soldering Vs Crimping: Which is better?
It depends on the purpose. If there are chances that you will disassemble a connection in the future or add other connections to a wire, then crimping would be the best thing to do. Crimping leaves scope for removing the connector and add other terminals.
As far as soldering is concerned, it is a permanent solution for establishing a connection between 2 wires or metals. You can add other terminals in the future but only after removing the soldered part.