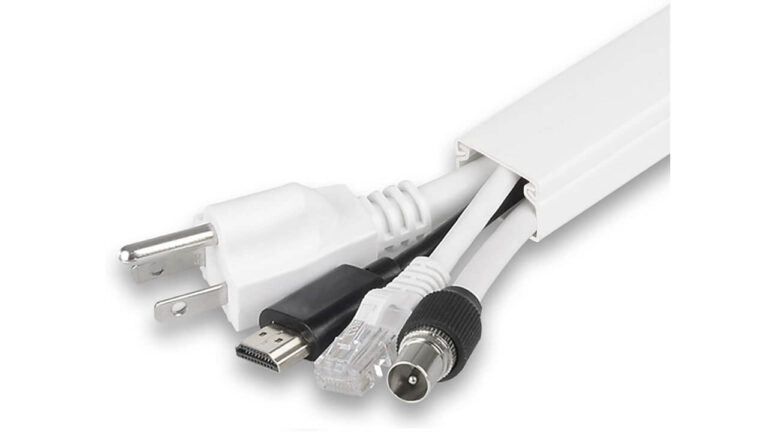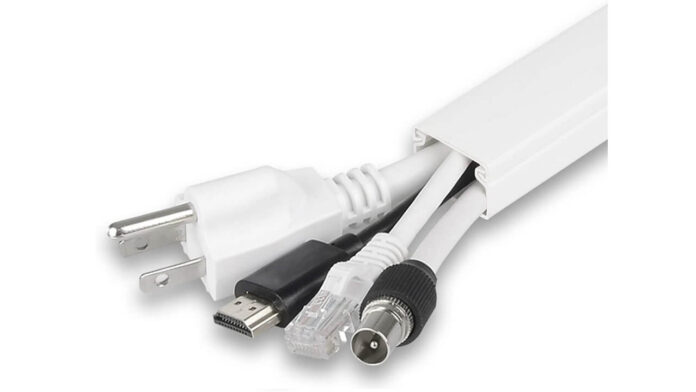 As the number of gadgets increase, their cables create a mess in your room. Such places not only look untidy but they are at risk of power-related mishappenings as well. Moreover, when you have to move a gadget to a different place, a lot of time is wasted on untangling their cables.
To cater to all the above problems, you need an efficient cable management system. We are here with a list of the 7 best cable raceways that are ideal to be used near your work desk, TV stands, or other places with several media connections. These raceways help make your place hassle-free and create a safe space for you, your family, or colleagues.
Best Cable Raceways Of 2023
1. Stageek Cable Raceway Kit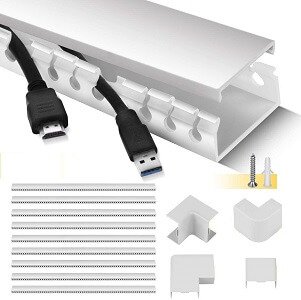 Stageek has this premium cable management system that has parallel openings. It is sleek and looks pretty decent with your room's setup. You can easily install it and organize your messy chords of the computer system, TVs, DVD players, etc.
This is an open slot wiring raceway that features strong self-adhesive tape. You may, but not necessarily have to drill holes on your wall for installing it. The peel and stick mechanism of the tape lets you set the raceway on the wall very stably. Then you can put the cables inside it.
You get 9 white-colored cable covers of 15.4 inches each. There are also 12 connectors and screws in the package. This cable raceway is most ideal for your TV wall.
2. SimpleCord J Channel Desk Cable Organizer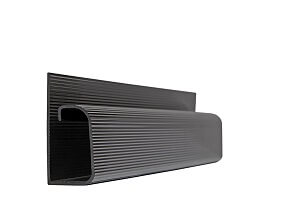 This is one of the best cable raceways you will find online. In the package, SimpleCord offers you 5 cable organizing channels of 16 inches each.
These cable channels are the best to be used with your office setup where you don't want to drill holes on the wall. You can set it up easily with adhesive tape. The extra strength adhesive tapes are available in the package. You can mount these organizers horizontally or vertically as per your choice.
For fitting the raceways perfectly, you can cut them into different pieces. These are non-locking cable raceways for easily accessing the cables and removing your gadgets when in need.
SimpleCord cable organizers are very much on a budget yet one of the most rated cable raceway channels available online.
3. Delamu Cord Cover Raceway Kit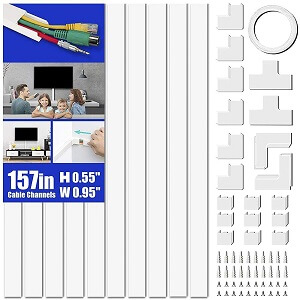 Delamu cord cover is another great solution for your untidy cords at home and office. It is one of the most purchased cable organizers that come with a lot of options. You can choose from white and brown colored conceals.
The package includes 10 PVC cable management channels of 15.7″ length each. They also provide you with 19 different types of connectors, 20 screws, 20 pieces of anchors, and self-adhesive tape.
The installation of these cord covers is simple and easy through both the methods of screwing or sticking with adhesive. These covers match with your home decor as they are pretty sleek and do not seem out of the place.
Please remember that this cord cover cannot be used on rough or textured walls. And even if you use them on the plain walls or table, don't forget to clean the dust on the surface.
4. Stageek Cable Raceway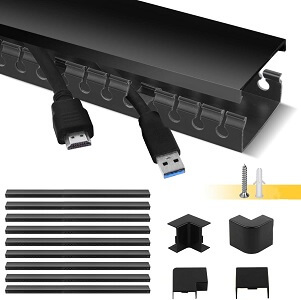 Here is another high-quality cable raceway kit by Stageek. This one comes in black color and blends nicely with your work table. You can also paint them with the color of your table or the walls.
There are 9 PVC cord covers in the package with a one-piece design. You can add or remove cables very easily without having to open the complete setup every time. There are parallel openings on each side of the raceway to make a way for different types of cords and their connectors.
These cord covers can be mounted with the help of extra strength self-adhesive tape. If you want to go for a permanent cable covering solution, you can also choose to mount them with screws. For that, you get 12 screws and 12 drywall anchors in the package.
5. EVEO Cable Management Sleeves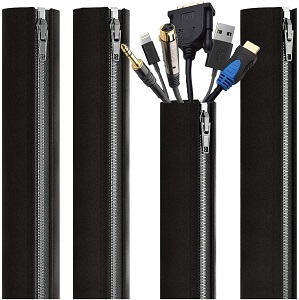 EVEO cable management sleeves or wrappers are one of the quickest solutions for making your home or workstation look neat and tidy. If you are searching for a pocket-friendly way to avoid messy cables near your computer system this is probably the best cable raceway.
These cable covers are made up of premium neoprene materials for protecting your cables near your TV entertainment center, gaming setup, or work desk. All these covers are stretchable and can fit up to 10 cables inside each of them. They save the cables from dust water and pets.
The high-quality zipper design allows you to simply collect the cables, wrap the cover around them, and zip them up. All your cords will be set in a firm position and the cover won't unzip easily.
The package includes four cable sleeves of 19.5 inches each.
6. A+ Electric 235″ Cord Cover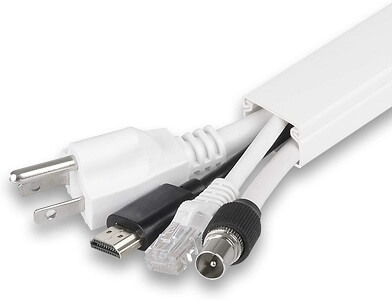 This is another top-rated cable concealer kit available in different lengths. This particular package comes with 20 cord channels, 6 internal and external corners, 3 T connectors, 3 L connectors, and 12 straight connectors.
There are 20 drywall anchors and screws for one of the mounting options. The other option to mount them is by using strong self-adhesive tape which too is included in the package. Mind you, this tape has very strong adhesive so you are advised to place it with extra care. If you don't put it correctly on the first chance, separating the tape can cause damage to the surface of your walls.
This is a premium option for organizing different types of power chords, patch cables, HDMI, coax cables, stereo audio-visual cables, extension cords, etc. Each of the twenty channels can house up to 4 such chords.
7. EVEO 300″ Cable Raceway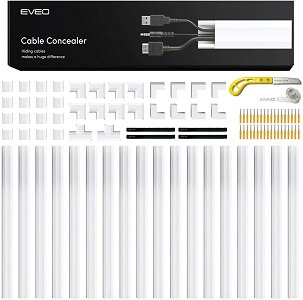 If you are ok with its budget, the cable management system probably cannot get better than this for you. This is the second product by EVEO on this list. But this one has got whooping 4.7 ratings on Amazon and there are well-established reasons for that.
This kit contains all the required components for managing your cables in such a way that your living room looks tidy and amazingly modified.
There are 18 cord covers with a length of 300 inches collectively. You can adjust their length with the help of a small saw that comes in the package. There is also a measuring tape to help you install this cable raceway with perfection.
Have A Look: Top 7 Cable Strippers
Conclusion
A good cable management system is required not just for good aesthetics but also for safety. Small kids and your pets don't know that touching and pulling the cords of your TVs and PCs can be risky.
Many pets, especially cats are cord enthusiasts at times and they chew the cables. By covering those cables you can avoid all such activities.
So, we have discussed the 7 best cable raceways to revamp your messy places and create a safe space for your loved ones. The cable management guide below can further help you in dealing with the loose and cluttered cables around you.
Best Ways to Manage Your Messy Cables
Have you finally decided to deal with the tangled cables in your TV area or office?
Here are few steps on how you can manage your TV room, office, charging location, and cables in other areas efficiently.
For this, you will require any of the good cable concealer or cable organizer discussed above, self-adhesive tape, measuring tape or screws, screwdriver, and non-locking cable ties.
If you are going for the screws:
Firstly you will have to determine the required length of raceway by measuring the length of your chords and the wall.
Then mark the anchor points on the wall.
Now mount the base of the cable raceway with the help of the anchors and the screws.
Tie all the chords together with the help of cable ties.
Lay the bundle of tied cables over the base and put the cover on.
If you don't want to drill holes on your wall:
Firstly make a bundle of the cables neatly with the non-locking cable ties.
Insert those cables in a cable organizer.
Now attach a self-adhesive tape at the back of the cable organizer.
Mount the cable organizer on the wall or below your desk after cleaning the surface.