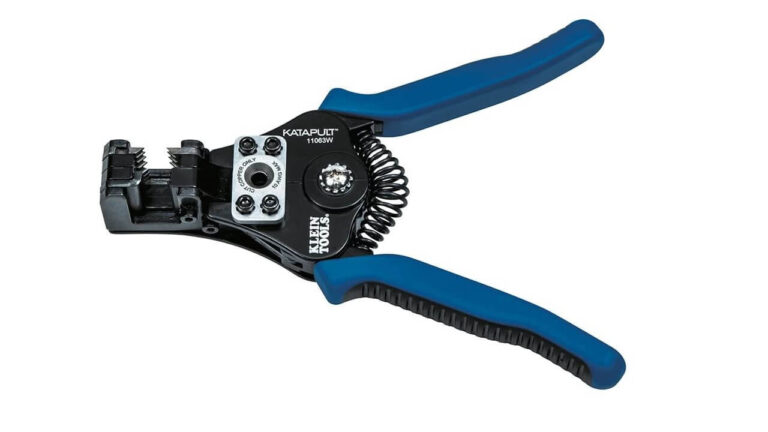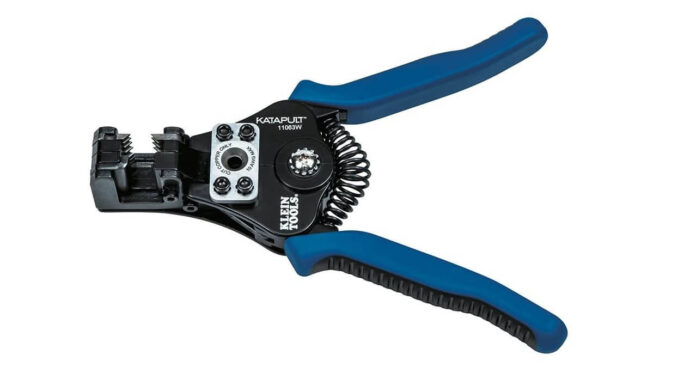 A cable stripper is an electrician's most frequently used tool. From fixing short-circuited connections to installing a new air conditioner, these strippers are needed everywhere to strip, cut, and join cables of different sizes. For such regular usage, it has to be made of great quality and risk-free material.
If you are looking for a reliable cable stripper that can perform other related tasks, this is the right place for you. After analyzing a great range of tools for stripping, looping, and bending wires, we have come up with this list. Here you will find the best cable stripper with the specifications mentioned.
These cable strippers can be used while fixing almost all of your electronic items and also for making amazing DIY products. Most of these cable strippers offer great utility with optimum safety.
Quick Look
Best Cable Stripper With Cutters
1. IRWIN VISE-GRIP Self Adjusting Wire Stripper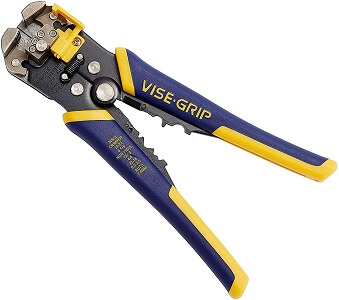 IRWIN is a popular brand specialized in making high-quality tradesman tools. This wire stripper has got 4.7 ratings on Amazon because of its durability and efficiency. It has 2 inches wide jaw and comes with a self-adjusting mechanism that allows you to strip wires from 10 to 24 AWG.
The adjustable stopper in this wire stripper can regulate the length of the core strip. You can crimp 10 -22 AWG insulated wires, 10-22 AWG non-insulated wires as well as ignition terminals sized from 7 to 9mm.
The best thing about Irwin hand tools is that they come with a warranty. So, this wire stripper comes with an assurance that it won't defect anytime soon. 80 percent of the thousands of buyers have given these tools 5 stars rating on Amazon with great reviews.
2. Klein Tools – 11055KLE Wire Cutter and Stripper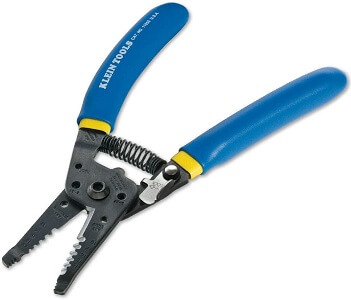 Klein Tool 11055KLE is one of the best wire strippers you will ever find at this price. This amazing handheld tool can be used to strip, cut, and loop stranded wires of 12 to 20 AWG and solid wires of 10 to 18 AWG. If the wires you are going to deal with are not of these mentioned gauges, you can check out the other variants of this wire stripper on Amazon.
Klein wire strippers are known for the strong double-dipped grip with a serrated nose so that you can effortlessly bend, shape, or pull the wires. It also features precision-ground stripping holes. With the help of these holes, you can easily loop and bend wires uniformly.
For shearing 6-32 and 8-32 screws, there are dedicated holes present on this wire stripper. You do not have to worry about trying different readings as they are marked on the tool. It also has a coiled string so that you don't have to manually open the handle every time you use it. This coil spring is very helpful when there are lots of wires and you have to strip or cut them quickly.
Because of its amazing utility, this tool has got whooping 4.8-star ratings on Amazon. People working with branch circuits and house wiring have found it a very a light portable tool to carry anywhere.
3. Klein Tools 11063W Best Heavy Duty Wire Stripper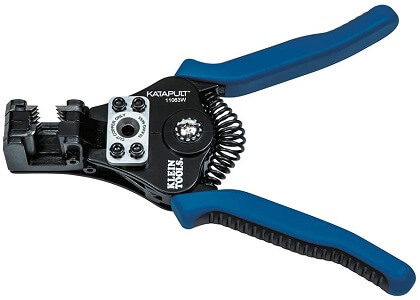 Here is another great quality wire cutter and stripper by Klein Tools. It can cut and strip 8-20 AWG solid and 10-20 stranded wires easily. Just by squeezing the handle, this wire stripper performs double actions that are gripping and stripping at the same time.
The holes meant for stripping are also able to remove the insulation with perfect precision without causing any damage to the wire. With just one step it can remove up to 1 inch of insulation layer.
This one too has a spring coil for fast action. But, the handles are much wider because of the coil and it gets difficult to keep it in your pocket.
Klein tools heavy duty wire stripper is made up of cast alloy chases with a very durable E coat finish. This is a corrosion-resistant tool that you can use for years. Though it's a little bit expensive, because of its utility it is one of the top preferences of electricians and other tradesmen. Like the previous Klein Tool wire stripper, this one also got an average rating of 4.8 stars on Amazon.
4. KNIPEX Tools 1262180 Automatic Wire Stripper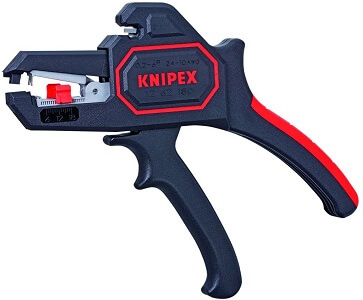 If you are not on a limited budget you can go for this automatic wire stripper by KNIPEX. It is a self-adjusting insulation stripper that can be used with different cable cross-sections and insulating material.
Single, multiple and fine stranded cables of 10 AWG to 24 AWG can be easily stripped with this tool. When you are doing repetitive work you can adjust the length stop from 6mm to 18 mm.
There won't be any harm caused to the conductor as this wire stripper adjusts automatically with the cable cross-sections. This tool also features a wire cutter that can easily cut Copper and Aluminum wires up to 2.5 mm.
KNIPEX has put great attention to details from precision in the usage to build of this tool. The blades of this wire stripper are replaceable and are made up of special steel and hardened with oil. The body is made up of durable reinforced fiberglass. Because of its handy shape and lightweight your work is going to be comfortable.
5. IRWIN VISE-GRIP Best Cable Stripping Tool

This is one of the most purchased wire stripping tools on Amazon. Thousands of people including electricians and wiring professionals have rated this with an average of 4.7 stars rating. IRWIN VISE-GRIP strippers have lots of special features that are tough to find on tools at this price range.
It has textured grip handles for holding comfortably and AWG selection dials. There are spring-assisted jaw openings, built-in crimpers, and quick release locks for fast work and minimum hand fatigue.
With the help of the self-adjusting stripper, you can strip wires from 10 to 22 AWG. For these gauges, you have six stripping stations to select from. This wire stripper features pliers styled nose that makes pulling and making a loop in the wire easy. You can also crimp insulated and non-insulated terminals with this tool.
6. Jokari 10270 Secura Cable Stripping Knife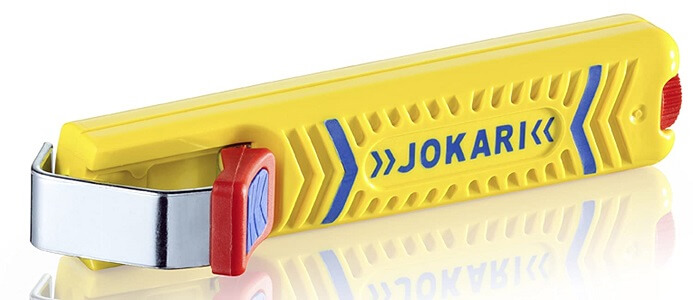 Jokari makes different types of cable stripping and de-insulating products. This stripping knife by them is capable of stripping standard round cables from 8mm to 28 mm.
The blades of this knife are Titanium nitride quoted for cutting and stripping wires very quickly. The handle of this knife has a slip-proof and secure grip. Along with this grip, it also features a thumb protector for using the tool comfortably.
This handle can hold an extra blade in case of an emergency. Jokari wire strippers are not just for electricians but also a very useful tool for making DIY products.
7. DOWELL 10-22 AWG Wire Stripper and Cutter tool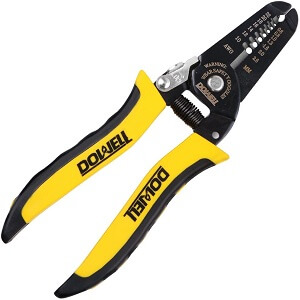 This is the best inexpensive wire stripper you will find on Amazon. Despite being so cheap it has all the qualities a wire stripper should have. It has got average ratings of 4.6 stars on Amazon.
This is ideal for perfectly stripping Copper and Aluminum cables from 10-22 AWG. There is also a built-in wire cutter for very convenient and neat cutting. The head of this stripper can crimp insulated, non-insulated, and ignition terminals with precision.
The handle is ergonomically designed covered with a comfortable rubber grip for optimal force transmission. You can easily work with it even when your hands are wet or oily. The amazing quality spring coil makes your work faster and saves a lot of effort as well.
Conclusion
If your work involves fixing electricity, computer hardware, inverters, and other appliances, these tools will surely help you. If you are a DIY enthusiast and like to make your gadgets and systems, you will require these wire strippers for sure. They are perfectly capable of handling all types of cables with utmost safety.
So, these were the best cable strippers and cutters available on Amazon. Klein Tools products are the most trusted products when it comes to handheld tools. It is pretty evident from the feedback they receive. But if you need more assistance in selecting the right wire stripper for your work, you can use the buying guide below.
Have A Look: Top 7 Network Cable Testers
How to purchase the best wire stripper?
The frequent usage and the safety requirement compel you to purchase a wire stripper very cautiously. Here are few things to consider before buying the best wire stripper and cutter.
Wire stripper types – There are different types of wire stripper available depending on the usage. The gauged wire strippers have holes for different-sized wires. If your work involves stripping and cutting a wide range of wires then you might end up buying more than one stripper. In that case, you should check self-adjusting and adjustable wire strippers. The adjustable ones allow you to set a cut depending on the wire's thickness. The self-adjusting wire strippers accommodate different thicknesses automatically. These are the most convenient ones as you can strip wires of various sizes very easily.
Cutter– Though most of the wire strippers come with built-in wire cutters, you should check their availability before placing the order. If the wire stripper does not have a cutter, you will have to buy extra tools.
Build Material – As we discussed that durability has to be ensured, the body of the wire stripper has to be made with strong hardened steel and titanium. The handles must be of insulating materials with a grip comfortable to hold for long hours.
Saftey – We use wire strippers because they are much safer than knives and convenient. But sometimes the wires you are working on might have running electricity. So, the handles of the wire stripper must be well insulated and with a slip-proof grip. The best material handles can have for usage is thermoplastic.
Sping coil – If you are a professional electrician and buying a wire stripper for daily usage, it must have a spring coil. This coil widens the handles automatically after each stripping action and you save a great amount of time.
Warranty: These handheld tools go through a lot of wear and tear. But you can not afford to purchase them so often. Go for the wire stripper that comes with a maximum warranty. Some of the brands we included above even offer a lifetime warranty.