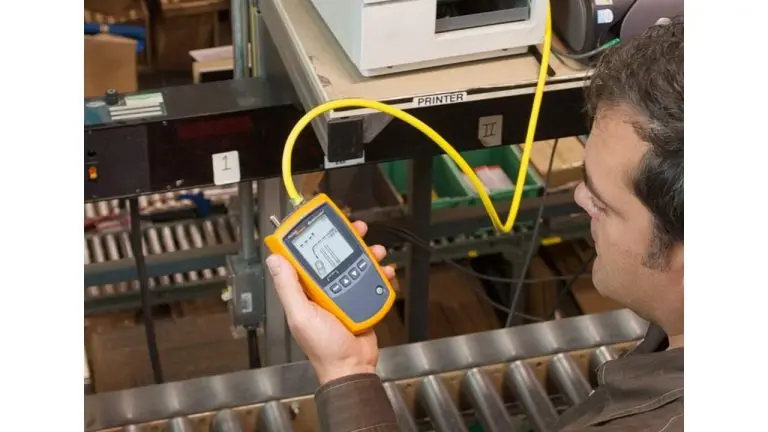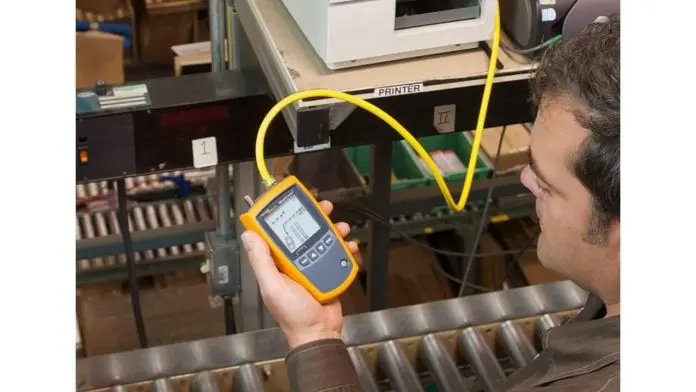 Are you facing a low internet speed on your wired network connection? If yes, then there might be something wrong with your cable, or there can be some installation issue in the case of a recently installed cable. But how do you confirm that?
Well, to test your network cables you need a digital device known as the network cable tester. These testers do the cable test for all sorts of issues like connectivity, speed, and strength. Once the issue is known you can easily resolve it.
Moreover, the cable tester can help you fix the problem on your own without the help of a network professional. But, choosing a good tester among all sorts of different testers is not an easy task and therefore we have come up with this article to help you choose the best network cable tester for your use.
Best Network Cable Tester
1. Fluke Networks MS2-100 Cable Verifier
The first product on our list is the Fluke Network Microscanner2 which comes with a detachable wire map adapter. It has integrated RJ45, RJ11, and Coax cable ports which allows you to test the quality of the video, voice, and data transmission of a copper cable. It also supports PoE(Power over Ethernet) detection by ruling out power as a source of the problem.
Moreover, it shows all the test results on its big LCD screen with intuitive icons which makes it easier for even a beginner to comprehend the readings. Also, the oversized LCD screen can show multiple readings at once like cable ID, pair length, graphical wire map, distance to fault using TDR, and far-end device.
This tool also works as a continuity tester. It also has a built-in IntelliTone Toning feature which makes it easier for you to find the bad cable among other network cables and save a lot of time. Also, it can test a cable of length up to 460 meters which is approx 1500 feet. Apart from that, it comes in a rugged housing with easy to hold rubber grip which gives it a long life.
2.
Klein Tools Cable Tester Kit
It is a complete cable tester kit from Klein tools that allow you to test voice using RJ11/12, data using RJ45, and video using coax cable connections. It can test the cables for short, open, and split-pair faults, along with that you can also examine the cables for continuity.
Moreover, you can test a cable of length up to 2000 feet using this network tester which is amazing I guess.
Also, it comes with 8 small Test-n-map remotes which reduce the testing and identification time by half. It does so by testing and mapping multiple cables in one single step. Another cool thing is that you can find and trace bad cables with its tone generator feature using a tracing probe. However, the probe doesn't come with it and you will have to buy it separately.
3.
Elegiant Cable Tester
This cable tester is a toner and probe kit that helps you test and identify a bad cable in a short amount of time. It also comes with a flashlight that aids you in finding the target cable in dark environments. Moreover, it supports a headphone jack which allows you to listen to the toner sound even in noisy and crowded surroundings.
Moreover, it can test RJ45 and RJ11 cables even if they transmit power with the data. However, make sure the power transmitting through the cable should not be very high, or else it may not work properly. Overall, it's an affordable multifunctional cable tester that can be used in telecommunication, wiring, and network maintenance.
4.
iMBAPrice Network Cable Tester
It is probably the easiest cable network tester to use for checking telephone cable including cat 5, cat 6, and cat7 cables. Moreover, it comes in a detachable design where one part work as a transmitter and the other as a receiver.
You just need to plug the cables on both parts of the device and then it automatically starts testing for continuity, open wires, crossed wire pairs, and short circuits. It then displays the results by flashing the LED on the tester. This instrument works on the DC 9V battery which is not included in the pack so you'll have to buy it separately.
5.
Klein Tools Network Cable Tester
This network cable testing tool lets you test, map, and ID multiple cables in one go using the several test-map remotes that come with it. You get 5 LanMap and 5 CoaxMap remotes and 1 coax barrel F adapter for video testing. The good thing is that it runs on a 9V battery which comes in the box along with the tester.
Apart from a tester, it is also a cable tracer instrument that generates tones to quickly identify bad cables, wire pairs, and individual wire conductors. However, for that, it requires a tracing probe which is sold separately. Overall, it is one of the best network cable testers which is capable of testing open, short, and split-pair faults.
6.
TRENDnet Network Cable Tester
If you were looking for a network cable tester that tests the network cables as well as the pin configurations for Ethernet, USB, and BNC cables then this tester is for you. It comes in two units, transmitter, and receiver. The transmitter unit makes it easier for loop testing, while the receiver allows you to test cables at a location far away from the transmitter. You can test a cable of a length of up to 984ft.
For accurate cable testing, it features two scan modes: Continuous scan and Manual scan mode. The continuous scan also known as the Auto-scan effectively tests cables ending in different locations. Whereas the manual scan works well for testing the cables in a loop.
Apart from cables, it can easily test the ports by identifying proper, damaged, short-circuited, and cross-connected pins to effectively test the pin configuration for any faults. However, the downside of this tester is that it does not support PoE testing i.e it cannot test live circuits and cables.
7.
Klein Tools LAN Scout Jr. Network Tester
For beginners who were looking for a professional-looking network tester that is also easy to understand, your search ends here. This tester from Klein Tools is specially designed for home users and small business owners who want a good tester for testing their LAN networks.
It only supports one RJ45 port which tests the ethernet cables for continuity and faults like, open, short, and miswired. It has a big display that displays the wire maps for easy identification. Moreover, it only features one button which has dual functions: to operate test and to generate tones for cable tracing. Overall, it's a great beginner-friendly cable tester that comes at a good price point.
8. Optimal Shop Network Cable Tester Test Tool
Here is another good affordable network cable tester without a screen. It has got a micro-power supply interface and you get the important information through the LED lights indicators.
This network cable tester can help you locate the shorts that are creating problems, open wires, crossing pairs, and various mishappenings on network cable.
You can also use this tester to check if your RJ45 cable is in proper working condition or safe to use before connecting your computer or other devices. It can work easily with Cat cables, RJ45 cables, RJ11 cables, and other network cables.
This tester is lightweight and great for portability. It comprises a remote and the master tester and both can be attached together.
The LED indicators on both provide clear information about the continuity on your conductors i.e cables.
The tester can work on either of the two power sources. One option is through a 9-volt battery or an AAA battery, and secondly, there is an option to plug in a micro USB cable. You do not get any of these in the package.
9. Southwire M300P Professional Cable Mapper tool kit
This is one of the most rated testers available online and can prove out to be the best network cable tester for you. If the budget is no bar, you should get this tester for a wide range of cable mapping and tests.
The best thing about the tester is its bright and clear LCD screen to receive all the information about the connection line day or night.
You can use this Southwire network cable tester for testing voice, data, and video cabling. It quickly determines the common wiring errors in your connection as well as split pairs.
Continuity errors in your cable line can also be tested with this tester and it has a tone generator for cable tracing to provide you an accurate reading. When you see a 'U' on the screen, it means the device is unable to identify the error as this happens when there are many errors on that cable.
The device consists of a master and one coax F ID remote. The build material is very strong (impact-resistant) with rugged molded housing which is durable.
10. NOYAFA Advanced Cable Tester with PoE Multifunction Wire Tracker
NOYAFA cable tester is capable of testing errors in RJ45 cables and different cat cables with utmost precision.
It can detect the PoE voltage in a cable, measure current, power, and PSE power supply modes on cables up to 200 meters long.
You have the option to choose from AC filter mode, analog mode, and PoE mode. It can detect the AC voltage presence in a line from 50V to 1000V.
The physical status of STP and UTP LAN cables can also be found out with this device. In PoE testing, this tester identifies the type of PSE and detects the power and voltage of the pins.
Apart from compatibility in testing various cable types, the NOYAFA ethernet cable tester can also measure their length accurately for 200 meters. With its help, you can also locate the network port by flashing a portlight.
What is a Network Cable Tester?
A network cable tester is a device used to determine the transmission capabilities of a network cable.
Network administrators rely heavily on network cable testers when they have to install a new cable or remove the inadequacies of installed cables. That's why it is always advisable to learn the factors which will help you pick the best network cable tester and gather cable-related information easily.
These testers can give the professionals information about continuity, wire map, cable length, DC loop resistance, etc.
What is LAN Tester in Networking?
LAN cable tester is the most useful tool for network providers and technical administrators in offices and institutions.
It is a handheld device used by these people to identify continuity in connection, shorted pairs, crossovers, IP addresses, polarity as well as breakpoints. Different LAN testers can test optical fiber cables, ethernet cables, and even coaxial cables.
ALSO READ: Top 7 Cable Crimpers
How To Test An Ethernet Cable With A Tester?
For testing your cable you can use a detachable ethernet tester, where the main tester works as a transmitter and the detachable part works as a receiver. Also, make sure the tester works for the length of the cable you are testing for.
Now first, you need to plug one end of the cable to the transmitter part and the other end of the cable to the receiver part of the tester using the RJ45 ports. Now on the basis of what type of tester you are using you will be able to test the cable by matching the flashing LEDs on both receiver and transmitter. Or you will see some sort of message on the screen in case you are using the tester with the display.
Different testers have different parameters to test the cables which you can understand by looking at their user guide. Here's a video that shows how you can easily test your ethernet cables.
How To Know If The Network Cable Is Good or Not?
There are some signs that you can notice to tell whether your cable is working fine or not without using an ethernet tester. So the symptoms of bad Ethernet cables are:
1. Slow and Intermittent connection
If you are suddenly facing a decline in your internet speed or your experience a non-steady internet connection, then the chances are high that your network cable is not perfectly alright.
2. Failed Network Connection
Another possible sign that the ethernet cable is not working fine is that it fails to establish the network connection with the router. In such a case, either the router or the cable can be the culprit but if your try to establish a cable connection with another cable and if that happens successfully then it's obvious that your network cable has gone bad.
3. Network Restores With A Wiggle
If you ever experience that the lost connection gets restored just by wiggling the cable then it means you are dealing with a broken cable.
However, to be sure that your cable is bad or not you should test it out using a good cable tester.
Factors To Consider Before Buying Best Network Cable Tester
Just like with any other product you need to keep some important factors in mind before buying a network tester. It will help you in picking up the right product for your use and saves you from wasting money on the wrong one.
Type Of Testers
As the name suggests these testers are used to verify if there's any kind of fault in the cables or not. And these are also the most common type of cable tester you'll see around.
The cable verifier testers tell you about whether the cables are connected properly or not, it also gives information about short circuits, split pairs, open wires, etc. So overall you can diagnose any kind of fault in your cables and wires using the verifier testers. However, this verification tester gives no information about data communication.
2. Cable Qualifiers: These testers have all features that a verifier tester has. But it has one more feature which is missing from the verifiers and that is it can tell about the type or kind of data transmission a given cable supports. Apart from finding faults, a cable qualifier can also assist you in repairing your existing cables.
3. Cable Certifiers: These are the most advanced cable testers which are mostly used by network technicians. The cable certifier comes with a lot of advanced features that are required to ensure the perfect installation of the cables.
Build Design And Quality
The tester basically comes in two designs, the handheld portable unit, and the detachable unit. The handheld tester is a single device or tool while the detachable modular unit has two parts to it. The secondary part gets detached from the main device to give you more freedom for testing.
Also, the detachable unit comes with more features therefore you will see most of the powerful tester come in a detachable build design. However, the portable units are easier to operate and handle.
Apart from this, you should also check the build quality of the tester, so that it doesn't break easily upon falling from your hands. If you have butterfingers then you can go with a tester that comes with a holding strap.
Moreover, the tester should not be too heavy either so that you can easily operate it for a long time. Also if you are looking for a tester for outdoor usage then make sure your tester is waterproof or at least water-resistant.
Connector Compatibility
Network cables generally come with an RJ45 connector on both ends. So in order to test a network cable, your tester must have an RJ45 port. Apart from that, your tester should also support different ports like the coaxial connector, RJ11 port, and especially the SC/SFP for testing fiber optic cables. However, a network testing tool with an RJ45 and SC/SFP compatibility is sufficient enough to solve all the network-related issues.
Ease Of Use
Testing a network cable is a technical task, however, some testers make it easier for even a novice to understand the issue in their network cable by showing the readings in a simpler way. While some testers only show reading in raw data which can be only decoded or understood by a network technician. So, it is important that you pick an ethernet cable tester that is easy to use and understand.
Cable Length
The length of the network cable also plays a vital role while picking up a tester, as each tester has its own limitations. Some cable testers can only test shorter cables so you cannot use them to test long broadband lines. Thus, pick your tester wisely keeping your area of work in mind.
Final Thoughts On Network Cable Tester
A wired connection is a faster and more reliable way of network communication. However, unlike wireless connections, in a wired connection, we are always tethered by wires and cables. And no matter how good the cable is it is prone to damage due to various external and internal issues.
A damaged cable can severely affect the performance and speed of the connection so you should keep a good tester handy to easily check your cable for any faults and replace it as soon as possible to re-establish your connection.
Resources
https://itstillworks.com/signs-ethernet-cable-isnt-working-right-33404.html