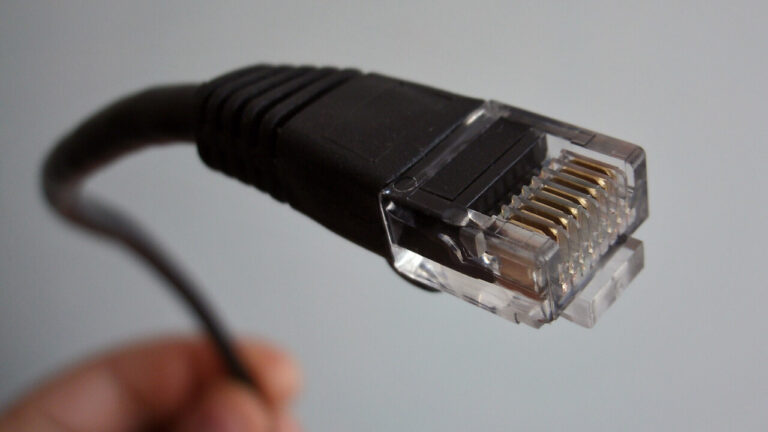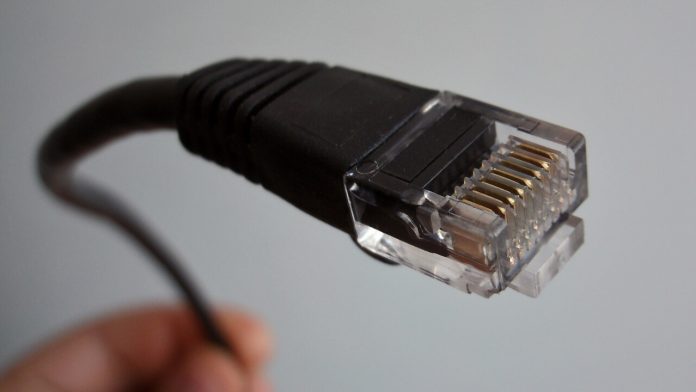 Wireless connections can be very slow at times. Sometimes there is interference from walls between the Media device and the router and sometimes there is technological dysfunctioning. With the wireless network, you have to make sure that both the devices are in each other's frequency and are receiving and sending signals. To boost your entertainment experience with your TV a good internet connection is mandatory. Ethernet cables provide you the stability in the network you need for that experience.
We have prepared a list of some of the best ethernet cables after looking at some key factors. Do go through this list once before buying an ethernet cable for your smart TV of different brands like Samsung, LG, Sony, or others. It will definitely help you in choosing the right product.
There is a wide range of ethernet cables available in the market. They come in different lengths, bandwidths, and most important of all, different speed capabilities. These Ethernet cables are commonly categorized according to their performance with a specific name. Cat5 is the oldest cable type with a relatively slower speed than other types. The latest one is Cat8 that can transfer almost 25GB of data per second. You don't have to worry about that as these best ethernet cables are explained in such a way that you can understand the requirements for your smart TV.
The Best Ethernet Cable For Smart TV
1. Busohe Ethernet cable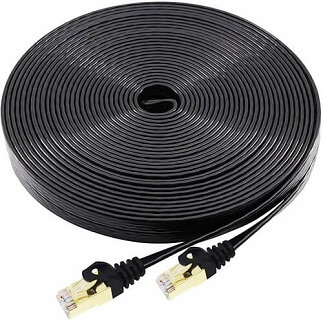 The first product on this list is the Busohe Ethernet Cat7 cable. It offers you a bandwidth of 600MHz and a data speed of up to 10Gb per second.
The fast data transmission speed is possible due to the copper conductors and SSTP shielding. Moreover, the connectors are gold plated which provides the best protection against any electromagnetic or radiofrequency interface. Thus, ensuring an accurate end-to-end data transmission.
The outer jacket of this cable is made out of flexible PVC material which provides it great durability. Moreover, its flat design makes it reach anywhere without getting noticed. You can get this cable in various sizes from 15 ft to 50 ft as per your requirements.
Apart from your smart TV, you can use this ethernet cable with all other network components like PC, printer, routers, and more. Overall it is a great cable for smart TV streaming and using the internet on it.
2.
AmazonBasics RJ45 Cable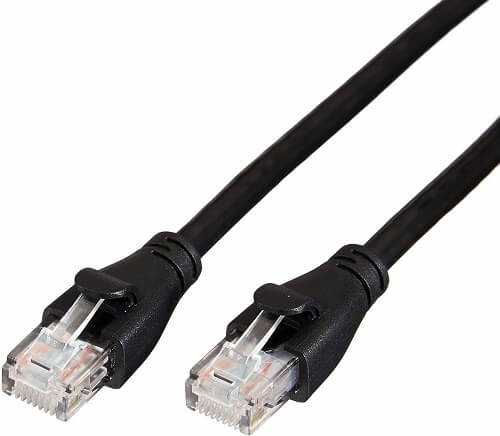 Now the second internet cable on this list is from AmazonBasics. It is basically one of the most highly rated ethernet cables on Amazon and that is probably because it is cheap and provides a lot of value for its price.
It is a Cat-6 cable that is designed for home and office usage. Moreover, it supports an RJ45 connector which is a universal connector and hence suitable for establishing a wired LAN between different networking devices including your smart TV.
Also, it supports bandwidth up to 250MHz and provides a data transmission speed up to 1 Gbps. While 1 Gigabit per second might not be the fastest internet speed, but for many people out there it is more than enough.
So if you choose to go with this ethernet cable from Amazon then remember that you can get it in 6 different sizes ranging from 3 Feet to 50 Feets. Also, if you want more than one cable then you can also buy them in a pack, it will also save you some money.
3. DanYee Nylon Braided Cable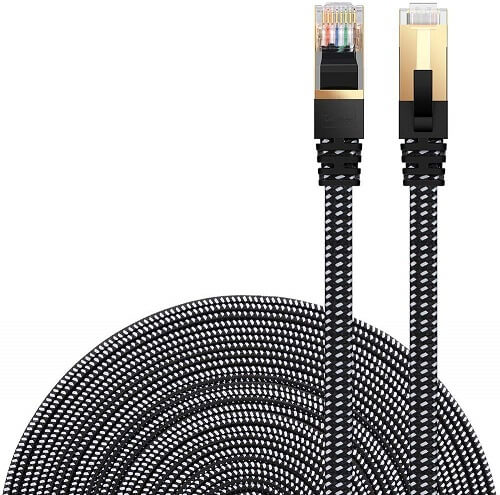 Ethernet cables mainly come with a PVC or polyethylene outer jacket but this cable from DanYee is slightly different from them. As it features a nylon braided outer surface which makes it durable and looks elegant at the same time. Moreover, the outer surface on this cable is dustproof so you don't have to worry about it getting dirty every time.
It is a Cat-7 cable so you get a high-speed data transmission speed of up to 10Gbps with a bandwidth of 600MHz. Moreover, its made of 4 shielded twisted pair of copper wires that protects the data transmission from outer interference.
Also, this cable has RJ45 connectors on both ends which makes it a universal ethernet cable for PS4, Smart TV, Xbox, and PC. So if you want an ethernet cable that looks good and at the same time provides you fast internet speed, then you can definitely have a look at this cable from DanYee. Moreover, you can get this cable in various colors and sizes.
4. Jadaol Ethernet Cable For Smart TV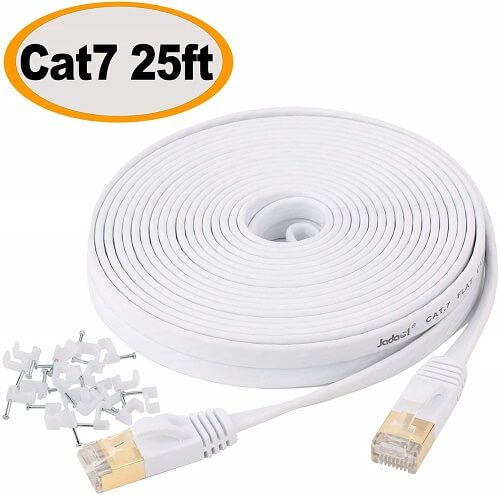 It is another Cat7 cable on our list and one of the best ethernet cables for smart TV. This cable from Jadaol is 25 ft in size and has a flat cable design which makes it easy to install and you can also hide it by running it under the carpet.
Also being a Cat-7 cable it provides fast and seamless data transmission speed with a bandwidth of 600MHz. To be precious, you can get the maximum data speed of up to 10 Gigabit per second on this cable.
Moreover, it has gold plated RJ45 connectors on both ends which ensures lag-free and noiseless data transmission. Also, the 4 twisted pairs of copper wire on the inside, shield the data transmission from electromagnetic and radio interference. All in all, it is a great ethernet cable for your Apple TV and other smart TVs.
5. Cable Geeker Flat Cable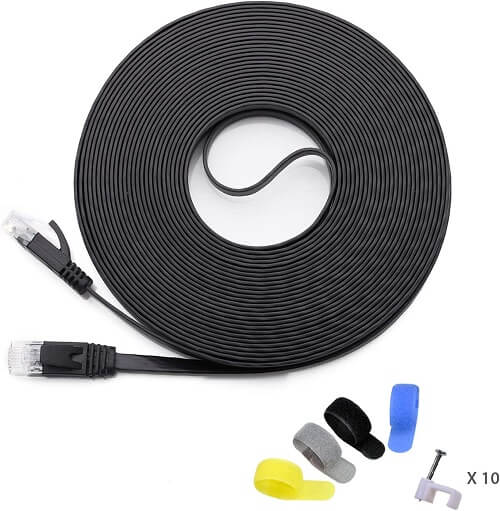 If you have your router placed in one corner of your home and the smart TV in the other, then this 100 ft cable can help you establish a connection between the both. It is a Cat-6 cable and will provide a data transmission speed of 1Gbps on the bandwidth of 250MHz.
Moreover, it is a flat cable so you won't have any issue running it across your home. And since it has a flat design it easily bends at the corner and also runs under the carpet without taking much space. Also, it is very flexible and strong so you don't have to worry much about it.
The cable is made out of 100% pure bare copper wire which reduces the external noise and provides better data transmission. Also, the gold-plated RJ45 connectors ensure a secure and reliable connection between the two connected devices. So, you can go with this cable if you want a long-distance ethernet connection for your TV.
6. DbillionDa Cat8 Ethernet Cable For Smart TVs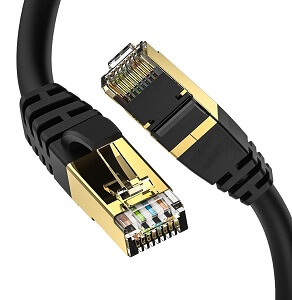 Dbillionda is a known name in ethernet cable making. This is one of the most rated ethernet cables for smart TVs on Amazon. Here you get a 6ft cable that too of latest Cat type which is Cat8. Cat8 ethernet cables can support the internet speed of 25Gbps. This is a black-colored, round cable also available in many different lengths from 3 feet to 100 feet.
Being a Cat8 type of ethernet cable also means that it can support bandwidth up to 2000MHz which is massive. The cable consists of 4 Shielded foiled twisted pair that stops any interference on your network and you can stream HD content and play high graphics video games.
This cable is perfect to be used inside your home/office as well as outside. DbillionDa ethernet cable not just has the capacity of transmitting a great amount of data but it is also very strong from the outside. The heavy-duty design reduces EMI/RFI interference and also it is strong enough to be buried underground without risk of rusting and corrosion. The cable is completely waterproof and UV resistant.
DbillionDa Cat8 ethernet cable is good to go with all your smart devices and gaming panels that have RJ45 ports. Also, previous Cat type supporting devices will be able to accommodate this cable.
7. KabelDirekt Cat6 Ethernet Cable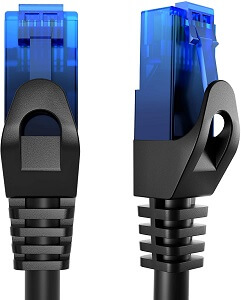 If your speed requirements are limited, you can opt for this Cat6 Ethernet cable by KabelDirekt. It can support up to 1Gbps data transfer speed which is sufficient for streaming HD quality content and games. This is a 100-feet long durable cable but the wires are not shielded like in the above two cables.
You can use these cables for gaming, laptops, switches, and network-attached data storage devices. Other devices that have RJ45 ports can be made efficient with this ethernet cable. The twisted pair technology used in the cable reduces the interference from other signals.
KabelDirekt cables are also available in faster Cat types like Cat7, Cat8, etc. The best part is that they have many options in the length as well. If your router is happened to be placed very near to your streaming device, you can go for a 1-foot long cable as well.
Conclusion
All the smart TVs you get these days are capable of running the internet on them. However, it's up to you whether you want to run the internet on your TV using WiFi or ethernet cables.
For seamless internet on your TV, a good wired connection is required. The best ethernet cable for smart TV comes in different specifications. After determining the length and speed required, you can easily choose the suitable one for you. We hope this list helps you in making a better decision for your uninterrupted entertainment. If you do not need very high speed, buying a Cat8 cable will be a wastage of money. Also, the flat-type cable will save a lot of inconveniences if you manage to paste it on any surface.
Factors To Consider Before Buying An Ethernet Cable For Smart TV
1.Category
There are different types of cable used in networking for different purposes. These cables are divided into categories based on their performance, for example, Cat- 5, Cat- 6, Cat- 7, etc. Learn more about these categories below.
a) Cat- 5:These cables are not anymore used in the networking world as they are now obsolete. Moreover, these cables were not recognized by the TIA (Telecommunications Industries Association). These cables would give the maximum speed of 100 Mbps on the bandwidth of 100 MHz.
b) Cat-5e: These cables were the advanced version of the Cat-5 cable and were able to provide data transmission speed of up to 1Gbps on the same bandwidth i.e 100 MHz. Moreover, these cables were recognized by the TIA.
c) Cat-6: The Cat-6 cables were the first cable to use shielding for protecting the twisted pair of wires inside the cable. The twisted pair of cables prevent noise interface and crosstalks. These cables could support speed up to 10Gbps but only up to 55 meters and maximum bandwidth up to 250MHz.
d) Cat-6a: These cables provided double the bandwidth than that of the Cat-6 cables i.e 500 MHz and are able to provide higher internet speed over longer network cables.
e) Cat-7: The cat-7 cables are the latest and fastest ethernet cables present in the market. These cables support bandwidth up to 600 MHz and data transmission speed up to 10Gbps. These cables provide the highest level of shielding for data transmission and are generally used in higher interference environments such as data centers, power stations, etc.
2. Connectivity
Finding a good ethernet cable is of no use until it is not going to connect to your networking devices. So it is always recommended to go with an ethernet cable that has RJ45 connectors on both ends.
RJ45 connectors are universal connectors and are suitable for almost every other networking device be it Smart TV, PC, Printer, etc.
3. Shielding
Buying an ethernet cable without shielding is not a wise decision as non-shielded Ethernet cables cannot protect data transmission from external noise and EM interference. And therefore you should only choose ethernet cables that provide shielding i.e Cat-6 and Cat-7 cables.
4. Cable Length
When looking for a wired connection the length of the data cable matters a lot. So before making the decision to buy an ethernet cable one should know the length of the cable required to establish the connection.