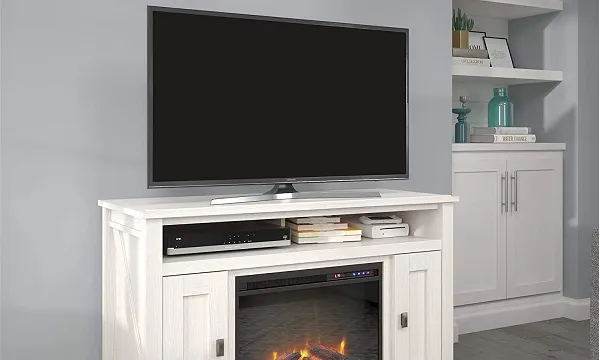 As TV technology has evolved drastically, the TVs in our homes look much better than before. These new TVs demand to be placed around in a similar attractive space. If you are looking for an elegant TV stand for your new 43 inches smart TV, you are in the right hands. We are here to help you with finding a good unit that will provide utility and also suit the interiors.
A good TV stand should not only hold your smart TV safely but also compliment your home decor. Be it a drawing room or your living room, a Television stand also needs to accommodate the devices you use with a TV. There are very good stands in the market that help you keep and organize DVD players, cable boxes, Wi-Fi routers, speakers, Blu-ray players, and different types of gaming consoles.
In this article, we have listed the best stands for 43 inch TV. All their qualities are also mentioned to help you pick a useful entertainment center.
Our Recommended For You The Best 43 Inch TV Stand
1. Ameriwood Home Carson TV Stand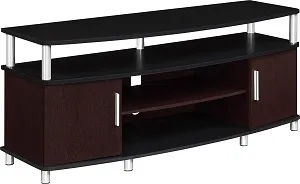 Ameriwood Home has a diverse range of furnishing products for homes. They have furniture for your bedroom, living room, kitchen, etc. This TV stand with stylish looks has got ample space for all your TV essentials, gadgets, and other decorative items.
It is available in harmonious colors that go well with different interior setups. If you have a newly made home and everything is shining there, this stand will add some beauty with its modern looks enforced with laminated wood.
The TV stand is ideal for medium-sized TVs of up to 50 inches. The top will be around 21 inches high from the ground and is capable of giving the perfect viewing angle. You have one more option in the same design. The other stand is bigger in size and comes with a fireplace at the center.
This Ameriwood Home TV stand can lift up to 60lbs and its overall weight capacity is much more than that. There is a total of 3 open shelves on this stand and the top open can accommodate your heavy DVD players or gaming consoles of weight up to 40lbs. The two open shelves at the center are for other gadgets and decorative items.
The cabinets at each side of the Television stand have adjustable shelves where you can keep all your books and things you need frequently.
2. TAVR Swivel Floor TV Stand with Mount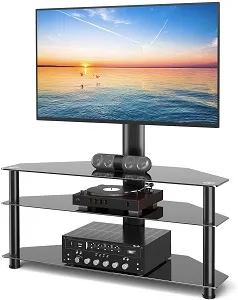 Would you like to try something different than regular TV cabinets to place your TV on? Here is an adjustable glass TV stand suitable for all small and medium-sized flat TVs including the ones of 43 inches.
Remember, unlike other TV stands, you have to mount the TV on the stand and not simply place it. The TV must have VESA mounting pattern holes to be compatible with the stand. TVs from popular brands like Samsung, LG, Sony, Panasonic, Vizio, Hisense, etc feature the same VESA mounting pattern.
The most unique thing about this TV stand is that you can move it easily and also change the direction of your TV using the 45° swivel turning on both sides. The height is also adjustable according to the viewing angle you need from 47 inches to 53 inches high. It has got 3 open shelves including the top shelf and they have one more variant with 4 tier shelves.
As we mentioned, the shelves are made up of tempered glass and are strong enough to carry a total weight of up to 110lbs. The weight of the TV is not included in this capacity and the mount can lift TVs up to 60-70 lbs. The shelves can house all your TV essentials like DVRs, Cable boxes, and other audio-video components.
The aluminum tube at the back of the TV has a cable management system to hide all your messy cables from sight. This is a good TV stand if you are looking for a mount but don't want to drill your walls. The movability and the adjustability also make it considerable against the big bulky TV cabinets.
3. Walker Edison Modern Corner Universal TV Stand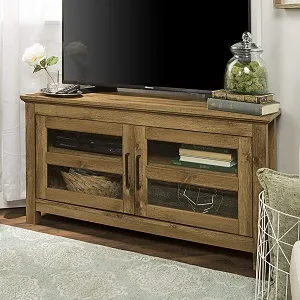 Walker Edison is known for offering simple, yet very presentable TV stands at reasonable prices. The design of this TV stand is pretty straightforward as you have 4 shelves behind 2 closed glass doors. The shelves inside are adjustable and to keep a tall object, you can remove or adjust the partition in between two shelves.
This TV stand will tone with any living room you put it in. We can say so confidently because of the mix of glass and wood as well as the attractive color options they have given with this model. Apart from black, grey, white, and whitewash, you can choose from shades of brown like driftwood, Barnwood, espresso brown, traditional brown, and rustic oak.
You can buy any of the two variants of this stand. Both are in cuboid shape but one has cut corners so that it can be placed in the corner of your room. If you have a small room, this will be the best for your 43 inches TV.
Walker Edison has used high-grade MDF wood with lamination in this TV stand. It is lightweight (66lbs) to carry around and can lift up to 250 lbs. The space inside is enough for your gaming and video consoles while the 44 inches long top has enough space for houseplants and other decorative things.
4. Mainstays Parsons Cubby TV Stand For 43 inch TV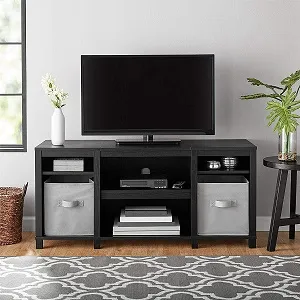 For the rooms with small space, this is one of the best cubby TV stands. This wooden TV stand by Mainstays Parsons comes in a very decent black oak finish. You can keep it in your living room or even bedroom for your small and medium TVs. The top can lift TVs up to 55lbs of weight without causing any tension on the wood.
The stand features 6 adjustable shelves that have ample space for a lot of household objects including the TV components. These shelves' partitions can be adjusted or removed to get bigger space for taller objects like a vase, CPU, or play station. The middle shelves are a little wider and can house all types of audio-video players.
Mainstays Parsons TV Stand is made up of thick particleboard that is somewhat durable. It's also pocket-friendly if you consider other TV cabinets with the same built type and storage capacity.
The assembling of the unit takes small efforts but you won't require a handyman. Two people can assemble it within half an hour.
5. TAVR Universal Floor TV Stand with Mount and Swivel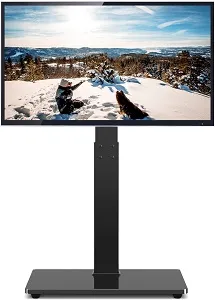 TAVR has another unconventional TV stand you can consider for your 43 inch TV. If you don't have enough space in your living room or hall for a TV cabinet, or you want the TV at a good height, this is the stand for you. You don't have to ruin your walls for this and besides, you can move your TV to any room.
The stand comes with a mount that is compatible with VESA patterns. TVs from almost all the popular companies of 32 to 65 inches of screen size can be mounted on this within a few minutes.
To stop the TV from slipping or falling down, there is a locking mechanism for the bracket. It has got the swivel to adjust the viewing angles but that is only 30 degrees on each side. You can fix the height at three points from 44 inches to 56 inches.
From the appearance, it may look that the stand can trip but it is impressively stable and can hold TVs up to 110 lbs. This stability is maintained because of the thick and heavy tempered glass base. You can also keep your routers, cable boxes, or even speakers on this base. There are non-slip mats at the bottom so that the stand does not slide.
The installation process of the stand is quite easy. With adjustability, movability, and good stability due to glass base and metallic tube makes it is one of the best floor stands you will find on Amazon. It is a bit expensive but its qualities have got it the average rating of 4.7 stars from the buyers.
6. Ameriwood Home Farmington Electric Fireplace Console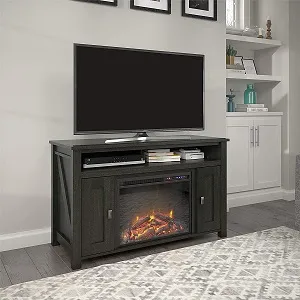 If you are from a cold place and like to have some warmth while watching TV, here is Ameriwood Home's another 43 inch TV stand for you. The stand is built with the same MDF and particleboard and along with its fireplace, makes a good piece of furniture for your TV room. The four-color finishes you can choose from are ivory pine, natural, rustic and black oak.
The fireplace TV stand is available in 2 different sizes i.e 50 inches and 60 inches wide. The first one will be suitable for your 43 inches TV but if you are looking for more space to organize your things, the latter can be considered as well. It has got two wide-open shelves at the top and then one long shelf at each side of the electric fireplace.
The fireplace can make your room cozy in the winters to enjoy your movies or shows up late at night. You can plug it into any normal wall socket and it releases heat through LED lights. But the flames look realistic with the artificial logs and light behind them.
There is no harm caused to the TV or the objects nearby. It has got buttons on it to regulate the temperature. You can also control the fireplace using a remote that is included in the package. You also get 2 AAA batteries for it.
The installation and maintenance of this TV stand are quite easy. You can do the installation alone within a few minutes.
7. Walker Edison Simple Rustic Wood 43 Inch TV Stand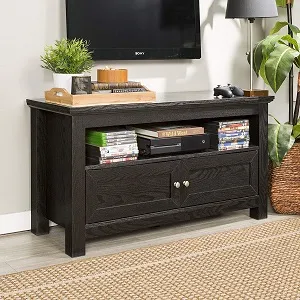 This TV stand-by Walker Edison furniture is simple at its best. It is meant for TV viewing in small rooms and can safely house your 43 inches TV along with other AV and gaming equipment. The stand features a quality built, with strong MDF wood. The black, brown, grey, and driftwood color options are pretty impressive and can enhance the looks of your entertainment center.
If you need shelves below your TV for keeping private things, this should a considerable choice for you. It has got two wide shelves at the bottom with doors. The upper shelf on the other hand is open and very wide.
There are cable management holes at its back so that you can neatly place and connect your video players and streaming boxes to your TV. This stand can support an overall weight of 250lbs including up to a 100 lbs TV at the top.
FAQs
What size TV stand do I need for a 43-inch TV?
Choosing the size of a TV stand for your 43 inches TV depends on your space requirements. You can safely put your TV on a 45 to 50 inches wide stand, but if you have a lot of TV room essential to organize, you can go for bigger ones.
Can you mount your TV above the TV stand?
There are a few TV stands that come with the built-in wall mount like the TAVR Swivel TV stand with shelves and the TAVR floor TV stand we have listed above. If you want a wooden TV center below your TV, the best practice is to get the stand for all the TV essentials and mount the TV on the wall behind.
Conclusion
TV stands should not occupy important space in your room and also help you organize the TV essentials. These were the products from which you can pick the best TV stand for 43 inch TV.
If you are looking for movability in a TV stand or have got very little space, we would advise you to go with the units from TAVR. To organize a lot of TV essentials, gaming devices, books, and house plants, you can choose from the others depending on your budget and space requirements.