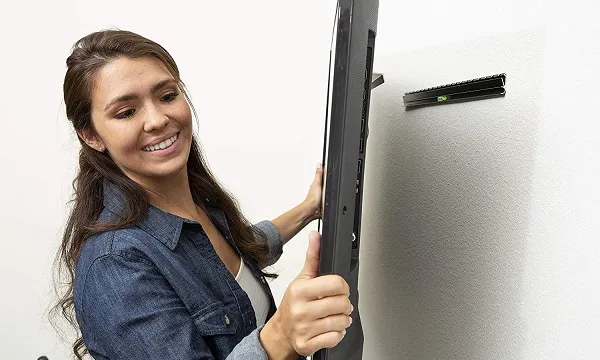 Mounting a TV on the wall not just saves a lot of space in the room but also provides a good viewing angle. However, it is slightly difficult to do that without mounting the studs first. If you have already decided to not use studs, you would love the wall mounts we have for you here. We did research on products so that you get the best No stud TV wall mount that is sturdy and will not affect the looks of your living room.  
Why Prefer No Stud TV wall mounts over the regular wall mounts?
A lot of people are not very sure about damaging their walls for mounting a TV. In such cases, one can use the no-stud TV wall mount that uses nails and a long bracket to hang the TV to the wall. These wall mounts hold the complete top side of the TV from the back and ensure full safety.
No-Stud TV mounts are also slim and don't let your room look less spacious because of the TV. Now, let's get introduced to the best no stud TV wall mounts for TV of different sizes. You can also check how to mount them at the end of this article.
Top 7 Best No Stud TV Wall Mount Reviewed
1. Hangman S-2040A No Stud TV Hanger Mount (up to 55 inches)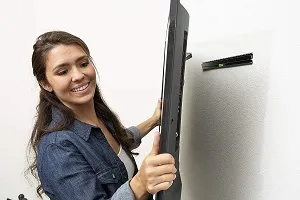 When it comes to mounting solutions and accessories, Hangman makes some of the best products you can get in the market. The S-2040A, no stud TV mount by Hangman is one of the best no stud units for your TV. It is available for TVs from 18 inches to 55 inches and is very safe because of its built.
The brackets of the mount are made up of aircraft-grade aluminum avoiding any risk of breakage and putting the TV in danger. It can lift TVs up to the weight of 80 lbs.
You will have to attach one bracket to the TV and one to the wall. The one that goes on the wall has foam pads so that the wall is secured against any scuffs.
If your wall is strong, there are no risks but still, there is a security cable that will hold the brackets and won't let your TV fall. Remember there is only 1-inch wall clearance to connect your cables to the TV. So, it is advisable to connect them before you mount the TV.
The installation of this wall plate is quite easy. You just need nails and a hammer. The built-in level will help you with the correct alignment. The strong built and the ease in installation is the reason it currently has around 4.8 stars average rating on Amazon.
2. Amazon Basics No-Stud Low-Profile Tilting TV Wall Mount (32 to 80 inches)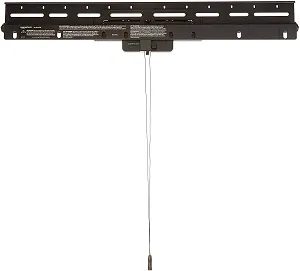 This is probably one of the most purchased no-stud TV wall mounts on Amazon. It is a great fit for most of the flat-screen TV available in the market and possesses a strong built. You can install this wall mount using simple tools in your living room or drawing room walls and even on drywalls.
The unit is made up of heavy-duty steel and the weight capacity offered here is 150lbs on drywalls and 200 lbs on wooden, or concrete walls. This no stud TV mount compatibility ranges from 32 inches to 80 inches screen size. If you have small TV (32 – 50 inches) and might upgrade soon, you won't have to buy a new wall mount.
This wall plate is compatible with a TV that supports the VESA mounting pattern. You will get all the mounting hardware in the package including the built-in bubble level. For getting the best viewing angle, you can tilt the TV up to 5 degrees downwards. This TV mount has an automatic safety lock to prevent the TV from a fall.
3. AENTGIU Stud less TV Wall Mount (26 to 55 inches)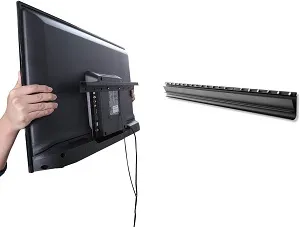 AENTGIU has one of the best budget no stud TV wall mounts for your flat TV. Despite the low price, it shows a remarkable performance and has been received well by the customers. It has 4.8 stars average ratings on Amazon by close to 3 thousand satisfied buyers. Let's know why!
This wall mount is ideal for your TV from 26 to 55 inches screen size. The solid steel construction gives it a reliable weight capacity of up to 110 pounds. It is safe to mount on the drywall too but the thickness of the drywall should be more than 0.4 inches. The TVs that come with VESA pattern mounting holes of 100×100 mm to 600x400mm can be easily mounted on them.
As no studs are required for mounting, the mounting plate stays very close to the wall and after the installation, does not show itself. The TV will be slightly tilted with only 1-inch clearance from the wall. That will save you a lot of space in your room.
You can install this wall mount within few minutes using small picture hanging nails. No damage is caused to the wall while installation. The first nail you hit should be at one side of the wall bracket. Then you can hit one at the other side according to the bubble leveler you get in the package.
4. Mount Plus MP-NS400 No Stud TV Wall Mount (22 to 55 inches)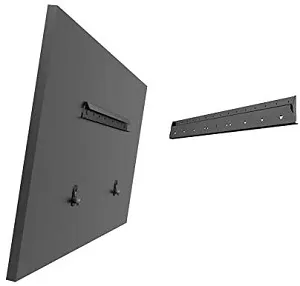 Mounting a TV on drywall can't get easier than this. This lightweight studless wall mount can be attached to your wall quickly without the help of any handyman or a partner. From the living room to the bedrooms and basements, you can mount your TV within minutes. You won't need any drill or studs with this.
This Mount Plus TV mount is best for small TVs from 22 inches to bigger sizes of up to 55 inches. The weight capacity offered is 70 lbs which seem low but most TVs in this size range are up to 50-60 lbs.
To purchase it for your TV, you should check if your TV has got VESA standard mounting holes of 100×100 mm, 200x100mm, 200x200mm, 300x300mm, or 400×400 mm. After you mount the TV, there is room for 3 degrees tilt. The safety lock mechanism in the unit makes sure that the TV doesn't fall on the ground in any case.
One concern we have here is the price. It isn't that much but as they have kept most of the things below the quality offered in the AENTGIU stud-less TV wall mount, the price shouldn't have been this much.
5. HYPIGO No Stud TV Wall Mount (26 to 55 inches)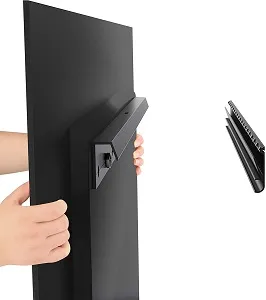 Here is another reliable wall mount to hang your TVs without any drilling or adhesives. You can mount your TVs on a concrete wall or drywalls without damaging them. It is for TVs from 26 to 55 inches and comes with an efficient size that isn't visible behind the TV but holds the TV pretty well.
HYPIGO studless TV wall mount offers heavy-duty performance with 80lbs weight capacity on the drywall and 300 pounds on concrete walls. The brackets are made up of high-quality alloy steel with no rusting and breakage chances. That makes mounting a TV top shelf possible without any risk.
You need not be an expert in using tools at home to mount this unit. The detailed instruction guide is on the package and using the bubble leveler, you can mount it within 10 minutes. HYPIGO also offers a full warranty and assurance of returning the product in case you are not satisfied.
6. Mount-It No Stud TV Wall Mount for Big TVs (32 to 80 inches)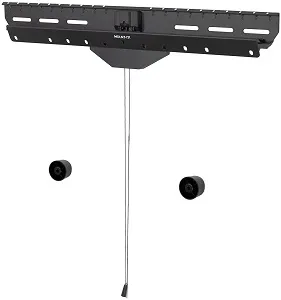 If you have looked for home and office equipment before, you might be familiar with the name 'Mount-It'. It offers a vast range of mounting solutions for TVs, monitors, speakers, projectors, etc, and other equipment like standing desks, footrests, whiteboards, etc. Here is a no stud wall mount by Mount-it for TVs of sizes from 32 to 80 inches.
This TV wall mount is made up of steel and can perfectly hold your TV for good viewing angles. It can lift up to 110 lbs with its heavy-duty construction. The carrying capacity has been tested with objects 4 times heavier and the mount stays secure on concrete as well as drywalls.
There are 2 brackets in the package. One goes on the wall and the other is attached to the TV. It has VESA mounting patterns of 200×200 to 600×400. After mounting, the TV will be 1.2 inches away from the walls. The two plastic bumpers in the package can be put under the TV for no tilt and a 5-degree tilting position of the TV.
7. ECHOGEAR No Stud TV Drywall Mount (32 to 77 inches)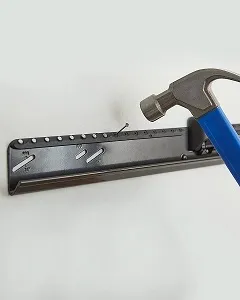 ECHOGEAR is well known for making innovative and good-quality mounting and power solutions. To mount your TV on the wall without drilling a hole, its studless TV is one of the best choices you have. It is compatible with TV from 32 inches to 77 inches that have VESA mounting holes.
The mount has a low-profile design and is hidden when your TV is mounted. The room looks spacious even after installing the TV on this slim mount as the TV gets only 1.18 inches away from the wall.
It will be tilted by around 5 degrees and that saves glares from the lights. But if you don't want a tilt, they give magnetic standoffs in the package that are put on the lower backside of the TV.
How to Install Your TV on a No Stud TV Wall Mount
One of the reasons people go for a studless wall mount is because it's much easier to install. Here are easy steps to follow to install a no-stud TV wall mount.
1. Open the package and identify the 2 different mounting brackets. One would be for mounting on the wall while the other one is attached to your TV.
2. Determine the area where you think you will get the best viewing angle from the place you sit.
3. The wall bracket has a lot of holes. Place the wall bracket on the wall and make a mark from the hole at one side and then on the other side. You can get the marking correct by using the bubble leveler that comes with all the TV mounts we discussed above.
4. Attach the wall bracket to the wall using small nails. These nails don't do much harm to your walls.
5. Put your TV upside down on the ground and attach the second bracket to it using the mounting holes. Also, connect all necessary cables with the ports.
6. Hang your TV on the wall bracket safely. Most no-stud wall mounts have a lock mechanism that stops the TV from falling in case of any mishappenings like earthquakes. You can enable this mechanism from wherever it is on your unit.
FAQs
1. Are no-stud TV wall mounts safe?
TV wall mounts of good quality are tested if they can withstand the weight of TVs. And for mounting the studless wall bracket, you have to use a lot of nails. Besides, a lot of them offer safety lock mechanisms. So, yes, no-stud TV wall mounts are pretty safe for your TV.
2. How to fix the tilt of a TV on a no-stud TV wall mount?
The tilt in wall-mounted TV is helpful as it makes a healthier viewing angle and also prevents the screen from glaring because of the lights. But if you want to keep the TV parallel to the wall, you can use some standoffs.
A lot of companies give them in the package but if you don't get some, you can use some wooden pieces, big erasers, small pen boxes, a tape holder, and even empty glue tubes. Basically, use any light object that is thin, will stay there, and won't damage anything nearby if it falls accidentally when you lift the TV sometimes unknowingly.
Buying Guide For No Stud TV Mount
Have you landed up on a lot of options for no-stud TV wall mounts? Well, getting a good studless mount is easy, at least easier than getting a swivel TV wall mount. Here, you have to look at fewer things and the number of quality TV mounts available is a lot.
So, how do you make sure you are choosing safe accommodation for your TV? Here is the list of things you must consider before buying a no-stud TV wall mount.
TV Size
Not all no-stud TV wall mounts are compatible with every size. You should consider the size of your TV before ordering a TV mount for them. If you have a small TV and you might upgrade soon, you can go for the mounts whose compatibility range is bigger eg. 32 inches to 55 inches or 32 inches to 70 inches, etc.
If you are not aware of the screen size of your TV, just get a measuring tape and measure from any one corner of the screen to its diagonal corner. That's the screen size of your TV.
VESA Mounting Pattern
A stud-less TV mount is only for flat-panel TVs. Almost all the flat TV makers now use the VESA mounting standard to make mounting holes on the TV. If your TV is from any popular brands like Sony, Samsung, Hisense, LG, Vizio, Panasonic, TCL, Toshiba, etc, it definitely has this pattern of holes. You should check its compatibility with the TV mount before buying it.
Lifting Capacity
It is one of the most important things in a TV wall mount but the least concerned you should be about. Almost all the TV wall mounts of good quality have enough lifting capacity for TVs. A TV of 40-45 inches weighs around 40-50 lbs and the TV around 70 inches won't go above 60-70 lbs of weight.
Most of the no-stud TV mounts have a weight capacity of more than 80-100 lbs. If you have special requirements like TV top mounts or your TV is exceptionally heavy, you should consider the wall mounts that can lift above 100lbs. You should also know that the lifting capacity of a wall mount is different on concrete surfaces and drywalls.
Wall clearance
Before buying a no-stud TV wall mount, you should know that these mounts do not offer much wall clearance. You will find some units that can go up to 1.2 to 1.5 inches of clearance and finding clearance beyond that is quite rare. So, if the ports on your TV are directed backward and not downwards, you won't be able to access them easily.
Well, low wall clearance with no-stud TV mounts is not such a big problem as you can always remove the TV from the mount within seconds and mount after attaching the cables to the ports.
Foam Pad at the back
People mostly buy a studless TV wall mount so that they don't end up damaging their wall. As there are two brackets in a studless mounting system, the one that is attached to the wall first should have a foam backing. This prevents the wall from getting damaged with the marks of that wall bracket.
Safety Mechanism
There are 2 types of safety mechanisms that you can look for in a no-stud TV wall mount. Firstly the safety lock mechanism, that locks the TV bracket and the wall bracket together. In case of sudden bumping, lifting or earthquake, the two brackets will not be separated and there will be no risk of the TV falling on the floor.
The second type is a security cable. It also does the same work of protection by holding the TV with a cable in case of a sudden mishappening.
Built-Material
Getting a no-stud TV wall mount with strong built material is important for the safety of your TV. High-grade aluminum and alloy steel are some promising materials for TV mounts. You can trust these materials for your expensive TVs.
Price
As the swivel or full motion TV wall mounts are very expensive, it makes sense to get no-stud mounts for budget reasons. Even if you want it for other reasons, you should refrain from spending a lot. You will find very promising quality no-stud TV mounts for 20-25$ on Amazon and other shopping sites.
Things in the package
Though mounting a no-stud TV mount is very easy and you can do it alone, you will need some small items to make sure you mount it properly. The most important thing is the bubble leveler. To get the perfect alignment while installing the mount, the bubble leveler is a must-have tool in the package.
It will be great if you also get 2-3 standoffs in the package. These are helpful in making the TV parallel to the wall remove the tilt if you don't want it. Other than this, you obviously need some screws to attach the TV and the nails to mount the wall bracket.
Conclusion
You might have noticed at a friend's house that the regular wall mounts don't compliment the looks of the TV or the living room. If you mount your TV on the no-stud mounts, they keep a low profile and aren't visible. All that you and your guests will be looking at is a nicely placed TV set on the wall. So from these, you can pick the best no stud TV wall mount that will be a safe house for your TV. All the best for a phenomenal TV viewing experience.