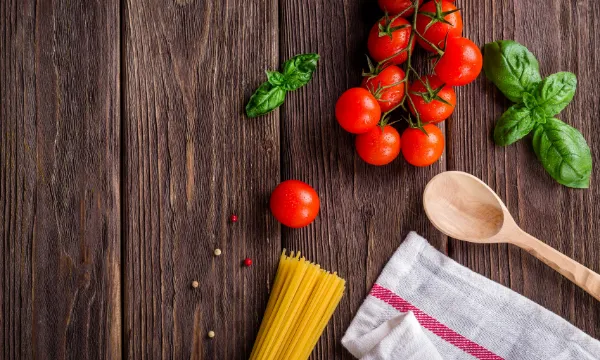 Installing a TV in your kitchen has become common across households now. Because, why should you miss your favorite shows or news programs just because you have to be in the kitchen?
Sometimes, cooking a meal can take an hour or two. When you have a TV in the kitchen you can better utilize the time and keep yourself updated with the latest trends in cooking, travel, fashion, sports, movies, shows, etc. You can also watch and learn to make tasty dishes through the TV.
We have examined some TVs that fit best in the kitchen and similar spaces. It is important that the TVs should have slim bodies to not clutter your kitchen and also they should offer the flexibility to be mounted on the wall or kept anywhere with the stands. From this list, you can choose the best small TV for kitchen with different features to keep you entertained while working.
Our Recommended Best Small TV For Kitchen In The Market
1. LG 22LJ4540 Full HD LED TV (22 inches)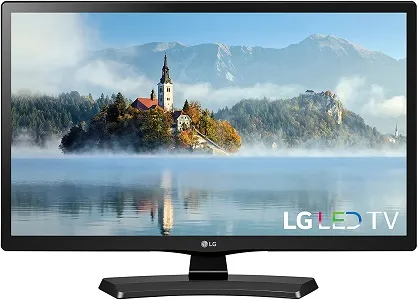 First, on the list, we have a TV from a reliable brand for your kitchen and other confined spaces. This is a 22 inches screen-sized TV (21.5 inches to be precise) with Triple XD engine processing for pictures. The 1080p images you get are of better precision than most small TVs you come across today. The contrast is deep and the colors are close to nature.
This full HD IPS display TV comes with LED backlighting which gives an enhanced brightness and exceptional clarity to the picture. LED TVs are also very energy efficient, so if you have people constantly in the kitchen area, switching on the TV for a prolonged period is not a problem.
The inputs include one ATSC RF antenna for cable TVs and an HDMI port. Using this port, you can connect the Blu-Ray players and gaming consoles. You can even connect your laptops and desktops and enjoy the high-quality video and sound. The refresh rate this TV offers is 60 Hz so you can enjoy some light action games, live sports, and animated movies in the kitchen.
The TV can be mounted on the wall as well as put on a stand. But as the ports at the back are pointed backward you will need a little space behind the TV when mounting. The viewing angles are good and did not experience that much problem when viewing from the sides.
2. Supersonic SC-1311 1080p LED HDTV (13.3 Inches)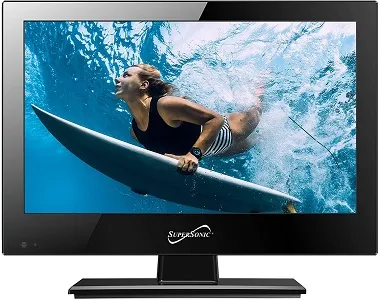 Supersonic has a lot of budget TVs in their store and this is a very small one to fit in very limited areas at your home. People get it for their kitchen, room for working, balconies, shops, security rooms, etc.
The TV offers a clear image of 1080p resolution with impressive details and contrast. The colors are not like big expensive TVs but still pretty vibrant and natural. You can try different picture modes to get the picture of your choice like Standard, Dynamic, User, and Soft.
It has got digital noise reduction so that you get detailed pictures from Cables and antennas without any flickers. The volume of the TV is decent and pretty audible from a distance of 5-10 meters.
There are rare TVs at this budget on which you get USB compatibility. This one comes with a USB port that makes it compatible with Amazon Firestick. So, you will be able to watch Netflix, Prive video, Hulu. HBO, Showtime, etc in your kitchen. The other input options include HDMI, VGA, RF, PC audio, etc. You can use the TV as a PC monitor too.
The screen size of the TV makes it portable and RV owners can find a good entertainment source in this. As it is AC/DC compatible and comes with a car cord, you can install this in your car too. People who want a small screen on their work desk can also consider this.
A very convenient thing about the TV is how its ports and buttons are placed. The input ports are facing downwards at the back and the buttons are on the top which makes them very accessible even when mounted.
3. Insignia NS-32DF310NA19 Smart HD TV (32-inches)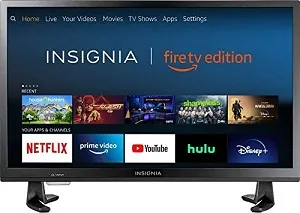 If you are looking for a small smart TV to view your favorite movies and web series in the kitchen, this is one of the best options you have. At a very pocket-friendly price, you can bring a branded media entertainment source to your kitchen.
You can keep it in the kitchen cabinet or even mount it on the wall. Unlimited content can be accessed through a built-in FireTV that integrates thousands of on-air channels with streaming platforms like Prime Video, Disney+, Netflix, Hulu, YouTube, etc.
This Insignia HD smart TV delivers a good quality picture with natural color and deep blacks. The contrast is also pleasant and all the details are clearly visible in the 720p resolution. The refreshing rate of 60 Hz makes it good for playing games and watching action sequences in the movies.
The TV runs on a quad-core processor, so you see the search results quickly and the surfing is also fast. Using the Alexa-enabled remote control, you can launch the apps, search shows, movies, play music, switch channels, and also control the smart home devices.
The remote control also has dedicated buttons for quickly accessing platforms i.e Netflix, Prime Video, HBO, and PlayStation Vue.
You also get a lot of connectivity options here like 3 HDMI ports, a USB port, composite input, digital output, ethernet for faster internet, etc. There are options to rename the inputs and set different picture settings for different connected devices.
4. LG Electronics 24LM530S-PU Smart TV (24 inches)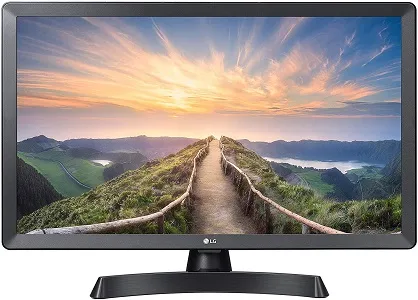 This is another small TV by LG, ideal for keeping in touch with all the entertainment while you are in your kitchen. It is a smart HD TV that runs on the WebOS platform. The picture quality is standard according to the price range and you get clear images with amazing contrast and resolution along with vivid colors.
The 3.5 smart webOS platform along with the built-in WiFi allows you to access a huge content library of major streaming platforms like Netflix, Hulu, Sling, Prime Video, etc.
If you want the flexibility of using the TV as a monitor, this TV works great. The web browser and screen sharing through Miracast and WiDi is another advantage of the webOS platform.
At the back of the TV, there are 75mm x 75mm screw holes of the universal VESA mounting standards. The hardware connectivity options are also at the back with the required space to mount the TV easily. There are 2 HDMI ports to connect your PC, Blu-Ray player, or the latest gaming consoles.
Using the composite inputs, you can connect CD and DVD players. There is one cable/antenna input and digital audio output as well. If you use it as a monitor, it has an ethernet port for high-speed internet. The decisive thing to buy the TV is probably its wide viewing angle vertically and horizontally.
5. Jensen JTV19DC HD LED TV (19 inches)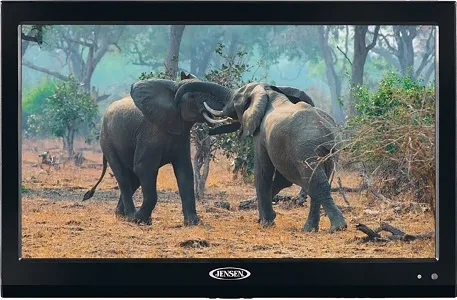 Jensen has this 19 inches screen-size TV specifically meant to be used at off-beat places like vehicles or small rooms. Its slim profile with rugged metallic and reinforced structure makes it safe to be used in your kitchen, gym, sports rooms, RVs, campers, yachts, motor homes, etc.
On the vehicles we mentioned, it can connect with the DC power without a problem. But for using it in the kitchen and other rooms at home, you will need a power inverter to connect to 120V AC. It has got the mounting points in VESA 100mm x 100 mm patterns to install on the walls.
This is a 16:9 LCD TV with a picture resolution of 480p to 1080p. With the integrated HDTV tuner, you can watch the OTA channels on the go for free. To connect your PC and gaming devices, you get the HDMI and the VGA port. The USB allows you to plug in external drives and watch your favorite content or listen to your downloaded playlist.
There is a 3.5mm audio output jack to connect your headphones. The sound and picture performances of the TV are as good as you can expect from a standard LCD TV.
You get a remote controller with multiple functions to control the TV. Though the TV is priced a little high in comparison to other small TVs, the utility it offers surely makes up for the price.
6. SuperSonic SC-2412 LED HDTV (24 inches)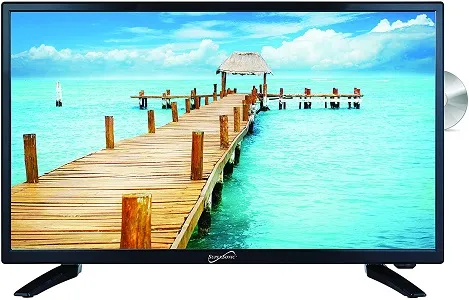 If you need a TV with a little wider screen for your kitchen, this 24 inches screen-size TV might be the right choice. With a crisp and detailed picture of 1080p, this SuperSonic TV comes with a lot of connectivity options.
The colors presented in the TV are better than in the 13.3 inches TV by SuperSonic we discussed earlier. You get more vibrant colors here with the right amount of brightness and contrast. It also has the digital noise reduction feature to serve the sound as well as images without any interruptions.
Though you can change the picture modes for a better watching experience, the viewing angle here is a problem. If you go far horizontally or vertically, the picture is not very clear.
If you are buying the TV for very confined spaces, this might not be a problem for you. Its slim shape and minimal bezels allow it to fit on your kitchen cabinets, or at a corner of the room.
As we said above, connectivity is at its best on this TV. It has multiple inputs and outputs to make it your entertainment hub. It has 1 HDMI input, 1 VGA input, and 1 USB port which is compatible with Amazon Firestick. Then it has PC audio and an earphone jack to enjoy the media without disturbing anyone.
The significant feature here is that it has an in-built DVD player so that you can enjoy your movies and songs albums in your kitchen. You can play the DVD, CD, CDR, CDRW, VCD, and SVCD on this.
This TV is also available in bigger and smaller sizes than this one and all of them have these features.
7. VIZIO D24f-G1 Full HD Smart TV (24 inches)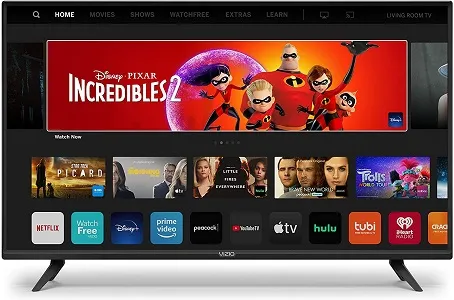 Vizio is a well-known American brand that makes TVs and soundbars. Their TVs have a very loud and crip sound that makes them best for viewing movies and shows and listening to music from varied distances at your home.
The D series TVs of Vizio are designed to provide the viewers maximum entertainment at a pocket-friendly price. This one with 24 inches screen size gives you an exceptional picture of 1080p resolutions. The contrast, brightness, and deep blacks are probably one of the best in this price range. The picture performance is enhanced by the full-array LED backlight that gives the screen superior light uniformity.
The SmartCast in Vizio TVs is another reason you should get this TV. It gives you the option to enjoy endless content from top streaming services and hundreds of free TV channels.
Top shows from the apps and channels are shown on an integrated home screen. The very convenient search bar allows you to search movies and shows across all platforms with few clicks.
You can cast your phone on the TV and all your favorite apps can be accessed, including the ones for gaming and video calling. The remote control of the TV has a minimal design with a voice button compatible with Alexa, Siri, Google Home, and Apple Homekit. Your smartphone can also be your remote controller to control the TV.
With the 2 HDMI ports and a refreshing rate of 60Hz, the TV is good for gaming too. It is easy to install the TV on your TV cabinet, kitchen cabinet, or on the wall.
Buying Guide For Small TV For Kitchen
Small TVs are ideal for a lot of places at your home like the kitchen, gyms, balcony, work studios, etc. As small TVs are available at low prices, most of them might be lacking some qualities you desperately need.
Here are few things to consider before buying a small TV for your kitchen and other small spaces.
Dimensions
The screen dimensions of small TVs are obviously small but additionally, if you are looking for a TV to be installed in confined spaces, it has to be a slim TV. You would not want a TV to clutter and engage the big part of your kitchen. Slim TVs can also be mounted on the walls if there is a lack of space.
Screen Resolution
Almost all the content produced today is HD quality. If you don't want to miss that quality, you should check the resolution of your TV should be at least 1080p. However, if you are low on budget, 720p is also good for small screens. You will be busy with the work most of the time anyway.
Viewing Angles
This is probably the most important thing to look for in a small TV for kitchens. Unlike in your bedroom or living room, you will not have a fixed spot to watch the TV there. So the TV should have wide viewing angles to let you enjoy from left and right.
Smart TV
If you are planning to watch OTT content in your kitchen, you should buy a smart TV. There are a lot of TVs that come with Fire Stick compatibility but it can't be guaranteed that they will work smoothly like a smart TV.
On a smart TV, you can also watch YouTube and learn different recipes. But if you are okay with over-the-air channels too, then normal LCD and LED TVs are fine too.
Connectivity
TVs with more types of ports offer more integration with different sources of media entertainment. The built-in WiFi is for online content and Bluetooth connectivity is essential to enjoy music on wireless speakers. The HDMI port allows you to connect gaming consoles, laptops, and PCs to your TV. The RCA output is for connecting your CD and DVD players.
One of the most useful outlets you need is the RF connector for watching channels on cable TV. Also, check for the USB outlet that lets you enjoy the downloaded content from your external drives.
Warranty
It is always good to ensure financial security before buying an electronic product. You can check the warranty period and after-sales policy of the brand before finalizing your purchase of a small TV.
Small TV vs Big TV
Are you confused about the screen size of the new TV you want to purchase? Here are a few deciding factors and reasons you should consider before choosing between a small TV and a Big TV.
Space
While a big TV will look great in your living room, the same can't be said for small places at your home. With a small screen, you do not have to worry about space and installation.
Budget
It is kind of obvious that a bigger TV costs you more but that cost is justified. The movies, shows, live telecasts, etc look more lively on bigger screens.
However, you can get all the entertainment on small TVs too at a much lower price. The saved money can be used in other entertainment options like speakers, different OTT subscriptions, TV cabinets, etc.
Connectivity
Connectivity in both the big as well smaller TVs are similar and it depends on the brand. But if you have a lot of high-end devices to connect like gaming consoles, Blu-ray players, PCs, etc, bigger TVs have more HDMI outlets for that.
Sound
Bigger TVs can accommodate bigger speakers. If you raise the volume, they still give you a crisp and detailed sound. Smaller TVs on the other hand offer a limited sound capacity.
TV For Kitchen – FAQs
Should you put a TV in the kitchen?
Absolutely. There are a lot of benefits of putting a TV in the kitchen. You can start your day with the news while making breakfast or groove to the latest tunes.
If you are the only person who cooks in your home or you live alone, you spend at least 2-3 hours every day in the kitchen. You can utilize this time by watching the shows and movies you'd watch later.
Where should a TV be placed in a kitchen?
It largely depends on the size and the availability of space in the kitchen. If it is a little congested, the best thing to do is to mount it on one wall or a corner in the kitchen. You should also determine the spot where you spend the most time in the kitchen and the TV should have a good viewing angle from there.
For watching the TV from different angles, you can mount it on a full-motion TV wall mount. If there is no place for a wall mount, the least engaged kitchen cabinets are also a considerable option to keep the TV using the stand. A lot of people also tuck their small TVs on the shelf which ensures their safety.
What is the best size for a TV in the Kitchen?
You can get a TV from 15-19 inches to 22-24 inches for your TV. To choose the most suitable size TV for your kitchen, you should determine the empty space you have for the TV. If you have a plain wall, you can go for the bigger sized TV and mount it.
Conclusion
Hope you are able to find the best small TV for kitchen and other places with limited space. If you want some portability, the SuperSonic TVs offer you that very well. But if you need something more reliable and long-term entertainment center to be installed in the kitchen, the LG 24LM530S-PU smart TV, the Insignia NS-32DF310NA19 Smart HD TV, and the VIZIO D24f-G1 Smart TV are equally good.
Getting a good, small smart TV for the kitchen won't let your cooking time be a tiring one.