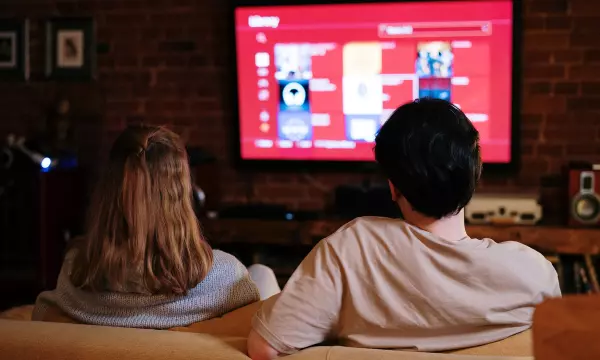 As smart TVs have become paramount in households these days, they are getting very expensive. Smart TVs make it easy for you to access all the media content from TV as well the internet in one place. But it is really not easy to find a decent TV for under the budget as low as $200.
Where to find good smart TV under 200 Dollars?
A lot of TVs lack one or the other quality that makes you regret your purchase. But if you are searching for an entertainment hub in form of a good budget smart TV, you are at the right place.
After analyzing different TVs from reliable brands, we have made this list of the best smart TVs under $200. These all are available online and after watching their specifications, you can choose the best one for you.
These TVs come with all the qualities that a TV enthusiast would want in their budget purchase. We have mentioned their functions and all the reasons why you should buy them.
Our Recommended 7 Best Smart TV Under $200 Reviews In 2023
1. Hisense 32H4F Smart TV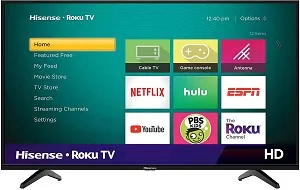 Hisense is one of the leading TV makers worldwide. This is one of the best budget TV you will find under $200. It gives you a maximum of 720p picture quality with its 32 inches screen size. The H4F series TVs of Hisense are known for their streaming service, cable, satellite, gaming, and OTA TV technologies. The in-built Wi-Fi allows you to enjoy the awesome quality content with the TV's smart Roku TV platform.
It has a motion rate of 120-image processing that lets you watch sports and fast-paced action scenes in the movies without any lag. The image is shown is crystal clear and there is no motion blur. For clear and detailed sound, it has got DTS TruSurround technology. This technology is known for its 5.1 channel high definition surround sound using two speakers.
The home screen on this Hisense 32H4F TV is very simple and easily accessible. In addition to that, the multi-function remote control gives you access to reach your favorite channels and streaming platforms with one touch. The batteries are included in the package.
You can also control the TV with your phone (iOS or Android) through the Roku TV remote app. This TV is compatible with Amazon Alexa-enabled devices and Google Assistant so that it can also be controlled through your voice commands. Through voice commands, the TV can be switched on and off.
Using the Miracast, you can mirror your devices like phones, tablets, or laptops. For mounting the TV, you have VESA measurements holes at the back of 200 x 200-millimeter.
2. VIZIO D-Series 720p Smart TV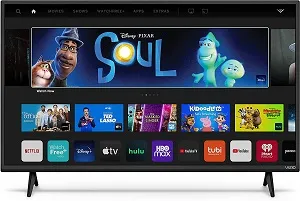 Vizio is popular in America for making budget TVs and soundbars. This is a 32 inches TV that you can install in any room or corner in your house like the kitchen, gym area, bedroom, living room, etc.
It is from the D series that comes with a SmartCast home screen to bring you content from Netflix, Disney+, YouTube, and various other streaming platforms in one place.
You get recommended content from all the apps according to your interests on the homepage. The trending shows and movies are also shown at the top from all those streaming apps. The IQ processor of Vizio TV lets you watch all this content seamlessly with faster navigation and loading time.
This TV is equipped with a Full-Array LED backlight which means the light is evenly distributed across the screen and you get outstanding color consistency and edge-to-edge picture clarity. The picture quality is supported by the high-definition 720p image resolution of the TV.
If you are a regular TV viewer, the WatchFree+ service is probably the best thing on this TV for you. It is like cable TV but it is free and you can watch hundreds of TV channels live without any subscription fee.
Controlling the TV is also very convenient here. You can either use the remote control that has shortcuts for major streaming platforms and the WatchFree+ service or use the SmartCast phone app from your iPhone or Android devices.
You have voice controls on the app and this LED smart TV is compatible with Amazon Alexa devices, Google Home, and Apple Homekit.
3. TCL 3-Series 720p Roku Smart Television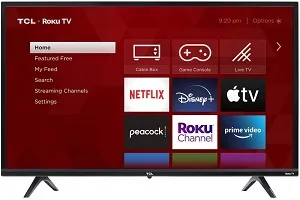 Here is one of the best smart TV under 200 dollars and probably one of the most popular budget TV in the market. Around 60 thousand buyers on Amazon have shown satisfaction for the TV with an average rating of 4.6 stars. And trust us, the TV deserves all this praise.
The features of the TV are the best in the range. You get 720p high-definition resolution with impressive details and amazing color and contrast ratio. By spending few dollars more, you can get the 1080p variant as well. But for a screen size of 32 inches, 720p is decent picture quality.
With the in-built Roku TV intuitive interface, you get around 500,000 movies, web series, and TV shows. This interface allows you to quickly search for anything to watch using its title and director's and actor's name as well. The TV has dual-band Wi-Fi so that you can watch all the content without any interruption.
The built-in tuner also allows you to watch a lot of over-the-air channels for free. External devices can be added to the TV using the 3 HDMI ports, 1 USB port, RF and composite ports, Headphone jacks, and optical audio out.
Like other TVs with the Roku TV platforms, it can be controlled through remote control as well as a Roku TV phone app.
This is a 32 inches screen-size smart TV with a thickness of only 2.9 inches. It weighs around only 8 lbs so shifting and transportation is not a problem, especially with the movable TV stands. The TV is compatible with VESA mounting standards but you will have to buy the mount separately.
4. Hisense 32H5500F Android TV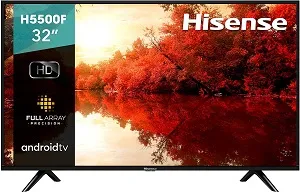 If you are looking for a TV that can run most of your favorite Android apps smoothly, this is the TV you should consider. With innovative technologies and built-in WiFi, this is another good smart Television by Hisense.
The clear 720p picture quality lets you enjoy streaming services, cable services, satellite services as well as gaming. It also supports the broadcast of free over-the-air TV.
As we said, the TV is a good option for gamers because of the 120 motion rate for image processing. The pictures do not lag and you get a clear picture in fast pace scenes. That makes it ideal for action movies and sports as well.
This Hisense Android TV houses 6-watt speakers with DTS studio sound to release very clear and enjoyable sound. You can connect to soundbars and headphones wirelessly using the built-in Bluetooth technology. But few buyers have complained about the sound being irregular. By paying a little more, you can get good quality Hisense soundbar in the package.
For input and output connectivity, you have 2 HDMI ports, 1 Ethernet port, and 2 USB ports which is great in this price segment. In addition to this, there is 1 optical digital audio output and 1 RCA composite video input. There is a headphone jack as well for gamers to enjoy gaming without disturbing others.
Remote of the TV comes with batteries and has got a lot of one-touch commands especially for going to your favorite streaming platform's home page. It is enabled with voice commands through Google but some buyers have complained about it being inefficient.
The TV is 2.9 inches thick and is (100×200 mm) VESA mount compatible. You also get a TV stand and screw if you want to keep it on a TV cabinet. Other things included in the package are a power cable, a quick start guide, and 1-year manufacturer warranty card.
5. LG 22LJ4540 LED TV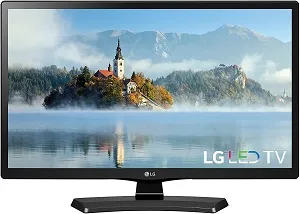 If you are looking for a very pocket-friendly TV for confined spaces, you will surely like this LED TV by LG. This is not for people who would want to watch the streaming services' content on their TV. But it has got all other qualities of being a good entertainment hub.
It has got 1 HDMI port and 1 ATSC RF antenna port for Cable and OTA antennas. Using the HDMI input you can connect high-definition sources like computers, Blu-Ray players, and even the latest video gaming consoles.
This TV has a full HD display of 1080p picture quality which is difficult to find in this price range. To further enhance the performance of the display, it has got IPS (in-plane switching) technology. The response time with fast scenes is quick and the color reproduction and contrast are pretty viewable from a lot of angles.
It has got Triple XD engine to process the images with utmost precision gives you a lively picture with natural colors. The LED backlighting of the TV delivers amazing brightness and image clarity. In terms of electricity consumption also, LED monitors are more efficient than LCD monitors.
6. Insignia NS-39DF310NA21 Smart TV – Fire TV Edition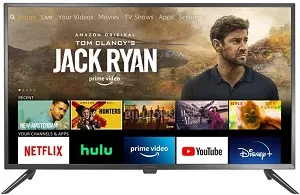 Here is another buyers' favorite budget smart TV by Insignia. Nowadays it's very difficult to find a 39 inches smart TV in this price range. This TV features Fire TV by Amazon so that you can have access to endless content from so many streaming platforms like Amazon Prime Video, Netflix, Hulu, Disney+, YouTube, etc.
Free over-the-air TV is also integrated with these platforms to give you a unified home screen.
All the Alexa skills can also be used through the voice control remote. The remote has important keys but using the voice commands you can launch different apps, search the shows and movies you want to watch, play music and also regulate your smart home devices.
This Fire TV edition can be truly utilized by using the integrated apps and the voice controls at the same time. Eg, If you want to watch something funny, just press the voice assistant button and say "stand-up comedy", "Comedy Movies", "Comedy Drama", etc and you will see hundreds of results from all the streaming apps and channels at one place.
You can enjoy all this content with the HD picture quality of the TV that gives out fabulous color and contrast ratio. Another good thing about the TV is its quad-core processor and multi-core GPU that makes it very responsive in following commands especially the search results.
As it is a smart TV, it is pretty obvious that it has got built-in Wi-Fi connectivity. Other connectivity options include 3 HDMI inputs, 1 USB port, 1 audio line out, 1 composite video input, and a headphone jack. There is an option to customize the picture settings for each connected device separately.
7. Toshiba 32LF221U21 Smart HD TV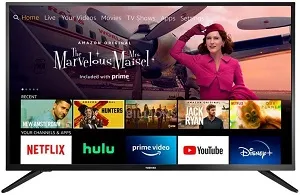 If you are looking for a budget Fire TV edition TV from a reliable brand, you should have a look here. This TV comes with pretty decent looks and except for the screen size, it has a lot of features similar to the Insignia NS-39DF310NA21 Smart TV we discussed above.
The Fire TV operating system makes it a good choice for people who want the best of all the content available on popular streaming services and channels. You will have access to around 500,000 web series, movies, and TV episodes through a TV with very convenient control options and splendid picture quality.
It has the same Fire TV remote that we mentioned earlier with a voice commands hearing button. There are shortcut keys to reach the home page of Amazon Prime Video, Netflix, HBO, and Hulu.
You will see the pictures in 720p resolution which means the TV won't support HDR videos like most of the TVs in this list. The colors are nicely balanced and the contrast is also a little above average. There is not much input lag and it is a good TV for gaming as well.
For connectivity, the TV has 3 HDMI ports, 1 USB port, and 1 optical audio output. There is also an ethernet port that will be great if gamers that play games with high data consumption. Then you have an antenna/cable connector for using the Cable TV.
This 32 inches smart TV can be mounted using the VESA mounting system. It is 3.4 inches thick and if you use the stand that comes in the package, it gets around 8 inches. There is a quick setup guide with the TV.
Conclusion
When purchasing a budget TV, you don't have to compromise with the quality. Why would anyone want to look for a new TV after every 1-2 years. So, these were the 7 best smart TVs under $200 that will entertain you for a long period of time.
We personally liked the TCL 3-Series 720p Roku Smart TV and Insignia NS-39DF310NA21 Smart TV with Fire TV because they house some of the latest TV technologies. The Hisense 32H4F smart TV with the Roku TV and the clear picture and sound would also be a wise choice to make. Almost all the TVs on the list provide great value for money but you should choose the one that fits your watching habit.