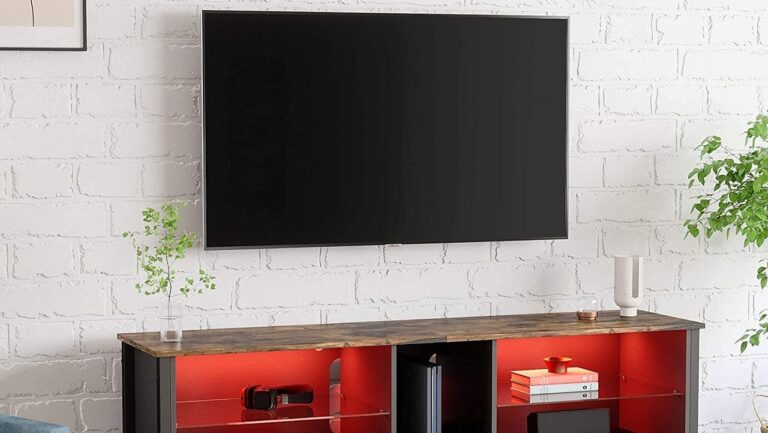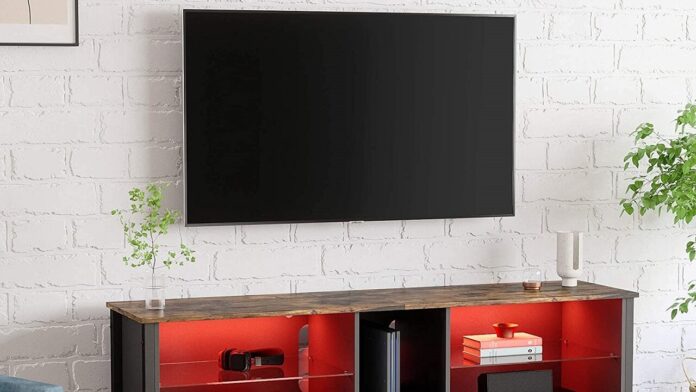 Is it getting tough for you to decide the best place for your new TV? If you are stuck in making a choice between wall mount vs TV stand, we have sorted it all for you.
We all know TV stands can have much more utility than wall mounts. But there are other deciding factors at stake. For watching your favorite TV shows there has to be a proper space and TV viewing angle too. We are going to discuss all the differences that make one of them more suitable for you.
Factors Considered In Wall mount Vs TV Stand Comparison
Installation
Budget and Maintenance
Cable Management
Convenience and Portability
Space
Safety
But before going head to head on the above issues, we need to have a brief look on both – wall mount and TV stands.
TV Wall Mounts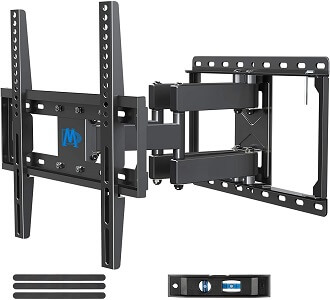 As the TVs evolved from those big bulky boxes to flat screens, it was easy to place TVs anywhere in the room. Wall mounting a TV means attaching it to any wall at your home. It is mounted on some height, usually above the level of TV stands. Wall mounting became popular for rooms with limited space and no place to put a TV entertainment center.
Nowadays almost all the standard brands are adhering to VESA wall mounting system. So, you will easily find a wall mounting stand for your TV. The process of mounting also takes some time and a handyman will be needed. Depending on your choice, there are different types of TV wall mounts.
The flat wall mount is static and you have to choose the position carefully before finally installing it. The swivel or tilting wall mounts allow you to adjust your TV and turn in a different direction when you see the reflection on the screen. For large TVs in large halls, there are also full-motion wall mounts that come with many angular motion options.
TV Stands or TV Entertainment Centers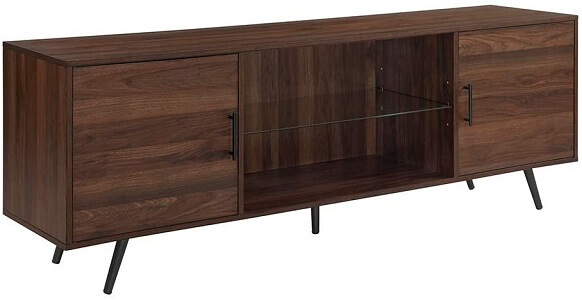 TV Stands were probably there since the beginning. They are mostly meant for the rooms where you can afford to dedicate a spot for placing your TV. Almost all the TVs come with a base so that they can stand upon the entertainment center.
Unlike wall mounts, TV stands are available in a vast range. You can set up the TV unit depending on your usage.
Simple stands are available in the market with only 1 shelf to place your TV with some TV essentials. If you have a lot of media devices, gaming consoles, gadgets, etc., you will find many TV units that can accommodate all of them. People use these TV units also for placing books, lamps, house plants, etc.
Wall Mount Vs TV Stand: Head To Head
Now we will take all the aspects to determine the choice between Wall mounts and TV stands.
Installation
Installation of a TV stand is easy. Depending on the size of the stand, your seller will deliver and place it in your room. Installing the TV on the TV stand is just simply placing it on top. Many TV units are delivered to your home unassembled but you don't need special skills to assemble them. The instruction manual will make it very easy for you.
Wall Mounts, as we discussed, can't be installed easily. You have to drill holes on the wall in a perfect ratio to screw spaces for the wall mount. Then attach the mount bracket to the wall and the mounting plate to your TV. Then with help of the screws, join them together. You just can't do it alone. If you do not have prior experience in drilling holes and mounting things, we would advise you to get it done through a handyman. TV wall mount installation can take half an hour to 2-3 hours.
Budget And Maintenance
No doubt, TV stands or TV units cost much more than the wall mounts. There is no bar on the budget of TV stands. They are available in so many designs, styles that you will find below hundred bucks to thousand dollars. Some TV stands are part of the home décor and are part of the furniture family.
TV wall mounts on the other hand have only one utility and come in simple built, so they are far cheaper than TV stands. If budget is your only concern, a wall mount will be the most suitable option. The TV looks decent on the wall not impacting the interiors much. If you go for cheap TV stands, it won't go well with the looks of your living room.
If we talk about maintenance, there is not much you have to do with the wall mounts. Just do dusting once a while and if it has a swivel, oil its joints once a year maybe. TV stands demand little more than that. Firstly, you have to remove the settling dust once or twice every week. Then it has a risk of going through wear and tear depending on the usage.
Cable Management
It is a little tough to manage cables in wall mount TV especially if you want to place other media devices in your TV area. If you do not hide the cables properly, it might spoil the appeal of your room. You can also get those cables installed permanently on the wall or go for some efficient cable management options.
There is not much problem with managing the cables on TV stands and most of them have dedicated holes for passing the cable and space for storing extra cable. But for handling many devices and not make a mess of wires above the stand, you can use the cable raceway.
Convenience and Portability
Convenience can be measured in many terms between these two things. We already know that for maintenance and budget, wall mounts are better. But TV stands offer much more convenience. Firstly, you easily reach all the ports on the backside of the TV. Secondly, you can shift your TV to the other room quickly along with the stand.
Wall mounts do not offer any portability. The biggest problem is you can sit at only one viewing angle if the wall mount does not have a swivel. Also, to move it to another room, more efforts are required.
Space
Though we all know the outcome here is important to throw light on few things. People generally think that mounting the TV on the wall will save their space no matter what. But you will still need a place to keep your TV essentials. Besides that, the space below the mounted TV can't be used for sitting or working purposes.
However, we are not denying the fact that for small rooms, wall mounts will be most suitable. For living rooms, if you want to make it more spacious, there are two options for you. You can mount the TV on the wall and get a small desk or stand for the essentials. Or install a wall mount TV stand that has a place for your TV essentials as well.
It is important to note that though TV stands occupy more area, they can also save your room from getting messy. If designed efficiently, they can house almost all the things that you find in people's living rooms. So, in a way, they actually save your space as you get to keep you books, handbags, DVD collection, gaming consoles, phones, tablets, laptops, chargers etc.
Safety
Here is a major concern you have to deal with before reaching a conclusion. If you have kids and cats at your home, TV stands won't be that safe for your TVs. Wall mounts are at a height, very firm and reliable options in such case. The chances of accidents are minimal and your TV is will be protected for years.
Conclusion
So, if we summarize our comparison of TV stand and the wall mounts, these are the areas where TV wall mounts win:
Here are few things where TV stands can't be defeated in:
Utility
Convenience
Interior designing
Installation
Cable management
If your room has ample space, we would any day recommend you to go for good TV stands. But to pick the best of both sides, a lot of people go for both things.
You can get a TV entertainment unit and then mount your TV slightly above it. Safety is ensured and all your essentials will be organized. But remember, that won't be pocket-friendly and viewing angles and portability will be compromised. We hope the comparisons in this article helped you in deciding the best one for your TV and the living room.