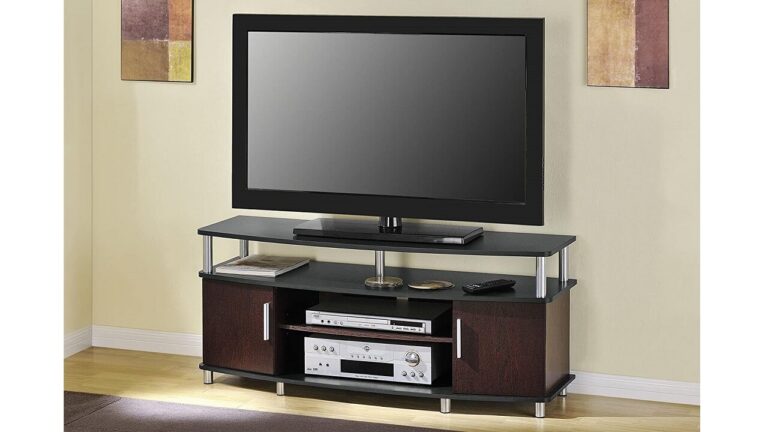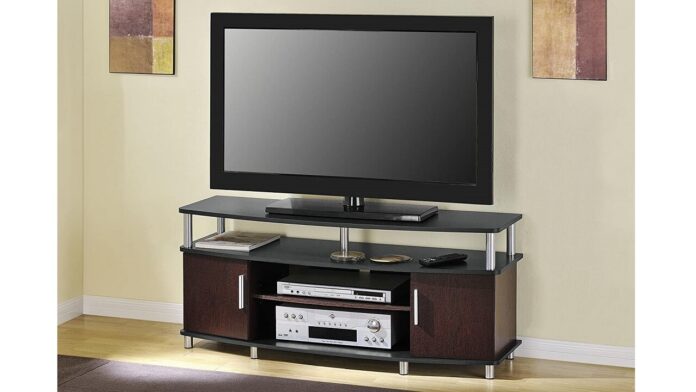 Are you looking to upgrade the entertainment center at your home? For that, you need a good quality TV stand with all the required qualities. The utility of TV stands these days is much more than just being a table to place your TV.
They are a prominent part of the interior design, especially of the living room. Most of them are also meant to keep some of the TV essentials and other things.
A good TV stand must provide a safe space for your TV with a correct viewing angle. As the TV center at our home is a place for all the members to gather and have fun, the stand should also be able to cater to their needs of storing some regular stuff.
They would want to place their books and their daily essentials like chargers, laptops, watches, phones, etc.
Where do you find the best TV stand for your 50 inches TV?
There are a lot of amazing TV stands online with a varied range of utilities. But it is difficult to choose the best from them.
In this article, we have reviewed 5 TV stands that will keep your TV safely and most of them offer space for all the TV essentials and household things including decorative items.
Some of these TV stands have different variants so that you can choose according to your priority and budget.
Here are the most useful TV stands for your 50 inches TV that will also be helpful in organizing your living room.
1. Ameriwood Home Carson 50 Inch TV Stand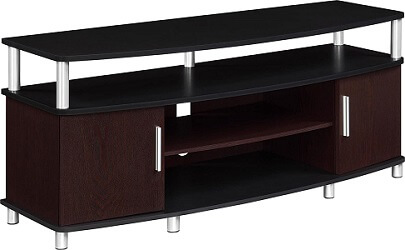 Ameriwood Home Carson TV stand will help you make your living room look lively. It has got around 4.5 average star ratings from thousands of customers on Amazon and its features, rightfully justify that.
This TV stand is made up of laminated oak woodgrain particleboard with alluring black metal accents. What adds to its style is the Sonma oak finish. It will suit most interior setups.
This TV stand has got a great combination of open and closed shelves. There are 2 big open shelves in the middle and 2 small closed shelves on each side.
But what makes it stand apart from all other TV stands is that there is huge open space below the top shelf.
This open space can be utilized for keeping your remotes, media boxes, routers, DVD players, etc.
Because of the open shelf, cable management in this TV stand is very easy. Not just this, the increased height of the TV shelf due to this upper shelf, results in giving you an amazing viewing angle.
If you are confused between a wall mount and a TV stand, this stand will surely be a tie-breaker for you.
Ameriwood Home Carson TV stand has a total capacity of lifting around 250lbs of weight. All the shelves are capable of lifting your gadgets and decorative pieces easily.
The top shelf can hold almost all types of TVs with a screen size of 50 inches to 70 inches. So if you decide to upgrade your screen size from 50 inches in the future, you wouldn't need a new TV stand for that.
2. PERLESMITH Universal TV Stand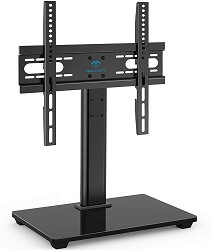 There are a lot of TV stands or cabinets with a low height. The biggest problem with them is the viewing angle and if your sofa has some height, it becomes indeed a serious problem.
Then there is the safety concern too. This universal TV stand-by PERLESMITH solves all your problems about viewing angle.
It features VESA standard mounting so it is compatible with almost all flat-panel TVs from 37 inches to 55 inches.
Though it is a universal design, ideal for big brands like Samsung, Sony, LG, Insignia, Haier, Toshiba, Vizio, TCL, etc, we advise you to check its description on Amazon for compatibility with your TV.
The mount is made up of durable steel that is capable of carrying TV up to 80-85 lbs. The base is made up of black tempered glass which goes well with your interior setup.
There is a trend of floor settings in so many rooms these days. So this stand is suitable for such setups as well. But for that, you will have to consider the safety of your TV as well.
PERLESMITH universal stand has adjustable height so that you can adjust it according to your sitting arrangements.
Installing the stand is quite easy with few steps. You get an instruction manual in the package.
3. Walker Edison Wren Classic 4 Cubby TV Stand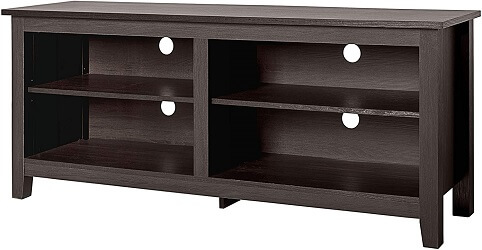 Here is one of the simplest yet highly rated 50 inch TV stands by Walker Edison. On Amazon, more than 20 thousand people have given an average rating of 4.6 stars.
It has got 4 wide shelves with enough space for all your TV room equipments and other items. There is another variant of the stand which comes with a fireplace. Some bigger variants have 6 shelves if you do not want the fireplace.
This TV stand has a length of around 58 inches so it is a perfect base for your 50 inches TV. The top surface can hold up to 150 lbs.
At the back of each shelf, there is a hole. So, you can choose to keep your DVDs, streaming boxes, or other electronic gadgets and can neatly pass the cable to the power supply without expopsing the cable.
This TV stand comes in a lot of attractive colors. You can choose according to your room esthetics. You have color options like Barnwood, Driftwood, Espresso, Charcoal, Dark Walnut, Rustic Brown, White, etc.
This is indeed a good budget choice. It comes ready-to-assemble with an easy assembling guide.
4. Ameriwood Home Farmington Electric Fireplace Console 50″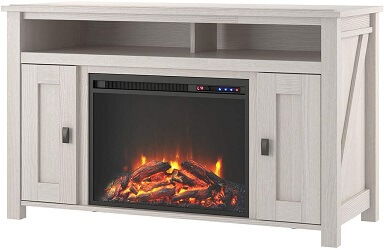 If you are looking for a small 50 inch TV stand, perfect for a minimal setup, consider this one. Here is a decent-looking TV stand by Ameriwood Home. Despite its size, it has ample storage space for cable boxes, remotes, DVDs, and books.
There are two close shelves on the sides and two wide-open shelves at the top. In the middle, there is an electric fireplace. The weight capacity of the top shelf is only 55lbs.
This TV stand is made up of laminated MDF and particleboard with a weathered brown finish. It will stand the test of time and the rustic appeal makes it look decorative.
You have 4 attractive colors to choose from – Black Oak, Ivory Pine, Natural and rustic. Talking about variants, you can even go for the bigger size with the same design.
A lot of people do buy it because of the fireplace that is capable of heating area up to 400 sq. feet. As the fireplace is electric, you also get a remote with the stand.
Other than on/off, the remote has options like controlling the flames, temperature, and also a timer button.
The assembling of this TV stand is a little challenging so you will need at least 2 people for it.
5. Walker Edison Traditional Wood Universal TV Stand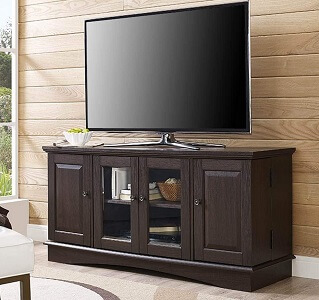 This TV stand by Walker Edison has an old, rusty look. If you are planning for a vintage makeover of your living room you might like it.
The build material used here is laminate and high-grade MDF with a beautiful texture finish. It is perfect for TVs from 50 inches to 65 inches. You can get this in other sizes and in colors like espresso, traditional brown, and black.
Its built design is something to look for. There are 4 cabinets with 12 shelves. The side cabinets have shelves attached to the door. So, this TV stand gives you ample space to organize things in your living room.
The middle two doors are transparent, to allow you to keep some decorative items or books for accessing quickly. The shelves inside these doors are adjustable.
There are cable management holes at the back. This TV stand can lift a total weight of 250lbs.
So, if you are looking for a TV stand that has many shelves and the capacity to hold a lot of TV essentials and your regular stuff, this is the one to go for.
Conclusion: Which is the best one?
Out of all the TV entertainment centers and stands we reviewed, the last one i.e. Walker Edison Traditional wood stand really impressed us.
It has got a very classy look and vast space that will be able to accommodate your gadgets, books, decorative vases, etc. The adjustable shelves with transparent doors also add to its utility.
Other than that, if you have already got a TV entertainment center of your own and just looking for a support stand, PERLESMITH universal TV stand with table mount is the best option you have.
If you live in a place with a cold climate, Ameriwood Home Farmington TV stand with a fireplace will prove to be very useful for you.
Before buying a TV stand, you should determine and check its length and weight capacity. It is also important to choose a stand that will blend perfectly with your living room.
Most of the TV stands we discussed above have different variants with colors and, more shelves and sizes. You can check them as well.
FAQs
Why do you need a TV stand ?
Sometimes it comes to our mind that buying a TV stand is just a waste of money and addition of bulky furniture to your room.
But a stand can have much more utility than you think. Here are some reasons why you should buy a good TV stand for your TV.
Safety – The most important reason to choose a TV stand has to be the safety of your TV. TV stands are specifically designed to give your TV a stable position so it does not wobble or fall.
The TV stands are very firm and they won't move if your kids or pets try to do so.
Home Decor – If you keep your TV in a living room or anywhere your guests sit, placing the TV on a wall mount or a simple table just doesn't look that good.
A good TV entertainment center enhances the interior design of your room and makes it more captivating.
It is worth mentioning here that a TV on a well-placed wall mount along with a good TV stand below it, will be a great decision you will make for your home decor.
Viewing Angle – With TVs being the hub of entertainment with the flood of various OTT platforms, binging movies and shows have become common.
To watch the TV for such long hours, not have a good viewing angle can put a strain on your neck as well as eyes. TV stands are designed to provide a safe viewing angle at your eye level.
Organizing Stuff – Why would anyone want their living room to be cluttered? And that is bound to happen if you do not have a dedicated space for your TV essentials and gadgets you use in that room.
A good TV stand has a lot of space where you can put your streaming devices, gaming consoles, Blu-Ray players, chargers, laptops, phones, books, magazines, etc.
Apart from being a TV enthusiast, if you are a reader, you should get a TV stand with storage for books. If you are a lazy reader, you won't lose sight of your books if you place them under your TV.
Jokes apart, it will surely boost your productivity. Also, to make your room look more attractive, you can put decorative items on the stand.
Affordability and easy installation – You get TV stands of all budgets and at very pocket-friendly prices as well. Considering so much utility, the price you pay for these stands is totally worth it.
Most of these TV stands can be installed easily in your room. If they come unassembled, the assembling guide that comes with them is going to help you for sure.
Which wood is best for TV units and stands?
Wooden TV stands put a fabulous touch on the interior design of your living room. When it comes to the best material, Sheesham wood is a winner in terms of durability.
But it can be very expensive. The second-best options are engineered wood i.e MDF, Oakwood, teak wood, etc.