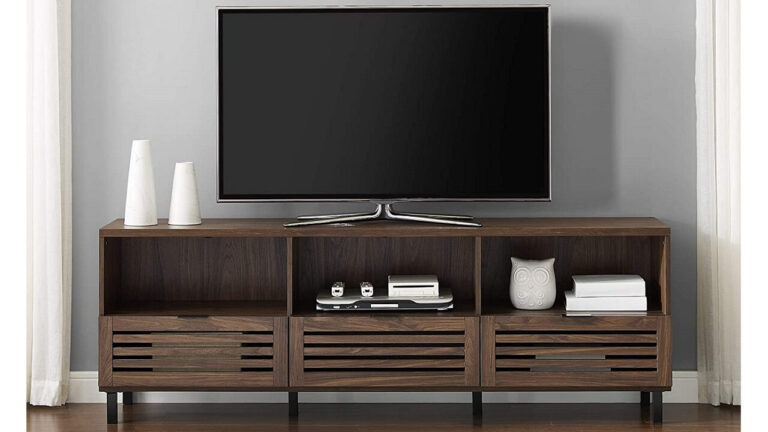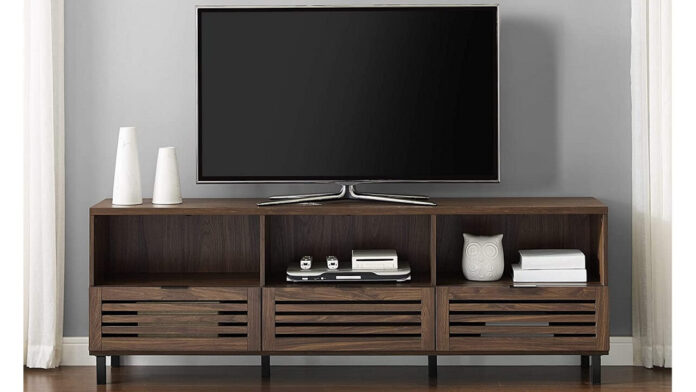 The living room with a TV is the main gathering spot in most homes. To set up a TV room as an entertainment place, the first thing you have to do is organize the TV area.
Your TV should be placed safely and all TV essentials should have definite space for themselves for quick access.
TV entertainment centers or TV stands play an important role in implementing this setup. Apart from housing the TV and its essentials like remotes and streaming boxes, these stands can be used for keeping books, magazines, linen, indoor games, vases, and other decorative items.
List Of Best TV Stand For 75 Inch TV
Now, finding a TV stand for a TV as huge as 75 inches screen size is a challenging task. If not chosen wisely, it can totally look out of the place with such a big screen over it.
There are a wide range of TV stands and cabinets available online. In this article, we have listed the best TV stand for 75 inch TV that can go with many living room setups.
They are made differently to cater to the various needs of viewers. The TV screens are measured diagonally (Source), so a 75 inches TV can be elegantly aced on a TV stand with 70 to 80 inches or more in length.
In the end, you will also get to know how to choose the best TV stand and not end up with a mismatch for your 75 inches smart TV.
Here are the stands we see fit in most of the criteria for setting a good TV unit.
Made up of MDF, this is a wide TV stand with decent space. It has a height of around 24 inches and a length of 70 inches. You can put up to 150 pounds on top of it.
Depending on the type of setup you want, there are 2 models of this TV stand. They both have got 2 shelves on each side with see-through doors. The difference lies in the middle as one model has a fireplace between the shelves and another one has two extra shelves.
The see-through doors of the side shelves are best for bibliophiles as they can quickly access the books they want.
This Walker Edison Portsmouth classic 2 edition TV stand is made up of MDF wood. It will withstand normal scratches and spills easily and gives an attractive look to interiors.
You have 4 different wooden color options as well.
Here is a very simple built but stylish TV stand with so many color and model choices.
This Walker Edison Wren Classic TV stand comes with 6 open shelves. Each of them is 20 inches long and 14 inches deep and can carry up to 30 pounds of your stuff. The weight capacity of the top is 200 pounds.
The color options you have here are Barn wood, Charcoal, Black, Brushed White, Driftwood, Espresso, Grey wash, and a few others.
There are models with different sizes and some of them have the fireplace option. The shelves can be customized and you can remove the partition between 2 shelves to keep longer items on the shelves.
The best thing about this TV stand is the availability of cord management holes at the back of each shelf. It will be great for organizing most of your electronic gadgets.
The simplicity and durability also make it one of the highest-rated TV stand available on Amazon.
If the theme of your living room is dark or you want something for dark contrast in the room's décor, this can be the best TV stand for 75 inch TV.
It is 70 inches long and suitable for TVs from 55 inches to 80 inches. The height from the ground is 24 inches that will provide a good TV viewing angle.
This TV stand is ideal for adding captivating looks to your living room. Available in various colors, it has got 4 closed shelves and 2 open ones with an adjustable tempered glass partition.
You do not have to worry about the untidy cable as it has got holes at the back to pass cables.
This Nexera Morello TV stand is a little different from other TV stands mentioned in this article. If you are looking to cover a bigger area of your living room, this is the one for you. It has a lower height but a little broader length-wise.
There are 2 open storage shelves that have ample space for media boxes, DVDs, gadgets, and books. Then there are 2 drawers and one door shelf on the sides.
Cable management and smooth ventilation is another advantage of this TV stand. It is wooden with a melamine finish so expect a little less durability.
This TV stand is the best for room setups where you put old esthetic decorations. Well, it is available in different colors and a lot of them will blend with any interior. But the dark walnut model looks classic for sure.
Walker Edison Grooved TV stand is made up of good grade MDF with laminate. It supports up to 250 lbs of weight and can easily bear big, heavy TVs without any slope or wobble.
The shelves are adjustable and capable of lifting heavy electronic items. It has other models that are in different sizes and with a fireplace.
We have got another Englewood Mid Century edition TV stand in a cool grey color. If you have got a white or light theme in your living room, this will go well with the setup.
This stand is made up of good-grade MDF with laminate for durability and water resistance.
The dimensions are pretty much like other Walker Edison stands we discussed in the starting. It is 24 inches tall from the ground and the length is 70 inches on which you can easily put 55 to 75 inches TV.
There are 4 shelves in total – one at each side and two at the center, separated by tempered glass. This glass is adjustable and if you need to put a taller object, you can either remove it or fix it slightly up or down.
The top surface is capable of lifting up to 150lbs whereas the wooden shelves can lift up to 30lbs.
You can put decorative items of up to 20lbs on the tempered glass shelf. There are ports at the back for efficient cord management.
This is probably the best TV stand with 6 wide shelves to clear the clutter around your TV area. Your media devices and gaming consoles will find a safe spot with 3 different types of shelves.
The upper 3 are open shelves, the bottom 2 at each side are cabinet shelves and then, there is a drawer shelf between them.
The dimensions of this TV stand too are pretty much standard, with 70 inches long and 15 inches wide area. Any big screen TV can easily rest on this.
The best thing about this Walker Edison Universal TV stand is its weight lifting capacity of 250 lbs. You can keep so many books and your electronic items here.
The upper shelves have holes for cables at the back so your gadgets will reach the power source without making the place messy.
The looks of the shelves seem fitting with different room settings. It is available in 5 soothing colors i.e. English Oak, Dark Walnut, Birch, Graphite, and Slate Grey.
The durable laminate won't let the color fade anytime soon while keeping the shelves safe from spills for years. The handles of the doors are metallic build and well attached to last long.
What Factors To Consider To Choose Best TV Stand for 75 Inch TV
When you invest a lot in a TV, you better keep it in the best place possible. And as you are looking for a TV stand, measure it on many parameters, as it is going to be part of a central spot at your home.
Here are 5 things to consider in a TV stand for making the best entertainment center.
Height
A stand must bring the center of the TV viewing to your eye level. For large size screens, a little above the eye level is also fine. Do not go for very high TV stands as it is going to be a waste of your money.
The bigger stands will have more shelves and you don't need that much space near your TV. Organizing a lot of things below the TV can cause frequent disturbance in viewing.
If you have pets at home, then you might have to compromise and increase the height a little bit.
Length And Width
These are the most important factors to consider when buying a TV stand. The big TV screen should not go out of the table and few inches at the sides can be used for decorative items. Even if you leave the space, it gives a good look to the living room.
A little wider TV stand goes a long way as you might purchase a bigger screen in the future. But remember, if your room is small, you should reconsider the size of your TV stand as it shouldn't look too bulky.
Secondly, the width from front to back should be decided according to the in-built stand of the TV. It should rest properly on the top without any compromising with the safety of the TV.
Wide shelves are also useful for keeping bigger devices like DVD players, laptops, projectors, etc.
Build Material And Durability
Just like the furniture at your home, getting a TV stand, that too with shelves is a long time investment. You would never want to spend hundreds of bucks shortly after few months.
A lot of family members sit near the TV and the stand can go through high usage because of the availability of numerous gadgets these days.
Metals do offer durability. But getting a metallic TV stand for a big, cool screen won't go well with the esthetic of your living room. Wood and Plywood, as material for the TV stand, are good. They last for many years if saved from spills.
But they can be out of budget most of the time. The best material we can suggest is the MDF which is made with a mixture of hardwood and softwood, combined with raisin binders and wax.
MDF is a cheaper option with many advantages. It does not get spoiled with water and the texture remains the same for years.
Most of the products we have included in the above list of best TV stands come with a laminate finish for further durability.
Shelves and Space
As we discussed before, you do not need a vast space below your TV. But if you have some bigger gadgets to be placed on the TV stand, you should consider the space of your TV stand.
Organizing TV essentials is easier on TV stands if they have multiple shelves. You can use separate shelves for consoles, chargers, books, etc. Also, if electronic devices are kept in cramped spaces, they can get overheated due to lack of ventilation.
Make sure that the shelves, especially the upper ones have holes carved out for cables. If you are investing in a TV stand, you would want it to keep your things in a well-organized manner.
Holes at the back make sure that your cables are not lying around and creating a mess. You can also set up a charging station on your TV stand with a power strip reaching the power source from the holes at the back.
Weight Capacity
The big-sized TVs are heavy. And, you will definitely use the TV stand for other stuff as well. So, it is always advisable to determine the weight of your TV, TV essentials, electronic devices, etc., and then choose the TV stand according to the weight capacity.
Some TV stand sellers mention the weight capacity of the top and the shelves separately.
Many heavy TVs cause a slope on the TV stand. A TV stand with good weight capacity i.e. around 200-300 pounds and with a well-supported structure won't end up with a slope.
Final Thoughts On Best TV Stand For 75 Inch TV
So, these were some best TV stands for your 75 inches TV. If you are looking for a well-organized place for your TV essentials and gaming console, you will surely like them.
Even a simple design for a TV stand does its work efficiently if made up of durable material. We hope, our TV stand buying guide for 75 inches TV helped you for sure.