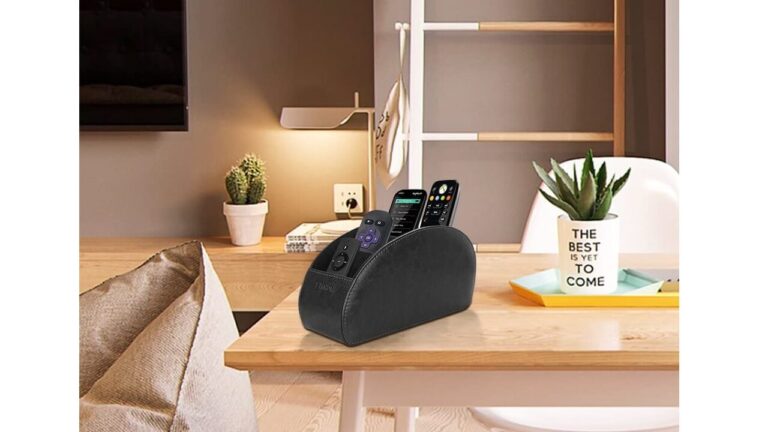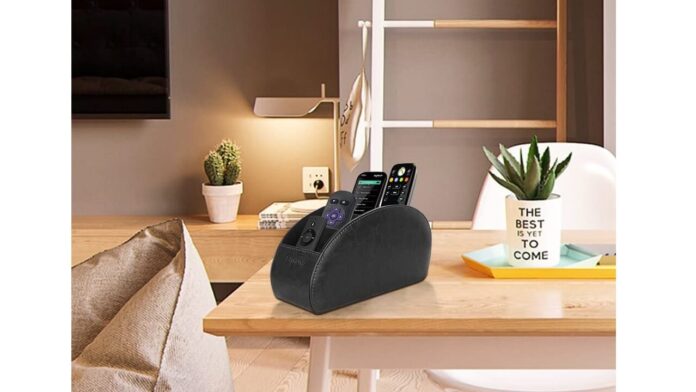 We are surrounded by so many gadgets today that it gets tough to keep a track of their remotes. If you too are tired of searching the remote for a good 5-10 minutes every time you feel like watching the TV, you have come to the right place. Here we are with the list of 7 best TV remote holders to keep all in one place near your TV.
These remote organizers are not exclusive to only TV remotes but they house a lot of other essentials as well. Some of them have ample space to keep your AC remotes, smartphones, chargers, etc. You can also use them to store your keys as they are the most misplaced thing in any household.
Best TV Remote Holders
1. TotalMount Hole-Free Remote Holder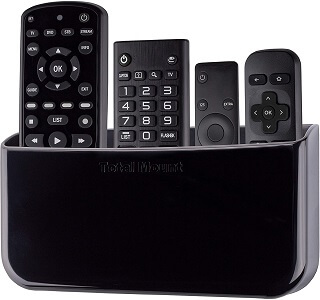 To keep all your remotes in one place here is one of the best TV remote holders you can find online. After thousands of purchases, this has 4.7 stars rating. It has the capacity to hold 3 to 4 remotes easily.
This holder is by a brand called TotalMount and you can skip drilling holes on the wall for mounting it. They provide you removable adhesives to attach the holder to the wall. Although they have also included screws in the package they do not recommend using them.
TotalMount TV remote holder is ideal for keeping your TV, DVD, and all other media players' remotes too. If you want more space to keep your other small essentials as well, you can go for the two packs option and get a discount. This remote holder also comes in white color so you can choose according to the aesthetics of your living room.
2. Joywell Sofa Armrest Remote Organizer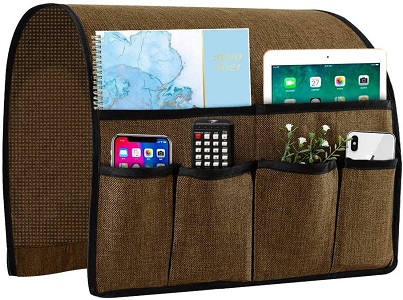 Here is a nicely designed holder for your living room to place remote controls and lots of other stuff. This is different from the typical remote holders you will find online. It is a linen fabric-made organizer that you can use for holding a wide range of stuff like a TV remote, iPad, mobile phones, keys, spectacles, etc. It has 6 large pockets which can also be used to keep newspapers books as well.
This TV remote holder is placed on the armrest of your sofa or chair. You can choose to hang it on the wall or put it on a side of the bed or the table. To blend perfectly with your room and the couch it is available in 28 different colors like burgundy, champagne, chocolate, classic, blue, endive yellow, khaki, turquoise, black, teal, different shades of white and grey, etc.
The loop design as well as the nonslip fabric used to make this organizer make sure that it does not roll off the surface. This remotes organizer is machine washable, shrink-proof, and wrinkle resistant you can use it in your bedroom office, and also in a hotel room for a long period of time.
3. SITHON TV Remote Control Holder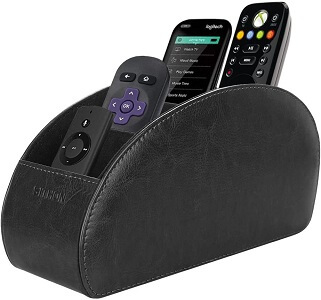 If you want your remote to look decorative in your living room, this is probably going to be a good choice. This remote holder is crafted with premium PU leather material that looks cool and aesthetic in any surrounding.
SITHON remote control holder comes in a wide range of colors and sizes so you get to choose the type that blends with your room. It's an ideal solution for unorganized living room and restroom essentials like TV remotes, soundbars remotes, cell phones, smartphones, etc. There are 5 compartments in this holder so a lot of space on the table is saved. The more things you can organize in this, the more time you save when you need them.
Many people use this remote holder at their work desk to put a lot of stationery items like pens, pencils, scissors, staplers, etc. Interior and exterior build are meant to last longer and keep your things safe from dirt and abrasions.
Its build also makes it very ideal to gift your friends, colleagues or partners. This gift will not only be useful for them but it will be always in front of their eyes. Thousands of users on Amazon have acknowledged its utility which is evident from the 4.7 stars rating it has received.
4. Fintie Vegan Leather TV Remote Control Holder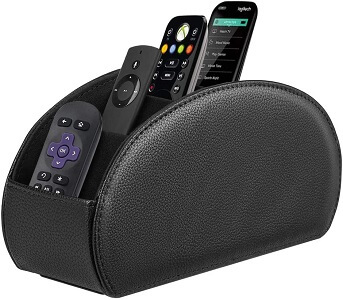 This is another highly rated (4.7 stars) remote holder with a similar build to the last one. But in this, you also have the option to go for floral prints as well. You can use this holder for keeping at least 5 of your TV, Stereo, streaming devices, and air conditioner remotes so that you don't lose them in some corner of the couch.
This holder can also work for organizing office supplies neatly. Its stable upright design and the flat bottom make it rest very safely on the table. Not just the work table but the dressing table too needs a holder like this so that all the makeup brushes can be put in it without getting dirty.
You can use this holder for storage of your phones and eyeglasses so that you spot them easily when in need. It is a lightweight product made up of durable vegan leather. The microfiber interior of this remote holder is also meant to handle wear and tear for a long time.
5. TotalMount Universal Remote Holder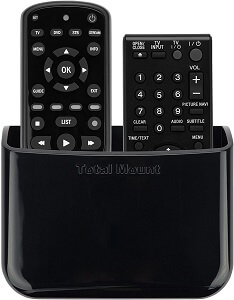 If you are looking for a budget remote holder just for keeping 2 remotes, this one will do the work. Your TV remote can be easily placed in it. 
You can mount this holder on your wall or at the back of the TV, depending on the space. For that, you get special adhesive and wall mounting screws in the package.
The design of this remote holder looks elegant and the material used is pretty durable. There are vents at the bottom so that the dust is not trapped inside the holder. It is available in two colors i.e. black and white.
6. YAPISHI Pu Leather Remote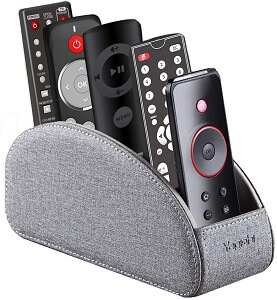 YAPISHI makes different types of holders and cases to organize things from your jewelry, keys, sunglasses to remotes. This is a multi-functional TV remote holder with five compartments. It is meant to be kept on your work desk or in the living room table for easy and safe storage of media remotes, phones, eyeglasses, pen pencils, and various stationeries.
It is available in small size as well as large size. The length (7.87 inches) and height (3.93 inches) of both the types are the same but the smaller one is 2.95 inches wide and the larger one's width is 3.93 inches.
The special thing about this TV remote holder is its premium build design. It is made up of high-quality nordic style Pu leather with long-lasting stitching. There are 6 appealing colors and prints to choose from.
7. KUNZHAN Wall Mount TV Remote Control Holder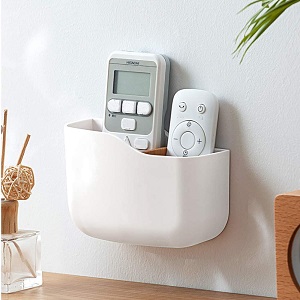 This is another budget remote holder with adjustable sections. It comes with a detachable divider to allocate desired space for the stuff you want to put in it.
This remote holder can store 2 remotes easily so that you save your time from searching them when in need. It can be mounted on any flat surface with the strong adhesive they provide you.
You can also mount it near any socket for storing your phone while charging. There is a thin hole at the bottom of this holder so that you can insert the data cable from there. A lot of people use it as a pen holder as well.
Have A Look: Top 7 TV LED Backlights
Conclusion
So these were the best TV remotes holders to organize your remotes and other essentials. Use them for convenience and you won't have to go for a treasure hunt every time you need to operate your TVs and ACs.
These remote holders also make your living room look tidy. The more the compartments in them, the more essentials you can put in order.
ALSO READ: Best Screen Cleaners For TV
What other things can be stored in a TV remote holder?
Remote holders can accommodate a lot of things that have chances of getting misplaced daily. You can use them for putting your pens, markers, art supplies, phones, small decorative items, etc. People also hang their spectacles and keep their pocket diaries in them.
As most of the remote holders are close to our hand's size you can easily pick the small things you put in them like home keys or car keys.
The Joywell sofa armrest remote holder we have discussed above offers a great utility in comparison to other TV remote holders. You can keep your iPads and books too in them. The SITHON remote holder with 5 compartments is also very ideal for a lot of living room essentials and stationaries at your work desk.