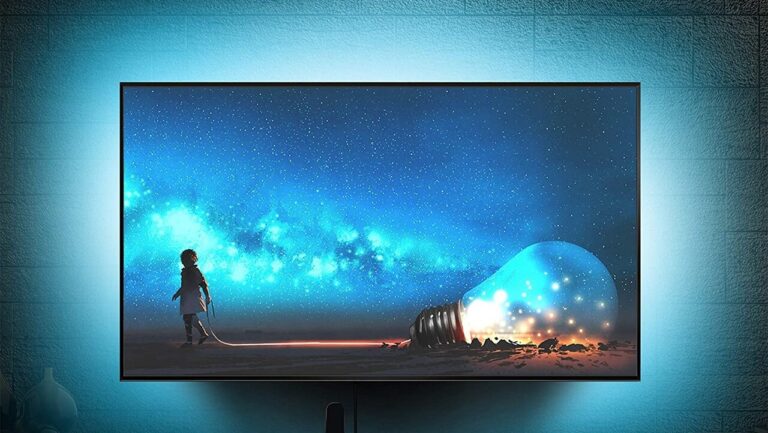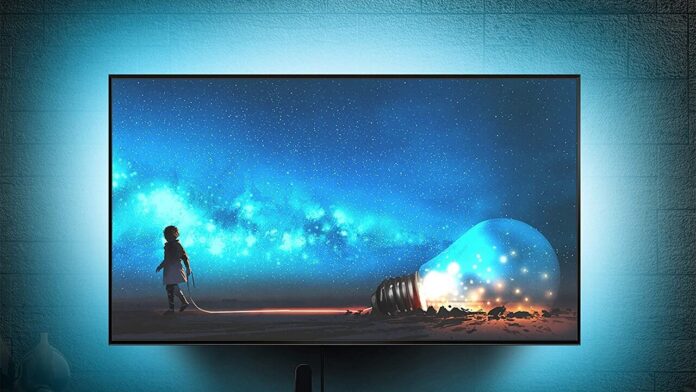 Everyone loves cinematic viewing with all the lights off in their room. It is indeed an amazing experience focussing completely on the film or show and not letting the outside world bother you.
But when there is no background light in the room, looking constantly on the screen can cause eyestrain. To minimize the light contrast, TV backlight is the best thing for regular TV viewers.
Here we have made a list of the best TV LED backlights available in 2023. These LED strip lights are not just beneficial for your eyes but they add an amazing ambient light to the room as well.
When your guests come over and you want to binge something together, the bias lighting will give a party-like vibe.
Best TV LED Backlights
1. Govee TV LED Backlight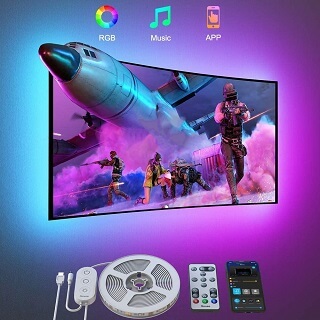 This is a 9.8 feet long LED strip ideal for covering all the sides of the TVs from 46 to 60 inches. It comes in four pieces with a total of 90 sources of light. With this led strip, you get 3 control options.
You can adjust the brightness of the strip light, change the colors or enter the music mode.
The music mode activates the built-in mic in the light it and the lights and color of this led backlight synchronize with the beats of music you are playing. This feature is best when you want to party or chill in low light.
You will find the control options on the panel attached to the light as well as in the Govee home app that can be installed on your phone.
This Govee immersion TV backlight is very easy to install with the help of clips or adhesives.
2. Nexillumi LED Lights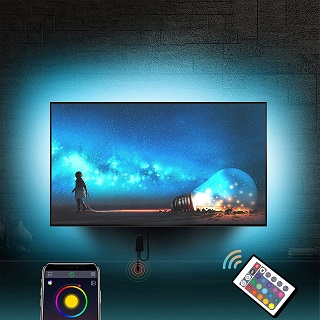 Nexillumi MI LED TV backlight is one of the highest-rated TV backlights with a 4.7-star average rating.
These are available in two variants. The first one is 13.2 feet long ideal for TVs from 43 inches to 55 inches and the second one is 16.4 feet long perfect for 56 inches to 75 inches TV.
Though these lights are a little expensive, the utility and the options you get, justify the price. You can control this led strip light with an Android or iOS app or the remote controller they provide you in the package.
The app features a color wheel from which you can choose up to 16 million colors whereas the remote has dedicated buttons for selecting colors.
This LED light has options to choose from eight degrees of brightness levels and 4 different color-changing modes can set the bias lighting as smooth, fade, strobe, and flash.
The only downside of Nexillumi light is that the colors do not sync with the audio you are playing on the TV screen. This led strip can also be used for decorating your room and create beautiful ambient lighting.
3. Govee TV LED Backlight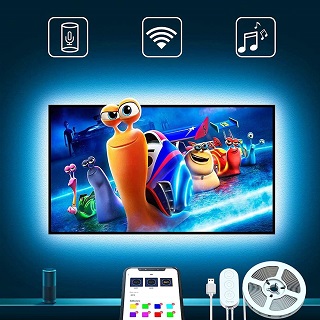 Here is another amazing multicolor TV LED backlight by Govee. This too comes in 4 parts and has a length of 9.85 feet, suitable for TVs of 46 to 60 inches. What sets it apart is that you can control this light strip with your Alexa device.
The other option to control this is the control box and the Govee Home app. With the app, you will be able to adjust the bias lighting and change colors.
You can also use this led strip for decorating the margins of your bookshelves, tables, cupboards, etc. The built-in mic in this light allows it to sync the light's color and brightness with the music's tempo.
There are 90 LEDs on this television backlight which are enough to give you an immersive cinematic experience.
This led TV light can be powered through any device with USB output. Also, if you need very bright bias lighting you can choose the adaptor as a power source.
4. Miume Music TV Backlight With 16.4ft LED Strip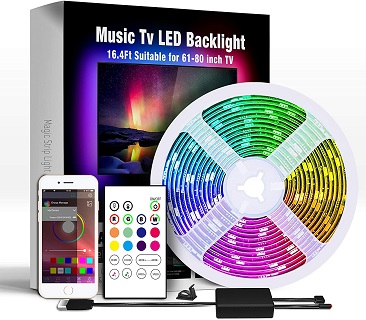 Miume LED TV backlight comes in three different sizes i.e 9.8 feet, 13.2 feet, and 16.4 feet for TVs of 14 inches to 80 inches size.
You can choose as per the screen size of your smart TV and in case it gets longer, you can cut it with a scissor to fit the TV size perfectly.
It has 150 LED light sources that can fill your room with an ample amount of light. The improved ambiance reduces eye strain while watching your favorite movie or show. The LED strip comes with short circuit protection and memory function.
It is safe to be used with children as it is touchable and emits very low heat. Miume LED backlights are very easy to install and have strong adhesives.
You can control the bias light through the remote control or the app available on Android as well as the iOS platform.
5. BASON LIGHTING TV Backlight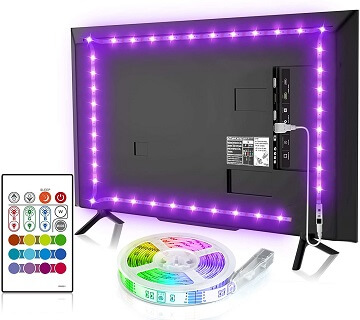 BASON Lighting makes one of the best TV LED backlights with 8 levels of brightness. It is pretty efficient in minimizing the contrast between the TV and your darkroom.
There are 6 different flashing modes that you can switch to for an amazing visual experience. You can control all these levels and modes with a remote available in the package.
The best thing about this bias light is that it comes with a sleeping mode. You can click on the sleep button and the light will be auto-off after 30 minutes.
Most of the TVs today come with a USB output port at the back and BASON Lighting TV backlight can be operated through that USB port. You can also power it through Power Bank which makes it a portable LED light that can be used outdoors.
It comes with the unique home adhesive 10 buckle clips to attach it behind your smart TV in a very stable manner.
The receiver on the light can be hidden behind the TV LCD panel and still the remote works fine. The low heat emission of this light makes it a decoration safe product at different locations and occasions. It comes in 4 different lengths from 8.2 feet to 19.35 feet.
6. Govee USB Powered Backlight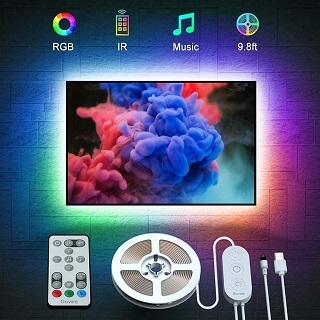 This is a budget-friendly LED TV backlight by Govee. It comes with 90 tiny LED lights separated into 4 strips. The total length of the strip is 9.8 feet which is ample for covering all 4 sides of 46 inches to 60 inches TVs.
Like other TV LED backlights, this has a built-in mic to sync the lights with the rhythm of the sound music or video. Additionally, the multi-color modes provide you with complete visual enjoyment.
This light is cheaper because you do not have the option to control it with your phone app.
There are two lightning control options which are, a 3 button control box attached to the light and remote control. The remote control allows you to control the brightness, speed, color options, and power of the light from up to 32 feet away.
7. Nexillumi TV BackLights LED Strip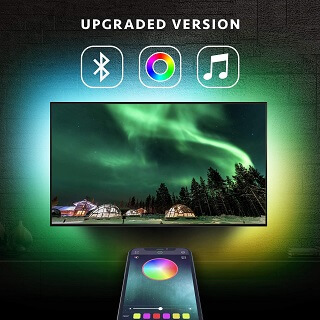 Here is another best TV LED backlight to brighten your room while watching TV. Apart from your television, you can stick it at the back of your laptop, PC, bookshelves, or other items for decorating them.
You will be able to control and change the lights through your 'Happylighting' phone app. There are more than 16 million color combinations you can create for your room.
The brightness level of the backlight can be adjusted using the remote control from anywhere between 1% to 200%. The brightness and color also sync with the pitch of the music and provides a wonderful watching experience.
The app also has a built-in sleep timer to set in case you are about to fall asleep. There are 20 dynamic lighting modes on the app which is one of the highest in this price range.
But the length of this light strip is a little shorter in comparison to other LED backlights. It is a 6.6 feet long strip ideal for TV from 24 inches to 60 inches. You will have to do little coverage compromise in the bigger sizes.
It comes with a new 3M adhesive that sticks very strongly. You can also so use this led strip outdoor for camping and party as it can withstand dust and light splashes of water.
Have A Look: Top Outdoor TV Covers
Conclusion
So, these were the best TV LED backlights available online for your LCD, OLED TV. You should check out these LED lights to create a beautiful ambiance in your room for house parties, binge parties, and alone chill sessions.
Many people use the LED light strip for decorating their rooms as well. As we discussed that the difference in luminance of the room and the television doesn't go well with your eyes, these lights nicely bridge that contrast.
TV LED Backlight Buying Guide
The above-listed led TV lights have great features to enhance your movie-watching experience, reduce eye strain, provide local dimming, and have amazing ambient lighting.
But if you are still unsure about your choice, here are a few things thing you can look for in a TV LED backlight
Length – Length of the LED strip in respect to your TV size is the 1st thing you should look for before buying the backlights.
Brightness and Light source – Mostly, the more the LED light sources (points) on the strip, the more the brightness is. People who want to buy these strips for the decoration should also make sure that the brightness level is high.
Microphone – If the strip light has a built-in mic or sound sensor for rhythmic patterns then it will be a useful tool in a house party. This feature is also great for gamers for a wholesome playing experience.
Control – There are 4 ways a TV LED backlight can be controlled i.e. the attached control box, the remote control, voice assistant (Alexa), and through the phone app. Some lights don't come with remote controller or app control options.
Power Source – TV LED backlights are mostly powered through 5V USB ports. It would be very convenient if you decide from where and how your light will have a power source.ur light will have a power source.