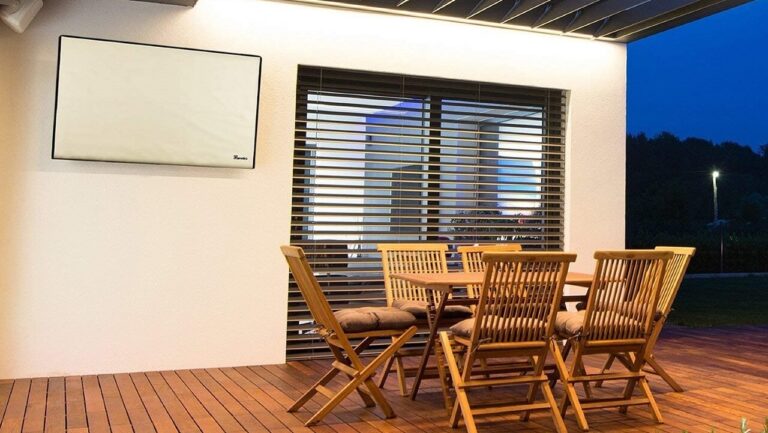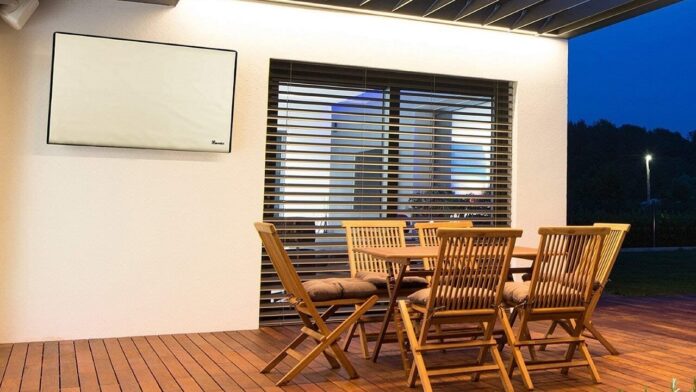 People who like to chill in open spaces install television sets for maximum enjoyment. Especially during summers, watching your favorite sport on the back porch or balcony brings a wholesome experience.
But the television sets kept in open spaces need protection from dust, moisture, and fog.
Fog and mist can badly damage the interior of the television and sometimes may even cause short-circuit.
The dust settled on the television too stops the ventilation which can result in overheating of your set.
For protecting your TV sets, you'll need to place reliable covers on them. Here is a list of the best outdoor TV covers to protect your TV and increase its lifespan. The covers available in the list are for 22, 32, 40, 43, 50, 55, 60, 65, 70 inches, and 75 inches TV sizes.
Best Outdoor TV Covers Listed
1. Clicks Weatherproof Outdoor TV Cover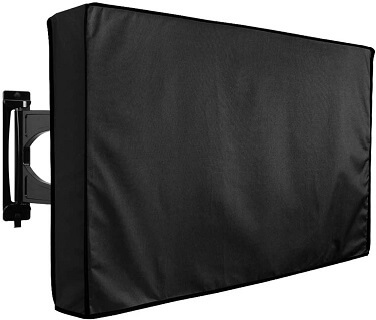 Sizes: 24″-26″, 30"-32", 36″-38″, 40″-42″, 44″-46″, 46″-48″, 50"-52", 52″-55″, , 58″-60″, 60″-70″
Clicks have one of the best outdoor covers you can purchase for your TV on Amazon. This is a dust-proof and waterproof cover for your balcony, deck, lawn, or even the poolside TV set.
These covers are also good for totally open spaces as they protect the TV from harsh sunlight as well. These covers come in various regular TV sizes from 24"-26" to 60"-70" and offer compatibility with wall mounts as well.
Clicks Outdoor TV covers have soft fabric that protects your TV screen without damaging it with scratches.
These covers can be installed very quickly. There is a pocket in the cover for storing your remote.
Thousands of people have reviewed it positively on Amazon with an average rating of 4.6 stars. You can choose from 3 colors which are black, grey and beige white.
2. KOLIFE K LIFE Outdoor TV covers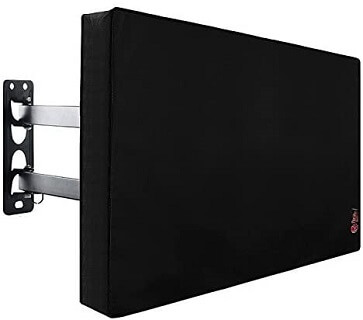 Sizes: 22″-24″, 28"-32", 36″-39″, 40″-43″, 44″-46″, 46″-48″, 49"-50", 50″-55″, , 55″-58″, 60″-65″, 70″-75″
KOLIFE K LIFE makes covers for different types of products including gloves for your hands. Here is an amazing durable TV cover by them for the protection of your TV in all weather conditions.
It comes in black color only but is available for almost all TV sizes. The TV cover's interior is scratch-resistant so that your display is safe. The bag is waterproof and dustproof for maximum protection.
The design of KOLIFE K LIFE outdoor TV cover is different as the seal to close the cover is at the bottom.
They have used velcro for sealing that prevents water and dust. It is compatible with most of the single and double wall mounts and TV stands.
The edges of the cover are double-stitched for maximum durability. Your TV remote control too will be protected inside the waterproof pouch in the cover.
3. Garnetics Outdoor TV Cover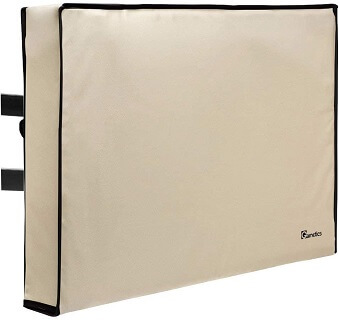 Sizes: 20″-24″, 30"-32", 36″-39″, 40″-43″, 48"-50", 52″-55″, 60″-65″, 70″-75″, 80″-85″
This TV cover of Garnetics is meant to protect TVs you have kept in open like lawns and pool sides.
It protects your TV from rain, heat from the sun, and dust. The dust can't enter inside from the bottom even in a windy atmosphere as there is Velcro for better protection.
Installation of the cover is easy as you just have to open it, put it over the TV and seal it with Velcro closure.
There are different cutouts at the back for different types of wall mounts. The flaps meant for double-wall mounts can also be closed with velcro.
There is a bracket flap hole at the center for a single wall mount and wall mount that is bigger. This hole has a protective flap so that there is no entrance left for the dust.
Besides the openings for mounts, there is a pocket for keeping your remote. These covers are compatible with most of the LCD, LED, 3D, 4K, and Plasma TV sets. You choose the cover of your TV's size from Amazon.
4. iBirdie Outdoor Waterproof and Weatherproof TV Cover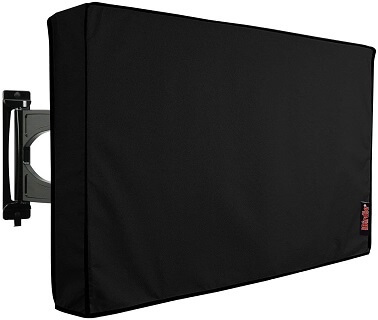 Sizes: 28″-32", 40″-43″, 50″, 55″, 60″-65″, 70″-75″
This is one of the highest-rated TV covers for outdoor on Amazon. It comes in black color only and is meant to protect your TVs from unfavorable weather conditions like rain and winds.
The cover is made up of 300 denier Polyester materials that protect your TV from catching humidity during wet weather.
It won't let water droplets ruin the microprocessors in the TV. iBirdie cover also protects your TV from harmful UV rays of the sun.
Unlike other TVs on this list, this one is available in limited sizes that you can check on its Amazon page.
This cover looks minimal so as not to ruin the aesthetics of the area where you have kept your TV. It is compatible with almost all kinds of wall mounts and stands.
There is also a dedicated place for storing your remote. The cover is pretty durable with strong stitches at the corners.
5. Lish Outdoor TV Cover With Front Flap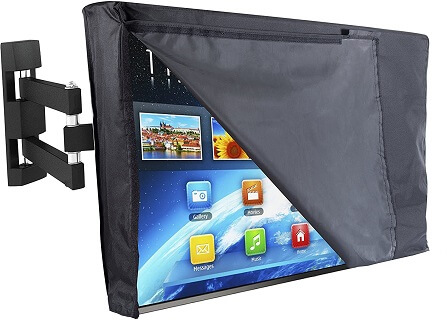 Sizes: 20″-24″, 30"-32", 36″-38″, 40″-42″, 44″-46″, 46"-48", 50"-52", 52″-55″, 58″-60″, 60″-70″
If you don't want to go through the hassle of removing and putting the TV cover every time, this is the best outdoor TV cover you can get for your LCD, LED, Plasma TVs, etc.
This TV cover has a front flap with transparent plastic under it so that you can watch the TV without removing the cover.
Though this cover is a little expensive than most of the covers here, there is no risk of forgetting to put the cover after watching the TV.
Lish Outdoor TV cover comes in 3 different colors and is available for TVs of all standard sizes ranging from 20" to 70".
There is a measuring guide on their Amazon page in case you have no idea about the cover size required for your outdoor TV.
This is a waterproof and dustproof cover meant to protect your TV round the year. The cover's strength is ensured by double stitches on the edges and the material is also very durable.
The microfiber cloth that comes in the pack helps clean the TV once in a while without using any harmful chemicals.
6. Easy Going Outdoor TV Cover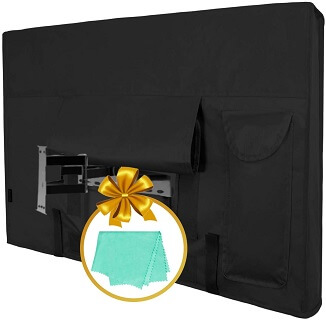 Sizes: 24″, 32″, 38″, 42″, 46″, 52″, 55″, 58″, 60″, 65″, 72″
Most of the outdoor TV covers in this list are expensive. If you are a little low on budget, here is a good option for you by Easy-Going.
Though it's cheap, the built material is of high quality and durable. Easy going outdoor TV cover's material is 300D Oxford with a polyvinyl coating. The said fabric is completely waterproof with a Velcro seal at the bottom.
The dust too can't enter inside even during windy weather conditions. It will surely last long and increase the lifespan of your TV as well.
Easy-Going outdoor TV covers are available for all sized LCD and LED TVs. No matter you have single or double-wall mounts, these covers can fit perfectly on them and offer all 360-degree protection.
The cover also has a pocket to keep your remote safe. At this budget, they also provide a micro suede cloth for cleaning the TV if dust is settled while watching.
People have very positive reviews about this cover and it has ratings of around 4.7 stars on Amazon.
7. Amazon Basics Outdoor Waterproof and Weatherproof TV Cover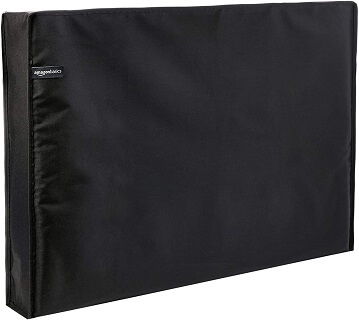 Sizes: 30"-32", 46"-48" and 50"-52"
This is PVC and polyester material cover made to protect your TVs kept at open places like porch and lawns.
The material is weatherproof and ensures safety against rain, dust, and extreme sunlight in the summers.
Amazon basics TV covers are compatible with different types of wall mounts and can be sealed with Velcro after cover placement.
The interior of the cover is made up of soft fabric which will protect the screen from getting scratches.
These covers prove to be a good cover option for your desktop monitor screens as well. Remote control storage is also provided in the cover at the back.
Conclusion
Compromising the safety of expensive television sets isn't a good idea. A good fabric TV cover will save you from frequent visits to a mechanic by providing safety against dust, dirt, and humidity.
These were the best outdoor TV covers available on Amazon. The birdie cover is highly rated and is a decent cover look wise too.
If you are looking for low budget options, don't forget to check out the 'Easy-Going' outdoor TV covers