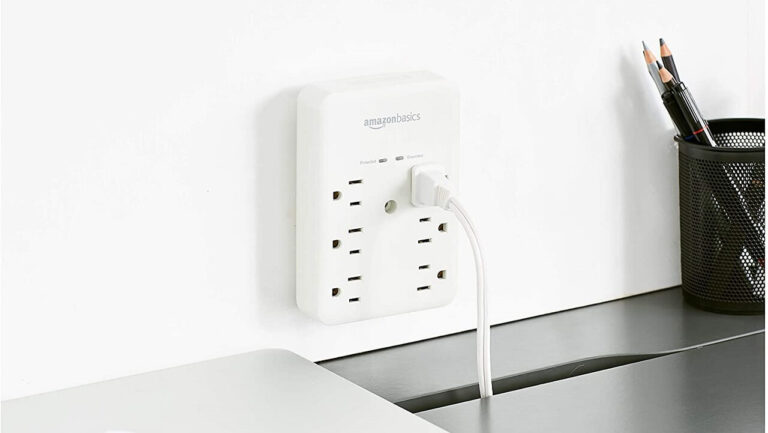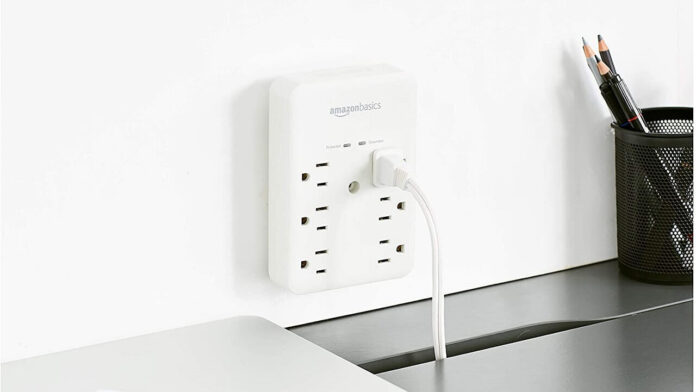 Surge protectors are the fitting solution for random spikes in your power line. You can't foresee a lightning strike or a grid ruining your electric appliances, so you need these devices to avoid the damage caused by them.
To get the maximum utility out of a surge protector, you must know the types available in the market. In this article, we will discuss different types of surge protectors and the reasons to bring them home.
If not purchased the right one, surge protectors can be fatal for your home appliances. So, in the end, we will also discuss what makes a surge protector worth it. Make them a part of your electricity setup and save your TV, washing machine, refrigerator, and other devices from getting succumbed to disaster.
Types Of Surge Protectors List
Wall Mount Surge Protectors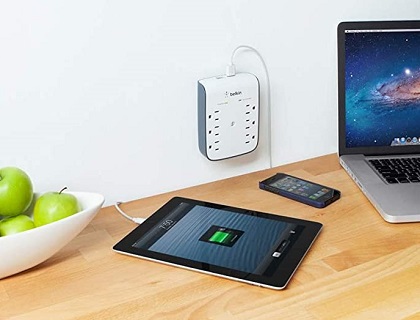 These surge protectors come without any cable and are mounted on the wall socket near your electronic equipment. They are a great option for people who don't want their space occupied with cables.
Wall mount surge protectors also offer portability. You can take them on your trips to places where extreme weather is common. You will be able to charge your phones, speakers, etc. without worrying about them getting electrocuted.
Some of the wall mount surge protectors are permanently installed on your walls by replacing the sockets but most of the new surge protectors have an option of simply plugging in on the sockets. It makes them easy to be used at different places but beware of the loose pin protectors that can fall off with slight pulls.
Wall mount surge protectors are of two types:
Single outlet wall-mount surge protectors – As the name suggests, there is only one port in these types of surge protectors. A single outlet surge protector can protect your one device at a time and they are mostly preferred by travelers. However, other dedicated travel surge protectors are also available in the market. The single outlet surge protectors may or may not have LED indicators signifying if your device is being protected.
Multiple-outlet wall-mount surge protectors – These surge protectors can have as many as 2 to 12 outlets but most of them come with 2 or 4. As you know that some spaces like TV area, gaming zone, charging area, etc. in our houses are cluttered with cords. The cords over that get a bit too much. Multiple-outlet surge protectors help declutter those spaces and guard your devices against power surges at the same time. Some of them also have ports for USBs as well as APC surge protectors have.
Power Strip Surge Protectors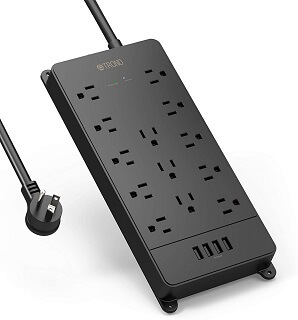 Power strip surge protectors are probably the most sought out protection devices against current and voltage spikes. They come with multiple outlets and are mostly used at workplaces and other areas where appliances are in large numbers.
Computer systems, where you have to plug in many devices need power strip surge protectors as all of those devices can not reach the sockets. If you are into gaming or have a studio setup at home, getting a surge protection device with USB ports will ensure safety for all your gadgets. There are 3 popular variants of these surge protectors – one is a normal strip surge protector, the second one is with an extension cord and the third one is smart power strips
Power Strip Surge Protectors (with Individual switches) – These surge protectors are like normal power strip surge protectors but comes with individual switches which allow you to control the power of individual devices. With this, you do not have to remove the plugs every time you want to save your electrical device from overcharging. You can simply switch off the respective button.
Power Strip Surge Protectors With Extension Cords – These devices come with some extra length of cords so that the power sockets can reach near your electrical appliances. Surge protectors with extension cords are used for outdoor events and when you need to use your gadgets at the poolside or in open sky lounges.
Smart Power Strips Surge Protectors – When we are surrounded by smart gadgets all around, power strips are not left behind. The smart power strips can be controlled via an app from your smartphone or via Google Home or Alexa assistant.
Whole-Home Surge Protectors
These are the surge protectors with the highest surge capacity. To protect all the home appliances from just one point, whole-home surge protectors are installed near the circuit breakers at your home. You can install them yourself or call the handymen. Depending on the quality of surge protector you buy or the size of your home and the number of appliances, you can install these surge protectors from one per home to one per circuit.
FAQs
What Causes Power Surges and How to Stop Them?
There are many reasons for power surges to occur. When your electricity providers switch the power grids, it can cause an overflow of current towards your connection through the electricity cables.
Power surges are also common during lightning and thunder in rainy seasons. Sometimes, large electric appliances at your home like TV, refrigerators, washing machines can also trigger power surges when their motor is turned on.
It is beyond your control to stop power surges. However, the damage they cause can be minimized or avoided using power surge protectors.
What Does a Surge Protector Do?
Surge protectors save your electric devices from getting damaged because of the sudden voltage surge or current spikes in your electricity line. You can not foresee these surges, that's why surge protectors are equipped with technology that can stop the extra power to reach your appliances like TV, refrigerators, computer systems, etc.
In case of power spikes, surge protectors block the entrance of the massive overflow of current or voltage, either by self-combustion of the fuse or by diverting that energy to the earthed line.
What Makes a Surge Protector Good?
Based on your convenience, you can get the wall mount surge protector or the power strip. But an ideal surge protector for maximum safety should have the following features.
Medium Clamping Voltage – Clamping voltage refers to the voltage amount which if surpassed can shut the power supply to your electric appliance. In a good surge protector, it should be around 400V.
High Joules Ratings – This is the most important thing to look at in a surge protector. More joules rating would mean more durability of your surge protector. Anything above 600 Joules rating is good but if your area faces frequent power surges, you can go for surge protectors with as high as 2000 joules rating and above.
Ample Outlets – It depends on your budget and requirement but power surge protectors with some extra outlets can come in handy when you are burdened with appliances. Surge protectors also come with USB charging ports for your Phone and TV cables.
Space Between the Outlets – Most of the electronic devices we use come with large power plugs. An ideal surge protector must be able to accommodate your plugs, chargers, and adapters at the same time.
LED Indicators – For ensuring maximum safety, you should be able to check the protection status of your surge protector. A good surge protector should at least have an indicator light for 'protecting' and 'earthing' status. Other common LED indicators in surge protectors include over-voltage and under-voltage.
Warranty – Surge protectors have to come with a warranty and an assurance of safety for your expensive electrical appliance. Often people end up buying surge protectors without any warranty and they can do more harm than good. Most of the branded surge protectors available in the market do offer a warranty for the device as well as a security cover for appliances plugged in them.
Auto-Off – All the surge protectors may or may not have this feature but it would be great for power saving if the surge protector can shut itself off in case there is no device plugged in or the plugged-in devices are turned off.
You can also read our complete surge protector buying guide.
Conclusion
Surge protectors are necessary for the protection of your valuable electronics from unstable energy supply. Buying a surge protector depends on your space availability, usage of your devices, sockets required, compatibility, etc. We hope now you are familiar with the types of surge protectors. All these types are available in the market from promising brands.