A Wall mount surge protector is a great device to provide protection to the electronic equipment in the household. However, these devices, unlike the single outlet surge protectors, aren't easily portable and hence cannot be used for travel purposes.
But, if you want a permanent solution to all your surge protection needs, then a wall mount surge protector is meant for you. These devices easily get mounted over your AC outlet and save a lot of space for other activities.
Moreover, these surge protectors are cordless and hence provide tangle-free protection to all your devices. Here we have handpicked the best wall mount surge protectors for you to help choose the best one easily.
Quick Look
Best Wall Mount Surge Protectors
1. Belkin Surge Protector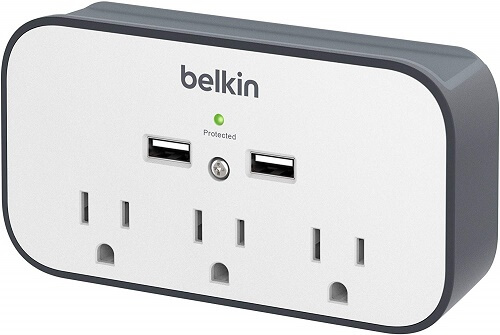 This Belkin surge protector comes with 3 outlets and 2 USB ports. Both the USB ports provide a 2.4 Ampere of shared charging, which helps in quick charging devices like your smartphone, tablet, and more. Also, a cradle is provided at the top of it that holds your phone while charging.
Since it is a wall mount surge protector, you can screw it to the wall over your AC outlet to fix it. However, you can also use it normally with any standard outlet, without mounting it, by removing the screw.
In terms of protection, it provides surge protection of up to 540 joules, which is enough for small electronic appliances and gadgets. Moreover, it comes with a lifetime warranty on connected devices. So overall it is a great wall mount surge protector you can go with.
2. APC Wall Surge Protector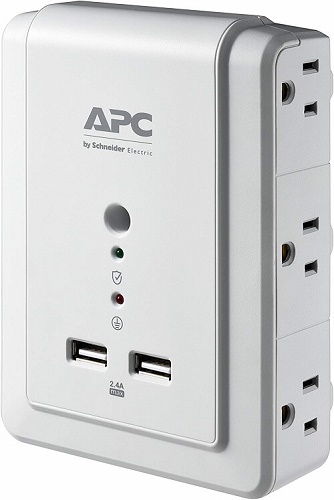 If 3 outlets are not enough for you, then you can go with this 6 outlet surge protector. It is a very compact and greatly designed surge protector that can be plugged and mounted on any 2-outlet configuration irrespective of where it is located. Moreover, it is designed in a way that you can use all the 6 outlets at the same time.
Apart from the 6 outlets, you get 2 USB ports for charging your phone and other gadgets. Also, 2 LED indicators are provided on the front of this device, which tells you about the condition of the connected devices i.e whether the device is protected and grounded. Just above the LED indicators at the center, there is a screw that allows you to mount it on the wall.
Also, this APC surge protector provides you with 1080 joules of protection which makes it suitable for most home electronic gadgets. That being said, it is also backed by a lifetime warranty policy. Overall, it is a win-win situation for you, if you go with this device for the protection of your gadgets.
3. PowrUI Wall Surge Protector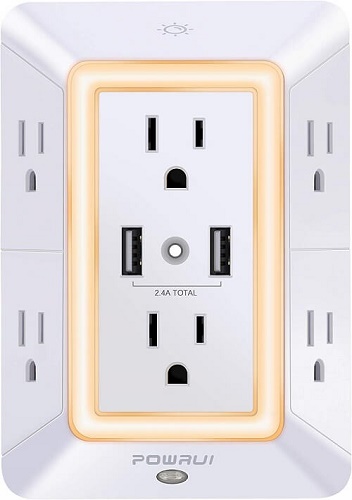 Is ordinary too boring for you? If yes, then this smart surge protector is made for you. Now the reason I call it smart is that it boasts a lot of smart features that other surge protectors don't. One such feature is the Smart NightLight, with this feature the light on this device automatically turns ON when the surrounding lights get dim. You can also manually turn On/Off the light if you want.
Also, there is a touch sensor on the top with which you can adjust the brightness of the nightlight up to 3 levels. Other than a smart light, this surge protector is designed very smartly as well. It has been given a space-saving design that makes it compact, yet you can use all the 6 outlets and 2 USB ports at the same time. And not to forget that you can easily mount it to the wall using the center screw without anyone's help.
Moreover, with its 1680 joules of surge protection, it protects all the connected devices more effortlessly than others. So overall it can be a great buy for you if you are looking for something unique in wall mount surge protectors.
4.
Belkin Pivot-Plug Surge Protector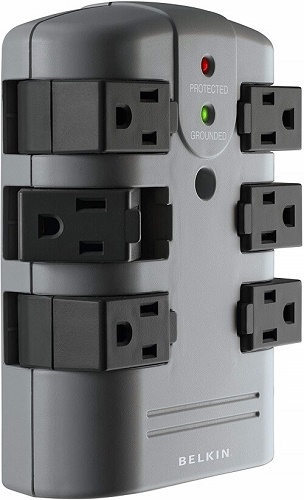 This surge protector from Belkin is among the highest-rated products on Amazon. And why not? It deserves every bit of appreciation it is getting from the customers. Now you must be wondering, what is so special about this surge protector? Well, first it comes from a brand like Belkin, so it's obvious that it will get attention from the customers.
Secondly, it is a very well-built and smartly designed surge protector that meets everyone's needs. Talking of the design, it has 6 pivot-plug outlets that can rotate and provide enhanced flexibility. The rotating outlets allow you to effortlessly use all the outlets at the same time.
Moreover, you can easily mount it to the wall using the center screw. However, the only downside of it is that it does not have USB ports for charging. But, with its high energy ratings of 1080 joules, it makes sure that all the devices connected to it are safe during electrical power surges.
5.
PowrUI USB Wall Charger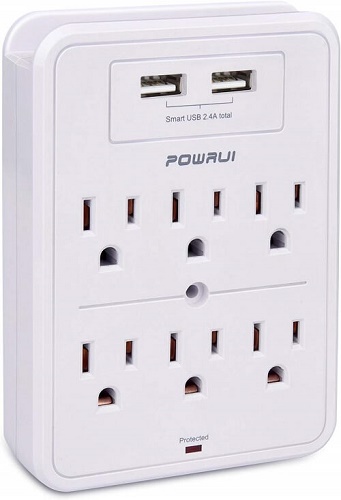 The next product on this list is PowrUI wall mount surge protector. It is a multi-functional device that can work as a surge protector as well as a wall charger. With 6 outlets and 2 USB ports, you can overall charge 8 devices simultaneously on it.
It has also got a phone holder on the top where you can put the device while charging it. Apart from the design, the PowrUI wall charge protects all the connected devices with surge protection up to 1680 joules.
Moreover, PowrUI claims that this surge protector has a better response time for absorbing electrical surges than other surge protectors. Also, they provide a 30-day return and 12-month replacement warranty on it so you can buy it without any hassle.
6. Belkin Wall Mount USB Surge Protector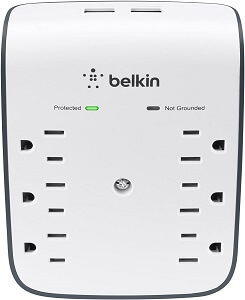 This surge protector has 6 power outlets where you can connect multiple home appliances and devices. The installation of the device is very easy and does not require the help of a handyman or a complex tool. You just have to take out one screw from your power outlet and then put the surge protector over it and screw it with the help of a screwdriver. There are two indicators to inform you if the surge protector is doing its work or the source is not grounded.
Belkin wall-mount surge protector can handle up to 900 joules of energy. Normally even 600 joules or a 300 joules surge protector offers good safety but the 900 joules rating makes it a beast. There are 2 USB outlets at the top. You can charge your phone, tablet, and other devices without risking them to high voltage. The metal oxide varistor present in the surge protector absorbs the excess electricity and loses it in the form of heat.
Because of its usability, durability, and affordability, it has sky-high ratings by the users on Amazon. Most of the surge protectors are not designed in a way that you can use all the outlets. This one is compact and yet it has ample space between the outlets so all 6 plugs can be accommodated.
7. BESTTEN 4.2A USB Wall Surge Protector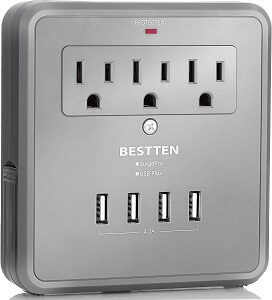 If your work involves more with USB cables and you are looking to protect your phones and tablets from voltage spikes, here is a better option for you. BESTTEN wall mount surge protector has 4 USB outlets and 3 AC outlets at a reasonable budget. The USB ports have a 2.4 Amp charging speed and 4.2 Amp in total. You can rest assured about the stability and faster speed here, in comparison to the Belkin wall-mount surge protector.
You don't have to clutter your space with so many wires and adaptors after installing this on your wall over your AC outlet. It is very simple to install the surge protector as it just takes one screw. The design is pretty compact and different from usual surge protectors. It occupies less space and can be carried by closing the slide-out holders. By the way, the slide-out holders make it best because of easy portability.
As you get the holders, you can carry them on your travel and you don't have to screw them in every hotel. Just slide-out the holders and plug them in any AC outlets in your room. The surge protector offers 300 joules protection ratings which is comparatively much lower than the last one but still good enough. BESTTEN wall mount surge protector comes in 3 colors. So, you can look for the one that suits your wall.
Conclusion
Having a surge protector at your home assures you about the safety of all your electronic components. However, there are different kinds of surge protectors for different purposes like you can get one for traveling, for your office, etc. You can also get one for a specific device like a surge protector for TV.
Similarly, if you are looking for surge protection for your home electronic equipment then a wall mount surge protector is the best choice. Simply because you can fix or mount it to one place and provide protection to all the devices at the same time.