Gone are the days when people used to travel with just their clothes, books, and maps. Now, people carry a lot of gadgets with them like their smartphones, tablets, laptops, DSLRs, etc. When carrying so many gadgets they should also carry a portable power strip with them which not just provides them extra outlets but also provide protection to their gadgets on the go.
If you are someone who's always on a trip or planning the first trip then you must have a good travel power strip to protect the gadgets. Here we are recommending 7 best travel power strips that you can take with you on your next trip.
Best Travel Power Strips Reviews
1. Tripp Lite Portable Surge Protector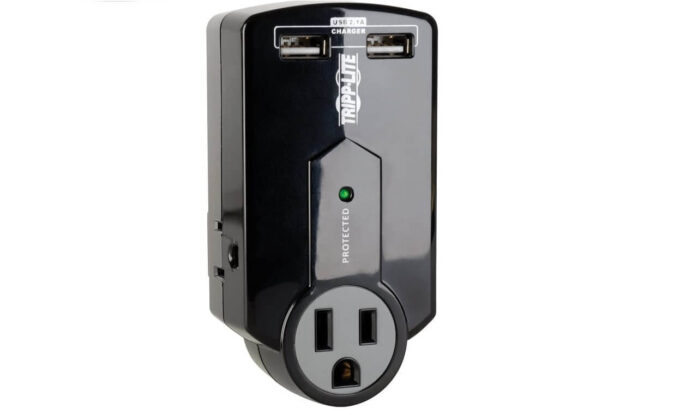 Trip Lite is a well-renowned name when it comes to surge protectors and power strips. It is known for making great quality products and this travel power plug is no different. It comes with 3 AC outlets and 2 USB ports, so a total of 5 ports you get on this compact power strip. Moreover, it has a plug & play design to give you a tangle-free experience. Also, the plugs on it are foldable which further makes it easier to carry around.
Apart from being travel-friendly, it also provides protection to all the connected devices as it conforms to the UL 1449 safety Standards. Also, it comes with 540 joules of surge protection to protect gadgets from power surges.
On top of that, it comes with an insurance cover on all the connected devices. So basically it's a win-win situation for you if you go with this travel power strip.
Allows fast charging
Protects devices from surge
Comes with a carry case
Provides insurance on connected devices
Not suitable for hard to reach outlet as it has no cord
2.
NTONPOWER
Small Power Strip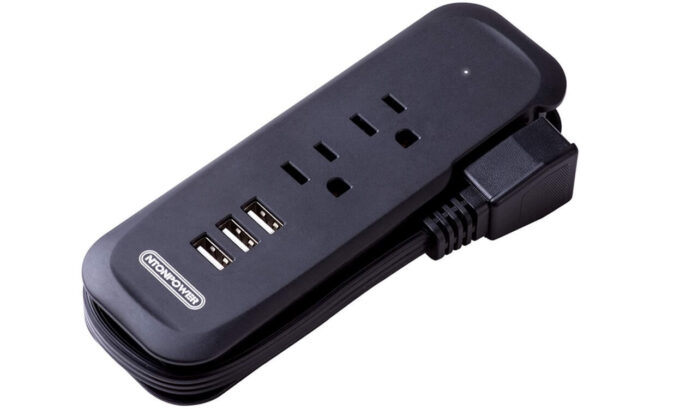 This NTONPOWER small power strip comes with a 15-inch power cord. However, it doesn't make it any less travel friendly as the cord easily gets wrapped around it which makes it easy to store.
Moreover, it consists of 2 AC outlets and 3 fast-charging USB ports that operate at 2.4 amps max. Overall, with fast charging support, it is a great travel power strip.
Also, it provides safety features like it has a flame retardant body at the exterior and high-end capacitor inside which protects the devices from short circuits, overheating, overcharging, etc.
Supports fast charging
Compact and lightweight design
Has a flame-resistant body
3.
Anker PowerStrip Pad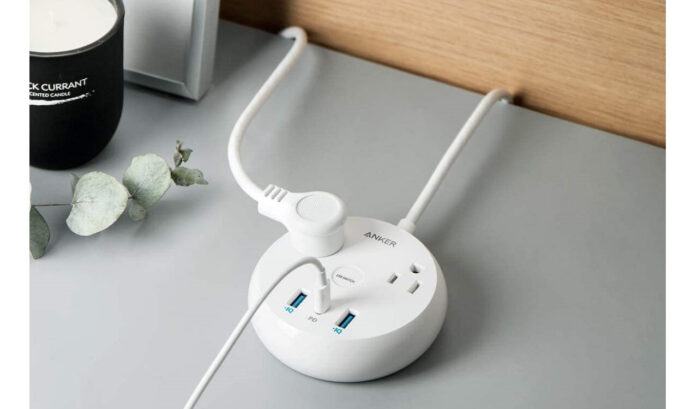 This powerstrip pad from Anker is a lifesaver for people who need a good travel power strip. As it supports a 30W Type-C USB port that can charge the phone battery(4000mAh)to 67% in just 30 minutes and in just 73 minutes it can completely charge the phone to 100%.
Apart from one Type-C port it also has two Type-A ports which are powered by the Anker's Power IQ technology that delivers a power of 12 W for devices that don't support Type-C charging. So this powerstrip pad has a total of 3 USB ports along with 2 AC outlets to power your devices.
It has a circular space-saving design which makes it a perfect power strip for traveling purposes. Moreover, it has a 5ft long cord which gives you more flexibility to use it anywhere you want. It also comes with included adhesive stickers which let you place it firmly on any surface. In terms of protection, it comes with overload and fire-resistant material but surge protection is missing from it.
Supports ultra-fast charging
Space-saving design
Comes with a long power cord
4. One Beat Power Strip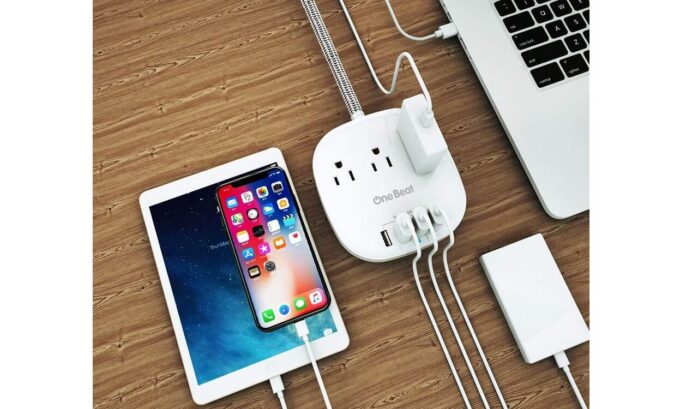 If you are going on a cruise then this power strip is something you must take along with you. It has 3 AC outlets and 4 USB ports so you can charge 7 devices simultaneously on it.
Moreover, the USB ports have a built-in smart charging technology that can auto-detect the devices connected to it and seek to maximize the charge speed.
It is also more convenient to use as it comes with a 5 ft long braided power cord which makes it easier to access the outlets that are hard to reach. Moreover, it is made up of high-quality fire-resistant material and can also protect devices from short circuits, over-current, etc.
Supports smart charging technology
Has a long braided cable
Ideal power strip for cruise ships
5.
NTONPOWER Power Strip
Charging Station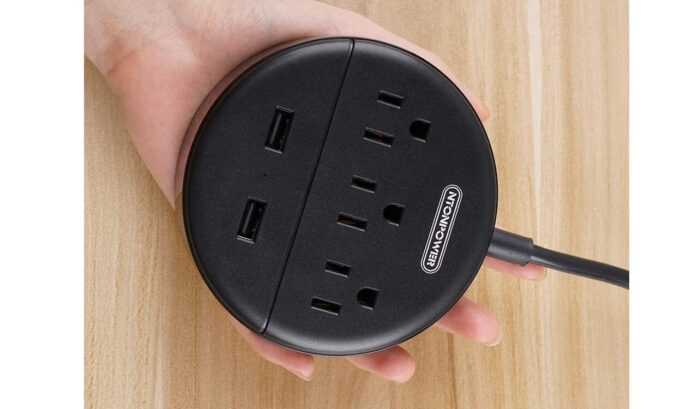 This is another compact travel power strip that you can consider taking yourself on trips especially the cruise trips. It comes in a compact circular design that is easier to carry around. Also, it features 3 AC outlets and 2 USB ports which allows you to charge 5 devices simultaneously.
It also has a 5ft long extension cord which allows you to plug it to outlets that are hard to reach. Moreover, it has a 45° angle plug design that provides space to other wall outlets.
This portable power strip also comes with full-round protection which keeps your devices safe from any kind of electrical damage.
Flat plug design
Lightweight and compact
Has a flexible long extension cable
May get a little heat up on continous usage
6. 
Anker PowerPort Cube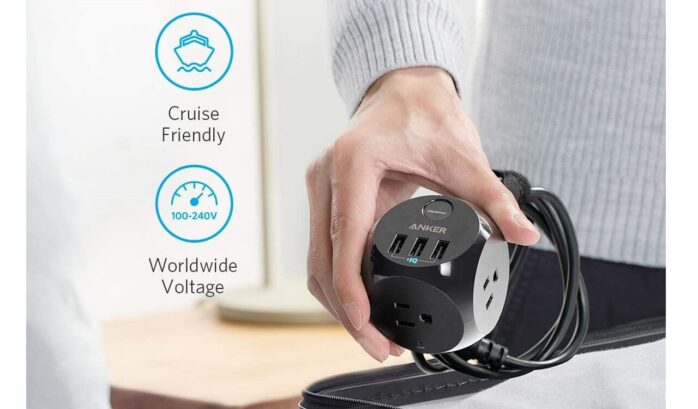 If you are looking for a good travel power strip that also has a cool look then this Anker power cube is for you. It comes in a unique cube shape which also makes it extremely portable. It has 3 AC outlets and 3 USB ports which support a maximum of 1250W and 18W power respectively.
The USB ports on this device work on Anker PowerIQ technology which makes it intelligently identify the connected device to deliver the fastest possible charge speed. Also, it comes with a 5ft extension cord and safety features like overload protection and a fire-retardant casing.
It also offers you a worry-free 18 months warranty. So overall it's a great travel power strip that has to be in your wishlist if you like to travel a lot.
Super compact and stylish design
Supports fast charging
Protects the connected devices from overload and overheating
7.
NTONPOWER Travel Power Strip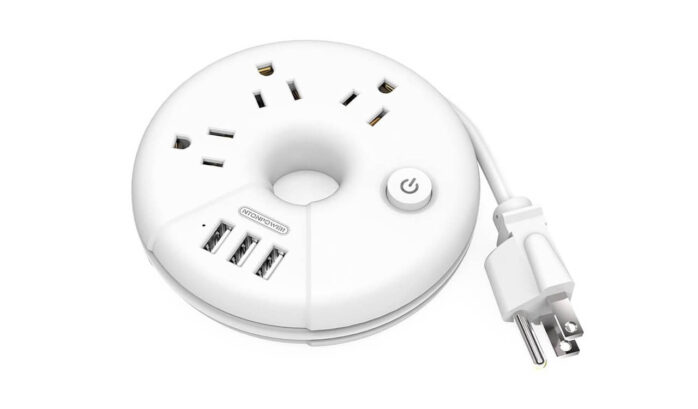 This travel power strip comes in the shape of a donut which easily wraps the 15-inch extension cord around its outer surface to make it easier to carry around. It comes in three different colors black, red, and white so you can pick one according to your likings.
Irrespective of the color, all three variants consist of the same numbers of ports; 3 AC ports, and 3 USB ports. Moreover, the USB ports are equipped with smart IC's so you can use all the three ports at the same time to charge 3 different devices without compromising on the charging speed.
Also, this power strip is designed to work against short circuits, overcharging, and overheating. So basically you can go with this product without any doubt in your mind.
Highly portable
Comes in multiple color options
Can charge multiple devices at once
No fast-charging USB ports
ALSO READ: Top 5 Single Outlet Surge Protectors
Conclusion
So this was our list of the best travel power strips that you can consider going with. All of the listed power strips are lightweight and portable so you can easily take them anywhere you go. Apart from travel, you can also use these strips at home and office and since these don't take much space you won't feel them even around.
Factors To Consider Before Buying Best Travel Power Strip
1. Compact and Lightweight Design
Since its a travel power strip it has to be compact in size and also lightweight in order to easily carry it around with you. If the power strip is heavy or big in size then it won't be easy to carry.
2. Multiple Ports
Having a travel power strip is of no use if it doesn't have multiple ports, as we may need to charge all our devices simultaneously during the trip. Also, if the power strip has USB ports then it's even better because then you won't have to carry the charging adapters of all your devices which will saves a lot of space for your second favorite dress.
3. Device Protection
Having multiple outlets is not all you need as it is important that the power strip also provide your device protection from overload, short circuit, overcharging, etc. You can also go with power strips that have surge protection, as it will keep your devices and gadgets secure from any sort of voltage fluctuations and power surges.
4. Travel Carry Case
If you could get a carry case with your travel power strip then it will be easier for you to keep it handy whenever needed during the travel.