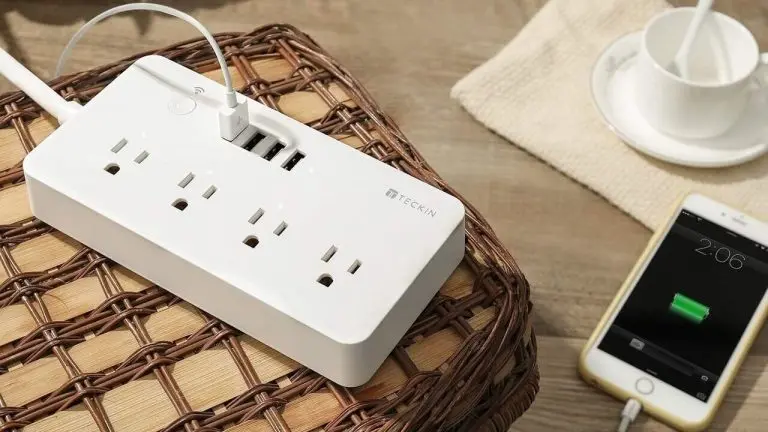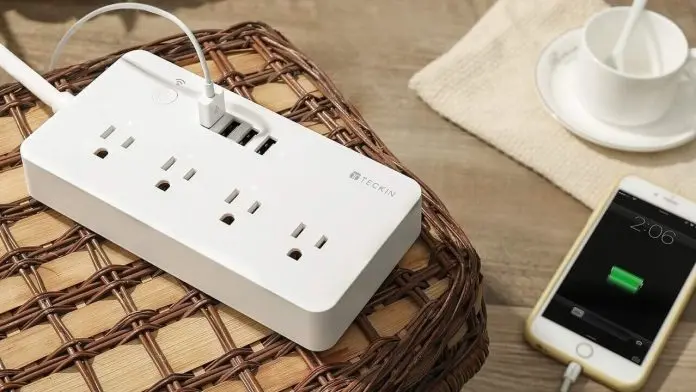 In these modern times, who would not want to live in a smart house, where every device is connected to each other and one can control all these devices with their smartphone or through voice command. However, the cost of home automation and IoT devices is not something that everyone can afford.
But does that mean that not everyone can have the luxury of living in a smart house? Absolutely not! as there are smart powers strips available that can convert any electrical and electronics device of your house into a smart device. It's the most economical and easiest way to turn any ordinary home into a smart home.
However, finding a smart power strip among the plethora of power strips available in the online marketplace is a tough task. But, you can rely on us for that, here we have handpicked some of the best smart power strips that can help you turn your home into a smart home.
What is a Smart Power Strip And How Does It Work?
A smart power strip looks similar to an ordinary power strip. Just like any other ordinary power strip, it has multiple outlets that help you in connecting multiple devices to it. However, most of the smart power strips have USB ports so that you can directly charge your devices with them.
These strips have a long and flexible cord with a three-pin plug that gets connected to any AC outlet of your home. Once the smart surge protector is connected to the AC outlet you can then connect it to the WiFi of your home network to control it using the smartphone app or through voice commands using Alexa and Google Home. However, the speaker and the power strip should be connected to the same WiFi network.
Best Smart Power Strips
1. TECKIN Power Strip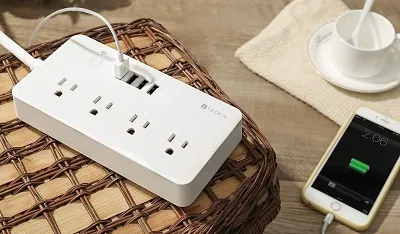 This smart power strip from TECKIN is a complete solution for your home automation needs. It consists of 4 USB and 4 AC outlets that allow you to use it for charging and powering your device at the same time. Moreover, it has dual control options; you can either control the device using the Smart life app present on both iOS and Android platforms or with the help of voice commands.
For using the voice commands you need to connect this smart strip to Google Home or Alexa over the 2.4GHz WiFi connection. Moreover, for connecting this strip to WiFi you don't need any switch or hub as it directly gets connected to the router of your home.
However, the best part is that it is a UL-certified power strip that ensures the safety of the devices connected to it. On top of that, it has a push to reset the circuit breaker which keeps the connected appliance safe from overload fire.
2. PowerUI
Smart Outdoor Power Strip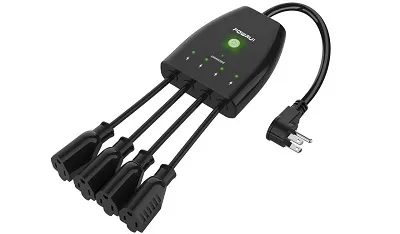 This smart plug from PowerUI overcomes the disability of the previously discussed TECKIN power strip as it comes with an IP44 Weatherproof, and splash-proof design which makes it a perfect smart plug for outdoor power usage.
It has all the features that a smart power strip must have like, voice command support, App control, schedule and timer settings, etc. Moreover, it protects the connected devices with surge protection of up to 1080 Joules.
The design of this smart plug is also unique as you get to see 4 AC outlet extended plugs that can be controlled separately. However, the only downside is that you don't get to see any USB port on it.
3. 
Kasa Smart Plug Power Strip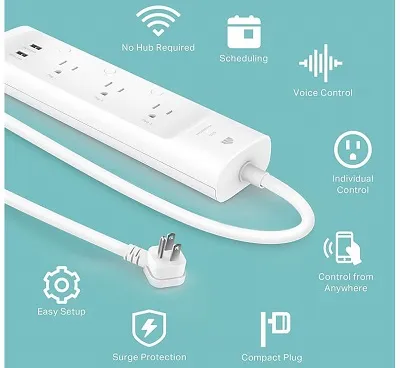 This product from KASA is a good indoor smart power strip that comes with 3 independent power plugs along with 2 always-on USB ports. So basically you can power 5 devices simultaneously on this power strip.
To control the devices plugged into this power strip you can make use of the Kasa smart app from your smartphone. Or, you can make use of voice commands as it is also compatible with the Google Home and Amazon Alexa assistant.
Apart from being a smart power strip, it is also a surge protector that prevents the connected devices from damage due to voltage fluctuations and power surges. However, the USP of this electronic device is that it supports a space-saving smart plug design that doesn't block other power outlets and also easily fits in congested places.
4.
PowrUI WiFi Smart Power Strip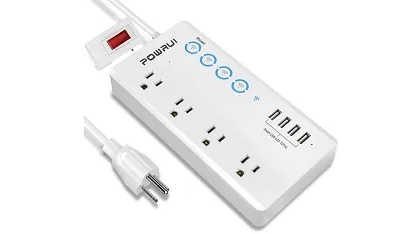 This power strip is another good option to go with if you want to turn your nonsmart devices into smart devices and control them remotely. It comes with 4 AC outlets with one to one reset button which enables you to control these outlets independently when there's no WiFi connection.
Apart from that, you can also control the connected device to these outlets using voice commands via Alexa and google assistant and also remotely through the smartphone app. It also has 4 USB ports that let you charge your electronics side by side. So, basically, you can connect 8 devices to this power strip at a given period of time.
Moreover, it has every other feature that is a must for a smart power strip but what it has in access is that it can provide 3 levels of surge protection of up to 1080 Joules along with a circuit breaker switch to protect the connected devices from any sort of damage.
5.
APC Smart Power Strip Cum Surge Protector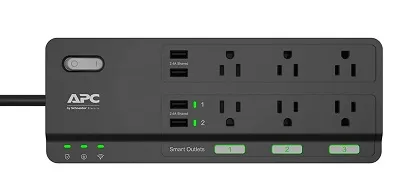 The APC smart plug is more of a surge protector as it can protect the connected devices from voltage surges of up to 2160 joules which is more than enough for all your home appliances. Moreover, it has 6 outlets and 4 USB ports out of which 3 outlets and 2 USB ports are smart ports and the remaining ones are standard ports.
This 6 outlet surge protector has built-in WiFi which allows you to connect this strip to the APC home app and Alexa for remote and voice control. You can also set times and schedules to turn on/off the devices at a particular time. However, these commands are only applicable to devices that are connected to the smart ports only.
Overall, this APC surge protector cum smart power strip is great that not only makes your device smart but also protects them from power surges.
6.
Gosund Smart Power Strip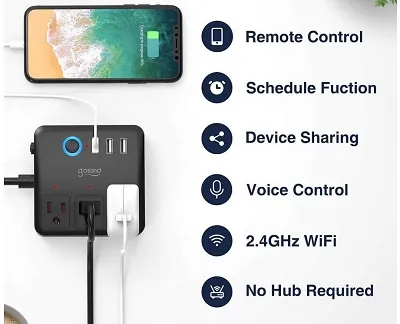 This power strip is not very different from other smart power plugs as it does not have anything special than other smart power strips. However, the USP of this is, it has a compact size which makes it a smart travel power strip. It has 3 AC outlets and 3 USB ports so a total of 6 ports you get on this device.
However, only the 3 AC outlets are smart plugs but the USB ports are not smart as they are always-on ports. This means you can only control the devices connected to the AC outlets using the voice and phone app and the devices charging from the USB port.
7. M
eross Power Bar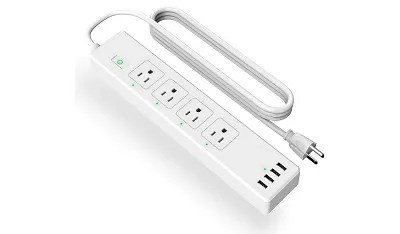 This power bar from Meross is a great device for those who want a sleek and stylish smart power strip. Moreover, it has 4 USB and 4 AC outlet which can be controlled remotely i.e, unlike other smart plugs which don't have smart USB ports this power bar let you control the USB ports along with the AC outlet remotely. However, all the USB ports are not independent like the AC outlets.
It is compatible with Amazon Alexa, Google Home, and smart life. Along with that, it has its own app with which you can control it remotely. Moreover, it is built with a high quality of flame retardant PC material which ensures the safety of your house. Apart from that, this advanced power strip features a 6ft long power cord which makes it easily reach the far power outlets.
8. Heyvalue Power Strip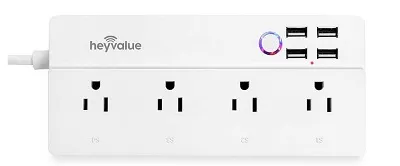 This smart home device from Heyvalue is another good power strip with a long 6ft power cord. Along with that, it has 4 AC outlet ports and 4 USB ports, the good thing is both the AC outlet and USB ports are smart ports. But, the USB ports can only be controlled as one unit and not individually.
You get this power strip in two colors, black and white. However, to get the black color you will have to pay an extra $2. It also has power surge protection which enables it to protect all the connected devices from voltage upsurges.
9.
AHRISE WiFi Surge Protector

If you want a smart power strip with more number of ports then this product is for you. It has 8 AC outlet ports out of which 4 ports are smart and the remaining 4 are always on ports. It also features 4 USB ports that you can use to charge your devices, but you can't control the USB ports remotely as these are non-smart USB ports.
You can control each device connected to the smart port using the phone app, or through voice commands using Alexa and Google Home. Although only 4 ports are smart on this power strip but it provides surge protection to all the ports be it smart or non-smart.
10. Nooie WiFi Power Strip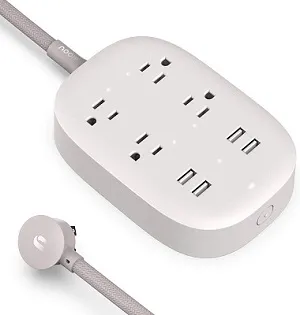 Last but not the least, this Nooie smart power strip is another good product for indoor use. It lets you connect 8 devices to it at the same time, 4 on AC outlet and 4 on USB ports. The good thing about it is that it comes in a space-saving design and also has a non-slip base which keeps it sturdy in one place.
Being a smart power strip it allows you to control the devices connected to it using its smartphone app and also through voice commands via Google Home and Amazon Alexa. It also lets you easily set the timer and schedules to turn on or off your electronics based on your time routines. Overall, this surge suppressor strip is just as good as any other power strip on this list and you can go with it if you want a power strip with a good design and durability.
Features To Look Out When Buying Best Smart Power Strip
A smart power strip is called smart because it has plenty of advanced features that a regular power strip lacks. Some of the features you should look at before buying it are.
Energy Saving
It's a common misconception among people that once they have turned off their devices, it no more consume energy. However, most electrical devices like TVs, Computers, Cable boxes, etc draw energy even after they are switched off and this phenomenon is called the Vampire load.
A normal power strip or outlet cannot prevent Vampire load from happening but smart power strips can help you in monitoring the device consuming energy even after they are switched off and can help you in saving money on the yearly electricity bill.
Device Protection
The advanced power strips generally have a circuit breaker switch installed in them which consists of metal wire that has a low melting point. The wire melts down in case of excessive current flow or heat and saves the connected devices from damage.
Most power strip also works as surge protector to protect the connected devices from sudden power surges.
App And Voice Commands
It is a feature that makes a power strip truly a smart power strip as it allows you to operate the devices connected to it using voice commands or through a smartphone app. If a device does not feature any of these commands then it isn't actually a smart power strip. So make sure your smart power strip is compatible with both app and voice commands.
Schedule and Timer
This is another great feature that is a must to have in a smart power plug as it gives you the power to automatically turn on and off the devices connected to it at a specific time in the day.
All the smart power cords have almost the same functionalities such as time and schedule settings, voice and app command, surge protection, etc. However, some power strips have more ports than others and some may have longer power cords than others. In the end, it all comes down to your preference and choice that which smart power strip you choose to go with.