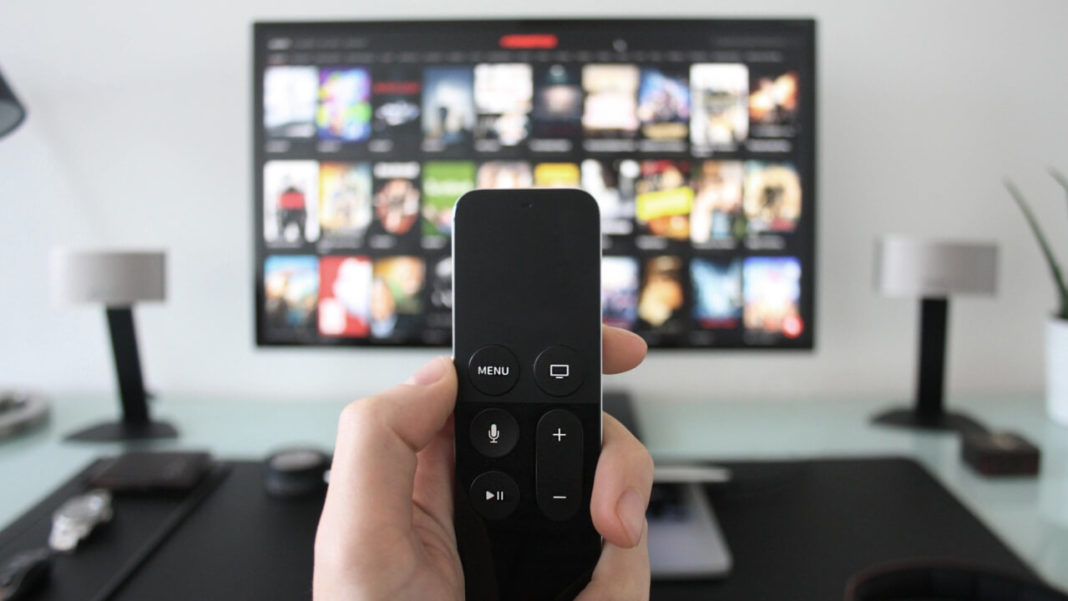 An operating system (OS) works as an interface between the hardware and the software part of a device. In layman's terms, it is a software that lets you run other software on a device.
Android, iOS, Windows, and Mac are some examples of an operating system, you must be already knowing that as our phones and computers run on these operating systems. But do you know that even TVs have their own operating systems?
Smart TV as we call it, is smarter and more capable than conventional television and it is simply due to the fact that a smart TV has its own operating system. There are several TV OS available in the market like the Roku TV, Fire TV, Android TV, Tizen, Firefox OS, and webOS.
But in this article, we are going to compare the 3 top TV operating systems, Android, Tizen, and webOS so that you can decide which OS is the most suitable for your preferences and maximum convenience.
Sales Percentage Graph (Android TV vs Tizen vs webOS)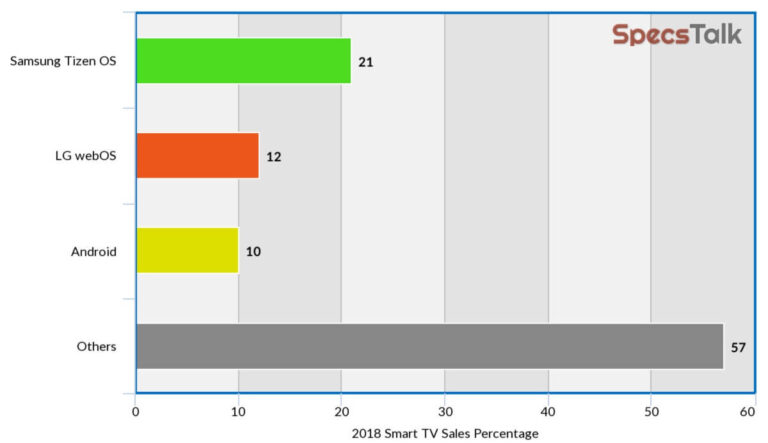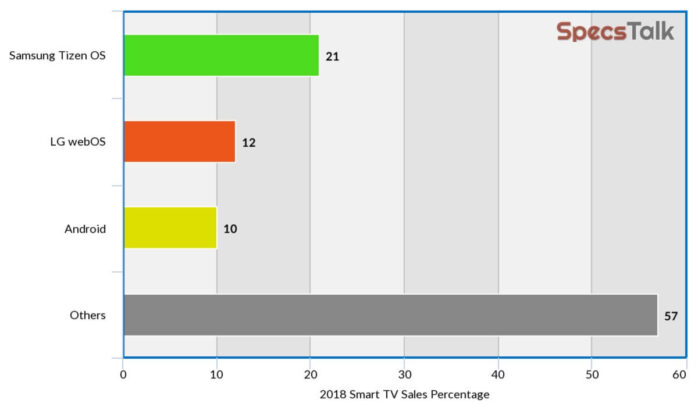 Android TV vs Tizen vs webOS Comparison
As you may know, Android OS belongs to Google, and on the other hand, Tizen and webOS are native to Samsung and LG respectively. Android OS comes in Smart TVs from TV brands like SONY, Sharp, and Philips while Tizen and webOS come preinstalled in Smart TVs from their respective brands.
So, let's first learn quickly about Android, Tizen, and webOS and after that, we will compare them on different factors.
Android TV
The Android TV was first announced in June 2014 and is a successor to the previously launched Google TV which unfortunately fell under the rails and wasn't commercially impactful.
With the launch of Android TV, every innovation and technological advancement of OS was channeled into Android TV in order to provide the users with the best entertainment experience.
Android TV is essentially a version of the Android operating system of Google used in smartphones which is exclusively configured to operate on Television sets.
You can easily utilize Google voice assistant by simply calling out "Hey Google" for a fantastic hands-free experience and even access Google Playstore in order to download apps specifically made for the Android TV.
The homepage of Android TV has a horizontally scrolling layout also called "Ribbons" which consists of the thumbnails of recently viewed apps, recommendations, and in-progress series. i.e. If you watch a particular show on Netflix which is in progress, the thumbnail will display the show on the ribbon providing you easy access to it next time.
The main objective of the layout is to provide the users with an easy interface for discovering new content, ongoing content, and recommendations from multiple popular apps available on Android TV such as Netflix, Amazon Prime, Twitch, YouTube, Hulu, HBO NOW, Plex and many more.
Tizen OS
Tizen is a Linux-based operating system developed by Samsung Electronics and is the proprietary operating system of all new versions of the Samsung Smart TVs.
The Tizen layout in SmartHub has a simplistic interface that does not take up too much of your screen space, unlike the Android TV layout. It has a band of cards type display that runs horizontally across the bottom of the screen that shows all the streaming services and apps you can scroll through and select along with the settings button on the bottom left and it even displays any devices connected to the TV.
Scrolling through apps is fairly simple and if you hover over the app thumbnail, it will automatically show the TV series or content you watched recently. This allows you to conveniently click on the thumbnail and pick up where you left off with merely the touch of a button.
You can navigate through the Tizen interface manually using the TV universal remote or enjoy a hands-free experience by summoning the Bixby integrated Voice Assistant to help you choose the content you desire to watch.
However, one thing to keep in mind though is that Bixby's Voice Assistant is fairly limited compared to Android TV's Advance Google Assistant which is capable of undertaking a wide array of commands and tasks.
Tizen TV consists of several popular streaming apps like Netflix, Amazon Prime, Hulu, HBO NOW, YouTube, and many more.
webOS
Originally developed by Palm Inc, the LG webOS is a Linux Kernel-based operating system for LG Smart TVs exclusively.
The webOS interface in LG smart TV is simple and minimalistic which does not take up too much of your screen space. It has a horizontal ribbon that runs across the screen from left to right displaying all the features, apps, streaming services, cable connections, and settings with a stylish slant thumbnail design.
All the information and apps you need are available to you upfront in the ribbon itself increasing user efficiency in navigating through the desired apps and features with ease by simply scrolling horizontally.
Speaking of navigation, you can summon the Google Voice Assistant in order to choose your content of desire hands-free or you can use the LG Magic TV remote which also has a feature of cursor hovering on the screen that you can use to aim at the desired app and click to choose immediately same like you use the mouse.
The LG webOS is equipped with multiple popular streaming services and apps such as Netflix, Amazon Prime, Hulu, Vudu, Google Play Movies, YouTube, and many more. Thereby provides you with a wide range of entertainment to choose from.
Comparing TV OS On Different Factors
Android and Tizen OS were first developed for Smartphones while the webOS was solely designed for smart TVs. For more information about these operating systems and to know which is one is better, let's see each OS pros and cons based on the factors.
User Interface (UI)
The UI as you know is the interface between humans and computers, or in this case televisions. The icons, folders, and graphics that we see on the screen are all part of UI, the smoother the UI the easier it is to interact with the device.
In terms of the interface, the webOS is better than the Tizen and Android TV. It has a taskbar at the bottom of the screen which contains a scrolling row of content and icons which take minimal space on the screen.
The good thing about the webOS interface is that its start menu doesn't take over the whole screen. Moreover, the graphically enriched folders and icons help you easily browse through your content.
Similar to the webOS, Tizen has kept most of the space on the screen empty so that you can easily scroll through different content while watching TV. Other than the toolbar at the bottom, there is a Recent box on the left corner of the screen that dynamically changes between the recently viewed content and recently used apps.
Unlike the other previous two OS, the interface on the Android TV is a little different as it stills takes up the whole screen for its homepage, which doesn't look that good.
Moreover, the layout of the icons and folder looks vintage and takes up a lot of space. However, the good thing is that you can customize the running order of the content on the home screen.
Apps Support
Needless to say that all three TV OS supports all the basic streaming apps like Netflix, Hulu, and YouTube. However, when we talk about a smart TV the first thing that comes across our mind is the list of the apps it supports.
And Android TV is a clear winner in this segment. Android being a product of Google has access to thousands of apps specially designed for Smart TVs available on the Google Play Store.
While on the other hand Tizen and webOS support apps from their local app store named Tizen Store and LG Content Store respectively. The number of apps available on these stores is insignificant when we compare them with apps available on the Play Store.
Voice Recognition
All three TV OS has a strong voice recognition feature, the Android TV has a built-in Google Assistant for voice commands using the TV remote. However, you can also use Amazon's Alexa on it with the help of an external listening device. Similarly, Tizen has a built-in Bixby engine that can recognize your words for changing TV settings and searching content.
Tizen also supports Google Assistant and Alexa for voice recognition but only via external speakers. However, with the latest LG TVs, you can use Alexa, Google Assistance, and LG's own ThinkQ AI system for voice recognition without any external listening devices.
Connectivity
The ability to interact with other smart devices over the internet is one of the most important features of a smart TV. Moreover, with the rise of the Internet Of things(IoT) devices our homes have now transformed into smart homes and what's better than having smart TVs as a center of all devices i.e you can control all the smart devices with your Smart TV.
Android TV and webOS use the built-in Google Assistant to interact with other smart devices in your home. On the other hand, Samsung has its own IoT platform known as the SmartThings which comes preloaded on Samsung Smart TVs. It can control all smart home devices like thermostats, motion sensors, TV Backlights, etc.
Screen Casting
Screencasting is a feature that lets you mirror your content playing on your smart device to a big screen. Basically, all smart TVs have this feature, the only difference is the casting technology which varies according to the operating system.
For example, Android TV comes with built-in Chromecast technology that lets you share content from apps that support Chromecast like YouTube, Netflix, Google Photos, etc.
While the Tizen uses its SmartThing technology to let you cast your favorite content on your big TV screen. All you need to do is to download the SmartThing app on your smart device from which you want to mirror content and then you are good to go. The webOS, on the other hand, uses its native SmartShare feature that lets you watch all the multimedia content on your TV.
Popularity
Smart TVs are gaining more and more popularity among people worldwide. So much so that out of all TVs sold in 2018, smart TVs had a contribution of 67% in it. According to statistics, 157 million smart TVs were sold last year out of which 21% were running on Tizen OS. Followed by webOS at 12% and Android TV at 10%. This means that Tizen is the most popular TV OS, at least what numbers are telling.
Related Article: Best Cleaning Kit For TV Screen
Conclusion
To conclude Android TV vs Tizen vs webOS comparison, we would like to say that all the operating systems are good, but if you ask which one is the best? Then according to us, webOS is a perfect TV OS. Though it had some shortcomings, still it provides you immersive TV viewing experience with smart features. However, if you like Android apps then you can definitely go with an Android TV.