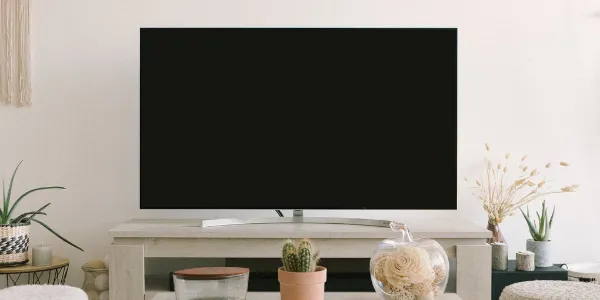 Compact-sized TVs are suitable for almost all small spaces where you need some entertainment. You can install them in the dormitory, kitchen, study rooms, shops, security rooms, or even in your bedrooms. If you are planning to install security cameras at your home, office, or store, getting a 32 inches TV will be a smart choice.
These TVs not only fit in all the above setups but are also affordable and easier to shift to other places if need be.
Are budget TVs worth it?
Any TV is worth it if it can conveniently show you the movies and shows you want to see. It should offer a decent picture with the option to switch through multimedia sources quickly. You can even buy smart TVs at very affordable prices and that allows you to stream content and play games.
When buying a small TV, you might miss some newly introduced, high-end technology but you don't have to compromise with the convenient features and overall built. For that, you should choose the TV by considering important factors like connectivity, compatibility, sound, resolution, warranty, etc.
Our Picks For Best 32 Inch TV Under $150
Here we are mentioning the best 32 inches TVs in the market that are available for around $150. If you have a strict budget to maintain, you can go for the first 3 TVs as they are under $150, rest are a few bucks extra. We hope you find the best deal that fulfills your entertainment needs.
1. Insignia NS-32F201NA22 F20 Series Smart TV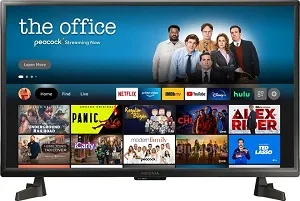 The first TV we have here is from Insignia, a trusted TV brand. It is a smart TV with all the qualities you would want in a compact TV of 32 inches. The TV offers a 720p HD resolution which is pretty okay for a small screen size.
It has an LCD screen but with LED back-lighting that gives amazing contrast and all the necessary colors. The sound however is a disappointing factor of this TV especially if you have a habit of playing music channels at high volumes frequently. But it is still good for small or cramped rooms.
Insignia has provided inbuilt FireTV on this TV for insanely huge entertainment options. You can watch thousands of movies, web series, TV series, etc on various streaming services as well as TV channels. It supports Netflix, Apple TV+, Disney+, Prime Video, Hulu, YouTube, etc.
To control the TV you get a very convenient remote with Alexa voice control. You just have to press and hold the voice button and request your favorite movies or shows. It can perform almost all the functions you see in the full-buttons remote control. The remote also has dedicated buttons for Netflix, Hulu, Prime Video, and Disney+.
This 32 inches TV offers a lot of connectivity options as well. There are 3 HDMI ports which is a lot for a budget, smart TV. Then you have the composite AV jacks, digital optical jack, a coaxial jack, and a headphone jack.
2. Sceptre (X322BV-SR) Class LED 32 Inch TV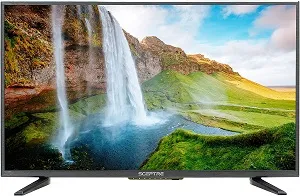 Sceptre has a premium picture quality television for you at a very affordable price. Its LED screen offers a sharp contrast with the perfect balance of light and darkness. The array of rich natural colors give you a pleasant picture with the 720p IPS display. The sound perfectly supplements the picture quality and you get a good overall watching experience.
The MHL technology available in the TV allows you to cast the content from your phone. Though this requires a wired connection, not all phones will be compatible with this feature.
The TV has multiple ports including 2 HDMI ports to transfer lag-free audio and visuals. There is an optical out audio port if you want to set up a sound system separately. But with the impressive 10-watt speakers, we don't think you will need that.
You also get a headphone jack at the back in case you are watching something at night. Unlike most other budget TVs, this Sceptre TV has a USB port. It is USB 2.0 that you can use to access your offline content or record what's live.
All ports are at the back but not facing the wall. So, you can mount the TV easily using the VESA mounting standard holes. With cool looks and minimal bezels, the TV looks good while placed with the stand.
3. Insignia NS-32DF310NA19 Smart HD TV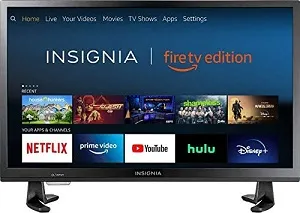 This is another 32 inch TV by Insignia that offers powerful performance at very affordable rates. It is one of the most purchased Insignia TVs on Amazon with an average rating of 4.6 stars from the buyers. You will like it for its pictures quality and fast response time.
The TV delivers high-quality pictures of 720p with rich contrast and true colors. The evenly distributed for this amazing quality contrast in all types of lighting conditions. It provides a very wide viewing angle of 178° that makes it good for places like a kitchen and cafes that have no fixed watching spot.
In this Insignia TV too, they have provided built-in Fire TV by Amazon. It allows you to access all the trending movies and shows on various platforms. The apps like Netflix and Prime videos receive updates automatically and your TV keeps getting smarter. Though you have in-built Wi-Fi, you can also connect to your LAN with the Ethernet port for faster speed.
All the controls are on the Alexa-enabled remote that you get in the package. The remote not only works for entertainment but you can also control your smart home and surf the internet with this. Once you pair the TV with an Echo device, you won't need the remote too.
The TV is powered by a Quad-core CPU and Multi-core GPU. It has a fast response time and all your searches are pretty quick. With such specifications, you can play games too. They have provided all necessary ports for connecting the gaming devices. You have 3 HDMI ports and 1 USB port along with an antenna/cable and an audio output.
NOTE: You are already introduced to the best TVs under $150. Here were have listed some more in case you can manage to go a little bit above this budget.
4. TCL 32S334 Class 3-Series LED Smart Android TV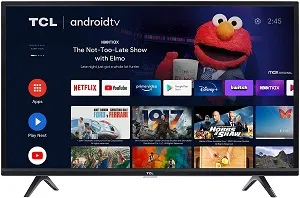 TCL is a well-known brand with some of the most sold TVs across the world. If you are looking to purchase a decent TV without spending much, here is a very cost-effective deal to grab. With an Android OS and features like built-in Google Assitant and Chromecast, this is one of the best budget TV around $150.
The unit offers a 720p (1366 x 768) HD resolution display with detail, color, and contrast like a premium TV. The brightness of the LEDs is apt and well adjustable for all lightning setups.
As this is an Android TV, you get to use a lot of Android apps and features. The built-in Google Assistant makes it very easy for you to access and search through streaming apps for movies, shows, music, etc.
The voice control also makes it easy for you to use media playback controls and your smart appliances. You can also Google search on the TV and find answers, access the calendar, view live scores, scroll your Google Photos gallery, etc from the comfort of your seat.
According to your watching habit, you get personalized recommendations on the home screen. The shows you left in the middle recently will also be displayed for you to pick up again, quickly.
To see the content of your phone like photos and videos on a bigger screen, the TV has a built-in Chromecast. Its mirroring is fast and works lag-free.
This TCL 32 inches TV also has a digital tuner for accessing local broadcast TV channels without a cable TV connection. The audio on all the content on TV will be immersive and clear because of the Dolby Digital Plus.
With Bluetooth, Wi-Fi, and HDMI connectivity the entertainment becomes endless. All-in-all, the TV has features worth the price and the sleek body also makes it attractive.
5. Sceptre 32 inches 720p LED TV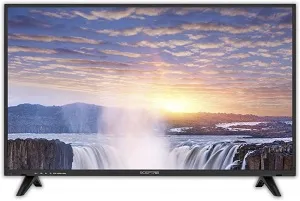 Here is another TV by Sceptre with True black colors at a very pocket-friendly price. With average picture quality and a lot of connectivity options, this TV is best for people who want to use it as a monitor. It has got a VGA port that supports standard definition resolutions.
One can use it for reviewing their pictures and videos and it is ideal to be set up with security cameras at your home or workplace. The display has got 720p resolution which gives out a moderately good viewing experience. So, if you watch TV once in a while, you can consider it for that too.
They have provided 2 HDMI ports, so you can connect your laptops, projectors, or gaming devices with the TV. For listening to downloaded music or other data on flash drives, there is one USB port as well along with an audio output jack.
The component and inputs allow you to connect your old devices like DVD players to the TV. All the TV controls are on the remote that runs on 2 AAA batteries. They have included the batteries in the package.
The VESA standard holes at the back allow you to mount the TV despite being a little bulky. You can also place it on a TV counter using its narrow stands.
6. Vizio D32H-J09 D-Series LED Best 32 Inch Smart TV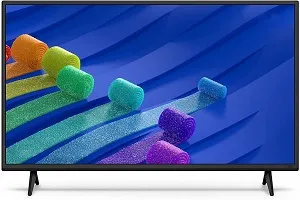 If you can manage to extend your budget a little beyond $150 but still want premium features, this one by Vizio might impress you. It is also a good budget gaming TV with all the required features to run games smoothly.
This smart TV offers full-array LED backlights evenly distributed to give you phenomenal contrast with color consistency. The image you view will have light uniformity and exceptional clarity. The 720p HD resolution complements the picture quality and makes the overall viewing, pleasant.
Vizio has provided a gaming engine in the TV that makes it very responsive. While playing games, it goes into game mode automatically and you will be able to enjoy high-quality games with almost no input lag. This feature is common across all the D-series TVs by Vizio.
The SmartCast operating system by Vizio makes the streaming and controls very convenient. You can search for your favorite content across all the apps from one place. The interface offered is fast and navigation is easy. To control the TV from your Android phone, you need to install the VIZIO SmartCast Mobile app.
This TV can cast content from your iOS as well as an Android phone using the built-in AirPlay and Chromecast. The speed offered here is fast and responsive, without deteriorating the picture quality.
7. Toshiba 32LF221U21 Smart HD 32 Inch TV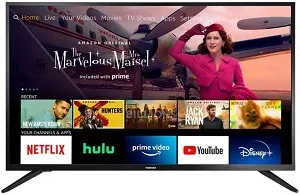 Toshiba is a reliable TV brand from Japan. This 32 inches TV will suit your budget and also provide you with an impressive entertainment value. This TV, like the Insignia we discussed at first, has a built-in FireTV. You already know about the huge amount of content and its diversity available with the Fire OS.
The unified home screen of the TV displays content from popular streaming apps as well as over-the-air TV. You can access thousands of movies and shows at a high-quality resolution of 720p. The direct-lit LED backlighting enhances the image and you get bright, and color-rich viewing.
The remote of this TV is also similar to the Insignia NS-32F201NA22 Smart TV and has got Alexa voice control option. It allows you to launch apps, search the content online, play your favorite shows and music and also control your smart home devices.
With a decent refresh rate of 60Hz, this TV responds fast to the commands. You can also play moderate-quality games by connecting your gaming devices through HDMI ports.
What can you expect from a 32 Inch TV under $150?
While putting even a small amount of money out there on a TV, it is obvious to anticipate some useful features and entertainment value in return. There are diverse sets of impressive budget TVs available for under $150. Here are a few things you can look for or expect from such TVs.
Display Type: Markets are flooded with almost all types of displays in TVs under $150. You will find LCD, LED, and plasma TV at this budget easily and a smart LED TV will be the best choice at this price range. But yes, there are no OLED TVs available in this segment from any reliable brands.
Screen Resolution and Picture Quality: $150 TVs should provide a good picture quality of at least 720p high-definition resolution. At max, you can find 1080p resolution if you compromise with other features but not more than that. Also, these TVs may not provide the best colors available, like in the expensive TVs, but they sure give out good contrast, brightness, and even vivid colors.
Smart TV – If you are looking for maximum entertainment value in your budget television, then you can also get a smart TV under $150. Popular brands like Insignia and Vizio have TVs that come with Wi-Fi connectivity to facilitate using seamless internet. You can watch movies and shows online, video call, and even control your connected devices with a voice remote. To get the optimum utility from a smart TV, we would suggest you consider the units with built-in FireTV.
Apps – If it is a smart TV you are buying, then you can expect to run some apps depending on the type of operating system the TV has. All those TVs can show you content from popular streaming platforms like Netflix, Prime Video, HBO, Disney+, and YouTube. You can also use music apps like Spotify and YouTube Music on your $150 TV.
Connectivity – A lot of TVs on your budget provide a wide range of hardware as well as wireless connectivity options. You can get 1-3 HDMI ports for fast transmission of video and graphics to and from gaming consoles, Blu-Ray Players, projectors, laptops, etc. USB, Ethernet, and VGA ports can also be expected depending on your need. Wireless connectivity options are Wi-Fi, Bluetooth and Screen mirroring.
Gaming – Please do not put much expectations here if you are a high-level gamer or anything. But for average-sized mind games or racing games like highway rider and rally fury.
Responsiveness – Even on a low budget, you should not compromise with the speed of the TV. You will find TVs with around 60hz refresh rate and fast response time so that your game and show run without any lag.
Remember: the above things may or may not present in the best form in one TV and you will have to find the one that will cater to your specific need. Some things you can not expect from $150 TVs are bigger screen sizes like 43 or 50 inches, loud sound, 4K picture quality, and high-end gaming.
FAQs
Can you get a 32 inch smart TV for under $150?
Yes, you can get a 32 inches smart TV for under $150 that comes with the most demanded features like HD resolution display screen, Wi-Fi, voice control options, HDMI and USB ports, etc. A lot of TVs we have mentioned in the list above come with built-in Wi-Fi connectivity so that you can stream unlimited content on different OTP platforms.
Insignia, TCL, and Toshiba are a few companies that offer TVs for around $150. You can watch your favorite movies and shows on Netflix, Prime Video, Hulu, HBO, and other apps like YouTube.
By connecting the TV to Wi-Fi and to your gaming consoles through the HDMI ports, you can play games. To watch the content of your phone on a bigger screen, these TVs allow you to cast your phone. You can also use browsers on them to search for information online. With the voice control features, surf the content, use the playback tools, control your smart home devices.
Is a 32 inch TV sufficient for your room?
A 32 inches TV will be suitable for a room with a small area so that the video as well as sound of the TV gives a pleasant viewing experience. If you are not a frequent viewer or only use the TV for listening to news or groove to the music, then too, you can go for this screen size.
These TVs are apt for viewing from a distance of around 4 to 15 feet. You can easily get 32 inches smart TVs that provide a clear picture and sufficient sound in such areas. These are fit to be used in smaller areas of our home like the kitchen, study room, or single occupancy bedrooms.
A lot of companies offer budget TVs with natural color, contrast, and suitable brightness. They also come with wall mounting holes so that you can save more space in your room.
Conclusion
These were the best budget deals available, you can pick your best 32 inch TV within $150. In our opinion, Insignia TVs can be trusted the most with the quality and you can choose any one of the 2 TVs we featured here. Insignia NS-32F201NA22 Smart TV offers good connectivity along with refreshing picture quality.
For a price little above $150, the TCL 32S334 Android TV is the best. It was launched recently and has got all the features that you would like to take home. If you are looking for a budget TV for gaming, Vizio D32H-J09 smart TV might be the best deal for you.