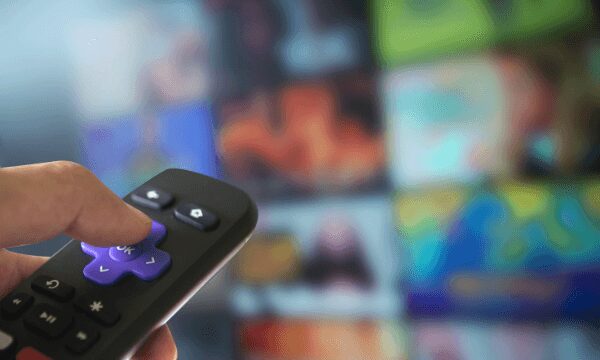 Are you looking to make your old analog television useful? To upgrade your TV viewing experience with old analog TV, you need a Digital TV converter box. You can find such boxes online easily but not every box out there is worthy of your purchase. In this article, we have selected the 7 best digital converter boxes for TV that convert the over-the-air digital broadcasts into an analog signal.
These boxes transmit local and national channels for which you won't have to pay any additional amount. By opting for the digital converter box, you don't have to pay for your channels and also no need to spend a hefty amount of money on a new TV.
You will get different connection types and other features with the boxes. We have explained them all in their description to help your choose according to your TV. They work with an antenna and not all of them provide that in the package. Here are the top digital converter boxes for your TVs in 2023.
List Of Best Digital Converter Boxes
1. iView 3300STB ATSC Converter Box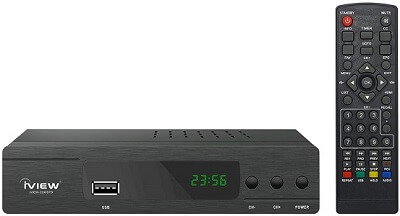 iView 3300STB is a pocket-friendly converter box to make your analog TVs, better entertainment hubs. The box converts the digital signal to analog TV automatically in high-definition. The content formats offered are 576p, 720p, 1080i and 1080p.
When you use this converter box, you will be able to explore the electronic program guide that displays the list of channels and TV shows you can watch. You can also see the list of upcoming shows as it happens on cable TV.
This ATSC tuner box comes with an auto-tuning feature to scan the digital broadcasts and channels. After that, you just have to click and set the channels. The 'Favorite' menu is also there so that you can list your preferred channels after scanning. You won't have to wander between innumerable channels to switch between your favorite ones.
Particular channels can be put in child-lock with passwords to limit their access from children. The box also allows you to record the program that is being broadcast and play later. For that, you will have to connect your USB flash drive or hard disk to the DTV converter box. The best thing is you can also play movies, music, preview pictures that are on your hard disk or pen drive.
The remote controller that you get in the package has multiple functions like changing the channels, setting aspect ratio, look for program info, record, etc.
2. QFX CV-103 Digital Converter Box
QFX is known for its wide range of party speakers and other audio-visual equipment. This is a 'plug and play' digital converter box that receives free over-the-air digital signals for your analog TVs.
In this, you have multiple connection options like RF In, RF Out, HD Out, and Video Out. To know which connection works best for you, you'll have to refer to your TV's instruction guide.
The converted HD TV signals give you some amazing TV channels like entertainment, news, sports, etc. You can record your favorite shows on your external drive when you are away and watch them later.
A notable feature of this converter box is the sleep timer, which you can set while watching TV at night. The box also allows you to search channels and programs to access and play them quickly. People have also appreciated the user interface of the converter box.
In the package, you get a power adapter, A/V cable, a remote, UL adapter, and a user manual. You can scan the channels using the remote control quickly. One feature that we don't appreciate is if a channel has weak signals then it is removed from the channel list and you have to scan it again to watch it.
3. Mediasonic ATSC Digital Converter Box

Mediasonic has this over-the-air digital broadcast receiver for your TVs, projectors, and monitors. This ATSC standard digital TV converter box support amazing video quality of 1080p on your Analog and digital TVs. But you will also need an external antenna to receive the digital OTA signals.
It can record and play the transmitted content on your TV. But they have advised not to use the flash drive for doing so because the video can lag. You can use a 2.5″ / 3.5″ external hard drive instead. To get the subtitle, do not forget to turn them on while recording.
This TV converter box with a built-in digital TV tuner also features an electronic program guide (EPG) so that you can schedule the shows and movies you are interested in. To connect this to your TV, you can either use the HDMI output port or the composite or coaxial port. The installation is quite easy and you do not need any handyman or technician for this.
You can group your favorite channels in one place and hide the ones that you don't want to show to your kids. On the small display of the box, time is shown in 12 hours format.
Please remember that this DTV converter box only receives ATSC signals that are common in North American countries like the USA, Canada, Mexico, Bahamas, etc. If you are from any other continent, determine your local TV signal type before placing your order.
4. Five Star TV Converter Box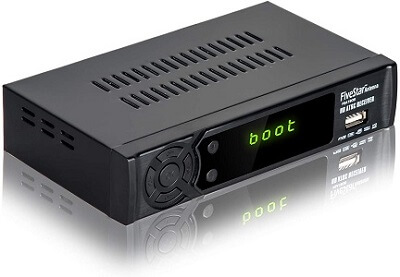 This is another TV converter box to access free channels by converting the OTA digital broadcast to your Analog TV. You can use this converter with your digital TV, projector, and computer monitor as well.
There is a wide range of connection types to choose from i.e. HDMI out, component YPbPr out, coaxial out, composite RCA, and RF A/V output. So, even if your plan to upgrade your TV, this box will still be useful.
The box supports high-quality video resolution to give you a clear picture. It is equipped with Dolby Digital Plus and H.264 video decoding technology for completely enhancing your audio-visual experience with the TV.
You can record your favorite shows and play them later. The box allows you to see pictures, play music, movies, and other videos from your flash drives and hard disks. It supports your multiple file formats. The USB drive and external hard disk on which you will store the movies and shows can be used later on other TV and computers to watch the recorded content.
The other good features are the parental control function and the timer for On/Off. The remote controller is also pretty handy and it allows auto-scan of the channels.
Please note that you will require an external TV antenna with this converter box to receive the over-the-air signals. And it does not decode the cable signals that are encrypted.
5. UBISHENG Analog to Digital TV Converter Box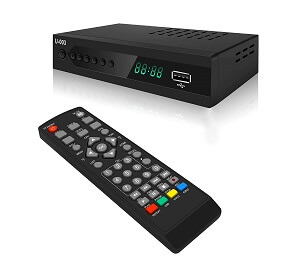 UBISHENG sells this multi-functional digital converter box that is compatible with popular TV brands like LG, Samsung, Sony, Polaroid, Panasonic, Sharp, Philips, VIZIO, etc. It receives OTA digital broadcast brings you new channels to watch on Analog and digital TV.
The box has clear QAM technology that transmits channels with good quality pictures even if your TV is old. It supports file formats like AVI, MOV, MKV, JPEG, MP4, WMA, MP3, and AAC. You can also use it directly on a projector and computer monitor as well.
As we said, it is compatible with so many branded TVs, it has 4 types of connections i.e RF, USB, RCA and HDMI. The RF output is useful in case you want to connect an additional set-top box to your TV using one antenna for both boxes.
The box also features a DVR function so that your can record your shows and movies while they are being broadcasted. The recorded media, music, and pictures on your hard drive can be played later on your TV as well as on other devices. Your simple analog TV will turn into a multimedia player.
Remember that this box records the files in MTS format. So, you will need an external drive with a lot of empty space as 1 hour of recording can take up around 5GB of space. It supports USB 2.0, 3.0, and an external hard drive up to 2 TB.
In the package, you get a digital TV Converter Box, a remote control, 1 HDMI cable, 1 A/V cable, and a single-year warranty card. The full-function remote control makes your viewing pretty convenient. It has options for auto and manual search, the last channel played button, a timer, aspect ratio button, sleep timer, etc.
6. ViewTV ATSC Digital Converter Box for TV

We have another digital converter box that receives ATSC signals. It is a good device to turn your old analog TVs into multi-channel broadcaster TV. You can watch as well as record live TV through this. The timeshift function even allows you to pause, fast forward, and rewind your movies and shows.
It has got a USB port where you can connect your flash drive and hard disk. Content in lots of formats can be played on the TV using your external drives. This box supports Divx, AVI, MKV, MPEG-2, MPEG-4, H.264/AVC, VOB, MOV, FLV, and VC-1 video format.
If you have an old CRT TV, you can connect the box using the composite or the coaxial cable. The newer TVs can be connected through the HDMI port using the HDMI cable included in the package. The data is received and transmitted by your TV in a clear high definition quality.
This box is compact enough to fit on your TV top shelf or corner of a TV cabinet. At the front, it has got a USB port and a bright LED display. This display shows the functions you press on your remote. Here too, you get parental controls, closed captions, favoriting the channels, EPG, etc.
To make the TV converter useful, you will have to install an antenna with it.
7. eXuby TV Digital Converter Box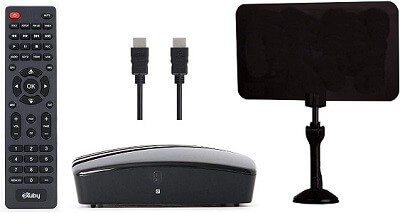 This is another considerable digital converter box that comes with an antenna. You can watch a lot of free digital channels on your analog, HDTV, tube TV, LCD TV, LED TV, and projectors.
The compatibility is ensured with its multiple connection outputs like HDMI, component, coaxial, and RCA. But the number of channels depends on your location and the distance of the antenna from the broadcasters. The antenna you receive in the package has a range of 25 miles. You also get an HDMI cable in the package.
The digital box provides a full HD resolution of 1080p and also allows you to adjust to lower resolutions for recording and saving space. You will need an external storage device to record the content. Not just the recorded programs but other movies and music can be played on your TV from the external drives.
The EPG feature of the box is one of the best among the converter boxes we discussed. It allows you to know what is playing and what will play in the next seven days. You can schedule the viewing and recording accordingly. But the eXuby digital converter box can't be used as a cable box with Dish TV, Time Warner, AT&T, etc. It only receives and transmits ATSC signals to your devices.
When you set up this box with the TV, there are a lot of unwanted channels as well. To get rid of them, you can add your favorite channels to a separate list to access them quickly. To hide some channels from the kids, use the child lock mechanism with a password.
Conclusion
These were the best digital converter boxes available online to convert your analog TV to digital television. Now, you don't have to discard your old TV to watch TV shows and movies.
The boxes here are much cost-effective than cable TV boxes. You get impressive picture quality and a multi-functional remote with them. You are advised to look at your TV's connection compatibility before making the final purchase.
FAQs
What does a TV converter box do?
The TV converter boxes are like set-top boxes that receive digitally broadcasted networks for your analog TVs and other display devices including the projector. In other words, they upgrade your old TVs for watching digital content without paying much.
How to connect a digital converter box to your TV?
Most digital converter boxes come with varied connection types like composite, coaxial, and HDMI ports. The relevant cables required to connect them to your TV also come in the package. Using them, you can easily connect your TV to the converter boxes without the help of any technician.