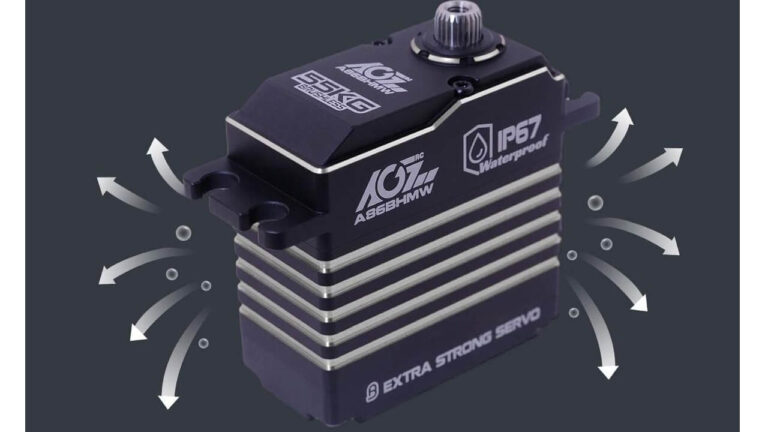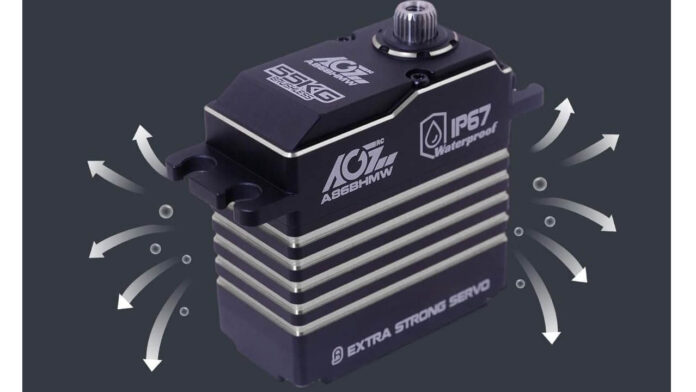 Many RC hobbyists work themselves in improving their RC cars and ensuring their best performance in the race. It has become easier because of 2 things. Availability of the accessories at your doorstep and the vast amount of information available about RC cars on the internet.
Are you also planning an overhaul of your RC car or truck? RC servos have a very significant role to play when you want to customize your RC vehicles.
Servos are not used in RC cars just for speed. They have 2 other functions i.e to provide direction to the vehicle and to provide power and movement to other parts of the RC car.
For efficient working of your RC car, you need reliable RC servos. Using a bad servo can be dangerous for the car and may ruin different connected parts.
But where do you find suitable servos?
We have made a list from which you can select the best RC car servo that will give your RC car fitting directions. Here, we have reviewed all top servos available online which will surely help you make a combative RC car.
Top 7 Best RC Car Servo Reviewed
1. ANNIMOS 20KG Digital Servo Full Metal Gear Waterproof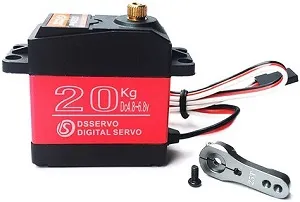 Here is one of the best RC car servos you will find on Amazon by ANNIMOS. This servo has around 4.5 stars rating that is justified because of its advanced linearity and accuracy with precision potentiometers.
It is very stable and releases low noise while driving. This servo is waterproof so no worries if you use your car in moist tracks.
ANNIMOS digital servo provides maximum torque up to 21.5 kg/cm (298.5 oz/in) at 6.8 Voltage which is impressive in this budget price segment. This much torque is enough to be used in heavier RC cars of 1/8 and 1/10 scale.
This RC servo contains strong copper & aluminum gears and a CNC aluminum middle shell.
For directions, you get well-controlled, 270-degree rotation in this 20 KG servo.
All these features surely make this the best budget RC servo. The dimensions of this servo are 1.58×0.79×1.60 inches and it weighs around 60g (2.12oz) only.
2. Pastall 25KG Digital Servo Full Metal Gear High Torque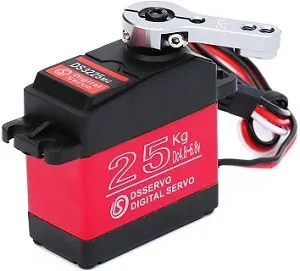 If you are looking for a digital servo for your heavy RC cars, this is the RC servo you need. With the super large torque of 25KG, it provides a strong and amazing motion range with a 25T metal horn.
The quality of the steering given by this servo is also impressive. It has copper and aluminum gears that are tougher than most of the digital RC servos out there.
Pastall RC servo has got good reviews by RC car enthusiasts because of its stable ride, lightweight, CNC aluminum middle shell, etc.
And this servo is waterproof as well with an IP66 rating. So you can run your car near water bodies or wet, muddy tracks.
As it is a digital servo, the control angle while powered with is 270°. This exceptional control is compatible to be used with 1/8, 1/10, 1/12 scale RC cars, buggy, and other radio-controlled products.
Despite providing a powerful ride, this servo weighs only 75 grams.
3. Traxxas 2075 Digital Servo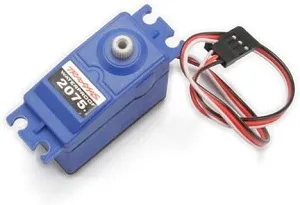 People who are into radio-controlled vehicles, already know how big the name Traxxas is. They have exceptional RC cars, RC crawlers, trucks, helicopters, boats, and whatnot.
Traxxas also makes good-quality accessories for different RC vehicles. If you can raise your budget a bit, this Traxxas RC servo is the best deal you will find.
It is known for its precise steering ability and speed, very suitable for races.
It is a digital high-torque ball bearing servo with 124 Oz-in torque. It is specially made to be used with Traxxas vehicles and there are other gear sets and servo cases on Amazon that go with this servo.
But you can use it on many other brands of RC vehicles of 1/10 scale and also for your other robotic projects. This servo is waterproof so it will be safe in your RC car and vehicles you plan to run on wet tracks.
The material used in making this servo is of great quality and is meant to last long.
4. ZOSKAY Metal Gear Standard Digital Servo 25KG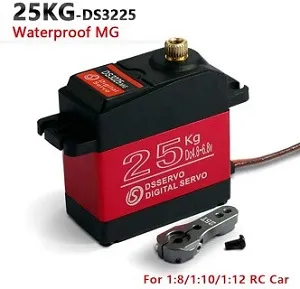 This is one of the highest-rated digital servos for RC cars on Amazon. ZOSKAY RC servo provides high torque of up to 25KG on 6.8V that can direct heavy RC vehicles easily. But it weighs only 60 grams so it's great to be used on rebuilding lightweight vehicles as well.
The servo comes with strong copper and aluminum gears that give good accuracy through hard anodizing. The servo is also ideal when it comes to sensitivity and responsiveness to the commands.
ZOSKAY high-torque digital servo has a CNC aluminum middle shell with fast heat dissipation feature so that your vehicle is safe even when the ride is longer.
In this 25KG version, the control angle is 270°. ZOSKAY has used durable material in its making, to ensure it lasts longer and gives a quality performance.
This servo is suitable to be used in RC cars of 1/8 and 1/10 scale.
5. SunFounder 20KG Servo Motor Waterproof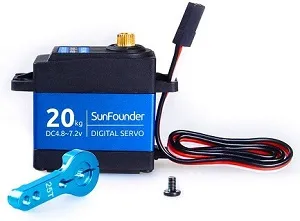 Another pocket-friendly digital servo on the list is by reliable robotics brand Sun Founder. It provides a large torque of 20KG that will go well with your 1/10 RC cars, trucks, small robots, and other remote control toys.
The maximum torque can go up to 20.5 KG/CM. The rotation offered by this servo is 0-270 degrees with a speed of 0.18sec/60°.
It is a waterproof servo so you are good to use this with your RC boat as well but do not soak it completely in water.
SunFounder 20KG servo comes with an advanced design and has a dual ball bearing and an advanced potentiometer which is perfect for riding with accuracy and high precision. For heat dissipation, it has got CNC aluminum alloy case that keeps the motor cool.
The maximum operating voltage of this servo is higher than most other servos in this list. It can work in a voltage of up to 7.2V which means you can use slightly powerful batteries in your RC car, especially for your robotics project.
6. AGFRC 55KG Digital Steering Servo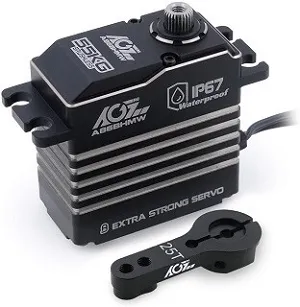 If there is no bar on your budget for buying a servo, customize your RC vehicle with this amazing quality and high torque steering servo.
AGFRC digital servo can be upgraded and programmed for changing the torque, speed, angle, inversion, and overload protection. The programming can be done through an AGF-SPV2 servo programmer.
This RC servo comes with an IP67 waterproof design so that you can ride your RC car in wet or moist tracks. While riding, there is no dust settled on the servo and it makes very low noise.
The motor in the servo features high-precision technology and the directions have almost no deviations. The reason for it being expensive is its powerful torque of 55 KG/CM at 8.4 V. You can use it in your RC cars and planes of 1/8 and 1/10 scales.
The torque houses reinforced steel gear that works with utmost accuracy. It has 3 balls bearing and an aluminum case that ensures heat dissipation very quickly.
This is one of the most powerful RC servos you will find on Amazon and is currently rated around 4.7 stars because of its exceptional performance.
7. ZOSKAY 35Kg Torque Coreless Motor Servo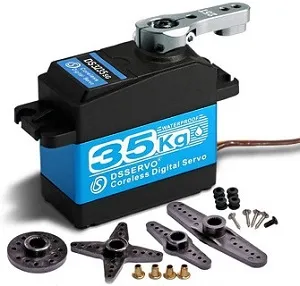 Here is another promising digital RC crawler servo by ZOSKAY that features a coreless motor. The servo offers great stability and strong adaptability with low noise and minimum vibration.
If you are looking for a durable RC car servo for smooth operation, this is a considerable option. The case that houses the servo is made up of CNC Aluminum and does not let the motor get heated too much.
It features dual ball bearings which are a little disappointing at this price but still totally worth it.
The metal gears are of stainless steel with hard anodizing and provide high-precision performance.
It is a waterproof servo, so you need not worry about some spills now and then. There are two versions available for this servo on Amazon with different control angles i.e. 180° and 270°.
Wrapping Up Best RC Car Servo
RC cars mostly use two servos. One is to provide throttle and the other is for steering. If you want your RC car to function efficiently or win a race, both the servos have to be very reliable and high-performing.
These were the best RC car servos currently available on Amazon at different price ranges. We hope your search for the servo to customize your RC vehicle ends here.