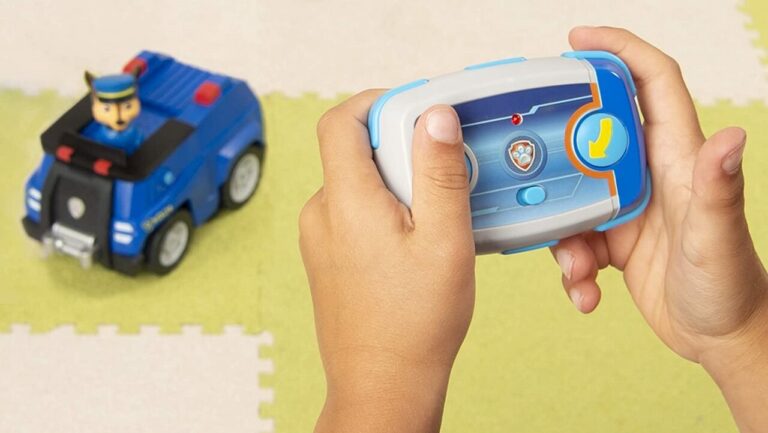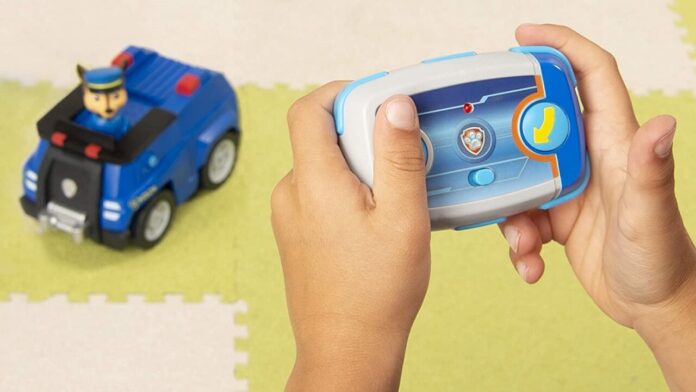 Kids above 18 months of age are eligible to play with radio control cars and they pay a lot of attention to moving objects, especially to the colorful RC cars. They are going to enjoy playing with RC cars due to the fact that they are the ones controlling the movement of the car. Here, we have listed the best RC cars for toddlers that will make them happy instantly. Most of these remote-controlled cars listed here have sound and music which kids are always attracted to.
Quick Look
No products found.
Best RC Car For Toddlers Reviewed
1. Little Pretender Toddler & Baby Remote Control Car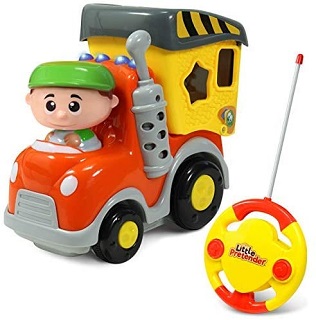 Little pretender RC car is for toddlers above 18 months of age. They claim to develop the motor skills of the kids along with improving hand-eye coordination. The RC car also makes a sound when the head of the driver is pressed. Behind the driver are three lights that the kids are going to love.
The speed of the car is children friendly so there is no chance of the kid getting harmed. This RC car's remote is quite easy to operate. You guide the kids once and they will easily handle it by themselves. The remote features a 49 MHz frequency and can work up to a range of 50 feet.
Little pretender remote-controlled car is made up of BPA-free plastic, in case you kids chew it, there is no harm it can cause to the kids. The plastic is strong and it can efficiently handle small bumps by uncontrollable rides.
2. Liberty RC Race Car Toy for Baby, Toddlers, Children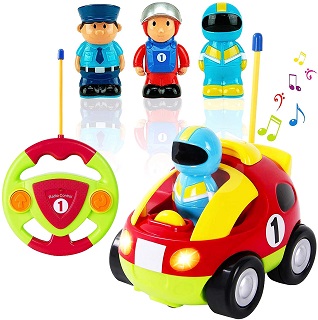 Here is a very cute RC car for toddlers at a reasonable price. It is one of the most rated remote-controlled cars for kids on Amazon aimed at entertaining kids above 18 months of age. The colors of the car are bright just as a kid's toys should be. The tires of the car are smooth and the car is fast enough to entertain kids.
It has got control for reversing and turning left. The kids can honk the horn and play music with the flashing headlights on with the help of the remote controller. The driver of the car also looks very playable for kids and it can be taken out of the car. Even if your child is playing with remote-controlled toys for the 1st time this one is a good start. The buttons and controls are easy for any small kid to learn quickly.
This car requires 3 batteries of AA type and 2 batteries of the same type for the controller. You will have to purchase the batteries separately. With this, your kids can get better in color recognition and hand-eye coordination. There are no sharp corners in the car so that the children are not harmed while playing.
3. Toy Life Remote Control Car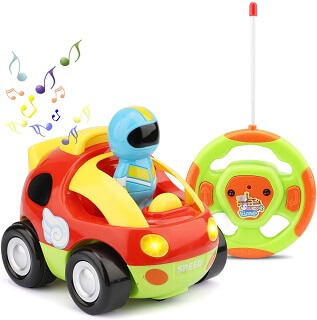 Toy Life RC car is just like the previous car we discussed, somewhat similar in appearance as well. However, this is a cheaper RC car but remember it is not up to the mark in terms of durability. This is an easy-to-use RC car for babies from 2-5 years old. It has got 2 buttons for moving ahead and turning in reverse. The speed of the car is suitable for kids' use.
Though the build material isn't that great, it can take few bumps on the wall. No doubt it will be a good gift for children if you want to engage them with the music of the car. When you press the driver of the car, the car starts playing nursery rhymes.
4. Joyin Toy Cartoon RC Race Car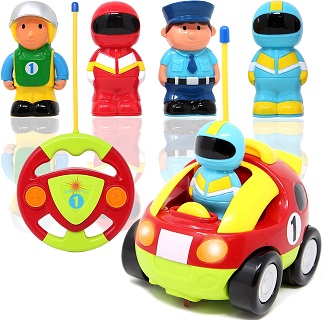 Joyin Toy has another very affordable RC car for toddlers. A special feature of the car is that it comes with 4 removable toys that can be placed as a driver of the car. It is a cute cartoonish-looking car with exciting colors for the kid. The car has 3 different sound features. A front button when pressed, makes the sound of an engine preparing for a ride. The driver when pressed makes acoustic music sound and there is a button on the back that plays radio music.
The remote control of the car is very simple to operate. The kid can take the car forward by pressing the forward button and reverse and turn it by pressing the reverse button. The material is safe plastic with assured durability. Over a thousand people have rated this car with an average of 4.5 stars, so you can trust this car to be an impressive gift for your toddlers.
5. Prextex Pack of 2 Cartoon R/C Police Car and Race Car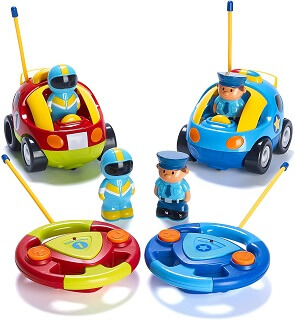 If you have 2 kids and can't decide which car to pick for which kid, here is a great option by Prextex. Prextex is known for making a vast range of beautiful fun toys for kids. This pack contains 2 different vehicles, a police car with a toy policeman and another race car like the earlier ones on the list. As both vehicles work on different frequencies, you can use them at once near each other.
The drivers of the cars are removable, so, your kids can play separately with them. Prextex RC cars are a good start for your kid to learn directions and also traffic rules. You need not have a second child to buy this pack as you can play with the second car and make the game informative for your kid. The police car makes a realistic police siren sound. Both the cars produce honking sounds with gleaming headlights.
The only concerning thing is that you will need a lot of batteries with this pack i.e. around 10 batteries. You will need 3 AA-type batteries for each car and 2 each of the same type for their remote. The batteries of the RC Car are not included in the pack.
6. Disney Junior Minnie Mouse Roadster RC Car For Girl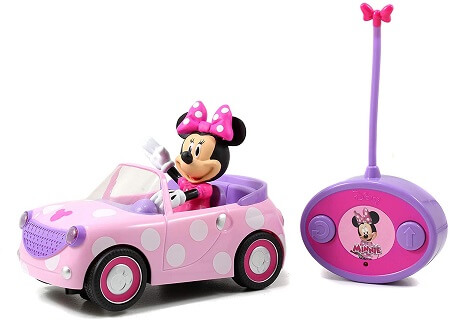 Minnie Mouse is a character loved a lot by my small girls. This is a cute little RC car by Disney Junior with the Minnie mouse on the driver's seat. The speed of the car is pretty decent and it is easily controlled by a remote which is also Minnie Mouse-themed. There are buttons to drive the car forward or turning it in reverse. There is an indicator light on the remote as well.
The pink-colored car looks pretty catchy with white polka dots on it. It runs on a 27MHz frequency, so the radio controller has to be within a range of 20-30 feet. Minnie Mouse Roadster RC car requires 3 AA batteries for the car and 2 AAA batteries for the controller.
7. JOYIN Radio Control Toddler Cartoon Dino Race Car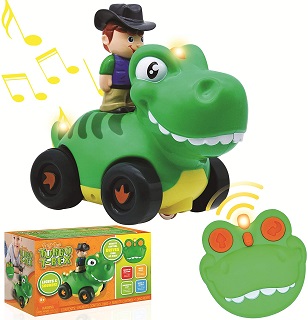 Now, this is something different from the regular radio control car you find for kids. This Turbo T-Rex kids' RC car features a cowboy who is riding a green-colored dinosaur. You can remove the cowboy action figure and make a small kid play with it separately. This car is great for your kids to experience good visuals, improve their imagination, and practice direction handling.
The controller provided in the pack is also very pretty and easy to use. It is easy to handle with two dedicated buttons just like all the cars for forward and reverse. There is a flashing light on the head of the dinosaur and its tail. The car also makes different sounds and plays music for maximum entertainment. Build material of the RC car is non-toxic plastic which is safe and durable at the same time.
8. YunFan Toy Cars for Toddlers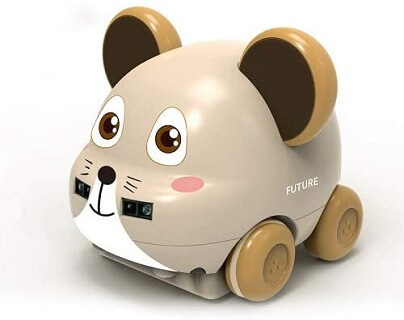 Give your child a different experience of radio control by gifting this unique car that is controlled through hand gestures, not remote. It is not tough to operate though. There are sensors with 2.4GHz frequency and the kid can learn to control the car in few attempts. It recognizes any object in front of it and changes direction, so there are minimal chances of bumping into anything. The car is available at a very affordable price and it is good looking at the same time.
The good thing about the car is, the battery is rechargeable with a USB charging cable. It takes around an hour to charge fully and the kid can play with it for 25 minutes continuously. The car also makes a sound while driving. Yunfan toy car is made up of great quality plastic which will stay with your kid for a long.
9. Dimple Cartoon Remote Control (R/C) Police & Racing Car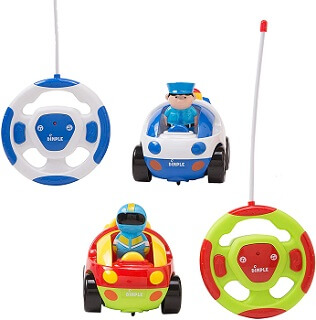 Dimple toymakers have a good 2 car combo for your kids wanting to start learning and playing with radio control toys. It is good for improving the children's hand-eye coordination, motor skills, and direction sense. If not learning, this set will be a source of entertainment. The kids are not just going to like the colors but they will also love the 3 different sounds that these cars can make.
The controller has 2 big buttons meant for driving forwards and backward. It also has buttons to play songs. 10 different tunes are played in the cars to keep the toddlers engaged. The recommended age for children to play with these cars is above 18 months.
10. PAW Patrol Chase Remote Control Police Cruiser For Boy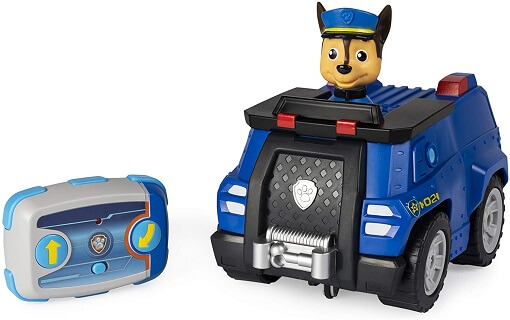 There are high chances that your kid already knows about Chase the dog cop and Paw Patrol. This is one of the cutest RC cars you can gift your children, especially if they watch Paw Patrol regularly. This is a Police cruiser car that features Chase as a driver and other details from the show. The remote controller is also interesting with simple 2 dedicated buttons for moving ahead and turning by reverse.
This car will surely enhance the imagining power of your kids as they can think of missions of their own and try to complete them. For the power source, you'll need 3 AAA-type batteries for the car and 2 AAA batteries for the radio controller.
Conclusion
Kids usually play a little rough with their toys. Like these RC cars will be banging it against the wall and dropping from heights. So, it is necessary to look for a durable RC car for toddlers. Our personal favorite was the last one which featured the cute dog, Chase. We hope you liked the options we provided from the best RC cars for kids available on Amazon. You can get a clear view from the below RC car buying guide for kids we have made.
How to find the best RC car for the Kids?
Kids' choices can't be taken for granted. There are wide ranges of RC toy cars available but they might like some specific ones only. Also, their safety needs to be taken care of. Here are few things to look for when buying your toddler a new remote-controlled car.
Age Group– The foremost thing to do before your kid a Radio control car is to check the eligible age. The age differs from toy to toy depending on the chemicals or materials used in making the product and also the usage habits of toddlers and elder kids.
Speed – Adults RC cars offer high speed that can go above 50mph at times but with kids, you need to keep it low. Kids won't be able to control speedy cars.
Color– Most of the adult RC cars come in single or very dull colors but kids need very attractive and diverse colors they can be simulated with.
Sound– Even if you buy your kid a space rocket, they would want that rocket to make some sound or play music. So make sure the RC car you are getting your kid makes different sounds easily after pressing some easy-to-access buttons.
Durability– As you are aware with the curiosity kids possess, the RC car you are buying for them should be able to handle the shocks and bumps.