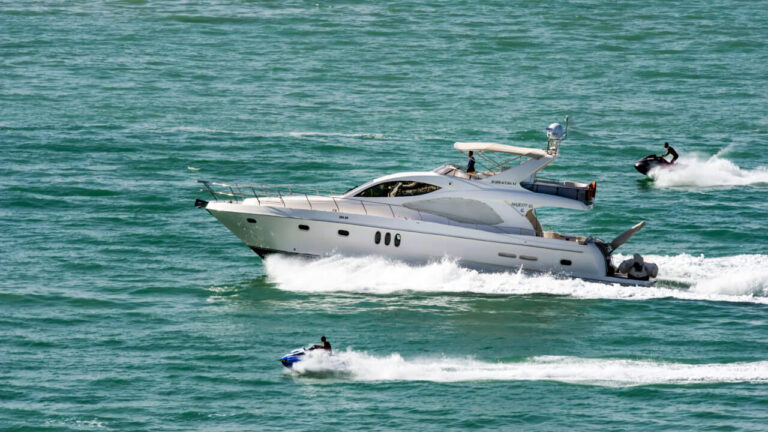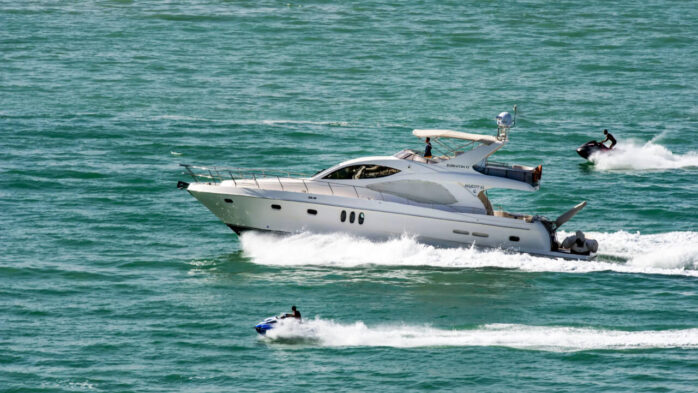 Mini RC boats are a great alternative to fast and expensive remote control boats that are designed for RC professionals. Mini boats, on the other hand, are toys made for kids and beginners.
These boats are suitable for bathtubs, pools, and aquariums. However, some mini boats can also run on lakes and ponds. Moreover, it is very easy to control these boats and that's what makes them ideal for kids and beginners.
Here in this article, we bring you the best mini RC boats you can buy online to start your RC journey today.
List Of Best Mini RC Boats
1.
Tipmant Military RC Model
The first mini boat on our list is the Tipmant Military RC boat. It is basically an RC scale model of a military aircraft carrier. The size of this boat is very small and can easily fit in your hands, to be precious it has a size of 15.5 x 5.3 x 5.7 cm.
The boat is controlled with a 2.4GHz frequency remote control that does not require an antenna for its operation. Moreover, the remote can control this boat from a radius of 10-15 meters which makes it suitable for pools and bathtubs. The controller has 4 functions, it can make the boat go forward, backward and turn it left and right.
On one full charge which takes 10-12 minutes, this boat can give you a run time of 8 minutes at max. However, the good thing about this mini toy is that it comes with a water detection sensor. The sensor automatically turns ON the boat when it touches the water and turns it OFF when it is taken out. This saves the propellers of the boat from damage and also saves the battery.
2. TAIYO Wave Breaker
The Taiyo wave Breaker is a 1:40 scale RC model and comes in a compact size of 15 x 4.8 x 4 cm. Moreover, the boat comes with dual motors that provide it the extra speed and agility.
Also, the boat has a built-in Lithium-ion battery that gets quickly charge so you spend more time playing with the boat than charging it. Though tiny in size, this boat can be used in lakes and ponds, unlike other mini boats that only run in tubs and pools. It is possible due to the long-range antenna-enabled remote controller you get with this boat.
So overall this mini RC boat has a better range and is faster than other small boats. And hence it becomes a great gifting option for kids.
3. Top Race Remote Control Boat
This Top Race RC boat is specially designed for small kids age 3 and above. There is nothing complicated about this boat, you just have to insert 2 AA batteries and it is ready to run.
Since it is designed for small kids, this boat can only run on pools and tubs. Talking about the speed, the boat can reach a top speed of 3 mph.
Moreover, the controller that you get with this small boat is very easy to use. The kids will not feel any difficulty while controlling the boat on the water. So, you can have a look at it if you were looking for a perfect gift for your small kids.
4. Tipmant Mini RC Submarine
The next product on our list is the Tipmant submarine toy, it is a mini RC submarine boat that is 15 x 6.8 x 4.5 cm in size. It can sail on the water surface and also submerge in it. It comes with a controller that can control it up to a distance of 8 meters on the water surface and up to 2 meters when submerged.
The boat comes with a built-in battery and since it is a waterproof boat the battery remains safe inside. To charge the battery you also get a USB cable, so you don't have to buy it separately. Overall, with great design and build quality, this mini RC boat is a great toy for kids.
5. Joysway Caribbean Mini Sailing Yacht
The last product on this list of mini RC boats is the remote-controlled sailing yacht from Joysway. It is a 1:46 scale model of an actual sailboat. Build out of ABS plastic, this mini boat is very sturdy and stylish as well.
Moreover, it is a Ready to Run toy so you don't have to string or wire it, just unbox and start playing with it. You get a 2.4 GHz transmitter with this boat that makes it easy to control, even for kids.
It runs on the same principle as that of an actual sailboat i.e the wind speed decides how fast the boat moves. So overall it is a great mini boat to stimulate the experience of a sailing yacht.
Conclusion
You are never too old to pick up a new hobby, and if your new hobby is RC boat racing then you can start with any of these best mini RC boats. Moreover, you can gift these small RC toys to your kids so that they spend more time outdoors than playing video games.
Also, if you are a beginner but these toys are way too small for you, then you can go with some good cheap RC boats to start your RC journey. Once you become perfect in handling the cheap boats, then you can go for fast and expensive RC boats.
ALSO READ: Top 10 RC Car For Toddlers
Things You Should Know Before Buying A Mini RC Boat
Types Of RC Boats
There are basically 3 main types of RC boats which are classified as follows
RC Sailboat- The RC sailboats are just like real sailboats. It has a rudder and sails which use the wind to sail through the water. These RC sailboats require less power supply as most of the work is done by the wind itself.
RC Racing Boat- These boats are very fast and streamlined. The RC racing boat consumes a huge amount of battery when in use. A beginner should not directly go for an RC racing boat as they are less stable and hard to control.
RC Scale Boat- These boats are not meant for speed as they are just the miniature version of a real boat. They behave like a real ship with the help of RC and mostly liked for their visual appeal.
Types OF Hulls
The main body part of the boat excluding the masts is known as the Hull. There are mainly 3 types of Hulls
Hydroplane- These hulls are hydrodynamic in nature and were designed for oval racing. These hulls make boats very fast but less stable because of low maneuverability.
Deep V – These hulls are also known as monohulls. They make a boat fast and stable at the same time. They provide better maneuverability to the boat but are less fast when compared to a hydroplane boat.
Catamaran- These hulls come with two sponsons attached to both sides of the boat. It makes the boat very stable even in rough water.
Battery Life
The battery life of an RC boat depends upon the size of the boat and the motor which is used in the boat. A big boat with a high RPM motor will consume more power than a small boat with less RPM motor. If you want a bigger and faster boat then you would have to sacrifice on good battery life.
Top Speed
The top speed of an RC boat highly depends upon how powerful the motor is. The hull type is also a deciding factor. For example, if you want an RC racing boat with top speed then you should go for a hydroplane boat with a powerful motor.
Control/Transmitter
For an RC boat, the most important thing is its transmitter. If a good RC boat has a bad transmitter then it won't perform as per its potential. It is recommended to go for a boat that has a 2.4GHz transmission frequency control. A transmitter with a 2.4GHz transmission control allows you to have full control of your boat when racing among many other boats without frequency interference.
Recovery Mode
The Recovery mode or the Capsize recovery mode is the feature that helps you to regain the position of your boat if somehow it gets tilt in the water during its run. The smaller RC boats need to have this feature as they are more prone to turn over in rough water.
Cost
It totally depends on you and your requirements if you want a boat for racing purposes then you will have to spend more on it. However, if you are only a beginner and looking for an RC boat just for fun then the cheaper one can do the job for you.
Power options
Gas and Electric are basically the two options that are available in RC boats. If you are making an RC boat at home by yourself then you can consider going with the Gas option but most of the RTR boats come with an Electric power supply. However, it is better to go with the electric option as it is easy to operate and cheaper than Gas.