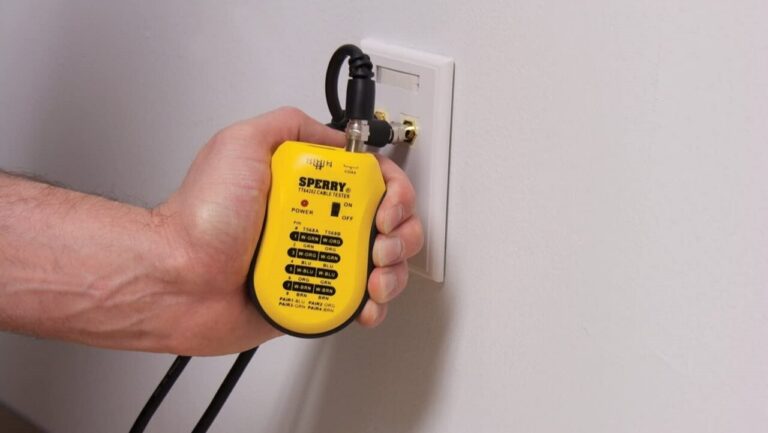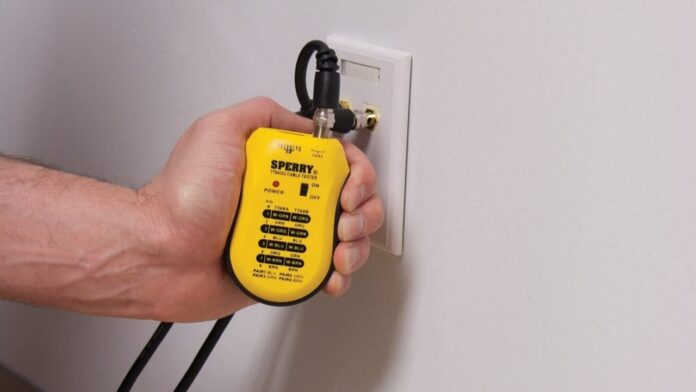 Does your work involve fixing coaxial cables on regular basis? Or do you regularly face interruptions in networks?
Coaxial cables are prone to lots of damages due to heat, water, improper handling, etc. As they are used for a lot of important purposes like internet signals, cable television, HDTV signals, etc you should always be ready with a kit to test them. 
Before doing anything with damaged coaxial cables, you require testers to map the wire and the location of the problem on that wire. Here are the best coaxial cable testers that are preferred by cable operators.
Quick Look
Best Coaxial Cable Testers
1. Klein Tools VDV501-853 Coaxial Cable Tester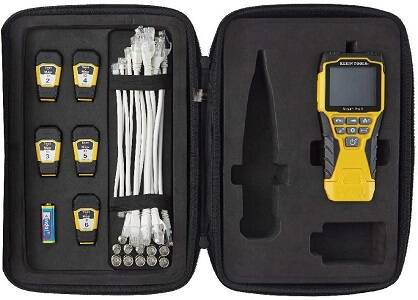 This is one of the best coaxial cable testing kits you will find on Amazon. Klein tools company is famous for making heavy-duty industrial products especially hand tools. This coaxial cable testing kit includes 1 scout Pro 3 test-and-map remote, 5 loose smart remotes, 7 female to female coax adaptors, 2 female to male coax adaptors, and a 9V battery. 
You also get a very convenient case for carrying all the tools in an organized way. This coaxial cable tester is capable of testing voice data and video (F-connector) coax connections. The LCD screen on the remote shows you the length of the cable, wire maps, cable ID, and other test results. 
You can identify a wide range of things with this cable tester, like short faults, open faults, miswire, shield continuity, and split pairs. It can also be used to measure the length of the wires up to 2000 feet. This kit is effective in tracing cables wire pairs and individual conductor wire and it produces a different tone with each mapping.
You can also trace, identify and test power over Ethernet with help of this test + map remote kit. 1 to 5 cable runs can be identified with the location mapping remote. The tester also has a hub link mode for recognizing port location on any hub or switch.
2. The Simple Co. Coaxial Pocket Continuity Tester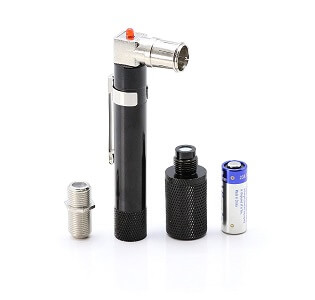 Here is an amazing small-sized coax cable continuity tester with voltage tones. The tones on this tester help identify the correct line connection. If you are looking for an inexpensive and easy-to-transport tester, this is highly recommended. It's useful in identifying cable lines for labeling them, connecting different systems, and also DIY projects.
The simple co coaxial cable tester is most suitable for RF cable applications as it can locate different types of coaxial connections very quickly. To confirm that the continuity on the coaxial cable is ok, there is an LED indicator on the tester.
This cable tester is compatible with almost all F-type coaxial connectors like RG59, RG6, RG11, etc. The package includes a right-angle sender with toner pieces, barrel connector, and 1 AAA battery. The toner pieces and the right angle sender connect very quickly.
3. Klein Tools VDV512-058 Coax Explorer Plus Tester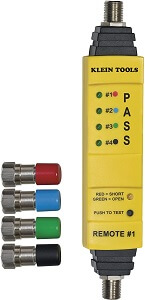 Here is another amazing product by Klein tools for testing the continuity of coaxial cables. The tester comes with 4 color-coded push-on remotes for mapping and identifying 4 locations at the same time. The package has a remote holder for convenience and AAA batteries that can be replaced. 
The tester is very small-sized and it can fit in your pocket. Operating this tester is too easy, as you just have to push the dedicated button to trace the wires and the bright LED indicators will show you different results depending on the status. 
The red color of the LED would mean a short connection and the green will signify an open connection. This Klein tools coaxial cables tester is highly trusted by the cable operator and home users as it currently holds 4.5-star ratings on Amazon.
4. Sperry Instruments TT64202 Cable Tester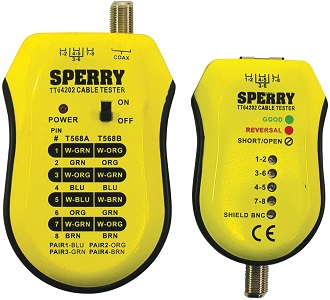 Sperry instruments have made this coaxial cable tester for examining your wiring in a very safe way. This is like a kit that includes two halves, 1 tester, and 1 remote that you have to plug in at the end of cables. The plugin is very easy with the help of UTP/STP and coaxial test jacks on this set.
Apart from coaxial cables, it can test twisted-pair installations, category 3 to 6 patch cords, and in-wall cables already installed. Sperry instruments tester can identify open shorts, miss wirings, reversals, and shield continuity. These things are easily pinpointed on the LED indicator.
The tester and remote both are constructed with over-molded rubber for long life and extra safe usage. To operate this, you will need 2 AAA batteries that are included in the package. This tester is portable and very ideal for carrying in your pocket.
5. Klein Tools VDV512-101 Explorer 2 Coax Tester Kit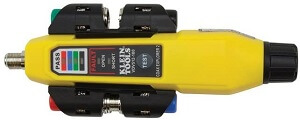 Your search for the most efficient Coax tester kit might just end here. This Klein Tools Coax Explorer 2 is perfect for verifying the continuity of F connector coaxial cables and for determining their location as well. There are four color-coded remotes to attach to the other ends of the cables and map them.
On the remote, you can see the cable's status through the LED panel on the tester. This LED panel is quite easy to read and it has indicators for a pass, open, short conditions, and the location of every cable.
The tester is very portable and there is an attached remote holder for convenient storage. This is one of the highest-rated coaxial cable testers on Amazon with 4.7 stars ratings.
Have A Look: Top 7 Cable Strippers
Conclusion
Coaxial connections are used for a wide range of signals. In case of faults in these connections, cable testers help map the problems so that you can proceed to fix them. There are not many companies that make impressive testers. Klien Tools is one of the oldest and most trusted companies which produces exceptional handheld tools. 
These were the best coaxial cable testers by Klein Tools and other reliable makers. We have tried to mention the important specifications but if you are still occupied with confusion, use the guide below to help you get the most suitable tester.
Coaxial Cable Tester Buying Guide
You don't buy a tester for mapping coax cables very often. So it is important to hit the right deal. Here are few things you should consider before buying a coaxial cable tester.
Portability – If you are a cable operator, you have to carry the cable fixing kit too, not just the tester. So, the best coaxial cable tester will be the one you can carry in your pocket easily. However, the testing kit sometimes may carry complex tools. So it would be great if the tester you are buying comes with a dedicated case for organizing and carrying your tools.
Cable types/ Compatibility – From the internet to CCTV cameras, numerous connections use coaxial cable. Most of such cables used in these connections are RG59, RG11, and RG6 types. Before buying a tester, you should the types of cables you will be working with and if that tester is incompatible with such wires.
Cable Length – The remotes that come with most testers have limited frequency. You should always check how long the cable can be mapped with the tester you are buying. The above list included tester with different cable length mapping capacity and the 1st one has the highest i.e. 2000 feet.
Locations and Remotes– The coaxial cable testers normally come with 1 to 4 remotes for locating and identifying the wires. Some testers come with as many as 8 wires. If your work does not involve solving faults in very complex and multiple connections, 4 remotes should be enough for you. It makes your work pretty quick in comparison to going back and forth, checking all the cables one by one. Also, if you get some holder for carrying these small remotes, it is a huge plus. 
Tones and LED panel –  Although most of the coaxial cable tester come with voltage tones and LED panels, some testers have more options than others. If there are more tones and indicators for different voltages and faults, it will take less time in mapping and identifying the faults.