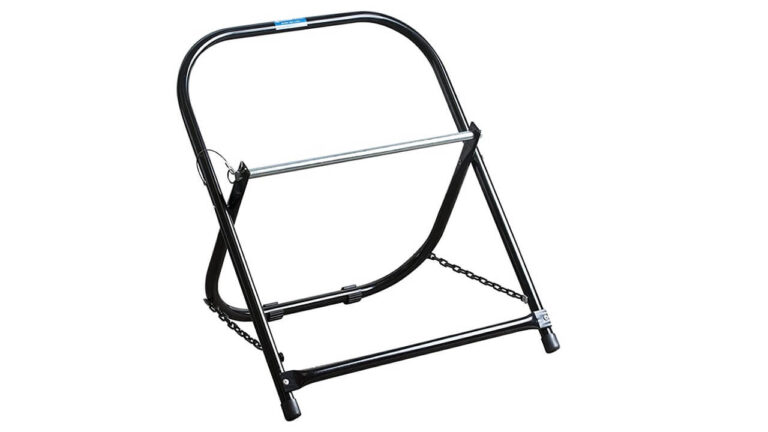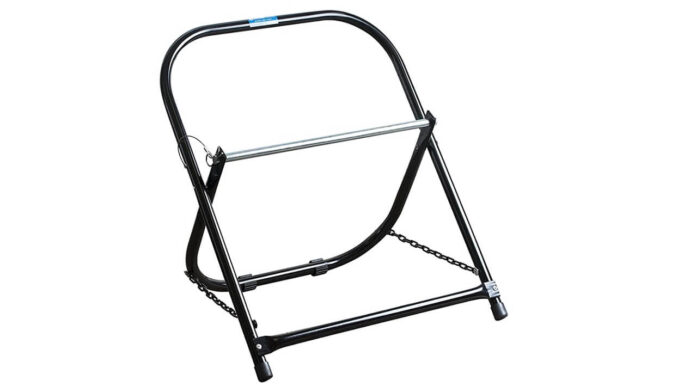 Organizing large and long cables is an exhausting task. Messy cables are difficult to transport and take forever to get untangled when in need of installation. If your work involves using a lot of cables daily and shifting them from one location to another, you need a good cable dispensing system.
For making your time at work more productive, here are the 5 best cable caddy that will help you organize different types of cables. These cable caddy will be useful for electricians, technicians, construction workers, dish TV operators, and various other handymen who have to deal with long cables daily.
Quick Look At Cable Caddy
The Best Cable Caddy
1. Jonard Tools CC-2721 High Durability Steel Cable Caddy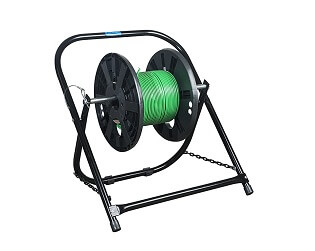 This is one of the most durable cable caddy you will ever find. The build material is good quality steel and it comes with two leg chains for stability. It has a simple setup and you just have to place it on the floor, remove the cotter pin and load the reel. 
You can trust this cable caddy for lifting cables to the weight of 100lbs. Its axel can firmly hold cables up to 20 inches in diameter and 17 inches in height. The knurled rubber does not let this cable holder slip from its position and also protects the floor from damages. 
Despite having a strong and stable body, this cable caddy weighs only 8lbs. It is convenient to move around at your worksites and easy to store as well. If you are looking for further convenience you can go for its other variant that comes with a wheel. 
It is a great quality tool for once in a lifetime investment. It has got around 4.8 star ratings on Amazon because of its durability and utility.
2. Cable Reel Systems VCC-1000
Cable Reel Systems has a decent cable Caddy for organizing wires and cables. It can be used vertically and also horizontally depending on the place available to you. The center pole of this caddy is made up of durable steel and it has got protective coating that makes it corrosion-resistant.
Its rotating base is 12 inches in diameter and the total height excluding the handle is 15.5 inches. This cable caddy comes with a handle that you can remove for loading and unloading the reels of the cable. Dispensing of the cable from this tool is pretty effortless as it has a dual ball bearing disc at the bottom.
The build-design is in such a way that your walls won't be scuffed and there will not be any damage caused to the hardwood floors. It is a lightweight product and there is no stand attached to this cable caddy. With such a compact design, it uses very less cargo space. If you are a security or satellite technician who has to work in a very minimal space it is highly recommended for you.
3. AdirPro Transportable Multiple Axle Cable Caddy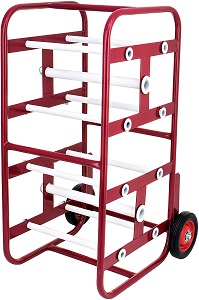 If your work involves using different types of cables then this is the best cable caddy you will find online. This is also one of the highest-rated multi-spool cable caddy and there are strong reasons for that. It comes with a very stable design and is made up of tough steel. For long-term durability it has a powder-coated finish. 
This cable caddy offers amazing transportability as it comes with wheels at the bottom. You can put up to 10 cables/wire reels on the holders of varying sizes. There are eight 3/4 inches diameter axles and two large 1.125 inches diameter axles. 
You can also use this as a rack for dispensing ropes and paracords. This is the most ideal cable caddy for shopkeepers who sell cables and ropes.
4. Madison MH8010 Wiresmart Hand Caddy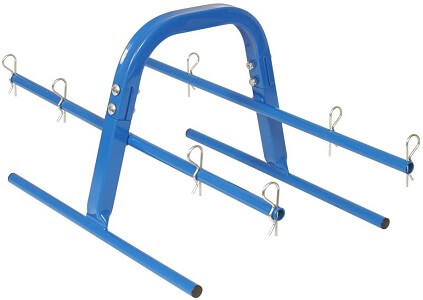 Here is a budget caddy for dispensing up to 8 spools of wires and cables. This does not come with axles or rotating poles and has hand carrying design. But this offers great portability to the handymen who have to carry different types of cable to their workplace.
It is made up of durable square tube steel with premium powder coating. The white base of this Caddy cable makes it stable. It comes disassembled and you just have to put four screws to assemble it to work. 
It has got around 4.6 average ratings on Amazon by various users. The positive reviews make it a promising product but there are complaints about its paint getting pale. If you are not particularly choosy about the looks, it is a good option at this price range.
5. AdirPro Durable Single Axle Cable Caddy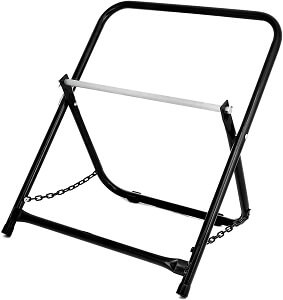 This is another good cable organizer by AdirPro. It is similar to the Jonard tools caddy cable we discussed earlier but a little smaller in size. If you are looking for a premium quality wire dispenser with a sturdy design this is a great option to consider. 
It comes with a strong tubular frame for long-term durability. There is a dual-legs chain on the bottom for providing stability at any work site. This cable caddy can hold up to 100 pounds of cable reels having 20 inches diameter. 
The anchor clip pins on the side make sure that the axle will be firm when you dispense the cables. It has a compact design and weighs only 8 Pounds. After folding it flat it is easy to carry around or store in small spaces.
Have A Look: Top 7 Cable Strippers
Conclusion
So, these were some of the best cable caddy available in the market. They make your work easy and save you from the hassle of organizing wires daily before starting the actual work. These wire caddy are meant for serving satellite operators, cable and dish TV technicians, electricians, security personnel, shopkeepers, etc. Hope you find the most suitable one according to your job.
Cable Caddy Buying Guide
There are very few things to look for in a cable caddy as they come with a very simple design and serve only one purpose of cable management. But here are few things you should consider before buying a cable caddy so that you do not compromise your money.
Axel – Not every cable caddy comes with axels but free dispensing of wires can be ensured maximum if it has axels or swivels. If you are looking for a multi-cable holder caddy, you should check if all the wire carriers are axels.
Size and capacity– A small-sized holder for large cables will be useless and a large axel for small cables will again make things messy. If you work in small spaces, then determining the required cable caddy size is a must for you. This list contains such holders for cables of almost all regular sizes. Also, most of the cable caddy mention the estimated weight they can lift. You should know the average weight of the cables you operate daily and buy the caddy accordingly.
Mobility – If you work with heavy-duty cables, you need a heavy-duty caddy. But the more the weight, the tougher it gets to transport it. So, choose the cable caddy that has wheels at the bottom so that you can shift it to any work site.
Durability – Because of constant usage and mobility, the cable caddy is at risk of constant wear and tear. If you don't want to buy them often, make sure that the build is good enough to last long.