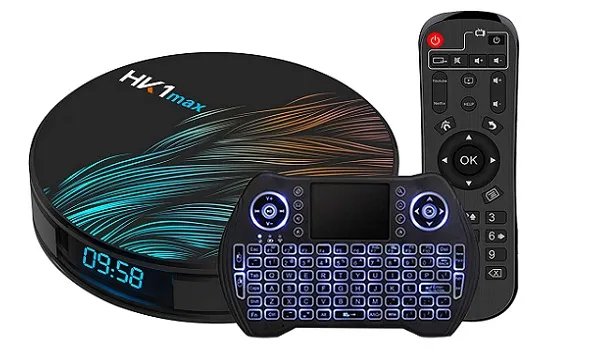 Are you looking to binge-watch the latest shows and movies on your old TVs? The LCD, LED and Plasma TVs give you entertainment through the cable boxes but without a smart TV, you miss out a lot. You have to wait for days to watch the next episode of your favorite show and can't download anything for later. So, why not upgrade your TV and make it smart?
Here, we have listed the top 7 from which you can pick the best Android box for TV that suits your requirement to change your TV viewing experience for good. They get connected to your old TV like a cable box but help the TV run thousands of amazing Android apps. You can stream content from Prime Video, Netflix, Disney+, YouTube, etc, and also surf the internet through the Chrome browser.
Top 7 Best Android Box For TV Reviews
1. Pendoo T95 Android Box for TV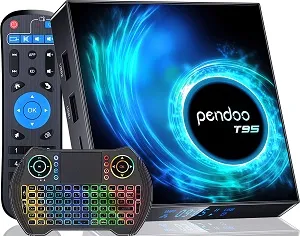 Android 10.0 0S
4GB RAM / 128GB ROM (expandable)
Mini Keyboard with touchpad
WiFi, Ethernet Port, Bluetooth 4.2
To upgrade your TV viewing experience, we have this Android TV box from Pendoo. This device is equipped with the Android 10.0 OS which allows you to use the Android apps on your TV.
The powerful Allwinner H616 Quad-core 64 bits CPU is the best you will find in the Android boxes of this range. The CPU along with the Android 10.0 offers you the latest quality content with exceptional performance.
To make the videos run smoothly, the box has 4 GB RAM and a massive 128 GB of storage. You can store multiple apps, games and download shows on your favorite streaming platforms like Netflix, Prime Video, YouTube, etc. The microSD card slot and the USB slot allow you to expand the storage further.
You can easily explore through apps, control the Android box, and play games using the mini backlit keyboard which comes free in the package. This keyboard has rainbow LED-backlit and a touchpad too. For easier and quicker controls, they also provide remote control.
With the built-in 2.4G/5.8Ghz Dual-Band WiFi, there won't be any speed issues with the streaming. Other connectivity options on the box include an Ethernet LAN cable that supports 10/100 Mbps internet speed and Bluetooth 4.2 to connect wireless devices to your TV.
2. Transpeed X88 Pro Android TV Box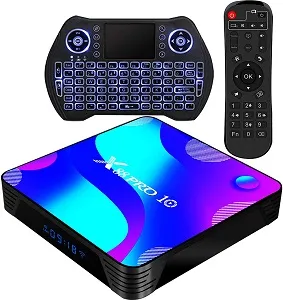 Android 11.0 0S
2GB RAM / 16GB ROM
Mini keyboard with touchpad
WiFi, Ethernet Port, Bluetooth 4.1
Here is a pocket-friendly Android TV box that comes with the latest Android 11.0 OS. The box works smoothly with different types of TV like LCD, LED, Plasma TVs, etc. which have an HDMI port. This smoothness and stability in the performance are powered through the RK3318 Quad-core cortex-A53 Ultra high-frequency CPU of the Android TV box.
As it is a budget device, it comes with only 2 GB RAM and 16 GB storage. You won't be able to play High-quality games without facing lags and buffer. Connecting an external storage device only makes the TV slower.
To connect to the internet, it has got 2.4G/5.8G WiFi that offers a fast and stable speed. You can browse the internet and watch TV shows and movies in amazing picture quality as the Android box supports up to 4K resolution with the help of HEVC (H.265) hardware decoding technology.
The free mini backlit keyboard in the pack has 92 qwerty and multi-function keys to control the box. It is also equipped with an ultra-sensitive mouse touchpad that supports a scrolling bar and multi-touch gestures.
It is a good device at a very reasonable price, but if you are looking for using a lot of apps and games, the low RAM does not make it worthy for you.
3. C Cosycost Android TV Box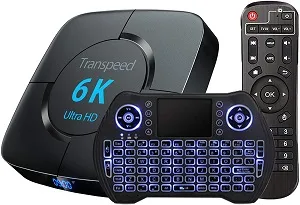 Android 10.0 0S
4GB RAM / 64GB ROM
Mini keyboard with touchpad
WiFi, Ethernet Port, A/V port, Bluetooth 4.1
This is another best Android box for TV with a decent performance and a reasonable price. It has Android 10.0 OS to make your TV smart and an Allwinner H616 64bits Cortex-A53 CPU to display shows, movies in a lag-free interface. The quad-core CPU is accompanied by the Mali-T720 GPU that enhances the performance even while you play games on your TV.
The 4GB RAM and 32 GB storage are good enough for watching and saving a lot of content and switch between the apps. This memory is expandable with external Hard drives up to 1 TB and SD cards up to 64 GB.
One of the special aspects of this Android box is the picture quality offered. You get an image resolution of up to 4K with 60fps. With these specifications, you can watch all the content including fast-moving sports in great picture quality. For the fast internet, it has 2.4G /5.8G high standard WiFi. But the connection gets disturbed if your router or hotspot is too far from the box.
The box has 2 USB ports for connecting your wired mouse and keyboard. HDMI and AV ports are also here for more connectivity. You can connect a wireless device to your TV using Bluetooth 4.1 technology. Sometimes when the remote control you get in the package doesn't navigate some apps, your wireless mouse and keyboard will do that work for you.
4. Beelink GT King Android Box for TV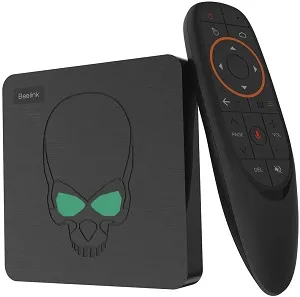 Android 9.0 0S
4GB RAM / 64GB ROM
WiFi, Ethernet Port, A/V port, Bluetooth 4.1
Are you looking for an Android TV box that can act on voice commands? This GT King Android box by Beelink makes your TV smart not just by enabling apps but also through a remote control that has voice controls. It is an expensive device but the features it offers make it a considerable one.
This box works on the Android 9.0 operating system which is still pretty relevant with the presence of all the streaming and gaming apps. The CPU on this one is a Quad-Core Arm Cortex A73 and Dual-Core Cortex A53 with a Mali-G52 MP4 GPU.
For wide connectivity options, you get the HDMI 2.1 port that supports high-quality videos and fast refresh rates. The 3D format videos can be played on your TV. There are 3 USB ports of which two are 3.0 and one is 2.0.
The RAM and ROM offered here are 4GB and 64GB respectively, which is very low for a device priced this high. But the box also has a TF card slot to expand a bit more and through the USB ports, it supports a huge storage expansion of up to 4TB.
You can browse and stream the apps with high-speed internet because of the built-in 2T2R Wi-Fi 2.4+5.8GHz and RJ45 interface that supports 1000mbps LAN. The Bluetooth 4.1 also works great on this Android box with anti-interference and high transmission efficiency.
5. C Cosycost HK1 MAX Android Smart TV Box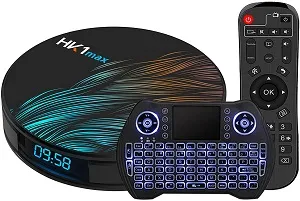 Android 10.0 0S
4GB RAM / 64GB ROM
Mini keyboard with touchpad
WiFi, Ethernet Port, A/V port, Bluetooth 4.1
Here is one more Android box for TV by C Cosycost to run smart content on your TV. It features Android 10.0 with fast access to games and different apps. The user experience with the interface is much better here.
This device has got a RAM of 4G which is ideal for running high-quality games and also access different apps alternatively. A lot of apps can be stored on the device along with the TV shows and movies you'd like to binge on later.
The apps and media content are stored in the 64 GB ROM of this Android TV device. This memory can be expanded through a TF card or an external hard disk. There are 2 USB slots (USB 3.0 and USB 2.0) for connecting the external drives.
You can play high-quality content like 4K UHD through this box. The configuration here is much smoother than the previous C Cosycost Android box we discussed. With the H.265 hardware decoding, there are minimum chances of lags during the movies and games.
6. Xiaomi Mi Box S Android Box with Google Assistant Remote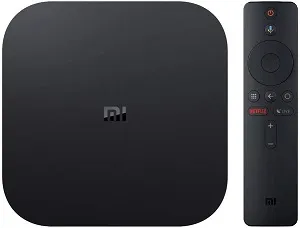 Android TV OS
2 GB RAM / 8 GB ROM
Wi-Fi, SmartCast, Bluetooth 4,1
This is one of the best Android TV boxes to convert your normal regular TV into a smart one. It is powered by Google's Android TV OS itself which makes it play fast on your TV and be very responsive to your commands.
The best thing about the box is that you get a Google Assistant-enabled remote control for voice controls. With this remote control, you will also be able to control your smart home appliances.
Google Chromecast comes built-in with this Android Box and you can mirror cast on your TV through your Android smartphone or tablet wirelessly. 4K videos are supported by the device providing high-clarity images at 60fps. The premium audio quality powered by Dolby audio and DTS makes your overall viewing experience very refreshing.
The RAM and the ROM are very low as Xiaomi has ignored the need to download media content. But you can install much streaming and other apps on the 8 GB flash memory and the apps run without lags. You have Wi-Fi connectivity and also Bluetooth 4.1 allows you to connect your wireless devices like speakers, mouse, keyboard, etc.
7. johchn X88 Pro Android TV Box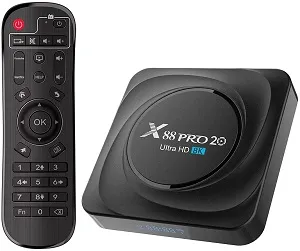 Android 11.0 0S
8GB RAM / 64GB ROM
WiFi, Ethernet Port, A/V port, Bluetooth 4.2
If you are okay with a little bigger budget for amazing quality pictures, this johchn Android TV device is a good option. It comes with the latest Android 11.0 OS and is powered through the powerful RK3566 Quad-Core 64bit Cortex-A55 chipset. You can enjoy using the latest Android apps with the help of this Android device on your old LED/LCD TVs.
For loading high-quality games and movies smoothly, it has got 8 GB RAM. You won't get 8 GB RAM in most of the Android boxes available in the market. To store a lot of content, 64 GB storage is also available on this.
Video qualities here are also unmatchable with a 4K and 8K smart media player that supports HDR videos. For connecting to the internet, dual-band 2.4G+5G WiFi with 100mbps Ethernet LAN port is given. For transferring small files like apps and photos and connecting your devices, the box comes with Bluetooth 4.2 connectivity.
Android TV Box FAQs
Is an Android TV box worth buying?
Android TV box lets your play a lot of apps available on the Google Play Store. You can use Netflix streaming app, Prime Video, Hulu, YouTube, etc on a non-smart TV using the Android TV box. If you can't get a new TV and your old TV still offers a good sound and picture, then the Android TV box is worth buying.
Is Netflix free on the Android TV box?
No, you can download the Netflix app from Google Play Store for free but for streaming the content, you'll have to pay the subscription fee.
How to install Netflix on my Android TV box?
Most Android TV boxes have Netflix pre-installed or can be found on the Google Play Store. But some uncertified Android TV boxes neither come with the Netflix app nor their Play Store have it. Using the Google Chrome browser, you can download the Netflix app's latest APK.
To install the Netflix APK on your Android TV box, you will have to make some changes in the security settings. Go to 'Settings', click on 'Security' and allow installing apps from unknown sources.
Can we update apps on Android TV Box?
Yes, all the apps on your Android TV box can be updated from the Play Store app on the device. You will need a stable internet connection and remote control that can navigate apps on your TV. If your remote control doesn't navigate the Play Store, you can use an external keyboard or a mouse.
How to update apps on the Android TV box?
You update the Android apps on the Android TV box from the Google Play Store. Go to Play Store and go on the app's page you want to update and click on 'Update'. You can also enable auto-download for all the apps so you don't have to do it one by one every time.
Open Play Store and click on Settings on the sidebar. Now, click on 'Auto-update apps' and choose – Auto-update apps at any time.
Why my Android TV Box Apps are not working?
If the apps on your Android TV box are not updated, they may start lagging or don't open at all. When you update the apps from Google Play Store, they will start working again. We have explained the process to update your Android TV box apps above.
Android Box For TV Buying Guide
As the OTT platforms have brought a flood of quality content online, one simply can't wait to upgrade their TV viewing experience. An Android box for TV makes your old TV useful and gives you great entertainment value. But as these boxes are still not that popular and people only have rough ideas about what to expect from them.In this buying guide for the Android TV box, we'll tell you all the important things you can't miss when getting one for your old TV.
RAM and Storage Options
This is one of the most important specifications to consider in an Android Box for TV. This is similar to how it works for your phones and laptop. The higher RAM of the Android Box means more heavy apps and games you can run on your TV.
Most of the Android boxes available today come with 4GB RAM but if you only want to stream shows and movies from major OTT platforms, 2 GB RAM is also enough.
For storage, it depends on your watching habit. If you like to download the content and then watch it seamlessly, you should give preference to an Android box with higher ROM. Boxes with 32GB, 64GB, and 128GB ROM are available in the market.
For only to stream online, you can go with the minimum flash memory to install the apps and accommodate their data. You are not advised to go below 8 GB ROM as your TV might act very slow. Also, you can look for boxes with expandable memory so that you can get more storage options when needed.
Processor
Your old TV can't process heavy and high-quality content that you might be waiting to watch. So, the Android box for the TV has to have a good processor so that your content including the gaming apps runs smoothly.
You should not go below the quad-core processor which a lot of boxes provide and if you get one with an octa-core processor in your budget, you should buy it.
Processors made by AmLogic are known to provide very reliable performance in Android Boxes. The Allwinner processors are also pretty decent.
Important Ports
There are a lot of ports that are a must on an Android box especially if those are absent on your TV. One USB port is nice and 2 USB ports are best. If you need a USB port to use an external Hard disk, then you should make sure that it supports USB 3.0. For normal flash drives, USB 2.0 is fine.
The must-have port is the HDMI port. Well, rarely the Android boxes will miss this port as it is used to connect the TV to the box and they provide the cable in the package. High picture quality is supported on the TV through the box with this HDMI cable.
Some Android boxes also come with an Ethernet LAN port. It is very useful for using the internet if your wireless connections are slow or unstable. Audio output and input ports are rarely needed for a TV but if you have such requirements, you should check before finalizing the purchase.
Wireless Connectivity
Android TV boxes are useless without internet, so it is pretty obvious that they come with WiFi connectivity. For watching videos and playing games seamlessly, make sure it is dual-band WiFi with minimum 802.11 ac networking standards.
Bluetooth is another prominent connectivity technology you'd want. It is not just for sharing small files like images, apps, and PDFs quickly but also for connecting wireless devices like a mouse, keyboard, and speaker to your TV.
Additional Considerations
If the picture quality offered by your TV is low, you should check if your Android box offers HEVC hardware decoding. You will be able to watch the shows and movies from the OTT platforms without facing any lags and with a clear picture.
The Operating System of an Android TV box should not be a very old version. Android TV OS is best for TVs but it is not available with most boxes. You should check that they at least have Android 9.0, Android 10.0, or Android 11.0 OS.
Some budget Android TV boxes do not have the support of Google Play Store or other Google apps and you can only install APKs on them. After a while, it gets very difficult to update the apps with such boxes and they get either slow or stop functioning. Before buying an Android Box, make sure they have complete Google Apps support, especially Google Play Store.
To make the navigation of apps on your TV easier, a lot of companies offer a mini keyboard in the package. If you do not have a wireless mouse or a keyboard, you might need this mini keyboard and the remote controller.
And the last tip of the buying guide is true for all the products especially electronic items. Never forget to check the user reviews before getting such devices.
Conclusion
Upgrading your LCD or LED TVs through an Android TV box saves you a lot of money. The entertainment value of these boxes is also much more than the cable boxes. These were the top 7 devices, now you can easily choose the best Android box for your TV according to your needs.
We found the Mi Box S very reliable and with full value for money. You can try the other ones depending on the budget and other specifications like RAM, ROM, USB ports, additional keyboard, etc.